I've seen enough in my 44 years of life that I can almost  say, nothing amazes me anymore. I say almost because, over the 4th of July weekend, I walked in on G in the kitchen and he totally floored me. The guy loves to cook as much as I do so no suprise there. But, folks! This is a guy who has never tried coconut milk and never even knew what fish sauce was until he met me. Yet, there I find him one fine Friday evening, busily whirling coconut milk, fish sauce, lime juice, coriander, ginger and garlic into a Thai-inspired marinade! Seriously! He pulled all the flavors together so deliciously, this Asian woman couldn't have done this coconut lime chicken better justice. The grilled chicken morsels were moist, flavorful and truly delightful with heaps of rice.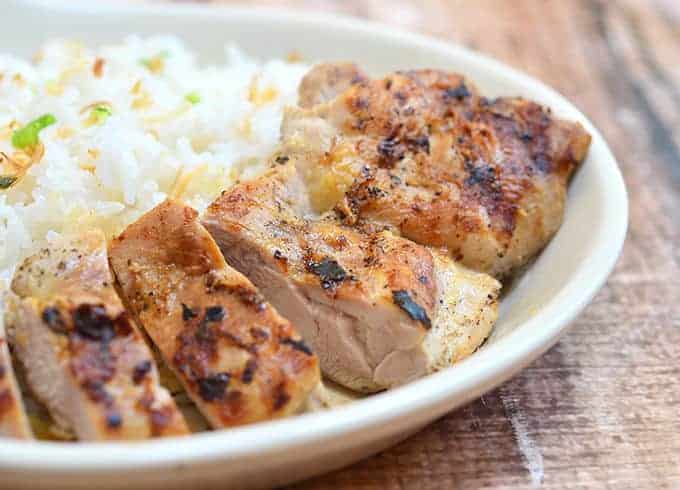 Coconut Lime Chicken
Ingredients
3 pounds boneless, skinless chicken thigh meat
salt and pepper to taste
1 teaspoon ground coriander
1 thumb-size ginger, peeled and coarsely chopped
2 cloves garlic, peeled
1 cup coconut milk
2 tablespoons fish sauce
juice of 1 lime
Instructions
Rinse chicken well and pat dry. Season with salt and pepper to taste.
In a food processor or with a mortar and pestle, combine coriander, ginger and garlic. Pulse a few times or mash to a coarse paste. In a a bowl, combine paste, coconut milk, fish sauce and lime juice. Stir until blended.
In resealable bag, combine chicken and marinade. marinate in the refrigerator for at least 4 hours or overnight.
Drain chicken from marinade, discarding liquid. Lightly oil grill grates and arrange chicken in a single layer on grates. Over hot coals, grill chicken for about 5 to 7 minutes and then turn to grill other side for another 5 to 7 minutes or until thermometer inserted reads 165 F. For moister meat, limit turning during grilling. Remove from heat and allow to rest for about 3 to 5 minutes before slicing.