Yema Cake with custard frosting and shredded cheese is soft, fluffy, and delicious. This Filipino sponge cake is the perfect dessert for holidays, birthdays, or anytime you need a special sweet treat.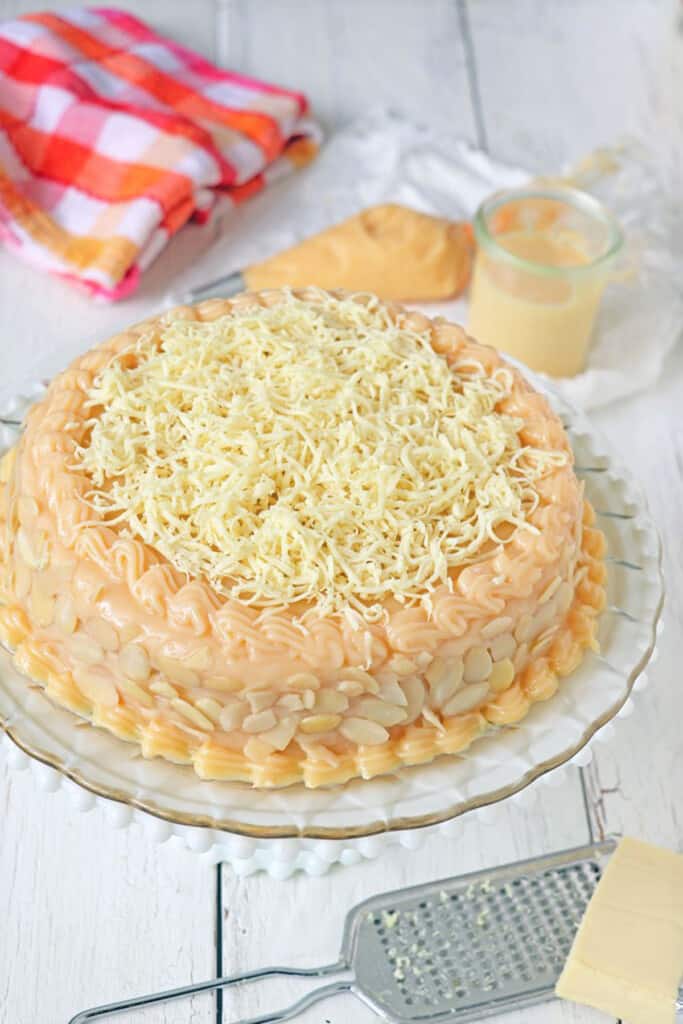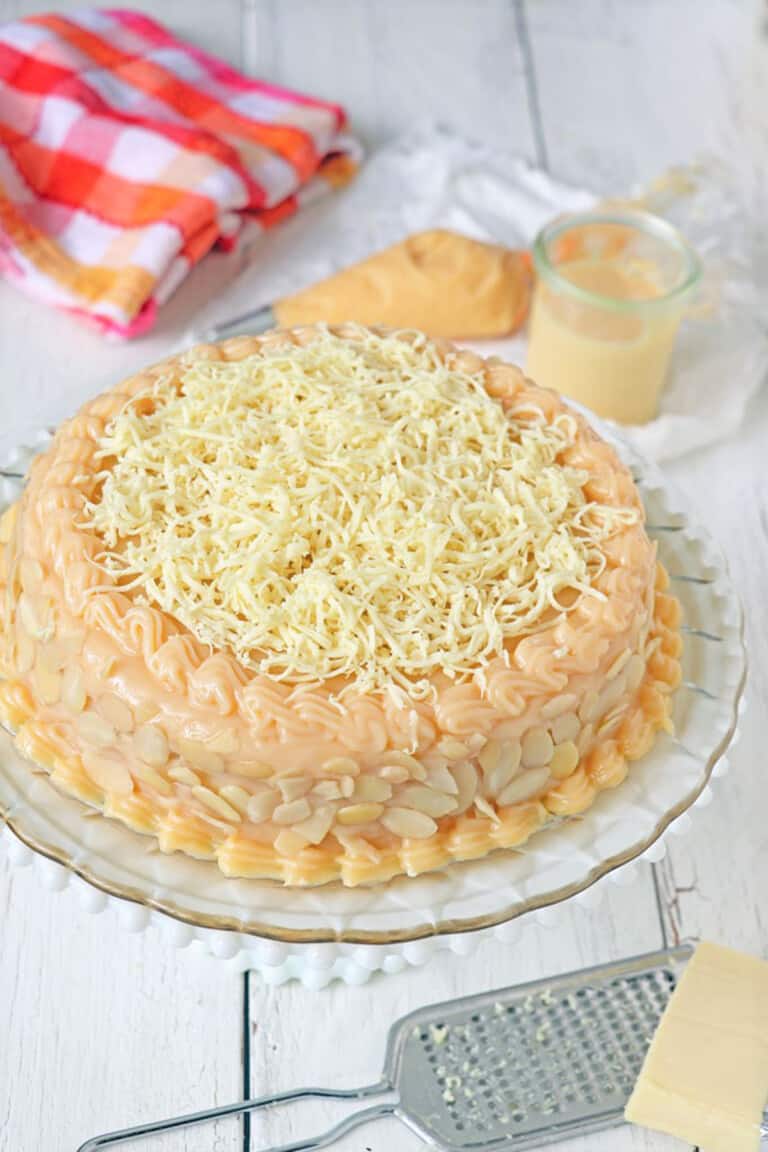 What is Yema
Yema is a classic Filipino candy made from a mixture of milk and egg yolks cooked over low heat until thickened. The sweet concoction is then shaped in pyramids or balls and coated in granulated sugar or dipped in caramel syrup for a crisp, golden shell.
It's has been a Philippine delicacy for centuries, brought by the Spanish during the colonial period. The word yema, in fact, means egg yolk in Spanish.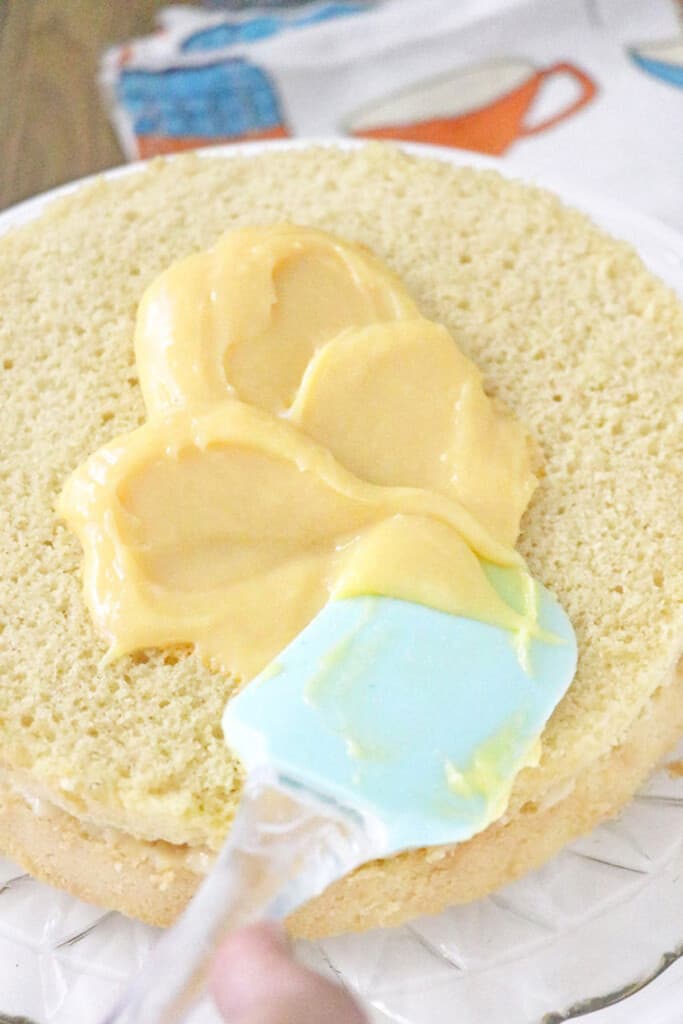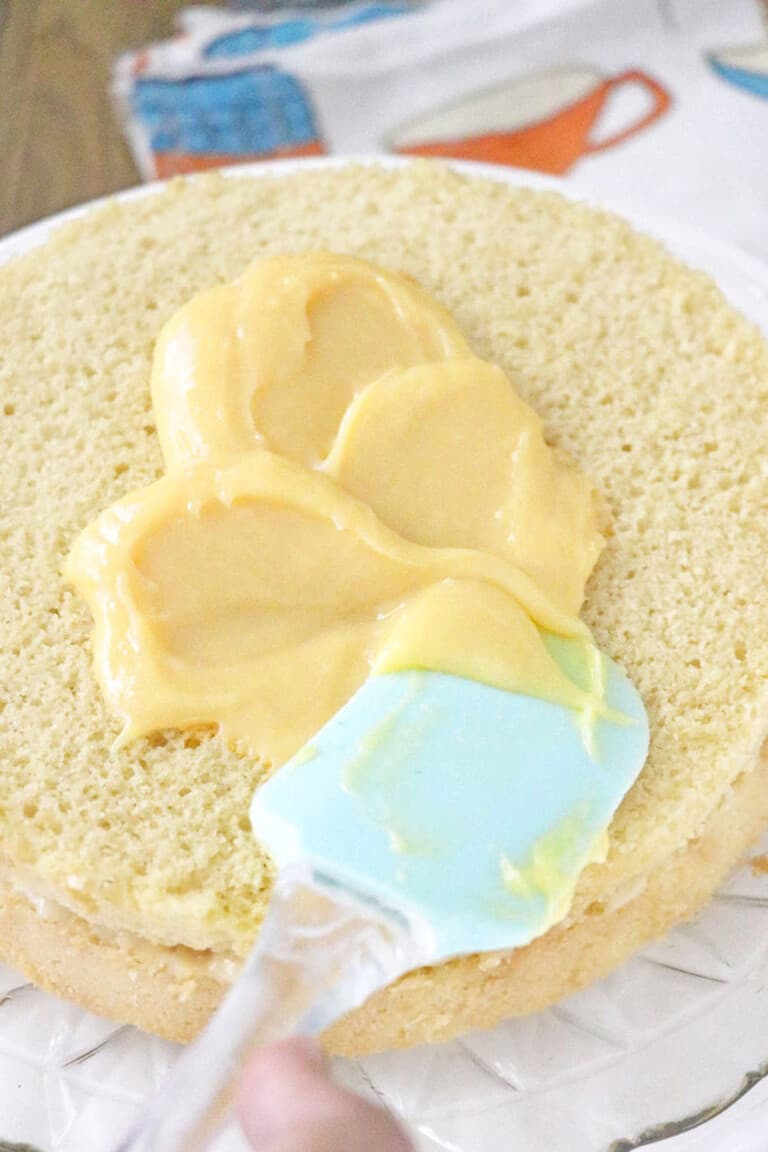 But although the candy has been around for years, Yema Cake is somewhat of a new invention that has recently gained popularity. It's a prime example of the Filipino's creative ability to adapt ideas and make them entirely our own.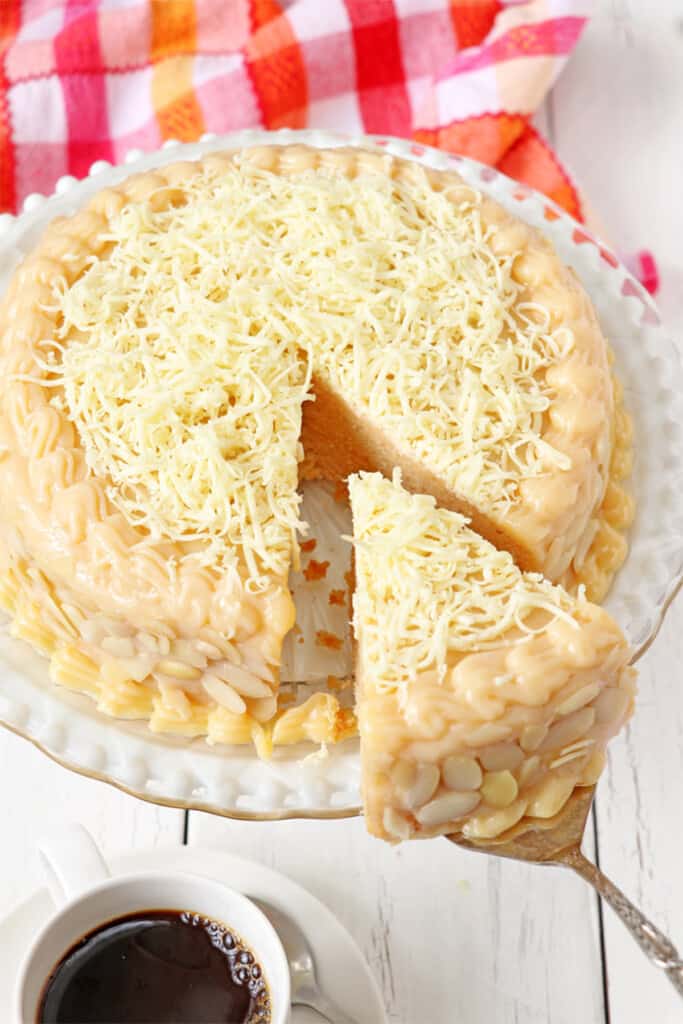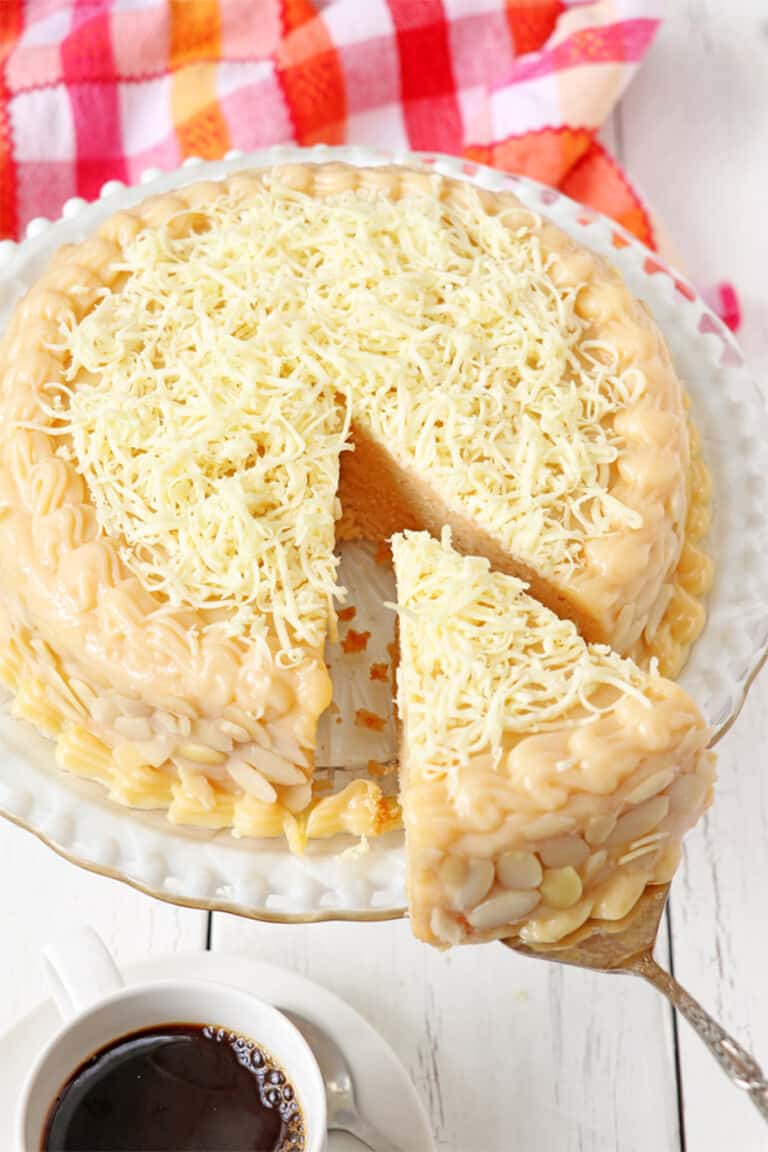 What is a Yema Cake
The Yema cake has three components which all work together into a scrumptious, indulgent baked treat.
Sponge Cake-the procedure is very similar to Pianono, but this recipe has added butter for a rich flavor.
Yema Frosting– based on my easy yema spread recipe, but cooked longer to make it thicker and hold its form better for frosting and piping.
Grated Cheese-the cake was decorated with almond slivers to pretty it up, but this is entirely optional. The grated cheese topping, however, is a must as it adds another layer of flavor and the saltiness of cheese provides the perfect contrast to the sweetness of the Yema frosting.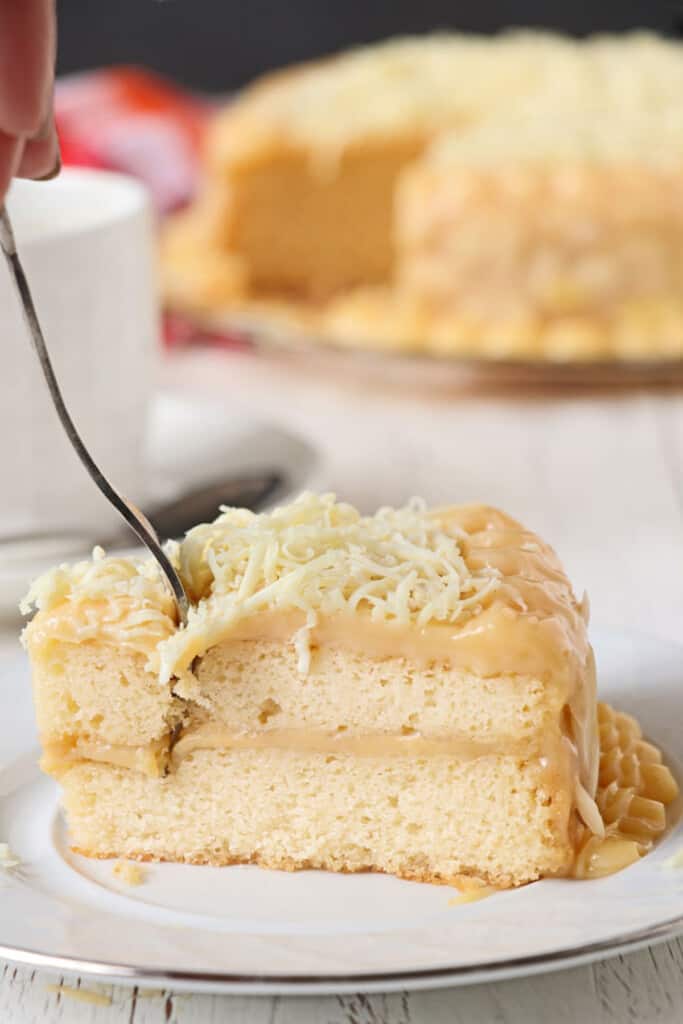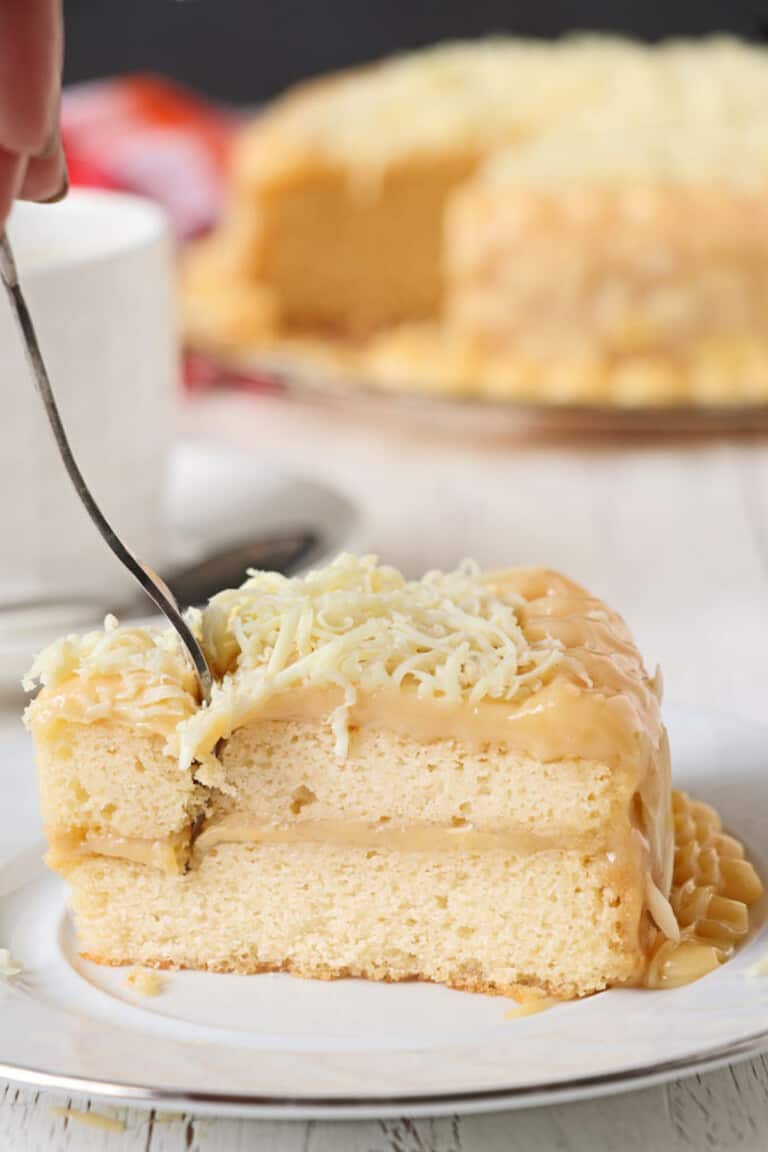 Give this yummy recipe a try! With delicious layers of soft, fluffy sponge cake, creamy golden yema, and salty grated cheese, it's pure indulgence! It's the perfect dessert for special occasions but easy enough to make for everyday sweet cravings.
How to store
This cake contains dairy products and thus need to be refrigerated for food safety.
Store under a cake cover or wrap loosely with plastic film and refrigerate for up to 3 days.
To freeze, place frosted cake in the freezer until frosting is frozen. Wrap tightly with plastic film and freeze for up to 3 months.
To serve, thaw the cake loosely uncovered at room temperature for about 2 to 3 hours.
Fluffy Sponge cake with a creamy egg custard frosting and grated cheese topping. This Filipino Yema cake is soft, fluffy, and decadent!
Course:
Baked Goods, Dessert
slices
Ingredients
For the Sponge Cake
2 large eggs, whites and yolks separated
1/2 cup sugar
1/2 cup butter, room temperature
1/2 cup milk
1 cup cake flour
2 teaspoons baking powder
1 teaspoons vanilla extract
For the Yema Frosting
2 cans (14 ounces each) sweetened condensed milk
4 egg yolks
4 tablespoons butter
For Topping/Garnish
1/2 cup almond slivers
1 cup grated cheese
Instructions
SPONGE CAKE
Preheat the oven to 350°F. Line the bottom and sides of an 8-inch round pan with parchment paper and set aside.

In a bowl, beat the egg whites using a mixer at low speed for 2 to 3 minutes or until soft peaks form.

Gradually add 1/4 cup of the granulated sugar, a tablespoon at a time, while continuously beating. Once all sugar is added, turn up the speed to medium and continue beating the meringue until it forms stiff glossy peaks. Set aside.

In a separate bowl, cream the butter and remaining 1/4 cup sugar for 3 minutes or until light in color.

Add the yolks one at a time while continuously mixing for about 2 minutes.

Add milk, cake flour, baking powder, and vanilla extract to the egg yolk mixture. Beat until batter for about 2 minutes or until smooth.

Gently fold in a third of the meringue into the egg yolk mixture and then add the remaining meringue and fold until well combined.

Pour into prepared pan and bake for 30 minutes in the preheated oven or until a toothpick inserted in the center comes out clean. 

Remove from oven and let the cake cool in the pan for about 10 minutes before completely removing from pan to a cooling rack. Remove the parchment paper off the cake and let it cool down before frosting.
For the Yema Frosting
In a bowl, combine condensed milk, egg yolks, and salt (if using). Whisk until well-blended and evenly colored.

In a wide, nonstick pan over medium-low heat, heat butter until slightly melted and still warm (NOT hot).

Add egg-milk mixture and stir well to combine.

Cook, stirring regularly and scraping sides and bottom with a spoon, for about 15 to 20 minutes or until mixture thickens to a spreadable paste. Remove from heat and allow to cool.
TO ASSEMBLE
Once the sponge cake is completely cool, cut the horizontally into half.

Spoon about 1/4 of the yema on top of the bottom cake half layer. Using a spatula, spread evenly to cover the surface with about 1/8-inch thick of yema filling.

Place the top layer half of the sponge cake on top of the frosted cake layer.

Scoop and spread enough yema frosting on top of the cake to cover the surface and make a frosting layer with about half-centimeter thickness.

Set aside about 1/4 cup of the yema and using an offset spatula, spread to cover the sides of the cake.

Scoop a handful of almond slivers and gently tap to the sides of the cake.

Pipe the reserved 1/4 cup yema frosting on the top and at the bottom edges of the cake to decorate.

Sprinkle the grated cheese on top of the cake.

Serve immediately or chill in the fridge.
Nutrition Information
Calories: 729kcal, Carbohydrates: 81g, Protein: 18g, Fat: 38g, Saturated Fat: 21g, Cholesterol: 239mg, Sodium: 395mg, Potassium: 593mg, Fiber: 1g, Sugar: 67g, Vitamin A: 1160IU, Vitamin C: 2.6mg, Calcium: 488mg, Iron: 1.2mg
"This website provides approximate nutrition information for convenience and as a courtesy only. Nutrition data is gathered primarily from the USDA Food Composition Database, whenever available, or otherwise other online calculators."