Ukoy na Togue, made of beans sprouts, carrots, and shrimp, are crispy, tasty, and filling snacks or appetizers. Enjoy these vegetable and shrimp fritters with spicy vinegar for the best experience!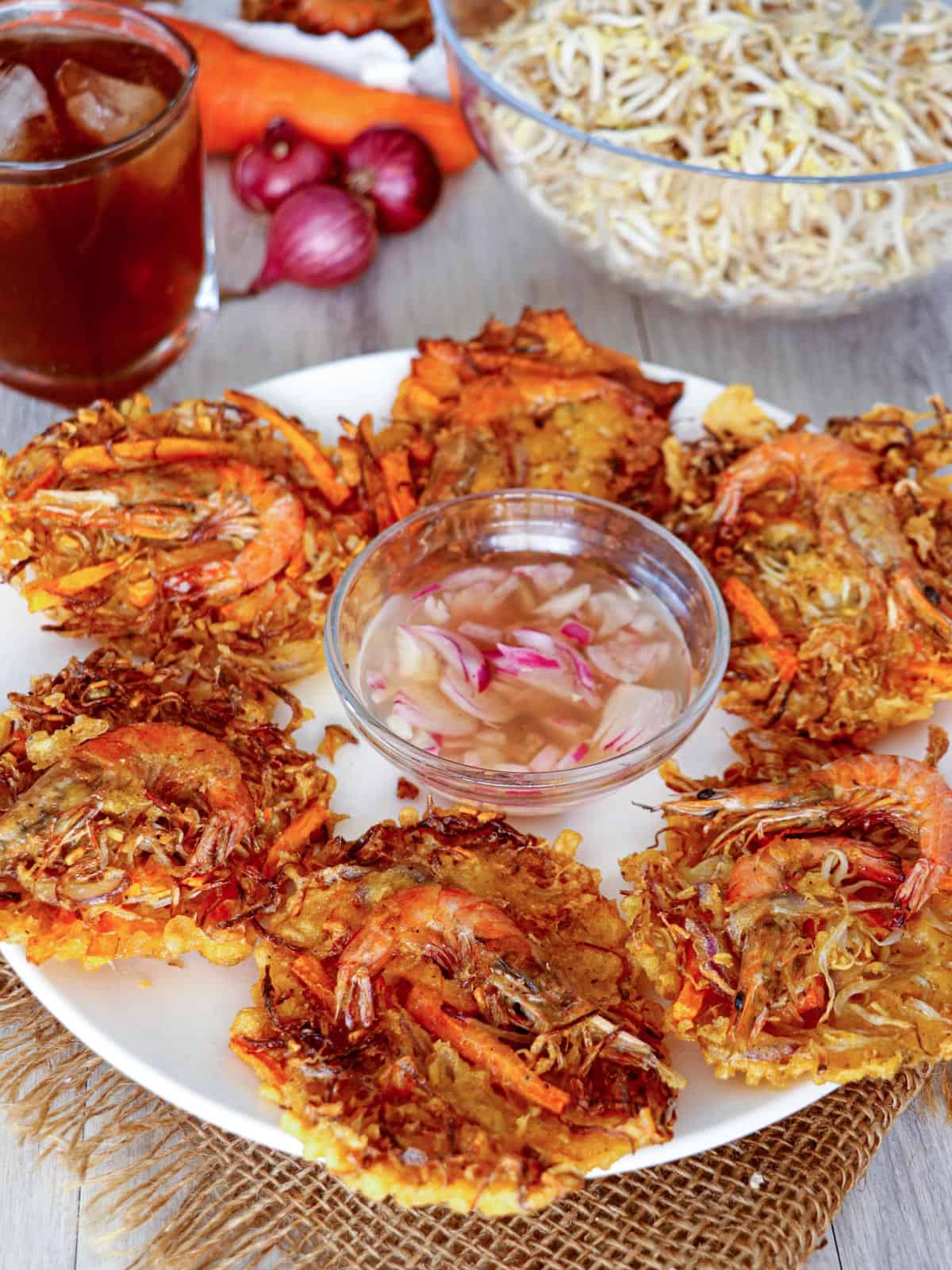 Since I cook many dishes to maintain the blog with a steady stream of fresh content, I seldom revisit recipes I've already posted. Ukoy is my favorite for late-afternoon merienda, but I haven't had the chance to make them again since posting the recipe in December 2013!
When one of our KP readers commented on how delicious my ukoy recipe turned out (thank you!) and how her co-workers enjoyed the batch she brought to work, a mad craving was awoken! I couldn't wait to get my hands on these delicious shrimp and vegetable fritters and enjoy each crispy patty with copious amounts of sinamak.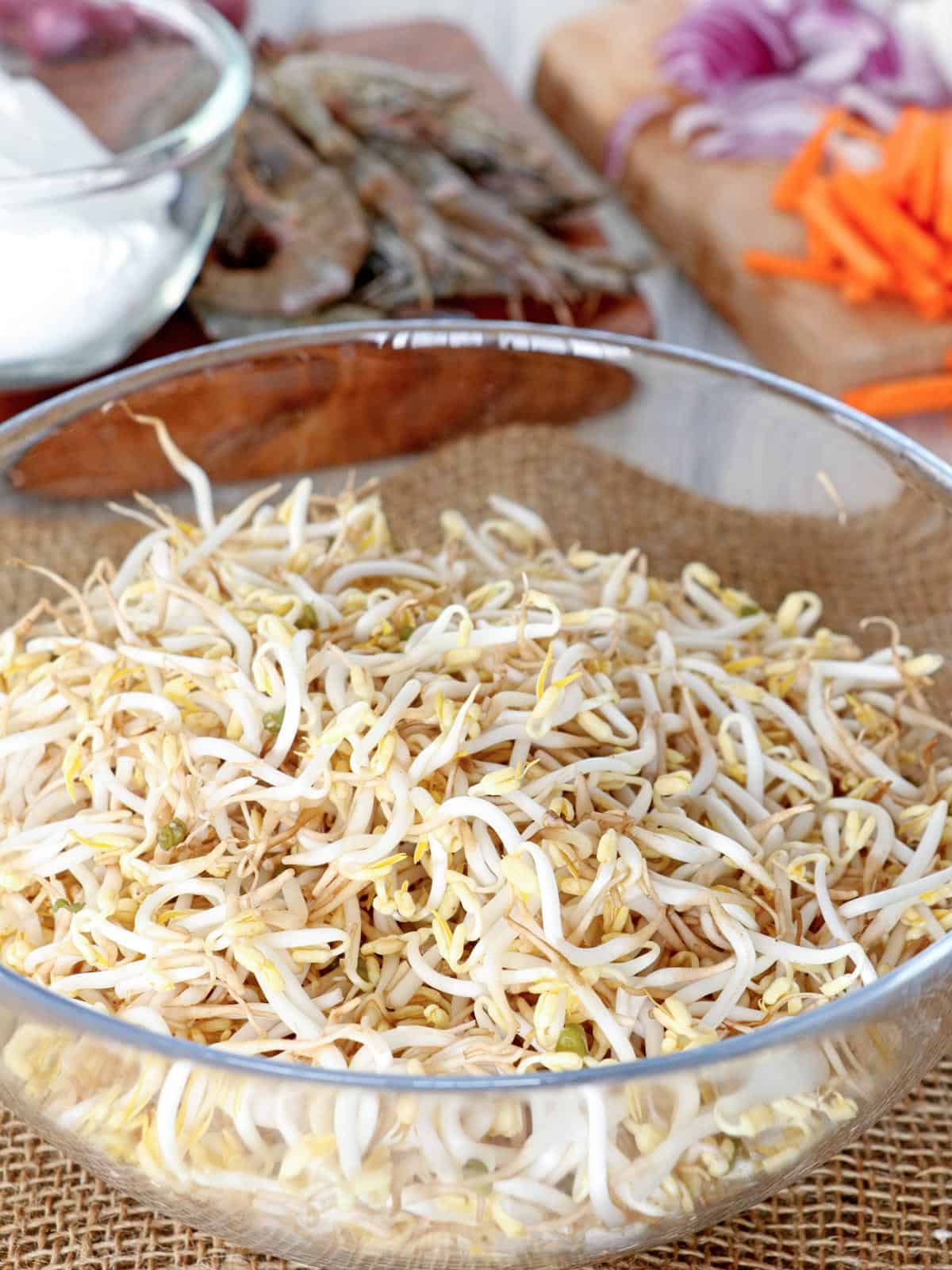 Unfortunately, I didn't have all the ingredients, namely green papaya and calabasa, to make it happen. Fortunately, I had a whole bag of bean sprouts and a couple of carrots in the fridge, which are also commonly used and are equally excellent in ukoy.
Thank you for simple blessings! The ukoy na togue turned out as crispy and tasty as I anticipated!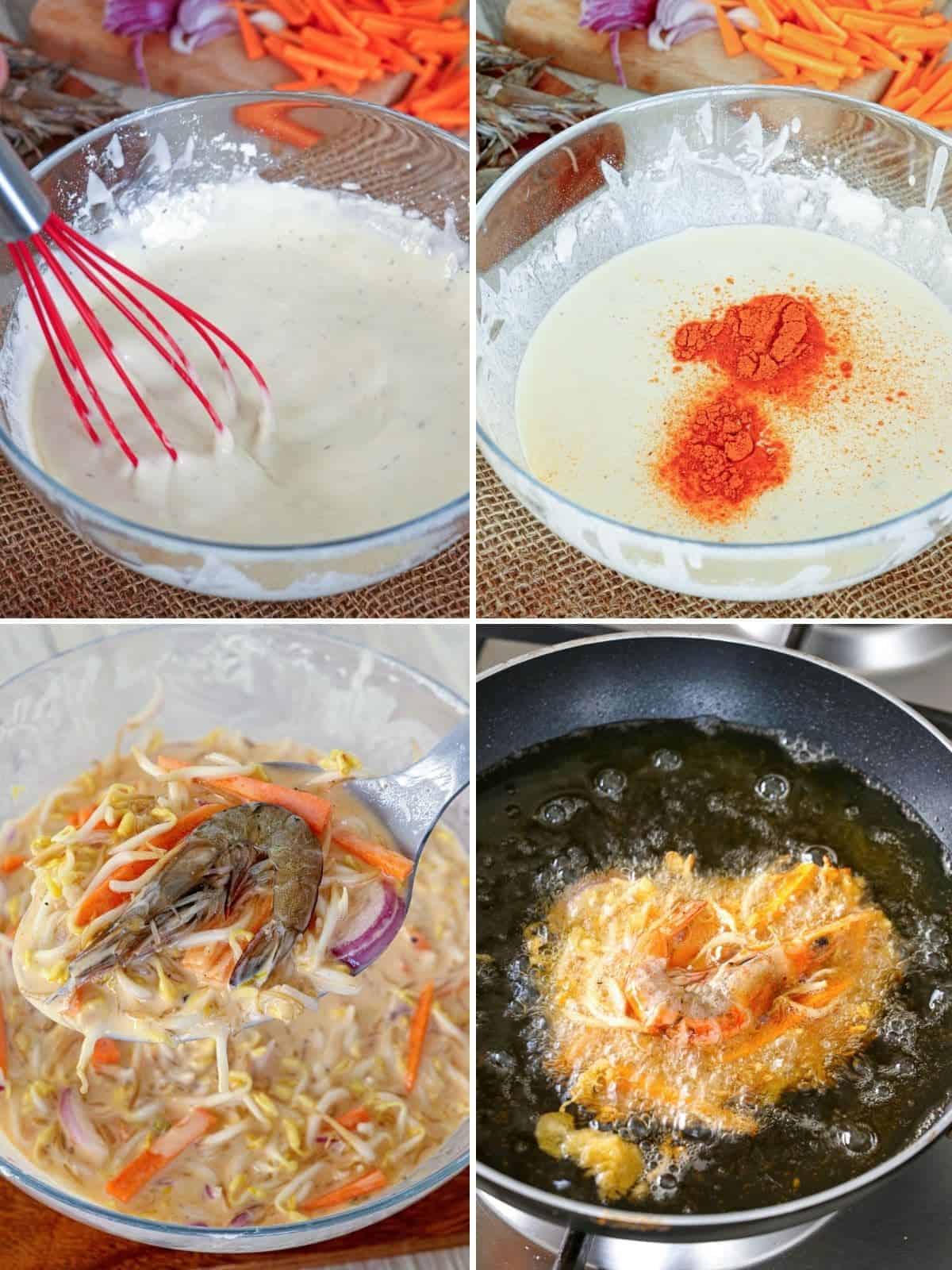 Cooking tips
Cut the carrots into uniform size and slice as thinly as possible as they will cook congruently with bean sprouts which have a short cook time.
The annatto powder is mainly for aesthetic purposes; use more or less to achieve the desired color.
Add fish sauce for umami flavor. You can also stir in shrimp bouillon in the batter and adjust seasoning to taste.
For crispy texture, use enough oil to cover the patties at least halfway. Do not overcrowd the pan; cook in batches as needed.
The optimal temperature of 350 to 375 F is crucial in frying! Too high and the ukoy will burn before sufficiently cooked through, too low and they will absorb more grease.
Use a large spoon or a small saucer to evenly portion the batter and to easily slide into the hot oil.
To keep from falling apart, fry the fritters undisturbed for about 2 to 3 minutes until browned on the bottom and then flip with the spatula to continue to cook until browned and crispy.
Drain on a wire rack set and not on paper towels lest the steam will make them soggy.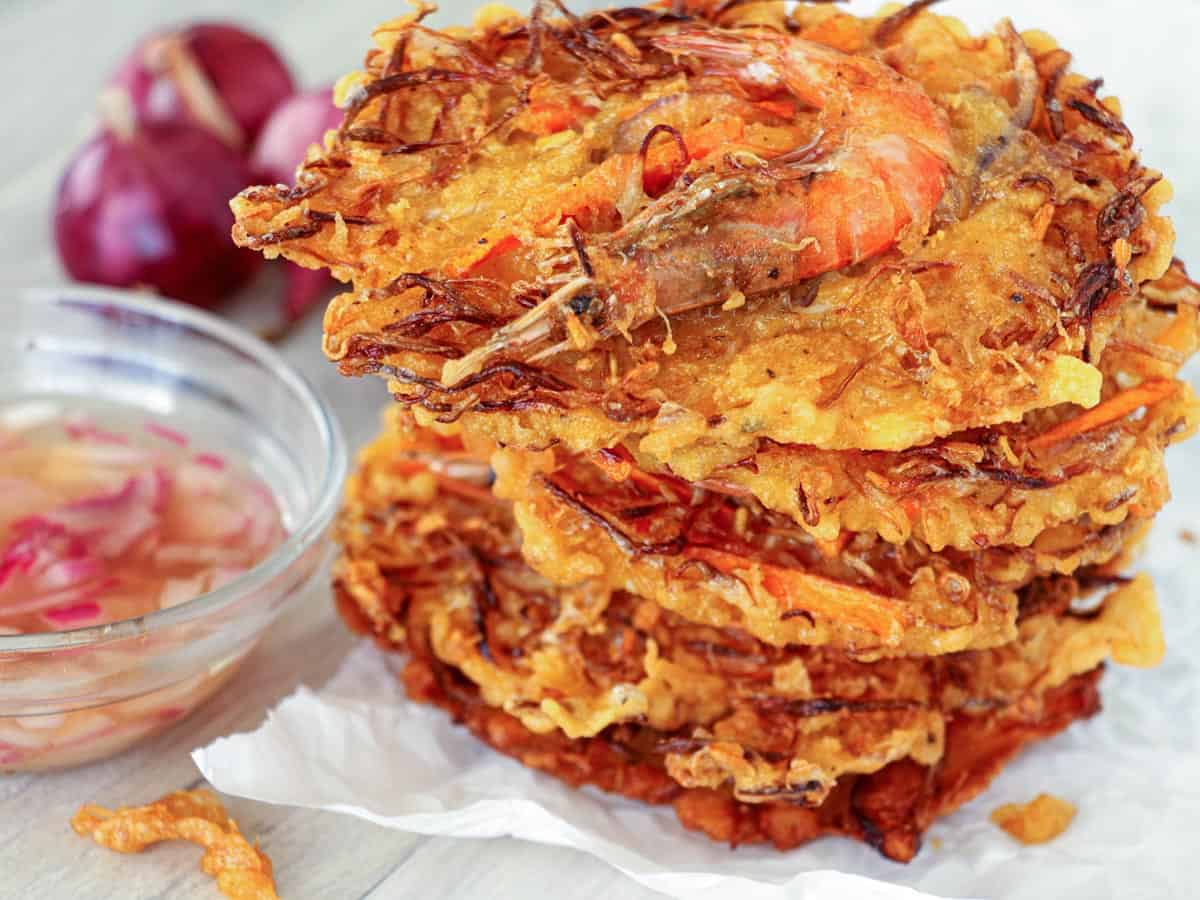 How to serve
Serve as a midday snack or appetizer with spicy vinegar for dipping.
These shrimp and vegetable fritters are best enjoyed freshly cooked as they lose crispness over time.
If not eating immediately, place a single layer on a baking sheet and keep warm and crispy in a 200 F oven until ready to serve.
Shrimp and Vegetable fritters with bean sprouts and carrots. Crispy and tasty, they make a filling snack or appetizer.
6 Servings
Ingredients
1 egg, beaten
1 cup cornstarch
½ cup flour
1 cup water
1 teaspoon fish sauce
1 teaspoon salt
½ teaspoon pepper
1 teaspoon annatto powder
1 pound mung bean sprouts
2 large carrots, peeled and julienned
4 shallots, peeled and sliced thinly
canola oil
½ pound medium shrimps, tendrils trimmed
Instructions
In a large bowl, combine egg, cornstarch, flour, water, fish sauce, salt, and pepper. Whisk together until well-blended and smooth.

Add annatto powder and stir until dispersed and batter is lightly colored.

Add bean sprouts, carrots, and shallots and gently stir to combine.

In a large skillet over medium heat, heat about 2 inches deep of oil.

On a large spoon, place about 2 to 3 tablespoons of the ukoy mixture and press 1 to 2 shrimps on top.

Gently slide mixture into the hot oil and cook for about 3 to 4 minutes on each side or until golden brown and crisp. 

With a slotted spoon, remove from heat and drain on a wire rack set over a baking sheet. Serve immediately with spicy vinegar dip.
Notes
Cut the carrots into uniform size and slice as thinly as possible as they will cook congruently with bean sprouts which have a short cook time.
Video
"This website provides approximate nutrition information for convenience and as a courtesy only. Nutrition data is gathered primarily from the USDA Food Composition Database, whenever available, or otherwise other online calculators."