Kalamay Hati made with glutinous rice flour, coconut milk and muscovado sugar. Perfectly sweet and sticky, this rice cake is great as snack or dessert!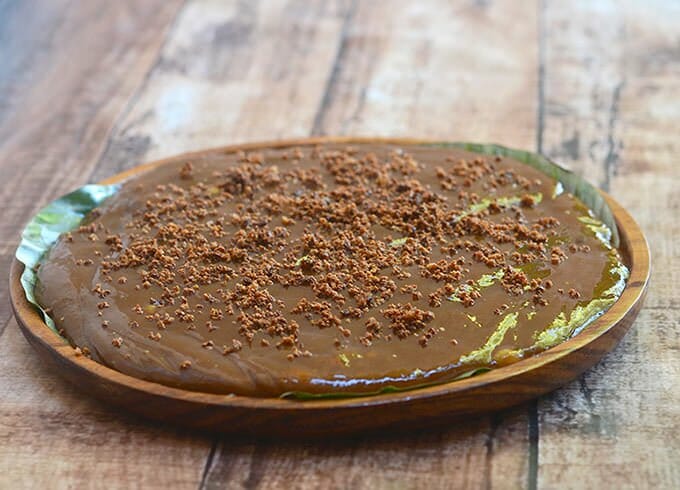 My peeps, I am so stoked! One of my recipes is on Appetite Magazine!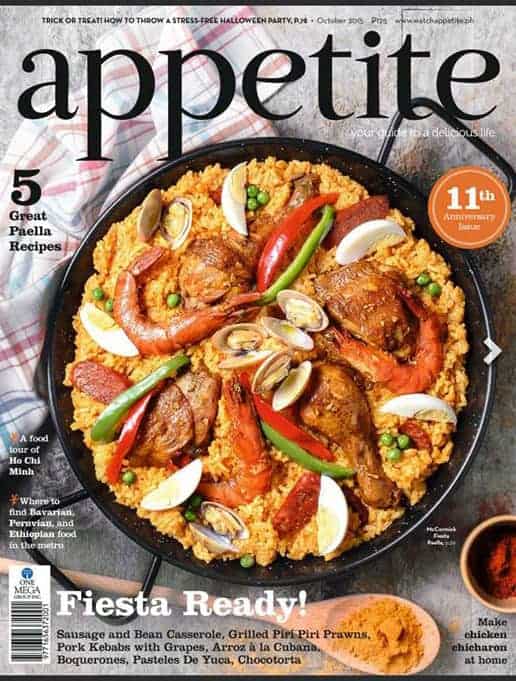 Back in August, I received an email from the magazine's editor-in-chief, Nina Daza-Puyat (yes, the daughter of the one and only Nora Daza!) requesting to feature my chicken skin chicharon recipe for the home projects section of their magazine.
You could just imagine my disbelief. Moi? Being contacted by THE daughter of MY idol for my recipe? MY recipe! I thought I was being punked!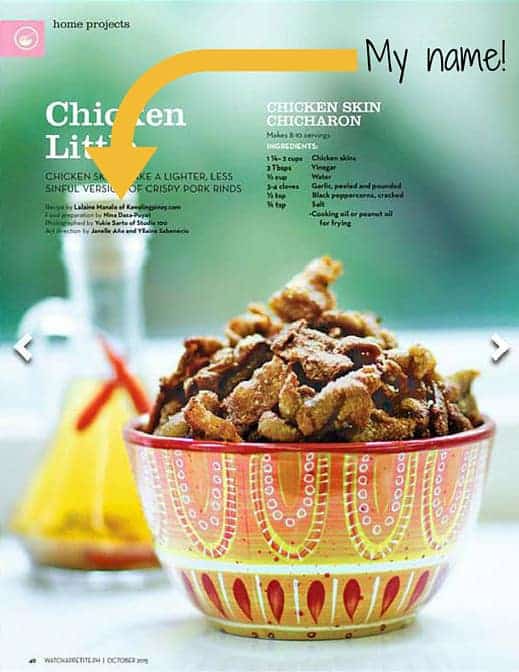 As it turned out, the email was indeed real. We exchanged a few more over the next few weeks and then today, she informed me that Appetite's October 2015 featuring my recipe is now available in stores and she'd love to send me a copy here in the U.S. I was so excited to even wait, I bought the app version of the magazine so I can check it out ASAP.
OMG! What a fine job they did, the step-by-step photos were spectacular. Please, please hurry to your nearby newsstand and get your copy today! Along with the chicken skin chicharon, the magazine is packed with recipes and meal ideas to try at home. There are also about five ingenious versions of paella which will be perfect for your upcoming holiday celebrations.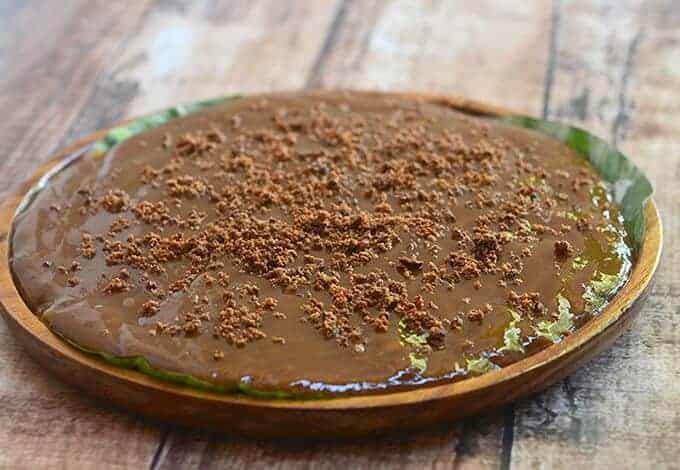 Anyway, let me get off cloud nine and get on with our recipe for the day. Kalamay hati is a simple affair of glutinous rice flour, coconut milk and muscovado brown sugar. Although easy to make, it does require a bit of elbow grease as the mixture needs to be stirred and turned in the pan for a good hour or so until you can hardly lift the spoon.
Tips on How to Make Kalamay Hati:
Use a non-stick pan to make stirring easier.
Brush the banana lining with coconut oil for added flavor.
After transferring the cooked mixture into the serving dish, gently tap on the counter to easily spread out and flatten the rice cake. Use a lightly-oiled knife or spatula to smooth the top.
Skip brushing the kalamay with coconut oil when serving cold as the oil will harden into a greasy film.
Make sure to include this in your Noche Buena line up of desserts and enjoy!
Kalamay Hati made with glutinous rice flour, coconut milk and muscovado sugar. Perfectly sweet and sticky, this rice cake is great as snack or dessert!
12 Servings
Ingredients
2 cans (19 ounces each) coconut milk
2 cups glutinous rice flour
2-½ cups muscovado brown sugar
Instructions
Line a serving pan with wilted banana leaves and then brush leaves with coconut oil from the latik.

In a wide non-stick pan, combine coconut milk and glutinous rice flour. Whisk together until smooth and free of lumps.

Over medium heat, cook, stirring frequently, for about 10 to 15 minutes or until mixture thickens and forms a smooth dough.

Add muscovado brown sugar and stir until sugar is dissolved and mixture is evenly brown in color.

Continue to cook for about 50 minutes to 1 hour or until mixture is very thick, sticky and can hardly lift from the pan.

Transfer the kalamay mixture onto the prepared pan. Gently tap pan on the counter to spread mixture. Use a lightly-oiled knife to smooth top.

Brush surface with coconut oil and top with latik.

For the Latik
In a pan over medium heat, add coconut cream and bring to a boil. Cook, stirring occasionally, until liquid starts to thicken.

Lower heat and continue to cook.

As oil starts to separate and solids begin to form, regularly stir and scrape sides and bottom of pan to prevent from burning.

Continue to cook and stir until curds turn golden brown.

Drain latik from the oil and store in a container until ready to use.

Line a wide serving dish with banana leaves and brush the banana leaves with coconut oil.
"This website provides approximate nutrition information for convenience and as a courtesy only. Nutrition data is gathered primarily from the USDA Food Composition Database, whenever available, or otherwise other online calculators."