Pichi-pichi is a Filipino delicacy made of grated cassava and coconut juice. Soft, chewy and coated with grated coconut, this steamed cake is delicious as a snack or dessert.
Filipino cuisine has a wide variety of kakanin and pichi-pichi is probably one of the easiest to make. Its process is as simple as combining all the ingredients in one bowl, steaming the mixture in individual molds, and then coating in grated coconut when cooled.
The hardest part is grating the tubers, but you can save yourself time and sweat by using frozen grated cassava which is available at most Asian supermarkets. Just plan ahead and thaw the package overnight and you'll have your pitsi-pitsi or other favorite kamoteng kahoy recipes such puto lanson, suman, and cassava cake ready in no time.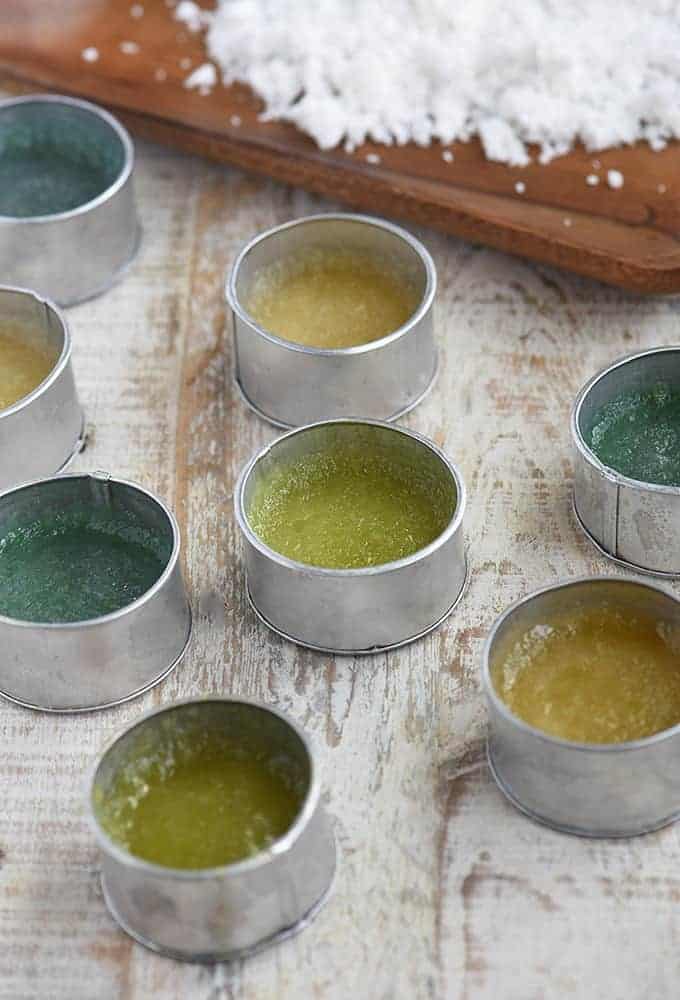 Ingredients
Cassava-I used frozen grated cassava in this recipe. If substituting fresh cassava tubers, make sure to finely grate using the small holes of a food grater or a food processor.
Coconut juice-I like the taste of coconut juice, but feel free to use pandan water (read the short how-to below) or plain water and a few drops of pandan extract.
Sugar-you can swap with brown sugar to add a richer color and a hint of molasses flavor.
Salt-this may seem out of place in a sweet dessert but a few dashes will actually help balance flavors
Food-grade Lye water-used in various food processes such as in kutsinta and Chinese mooncakes, this strong alkaline gives the cakes a soft and springy texture. If you prefer not to use lye or don't have access to it, you can read this article on how to use baked baking soda solution as an alternative.
Grated Coconut-when the pitsi-pitsi has sufficiently cooled, roll in the coconut to fully coat. You can also use shredded cheese for a delicious sweet and salty combination.
Flavor extracts and food coloring-optional but are an easy and fun way to make different pitsi-pitsi varieties.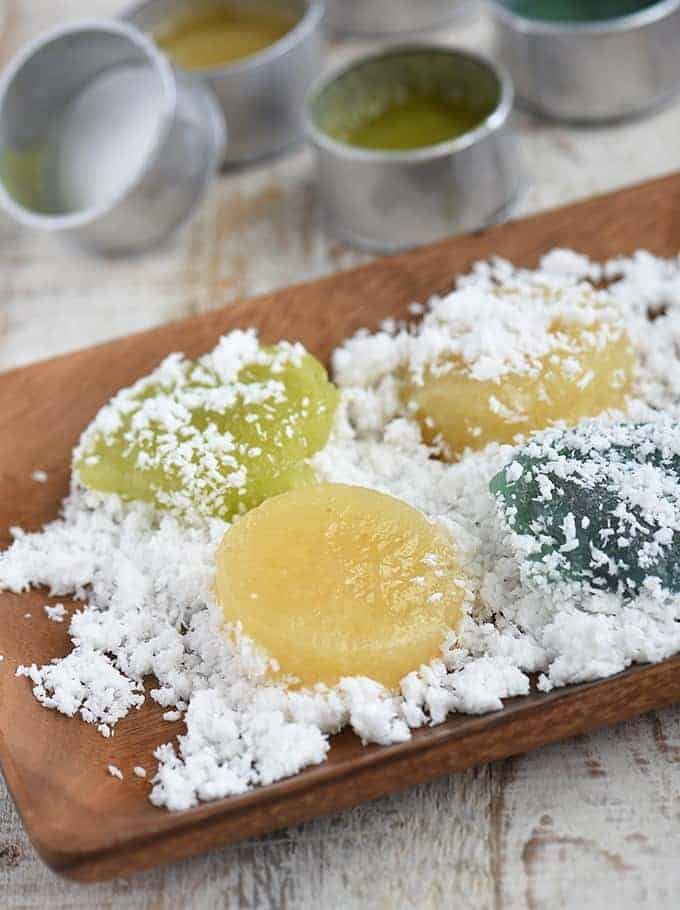 How to make pandan-flavored water
Rinse a couple of pandan leaves to remove any dirt or grit and tie into a knot.
In a pot over medium heat, bring 2 cups water to a boil.
Add the pandan leaves to the boiling water and simmer for about 8 to 10 minutes or until water is fragrant and has turned a light green color.
Using a fine-mesh sieve, strain and discard the leaves. Use the infused water (1 ½ cups) in the recipe.
How to prepare fresh cassava root
Cut the tuber crosswise into halves or thirds to make peeling more manageable.
Using a sharp paring knife, slice lengthwise through the thick bark and carefully insert the thin end of the knife between the bark and the flesh to loosen. If the skin won't peel easily, cut off the ends of the tuber and stand the root up on its end. Slice vertically down the sides of the root to peel the skin.
Wash thoroughly and soak in a bowl of water until ready to grate to keep from discoloring.
For a smooth texture, finely grate the cassava using the small holes of a food grater or a food processor.
Using a cheesecloth, squeeze the grated cassava to rid of some of the liquid. Make sure it's not too dry but still slightly wet.
Cooking tips
Freezing and thawing cassava adds extra moisture. If the thawed grated cassava is overly wet, drain the excess liquid using a fine-mesh sieve.
I used pandan and ube extract to amp up the presentation. Feel free to experiment with your favorite food colors and flavorings.
No need to grease the molds. Just quickly dip in a bowl of water and leave a very thin film of water on the insides to keep the pichi-pichi from sticking.
After combining all the ingredients, let stand for 30 minutes to an hour before pouring into the molds.
Regularly stir the mixture when pouring into molds to evenly-distribute the cassava and not settle at the bottom of the bowl.
Cover the lid of the steamer with cheesecloth or light cotton to prevent the steam from dripping onto the cakes.
Refrigerate to cool and set the pichi-pichi completely before prying them off the molds. Run a blunt knife around the edges of the mold to loosen and release the cakes.
To extend shelf life, store without coating and just roll in the grated coconut when ready to serve.
Make sure to save/pin/print/bookmark this recipe. Pichi-pichi not only is a tasty and filling snack or dessert, but it's also a colorful addition to any party menu. Plus, it's so easy to make, you can have a large batch to serve a crowd in a cinch!
Pichi-pichi is a Filipino delicacy made of grated cassava and coconut juice. Soft, chewy and coated with grated coconut, this steamed cake is delicious as a snack or dessert.
24 Pieces
Ingredients
1 package (16 ounces or two cups) frozen grated cassava, thawed
2 cups coconut juice
1 cup sugar
¼ teaspoon salt
1 teaspoon lye water
3 drops Ube Food Coloring, optional
2 drops Pandan Extract, optional
2 cups grated mature coconut
shredded cheese, optional
Instructions
Bring water to a boil in the bottom of a steamer.

In a bowl, combine cassava, coconut juice, and sugar. Mix well until sugar is dissolved. Add lye water and mix well.

If using food color and extracts, divide the mixture into three small bowls. Add a few drops of ube coloring in one bowl and pandan extract on the second bowl. Leave the third plain.

Let stand for about 30 minutes to one hour.

Pour into individual molds and arrange molds in a steamer. Steam for about 40 to 50 minutes or until translucent and a toothpick inserted in the center comes out clean.

Remove from steamer and refrigerate to about 20 to 30 minutes to completely cool and set.

Remove from molds and roll in coconut to fully coat. If preferred, roll half of the batch in shredded cheese for variety.
Video
"This website provides approximate nutrition information for convenience and as a courtesy only. Nutrition data is gathered primarily from the USDA Food Composition Database, whenever available, or otherwise other online calculators."