Palitaw is made with glutinous rice flour, grated coconut, sesame seeds, and sugar. Soft, chewy, and gluten-free, this Filipino delicacy is delicious as a snack or dessert.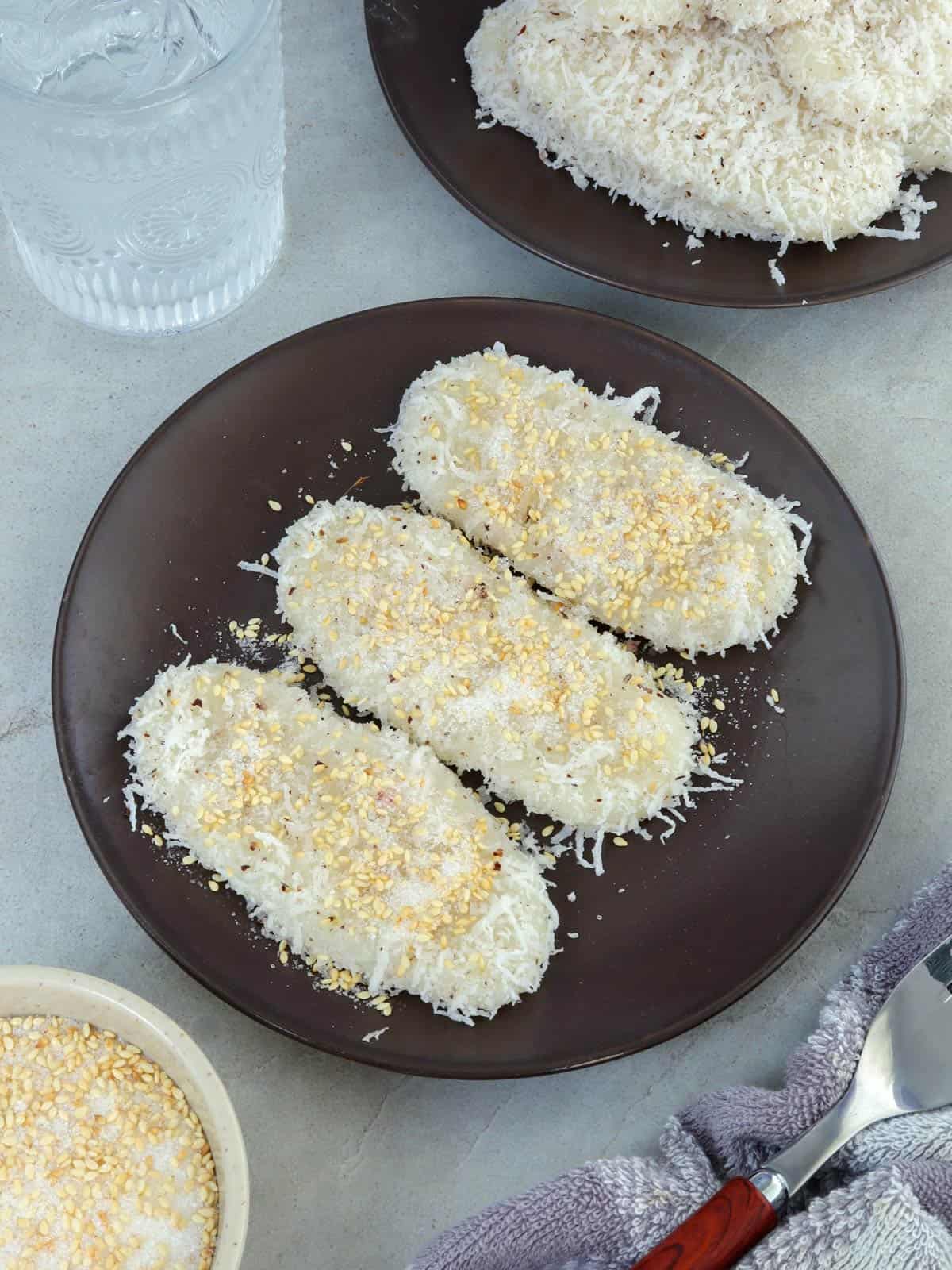 If you're looking for a quick and easy sweet treat, Palitaw is your answer! This sticky rice cake is filling and delicious, with a perfectly soft and chewy patty coated with grated coconut, toasted sesame seeds, and sugar.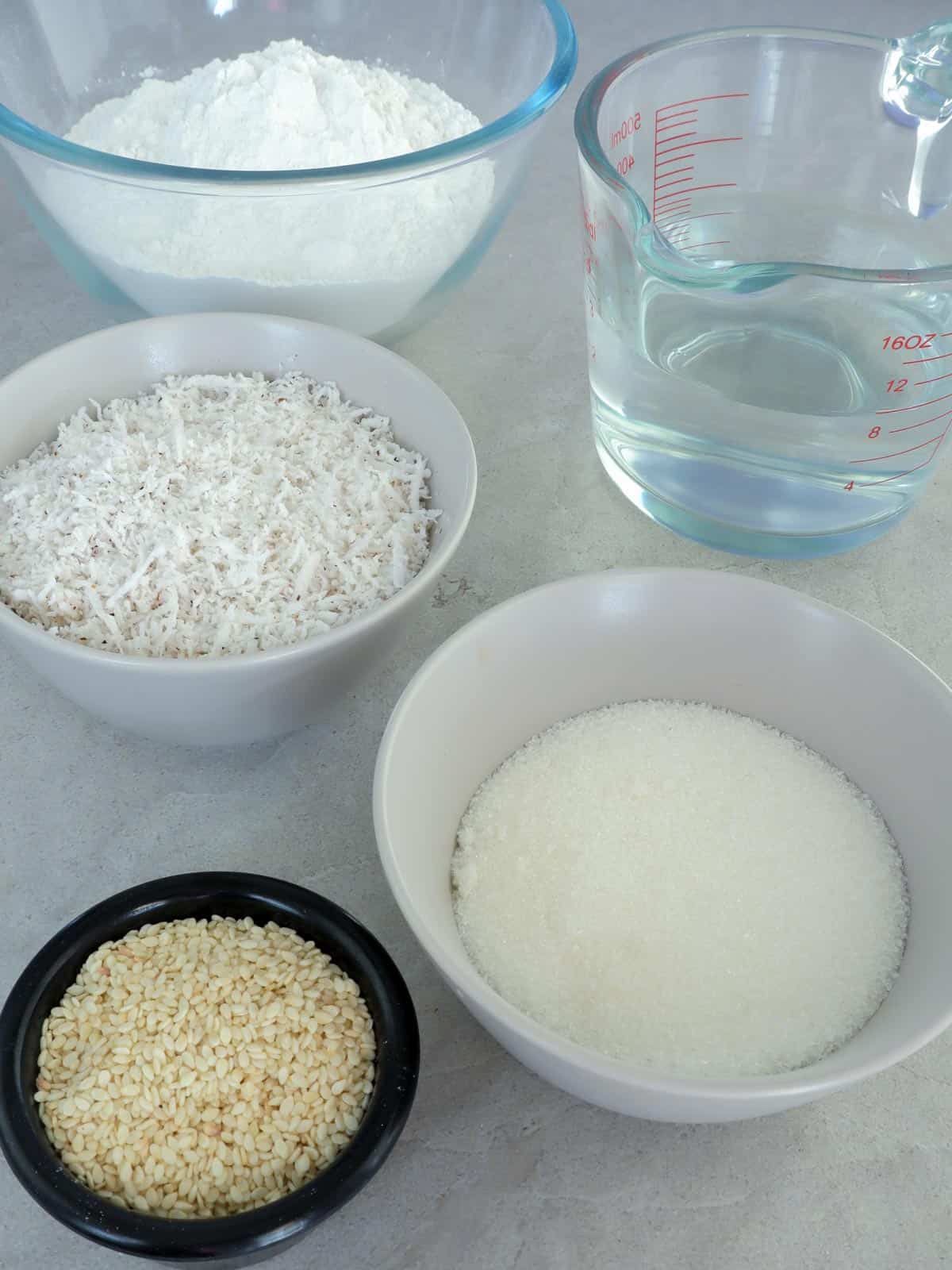 What is Palitaw
Traditional Palitaw is made from glutinous rice grains soaked in water overnight and then processed into a soft dough via grinding. The dough is formed into thin patties, cooked in boiling water, and then coated with grated coconut, toasted sesame seeds, and sugar.
Its name is from the Filipino root word "litaw" or "to surface," as the patties will float or rise to the water's surface when done. It's also called "dila dila" in other parts of the country because of the shape of the patties resembling a "tongue."
With commercial sweet rice flour available, making these mochi cakes can't get any easier than mixing the flour with water! It is important, however, to note that a good palitaw is all about texture.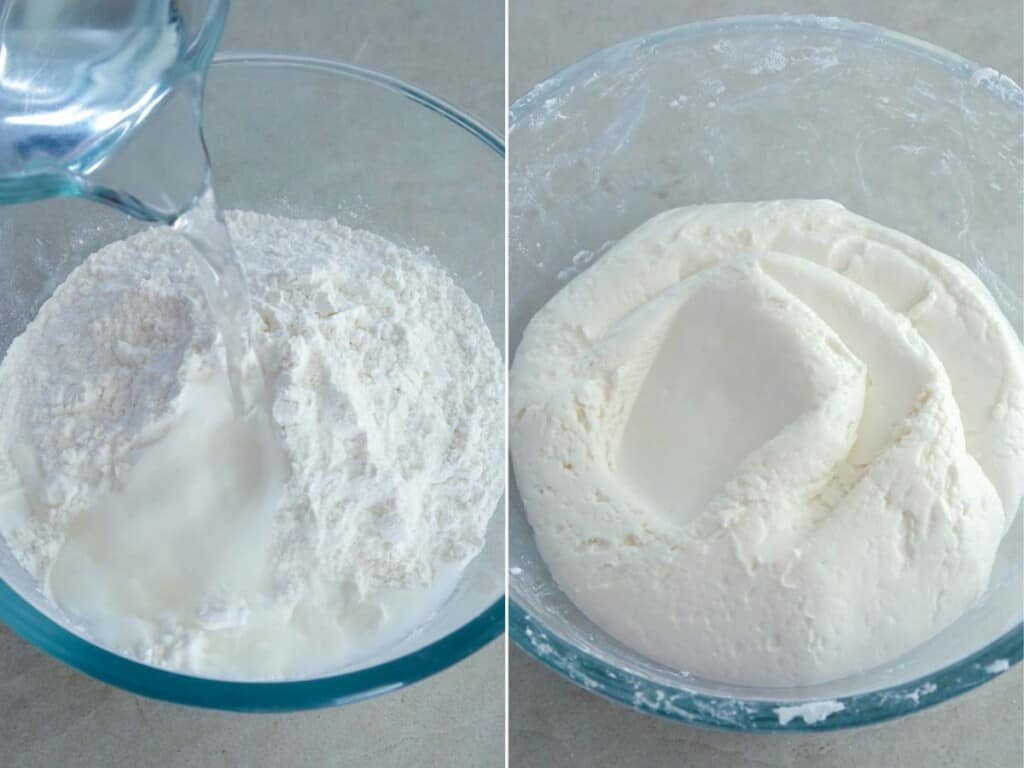 How to make perfectly soft and chewy
You need the right ratio of glutinous rice flour and water for the perfect texture. Not enough liquid and the cooked patties will be hard to chew. Too much, and the dough will be hard to form into shape.
I find 1 cup of water to 2 cups of sticky rice flour yields the best texture. The mixture will look dry, but keep mixing with your hands until it gathers into a smooth dough.
The consistency you're looking for is like that of soft, pliable putty. The dough should feel moist but not overly wet.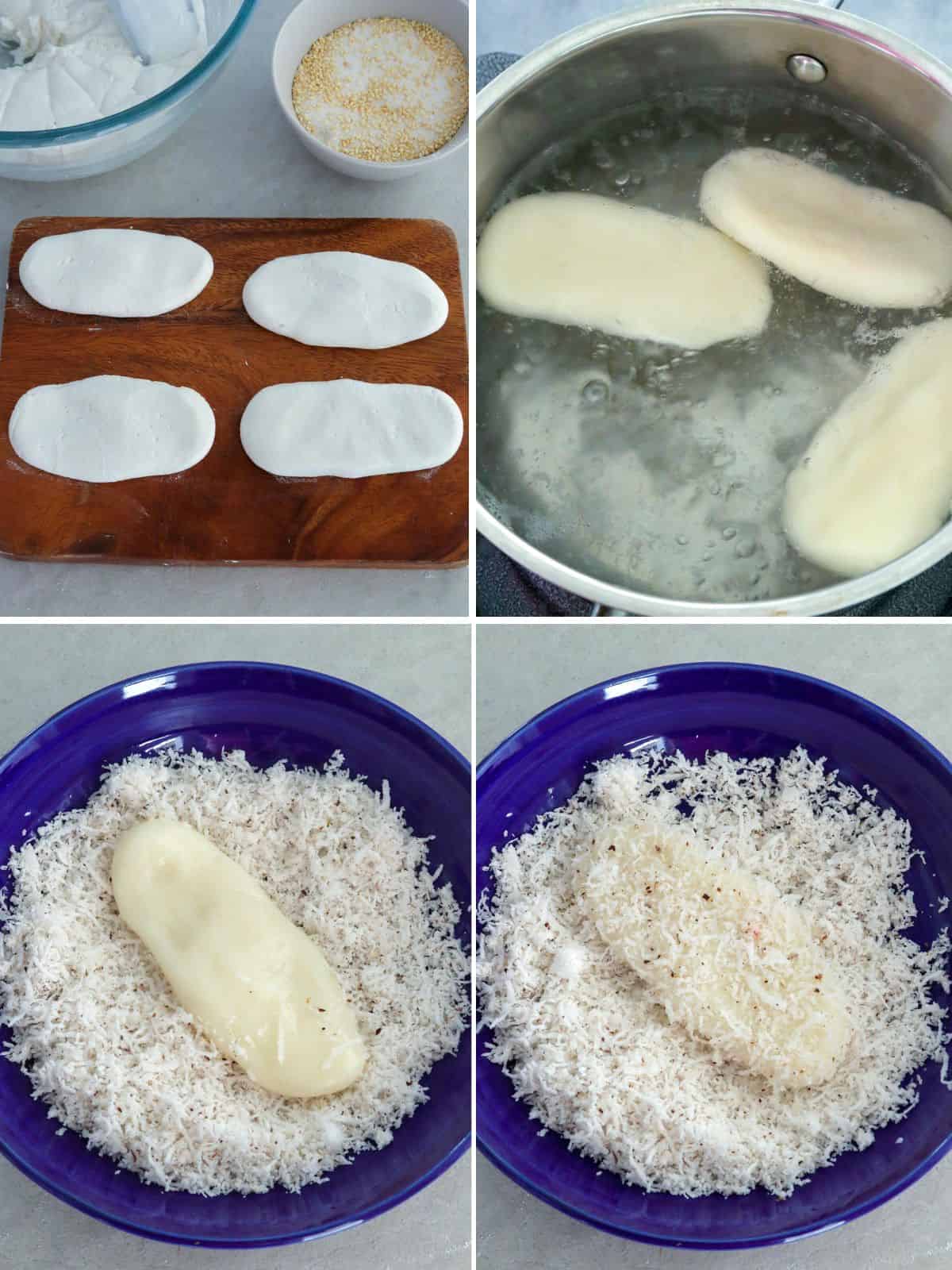 Helpful tips
For a more uniform size, use a small scoop to portion out the dough and use the palm of your hands to roll each portion into a ball and then flatten it into an oval shape about ¼ thick.
If the dough is sticking, wet hands in between shaping.
Once the patties rise to the surface, use a slotted spoon to remove them from the water immediately to keep them from overcooking. Drain well.
Let them cool just enough to touch and begin rolling in grated coconut as they coat better when still warm.
Roll the patties immediately in coconut but sprinkle the sugar-sesame mixture when ready to serve as the sugar tends to dissolve over time. Or you can serve it on the side and allow the guests to sweeten the palitaw as they like.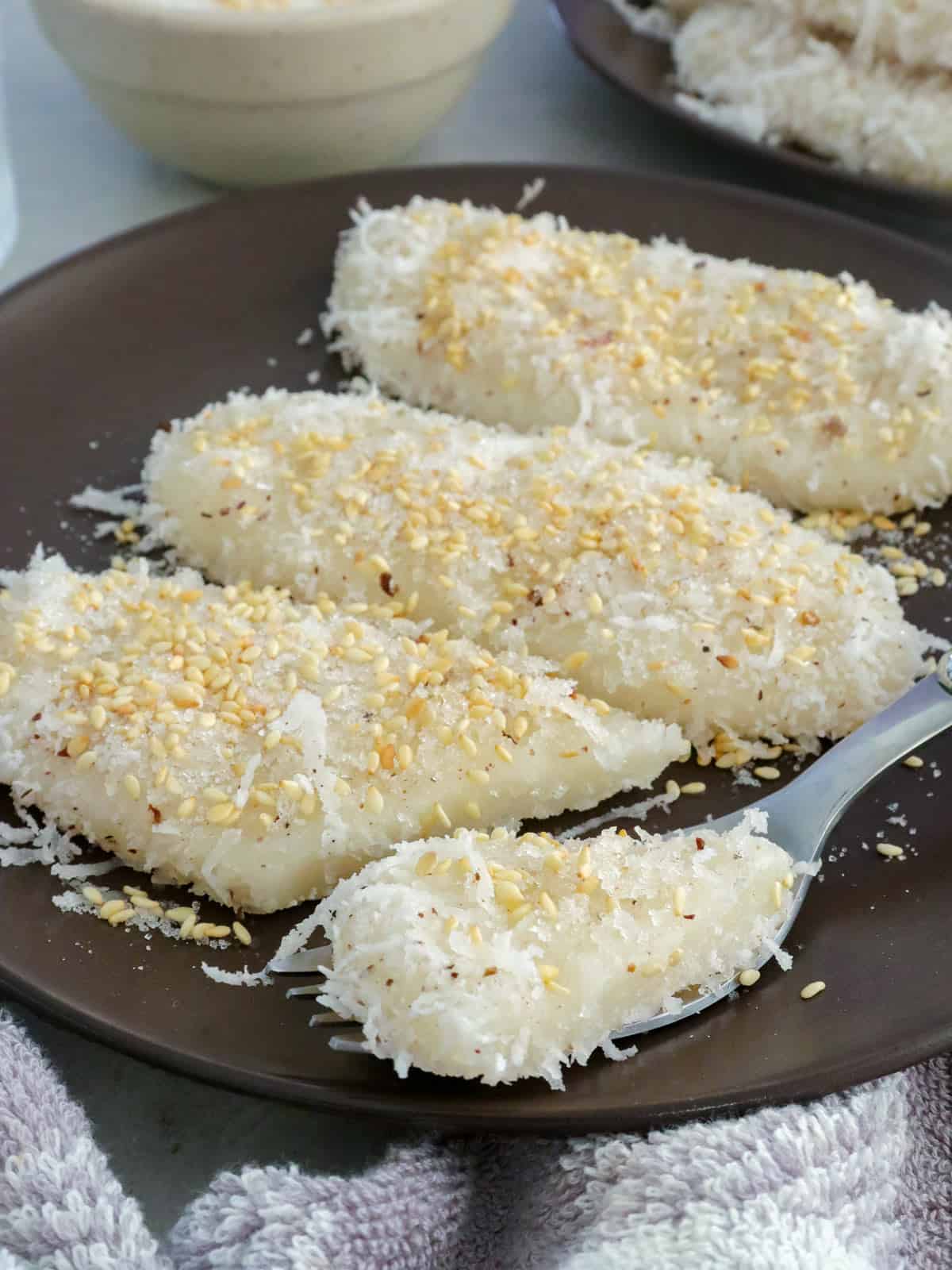 How to serve and store
Serve as a midday snack or after-meal dessert with an ice-cold drink such as calamansi juice or melon chiller.
Do not keep at room temperature for too long as the grated coconut spoils fast, especially in warm weather.
To refrigerate, coat with the grated coconut but skip the sesame sugar. Store in an airtight container and keep in the refrigerator for 1 to 2 days. The palitaw's texture will change when cold.
Palitaw made with glutinous rice flour, grated coconut, sesame seeds, and sugar. Soft, chewy, and gluten-free, this Filipino delicacy is delicious as snack or dessert.
12 Pieces
Ingredients
¼ cup sesame seeds
½ cup sugar
2 cups glutinous rice flour
1 cup water
1 cup grated mature coconut
water for boiling
Instructions
In a pan over medium heat, toast sesame seeds, stirring frequently, for about 30 to 40 seconds or until lightly browned and fragrant. Remove from heat and allow to cool.

In a bowl, combine toasted sesame seeds and sugar. Set aside.

In a bowl, combine rice flour and water and mix into a soft, pliable dough.

Divide the dough into portions and using the palm of hands, shape into balls and then flatten into oval disks about ¼-inch thick.

In a pot over medium heat, bring about 5-inch deep of water into a rolling boil.

Individually drop the rice patties into the boiling water, making sure not to overcrowd the pot. Cook for about 2 to 3 minutes or until the patties float to the surface,

Using a slotted spoon, remove from the water and drain well. Arrange in a single layer on a parchment-lined platter to keep from sticking together and let cool just enough to touch.

While still warm, roll the palitaw on grated coconut to fully coat.

Sprinkle with sesame-sugar mixture before serving.
Video
"This website provides approximate nutrition information for convenience and as a courtesy only. Nutrition data is gathered primarily from the USDA Food Composition Database, whenever available, or otherwise other online calculators."