Pata Tim braised low and slow in a sweet and savory sauce with bok choy and mushrooms. Melt-in-your-mouth tender, flavorful, and amazing with steamed rice!
Like pata hamonado, Pata Tim is a whole pork leg cooked low and slow in a sweet and savory sauce. But while pineapple juice is the base ingredient for the former, Shaoxing wine and star anise are the flavor components of the later.
This Chinese-style braised dish is easy to make for weeknight family dinners yet it's fancy enough for company. The whole pork leg is first seared to seal in flavor and then simmered in a soy sauce mixture until melt-in-your-mouth tender. A couple of hours on the stove with minimal tending and you get succulent meat and an amazing sauce everyone would be singing praises for!
Cooking tips
Pata Tim is traditionally served whole and uncut but I suggest having the butcher cut the pork leg in a few places through the bone and not all the way to the skin. Not everyone has commercial-size cookware at home; this way, you can bend the leg as needed to fit in the pan as well as the pot. Also, it makes serving at the communal table easier; guests can help themselves to a piece or two without tearing through the whole pork.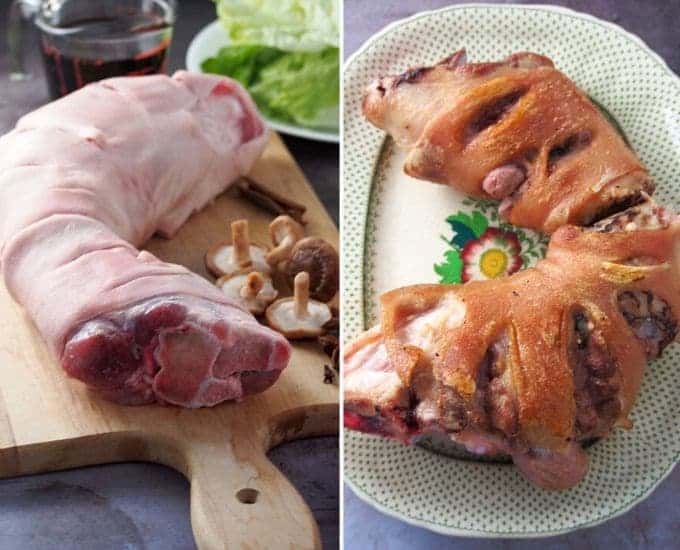 Pat the pork well with paper towels so it will brown nicely when seared.
You can use fresh or dried shitake mushrooms in this recipe; if using dried variety, soak in warm water for about 20 to 30 minutes until softened and then using hands, squeeze the mushrooms to rid of the liquid.
The recipe calls for bok choy, but other leafy vegetables such as spinach, pechay or napa cabbage are also great options.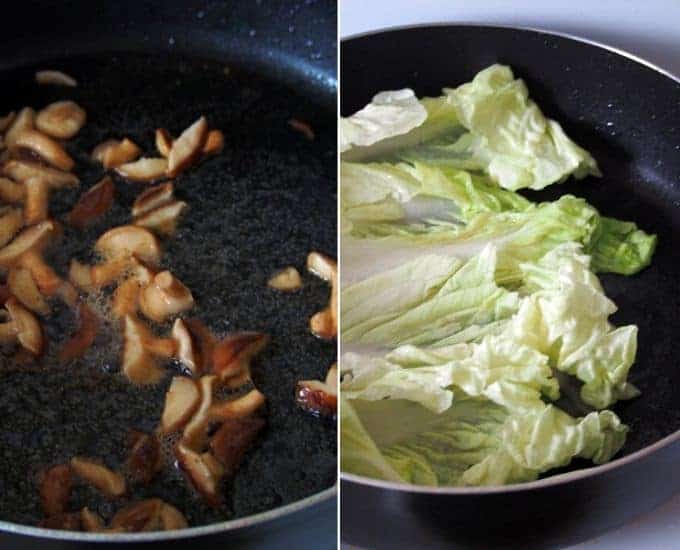 There is no need to add the cornstarch slurry to the sauce. The bones and skin of the hocks/leg are naturally gelatinous and will help thicken the liquid. You can simmer the sauce longer to reduce if you like, but seriously, you'd want as A LOT of the sweet and savory broth to spoon over the meat, it's pure heaven on steamed rice!
The cook time will vary depending on the size of the pork leg. Add more water in ½ cup increments and adjust seasonings, if needed, during cooking to maintain 2 cups.
How to Serve
On a wide serving platter, arrange the whole braised pork leg. Arrange sauteed mushrooms and bok choy around the meat. Spoon the savory sauce over the meat and vegetables.
Serve hot with steamed rice for lunch or dinner.
Melt-in-your-mouth tender Pata Tim braised in a sweet and savory sauce. Easy to make and so good with steamed rice!
4 Servings
Ingredients
4 pounds whole pork leg
3 tablespoons oil
½ cup Chinese cooking wine
¼ cup vinegar
1 cup soy sauce
½ cup sugar
3 pieces star anise
4 cups water
4 pieces shitake mushrooms
1 bundle bok choy, ends trimmed and leaves separated
Instructions
Have the butcher cut pork leg at about 2 inches apart but not all the way through. Under cold running water, rinse pork leg. Pat dry.

In a wide pan over high heat, heat 2 tablespoons of the oil. Add pork leg and sear on all sides. Remove from pan and set aside.

In a large pot, combine Chinese cooking wine, vinegar, soy sauce, sugar, star anise, and water. Over medium heat, bring to a boil, stirring regularly until sugar is dissolved.

Gently place pork leg into the liquid mixture and boil for about 5 minutes.

Lower heat, cover and continue to cook for about 2 to 2 ½ hours or until meat is very tender and almost falling off the bone. Add more water in ½ cup increments as needed during cooking to maintain about 2 cups of sauce.

Rinse the mushrooms and mushrooms into 1-inch thick strips.

In a pan over high heat, heat the remaining 1 tablespoon oil. Add mushrooms and cook, stirring regularly, for about 1 minute or until heated through. Remove from pan and keep warm.

In the pan, add bok choy and cook, stirring regularly, for about 30 seconds or until tender yet crisp.

To serve, place pork leg on a serving platter. Arrange bok choy and shitake mushrooms around pork leg. Spoon sauce over the vegetables and meat. Serve hot.
Video
"This website provides approximate nutrition information for convenience and as a courtesy only. Nutrition data is gathered primarily from the USDA Food Composition Database, whenever available, or otherwise other online calculators."
&nbsp