Biko made of glutinous rice, coconut milk, and brown sugar is the ultimate snack or dessert. This classic Filipino rice is deliciously sweet, creamy, chewy, and gluten-free!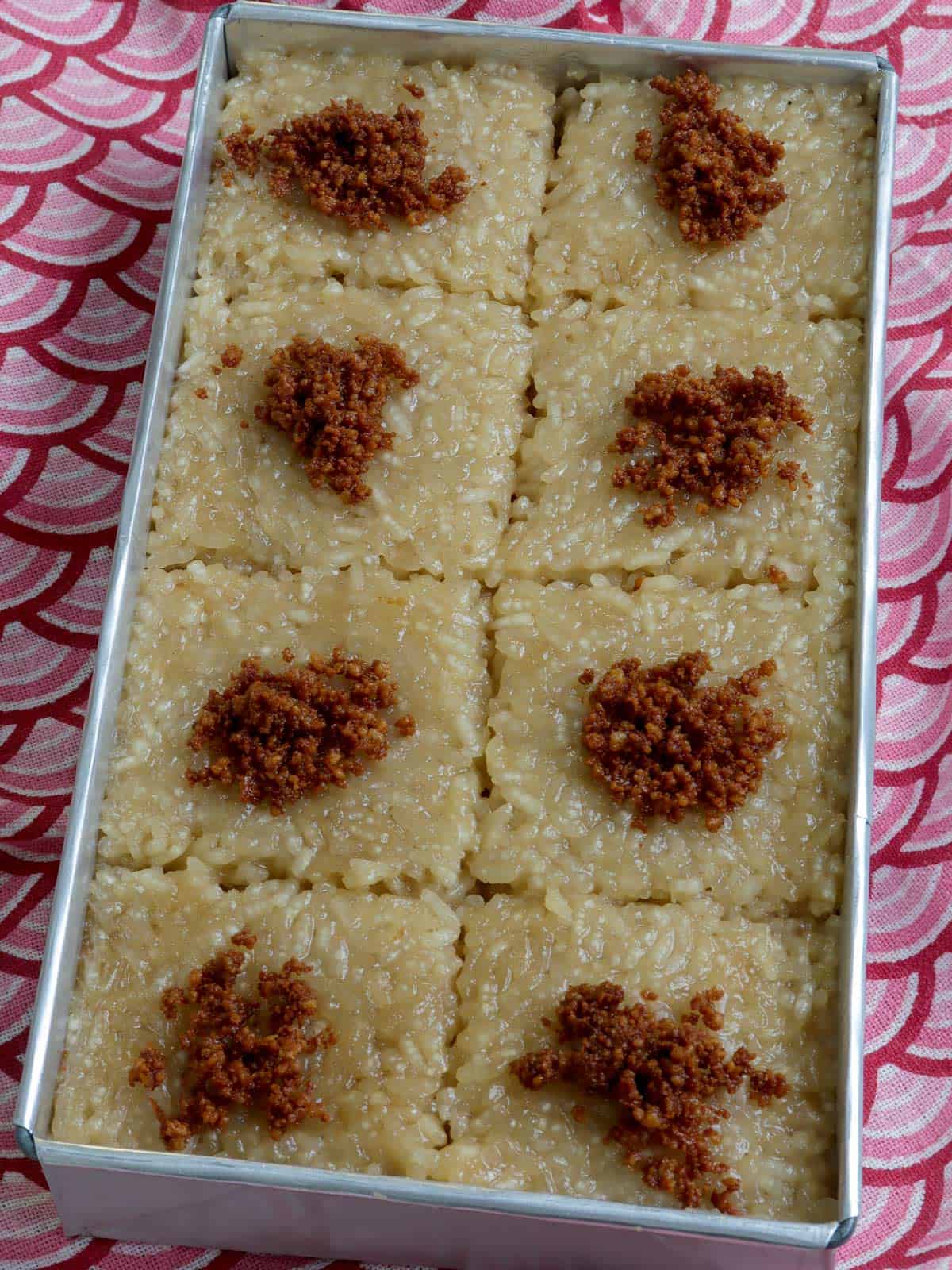 There are a couple of ways to make biko, otherwise known as sinukmani in the Northern region. One method is steaming the glutinous rice until partially cooked and then finishing it in a coconut milk-brown sugar syrup.
The second method is cooking the sweet rice straight in the coconut mixture. Although this results in a richer flavor as the rice absorbs more coconut milk during cooking, I find that it lacks the chewy texture characteristic of a good kakanin.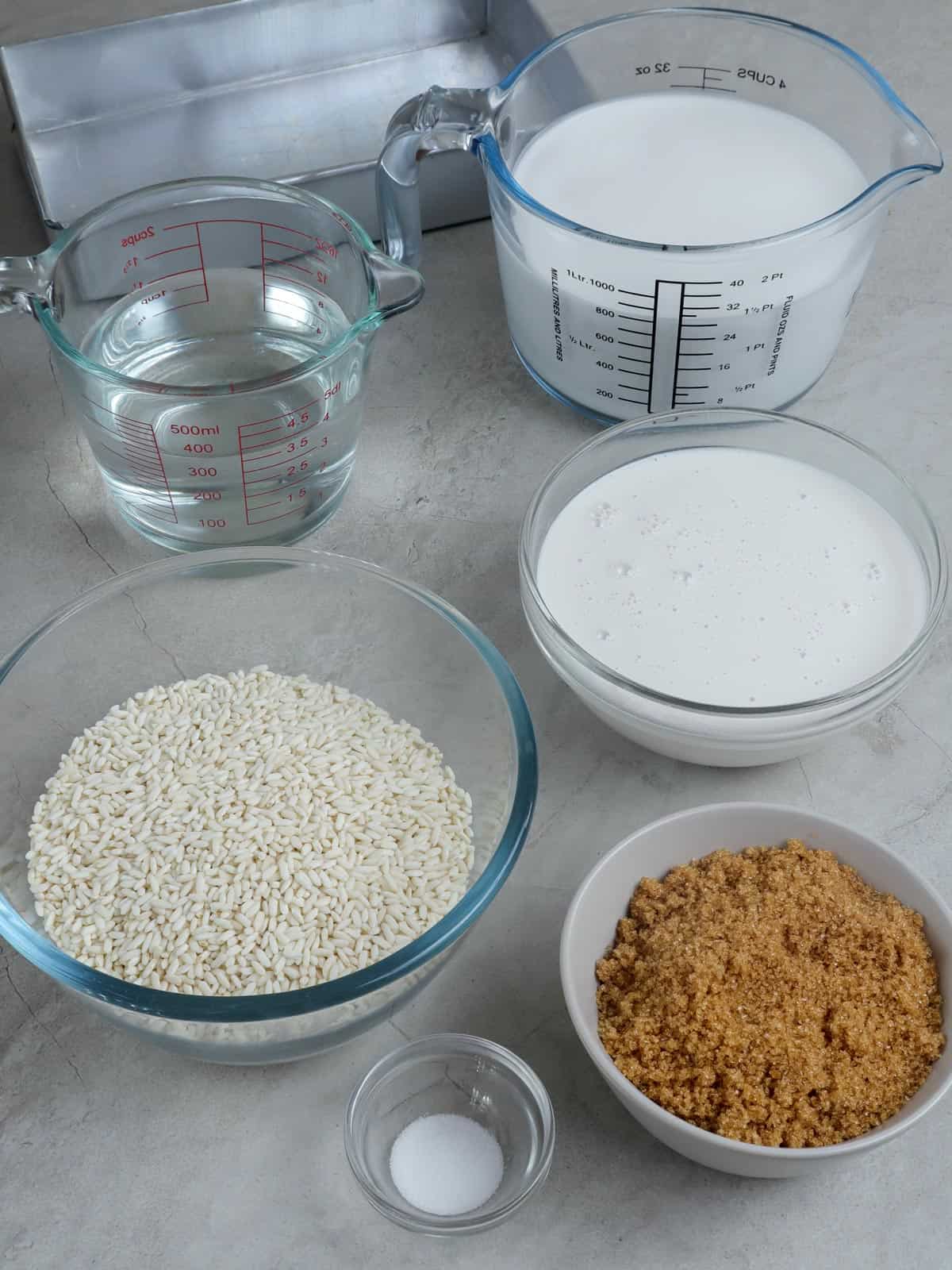 Ingredients
Glutinous rice- the white sweet rice variety is traditionally used, but feel free to swap it with black or purple sweet rice for a more festive color
Brown sugar- if you want a deeper caramel color, use dark brown sugar. You can also use muscovado or panutsa for a more authentic flavor.
Coconut milk- to finish off the sweet rice; adds a creamy taste
Coconut cream- to make the latik
Water- the ratio is1 ½ cup of water to 2 cups of rice which yields a dry and partially cooked texture
Salt-a small amount balances the richness and creaminess of the rice cake.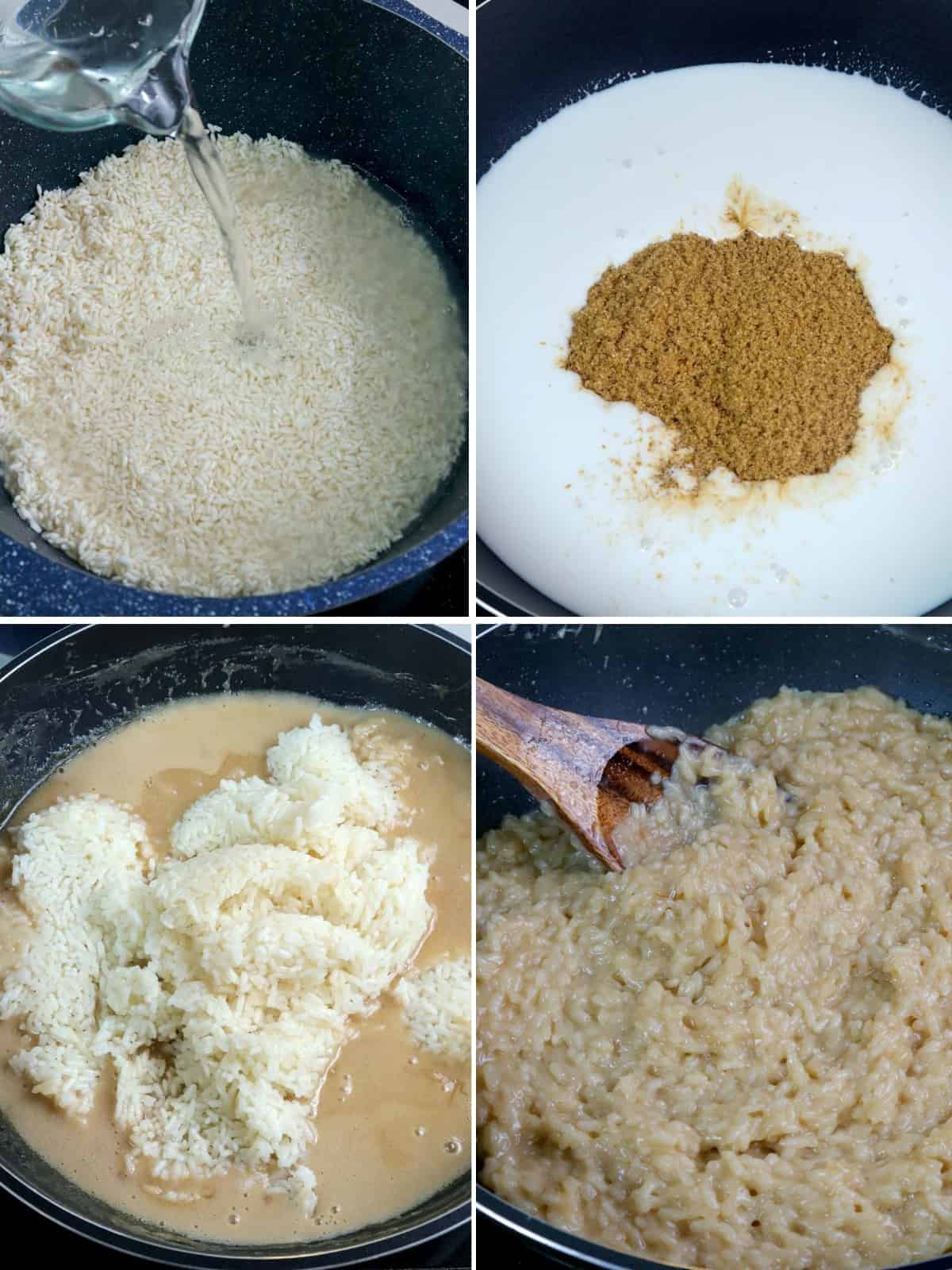 Cooking steps
This Filipino rice delicacy involves three steps which, albeit simple, require a bit of sweat and attention as the rice needs constant stirring when finishing off in the sweetened coconut mixture to prevent it from burning or sticking to the bottom of the pan.
Make the Latik-remember to save the extracted coconut oil and use it to grease the pan and rice cake
Steam the rice until partially cooked- to add aroma, add a few strips of pandan leaves when cooking the rice in the water.
Cook the steamed sweet rice in sweetened coconut milk- where the bulk of the work comes in. Do not leave the biko mixture unattended lest it burns. To make stirring more manageable and minimize sticking, use a wide non-stick pan and a silicone spoon if you have one. The process will take about an hour; the rice cake is done when it's very sticky and pulls away from the pan's sides.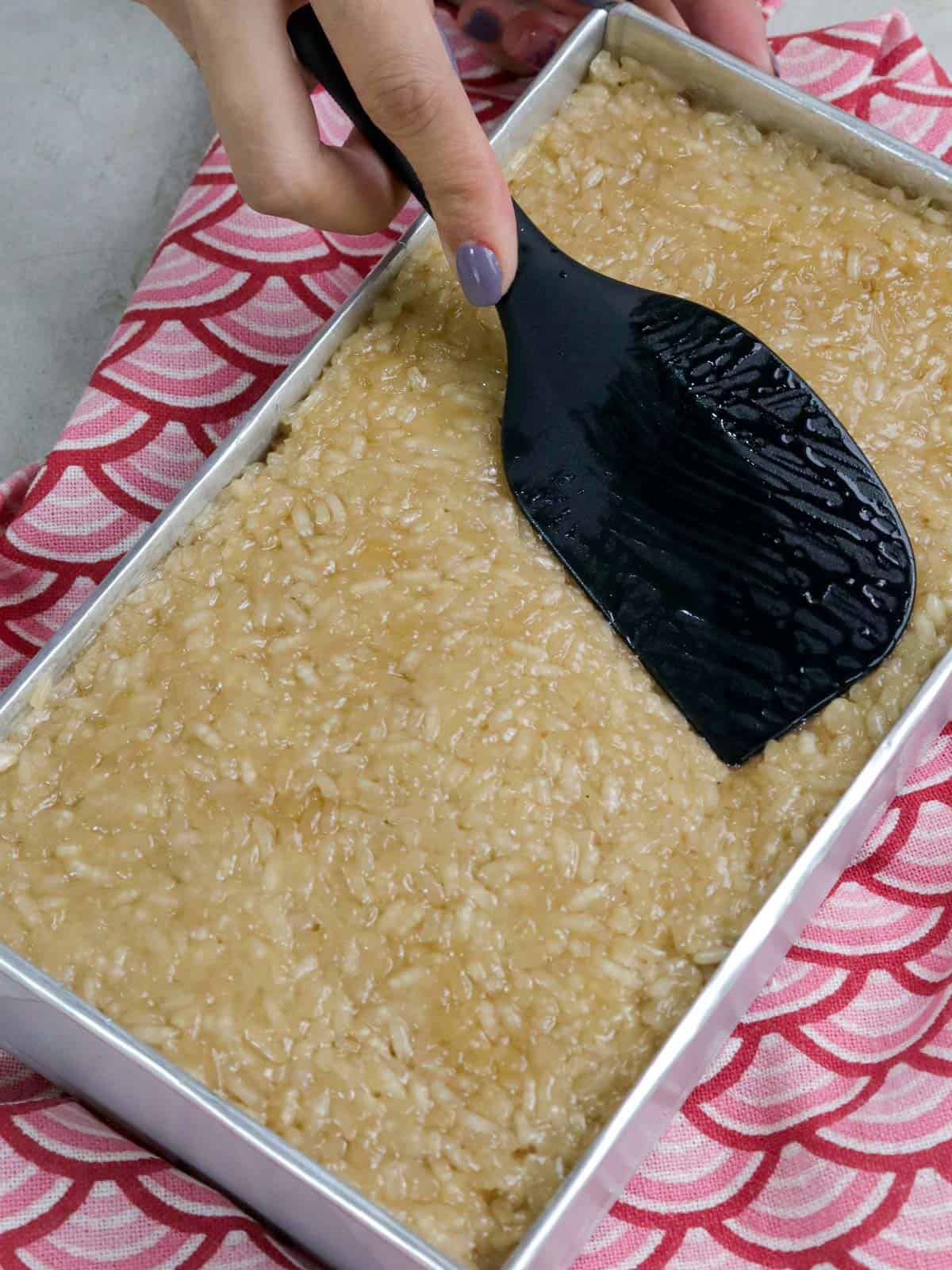 Biko or Bibingkang Malagkit
I have a bibingka malagkit recipe with very similar ingredients and procedures. One of the regular questions I get from readers is, what is the difference between the two?
If I am mistaken here, please feel free to chime in below in the comments, but from my understanding, bibingkang malagkit is another version of biko, which is topped with thickened coconut milk-brown sugar syrup instead of coconut curds as in this recipe.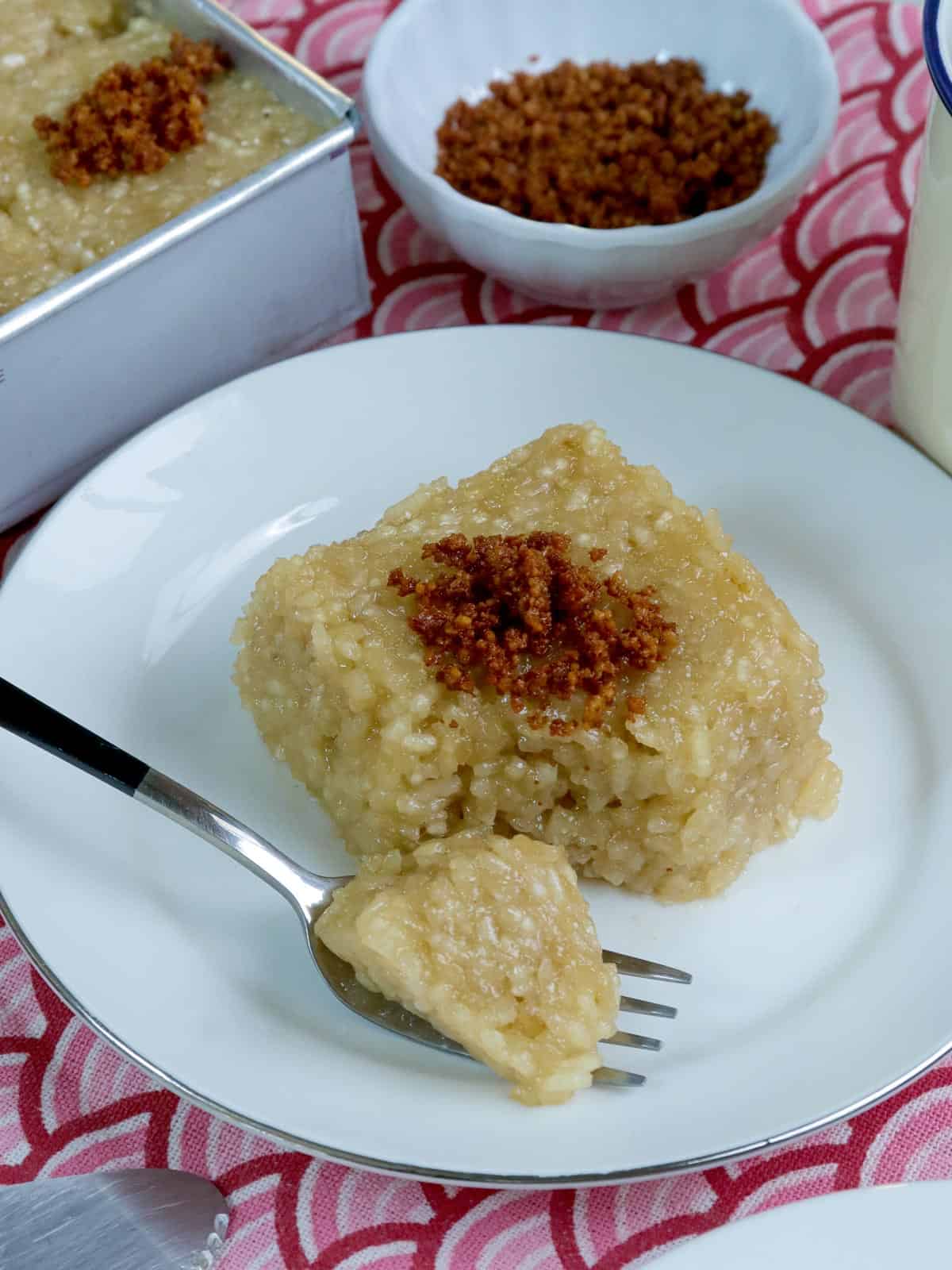 Serving suggestions
Once cooked, biko is packed on a woven bamboo tray (bilao) or in a tin pan. It's sliced into serving portions and topped with latik. It's traditionally enjoyed as a midday snack or after-meal dessert with coffee, soft drinks, or samalamig.
Storage and reheating instructions
Biko contains coconut milk and should not be left at room temperature for more than 2 hours due to the risk of spoilage.
Cover leftovers tightly with cling wrap or store in a container with a lid and refrigerate for up to 3 days or freeze for up to 2 months.
The rice will have a harder texture when cold. Reheat in the microwave at 20 to 30-second intervals until warmed through. If frozen, thaw completely before reheating.
Quick tip!
Do not brush the sticky rice cake with the coconut oil if refrigerating for future use as the oil will harden into a white film in the cold. Brush when ready to serve.
Biko is the ultimate Filipino snack or dessert! Made of glutinous rice cooked in sweetened coconut milk, this rice cake is deliciously sweet, creamy, sticky, and gluten-free!
12 Servings
Ingredients
1 cup coconut cream (kakang gata)
3 cups coconut milk
2 cups glutinous rice
1 ½ cups water
1 cup dark brown sugar
½ teaspoon salt
Equipment
8 x 5-inch rectangular pan
Instructions
In a pan over medium heat, add the coconut cream and bring to a boil. Continue to cook, stirring occasionally, until liquid starts to thicken.

Lower heat and simmer. As oil starts to separate and solids begin to form, regularly stir and scrape sides and bottom of the pan to prevent from burning.

Continue to cook and stir until curds turn golden brown. Using a fine-mesh sieve or colander, drain latik. Reserve oil.

Grease bottom and sides of the baking dish with coconut oil. Set aside.

Wash glutinous rice a few times or until water runs almost clear. Drain well.

In a thick bottom pot, combine rice and water. Over medium heat, bring to a boil. Lower heat, cover, and cook until liquid is absorbed. Allow to cool to touch and fluff with a fork to separate grains.

In a wide non-stick skillet over medium heat, combine coconut milk, brown sugar, and salt. Stir until blended and bring to a boil.

Lower heat and continue to cook until slightly reduced and thickened.

Add rice, gently stirring to evenly distribute. Cook, stirring occasionally, for about 1 hour or until mixture is very thick, sticky, and pulls away from the sides of the pan. 

Spoon biko into the prepared baking dish and pat down with a lightly greased spatula to even out.

Lightly brush top with coconut oil, cut into portions, and top with latik.
Video
"This website provides approximate nutrition information for convenience and as a courtesy only. Nutrition data is gathered primarily from the USDA Food Composition Database, whenever available, or otherwise other online calculators."