Nilagang Baka is the ultimate comfort food! This Filipino-style boiled soup with fork-tender beef shanks, tendon, and vegetables is hearty and tasty.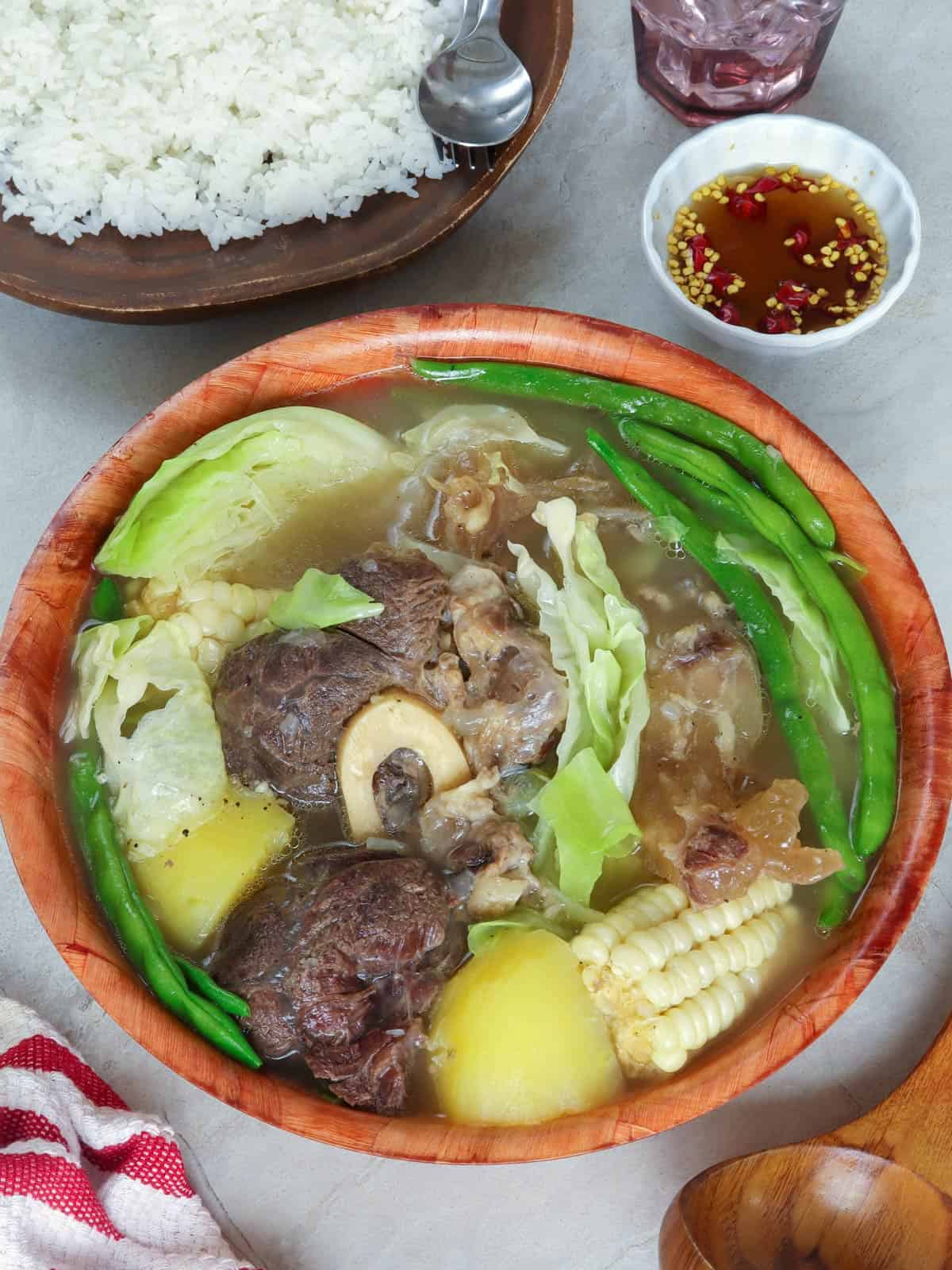 It's been raining hard since late this afternoon here in our neck of the woods, so I thought I'll update the photos and repost this nilagang baka recipe. Because what better way to warm our bellies on a cold, rainy day than a piping-hot bowl of beef soup?
What is Nilaga
Nilaga, which means "pinakuluan" or "boiled," refers to Filipino meat and vegetable soup where chunks of beef, pork, or chicken are cooked in seasoned broth until fork-tender. Quartered onions, peppercorns, and fish sauce add flavor to the soup while abundant local produce such as potatoes, corn, cabbage, pechay, green (Baguio) beans, and carrots turn it into a hearty one-pot meal.
Adapted from the Spanish cocido, this boiled soup has taken root in the Filipino food culture as the epitome of comfort food.  It's commonly prepared and enjoyed on rainy days to ward off the cold or on special Sunday meals when the whole family gathers in the ancestral home.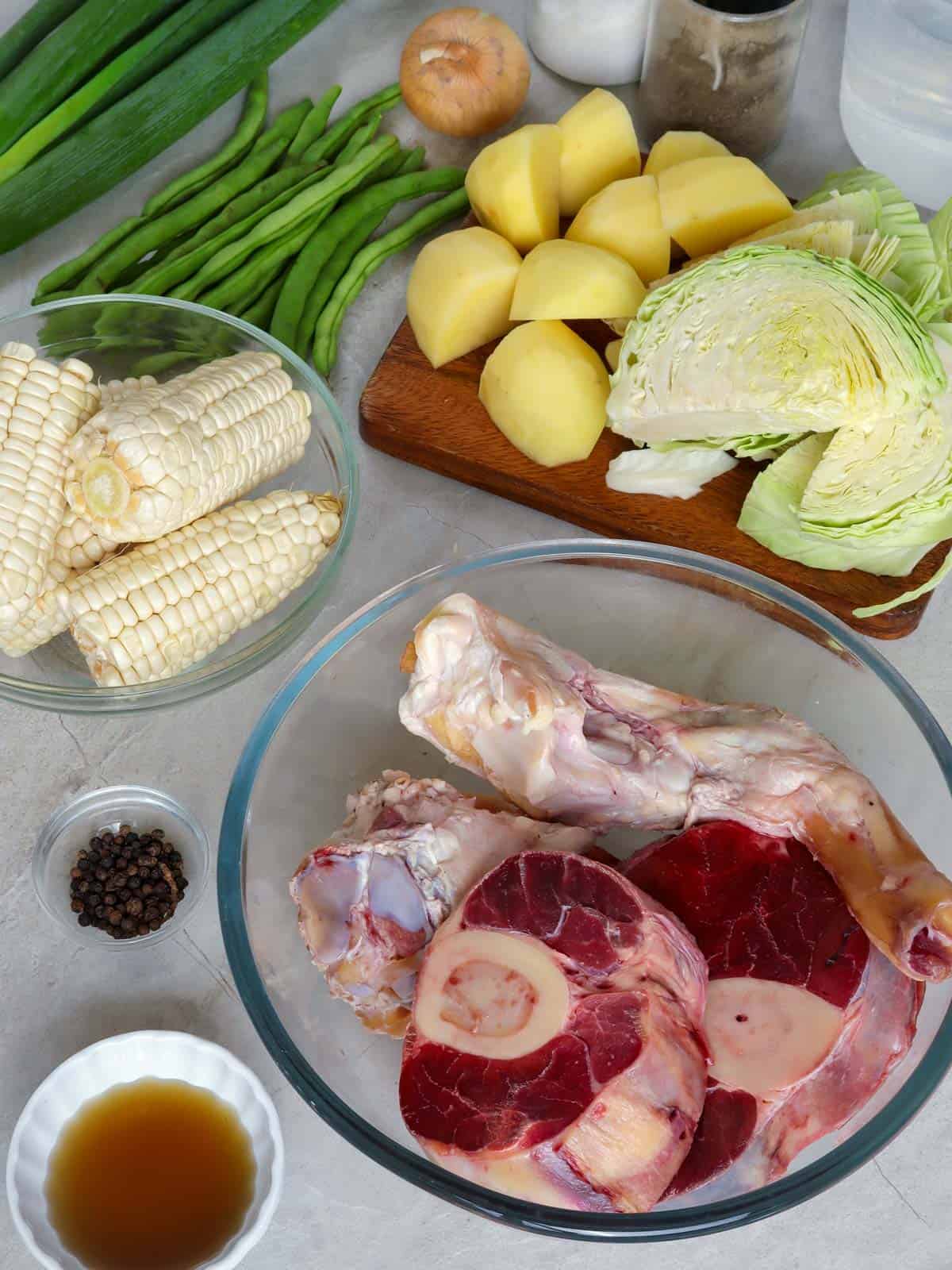 As with any good soup, the broth is the heart of this beef nilaga. To ensure it's clean and bright, tend to it closely, especially during the first initial minutes it is brought to a boil, and religiously skim the scum that floats on top. Once free of froth, lower heat and make sure it doesn't rise to more than a simmer
For a sediment-free soup, you can also take the extra step of blanching the meat and bones to help remove blood, coagulated protein, and any impurities that may cloud the stock. It's an optional step but it does make for a clearer broth.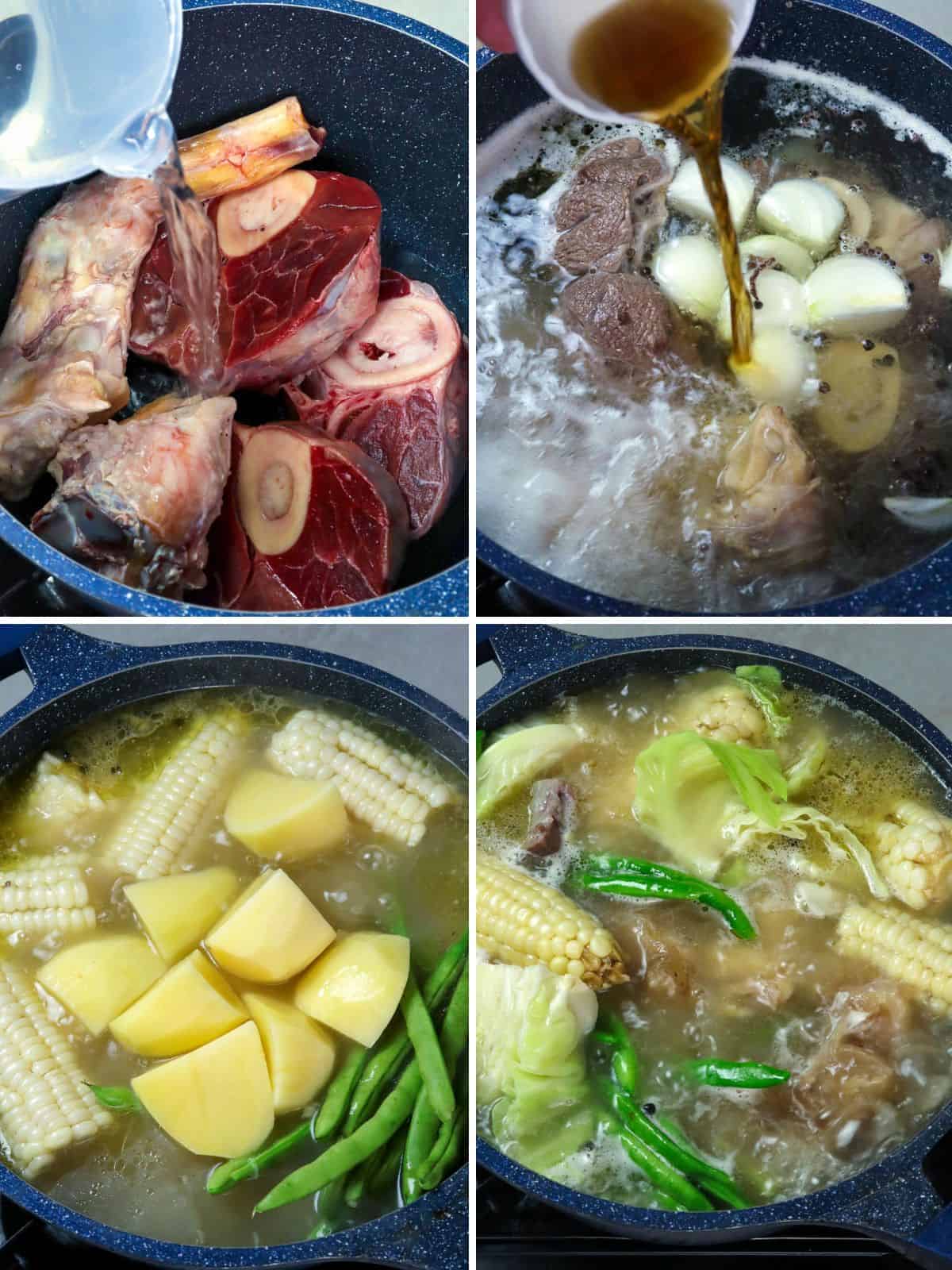 Beef cut to use
Use meat high in connective tissues such as beef shank and tendon for a gelatinous and full-bodied broth. Tough, sinewy, or bony cuts such as brisket, chuck, round, ribs, or neck bones are also great options in making a tasty nilaga.
These cheaper and tougher cuts of meat break down in the low and slow cooking process and become really tender while infusing the soup with flavor.
How to blanch meat
In a pot over medium heat, bring enough water to cover the meat to a boil. Carefully add the meat and bones and boil for about 3 to 5 minutes.
Drain the meat, discard the liquid, and rinse the meat and pot well.
Return the rinsed meat to the pot, cover with cold water, and cook the soup as directed in the recipe below.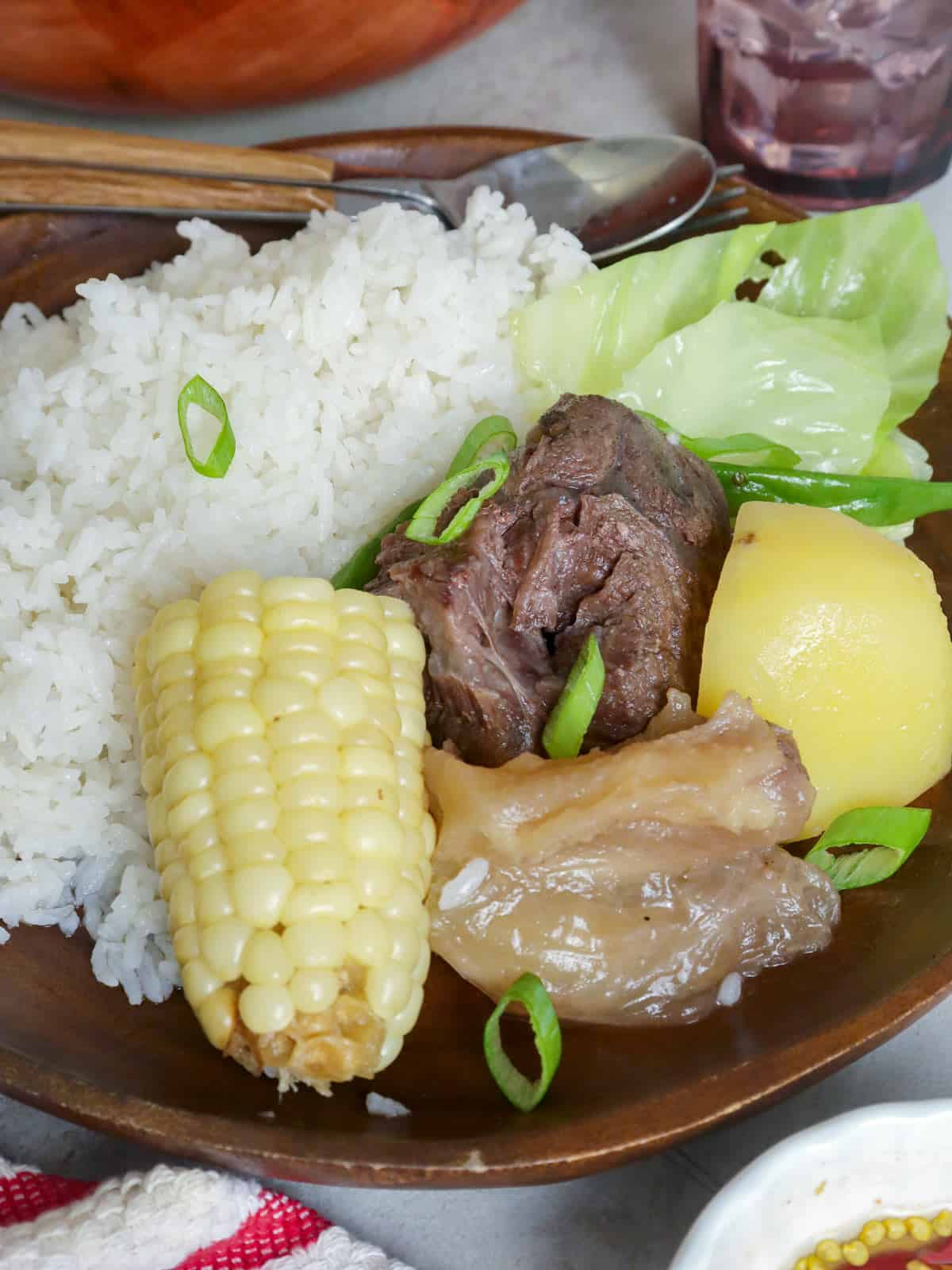 How to serve
Although the beef soup is a complete meal and can be enjoyed on its own, it's traditionally served with steamed rice on the side along with patis (fish sauce) to dip in the succulent meat and tender-crisp vegetables. It's also customary to provide an extra helping of the hot broth in a separate mug or bowl to slurp while partaking in the meal.
Storage instructions
Store leftovers in an airtight container and refrigerate for 3 days or in the freezer for up to 2 months.
To reheat, place in a pot and warm over medium heat to 165 F.  Or heat in the microwave at 2 to 3-minute intervals, stirring after each interval.
If you're looking for more ways to cook nilaga, check out this pork version with kalabasa and pechay. Enjoy and stay warm!
Nilagang Baka is the ultimate comfort food! Loaded with fork-tender beef shanks, tendon, and vegetables, this Filipino-style boiled soup is hearty and tasty.
Course:
Main Entree, Soup
Servings
Ingredients
2 pounds beef shanks, bone-in
1 pound beef tendons
8 cups water
1 large onion, peeled and quartered
1 teaspoon peppercorns
2 tablespoons fish sauce
3 corn, husked and cut into halves
2 medium potatoes, peeled and quartered
1 small cabbage, cut into wedges
12 green beans, ends trimmed
salt to taste
green onions, optional
Instructions
In a pot, combine beef shanks, beef tendon, and water. Over medium heat, bring to a boil, skimming scum that floats on top.

When clear of froth, add onions, peppercorns, and fish sauce.

Lower heat, cover and cook at no more than a simmer for about 2 to 2 1/2 hours or until shanks are tender and tendons are soft. Add more water as needed during cooking to maintain about 6 to 7 cups.

Add corn and cook for about 5 to 7 minutes.

Add potatoes and cook for about 5 minutes or until almost tender.

Add green beans and cabbage and cook for another 2 to 4 minutes or until vegetables are tender yet crisp.

Season with salt to taste. Ladle into serving bowls and garnish with chopped green onions, if desired. Serve hot.
Notes
Since beef tendons are tough and fibrous connective tissues, they are almost impossible to cut uncooked. Ask butcher to slice tendons into pieces or halfway during cooking and when tendons are soft enough to slice through, remove from pot, cut into serving parts and then return to pot to continue to cook.
Video
Nutrition Information
Calories: 346kcal, Carbohydrates: 21g, Protein: 39g, Fat: 12g, Saturated Fat: 5g, Cholesterol: 88mg, Sodium: 642mg, Potassium: 1230mg, Fiber: 6g, Sugar: 6g, Vitamin A: 235IU, Vitamin C: 66.2mg, Calcium: 137mg, Iron: 7mg
"This website provides approximate nutrition information for convenience and as a courtesy only. Nutrition data is gathered primarily from the USDA Food Composition Database, whenever available, or otherwise other online calculators."