Lumpia is the Filipino counterpart of the more mainstream Chinese egg roll. These log-shaped appetizers-slash-snacks come in many variations and different fillings ranging from meat, seafood, fruits to vegetables. The prepared fillings are either served fresh  in soft, crepe skins or fried in crisp spring roll wrappers. In lumpiang prito, which literally translates to "fried spring roll",  the selection of vegetables are pretty much interchangeable but in my version, togue (mung bean sprouts) is the star of the show and is amply supported by cubes of tofu and camote, and strips of carrots and cabbage.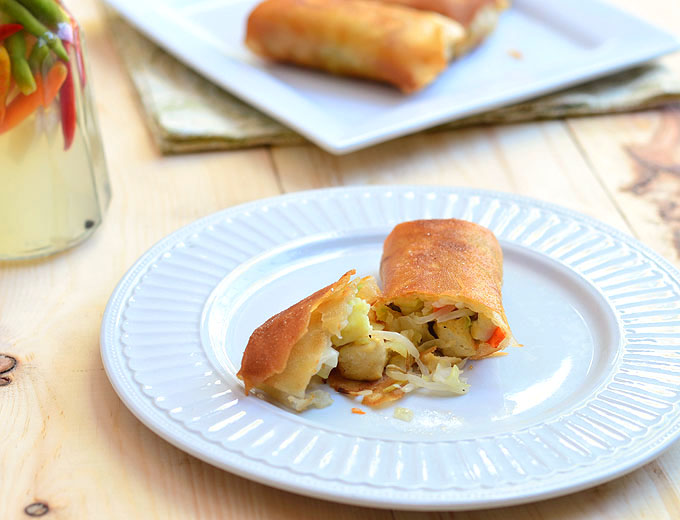 Lumpiang Prito
Ingredients
oil
12 ounces firm tofu
1 small onion, peeled and finely chopped
2 cloves garlic, peeled and minced
1 large camote (Japanese yam)
½ cup water
2 large carrots, peeled and julienned
½ head cabbage, shredded
4 cups bean sprouts (togi)
12 springroll wrappers
salt and pepper to taste
Instructions
Drain tofu from packing liquid and gently pat with paper towels to extract moisture. Cut into ½ inch cubes.
Drain tofu from packing liquid. Pat dry with paper towels to absorb moisture. Cut into ½- inch cubes. In a wide skillet over medium heat, heat about 2 tablespoons of oil until very hot. Add tofu and spread into a single layer. When starting to crisp, turn and continue to cook until lightly browned. Remove from pan, drain excess oil on paper towels and keep warm.
Add onions and garlic to pan and cook until limp. Add camote. Add water and cook until camote are tender and most of liquid is absorbed. Add carrots and tofu. Cook for about 1 minute or until carrots are half-done. Add cabbage and cook for about 1 to 2 minutes. Add bean sprouts and stir-fry briefly for about 30 seconds. Season with salt and pepper to taste. Cook until vegetables are tender yet crisp.
Remove vegetable mixture from heat and on a strainer, drain well of liquid.
Separate wrappers into individual sheets. On a flat working surface, lay wrapper like a diamond. Spoon about 2 tablespoons of vegetable mixture on middle of wrapper. Fold bottom pointed end of wrapper over filling. Fold side ends of the sheet inward and roll tightly into a log. Wet the pointed edge of the wrapper with a dab of water to completely seal. Repeat with the remaining vegetable mixture.
In a skillet over medium heat, heat about 1 inch of oil. Add spring rolls seam side down and fry, turning once or twice, for about 2 to 3 minutes on each side or until golden brown. Remove from pan and drain on a wire rack set over a baking sheet (Do NOT drain on paper towels as this will make them soggy!). Serve hot with spiced vinegar dip.