Lumpiang Prito are a tasty snack or appetizer the whole family will love. Filled with tofu and vegetables, these crispy spring rolls are nutritious as they are delicious!
Lumpia are a variety of spring rolls that are popular in the Philippines as snacks for between meals or as appetizers for gatherings and special occasions.
The fillings range from savory meat, seafood, and vegetables to sweet fruits and wrapped in soft homemade crepe or paper-thin commercial pastry skins. They're served fresh with a generous smothering of a sweet and savory brown sauce or eaten fried with a spicy vinegar on the side for dipping.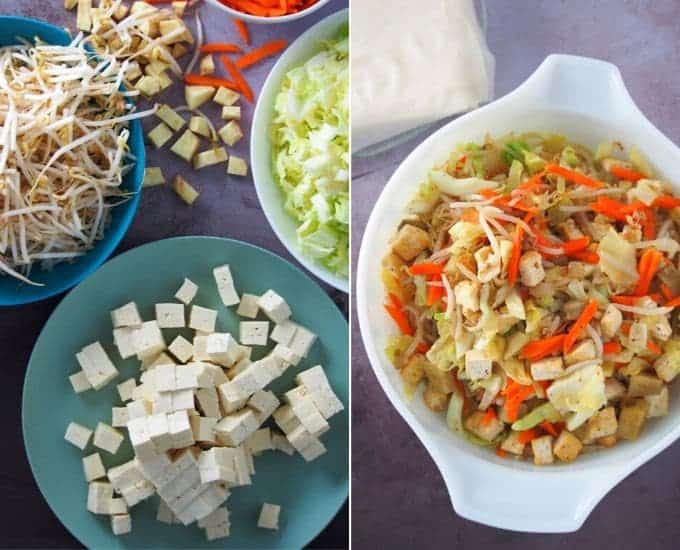 This lumpiang prito, which translates to "fried spring roll," is the third version on the blog. While mostly similar in preparation, different proteins give them variety.
One is made with ground pork, the other with diced pork and shrimp, and this version uses crisp-fried tofu for a vegan treat. Make sure to give them all a try!
Lumpiang gulay can include almost any medley of vegetables you like.
Vegetable choices
Green beans
Sweet potato or Japanese yam (camote)
Potatoes
Bean Sprouts
Carrots
Singkamas
Cabbage
Celery
Chayote
Mushrooms
Onions and garlic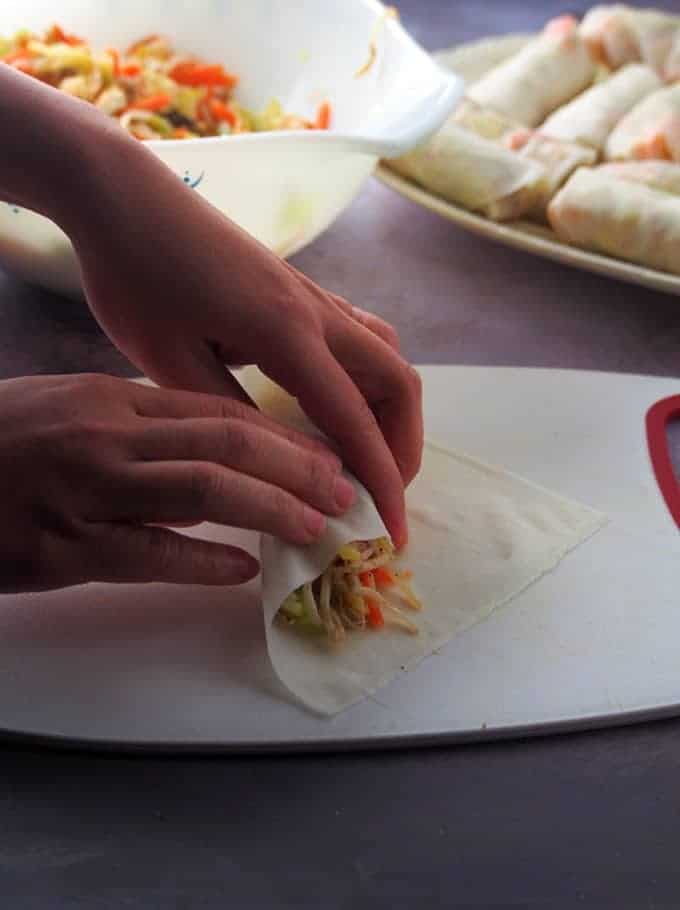 Cooking tips
Cut the vegetables in uniform size to ensure even cooking.
Keep the vegetables a bit underdone as they will continue to cook in their residual heat as well as during the final frying.
Drain the vegetable filling well and cool completely before wrapping as the excess moisture or steam will tear the spring roll wrapper. Place the drained mixture in the refrigerator for a few minutes to cool quickly and to keep from cooking further.
Cover the wrappers with a damp cloth while assembling to prevent from drying out.
Roll the spring rolls tightly and snugly to keep the oil from seeping in. Do not overfill to prevent from bursting.
Use enough frying oil to cover the rolls fully. Use oil with a high smoke point such as canola, safflower or peanut oil.
Maintain the optimal temperature of 350 F to 375 F. If the oil is too hot, the wrappers will burn before sufficiently cooked. Too low, and the lumpia will absorb a lot more grease. Cook in batches to prevent the oil from plummeting.
Do not drain on paper towels as this will make them soggy. Drain on a wire rack set over a baking sheet or in a fine-mesh sieve set over a bowl.
How to serve
As with most fried food foods, Filipino spring rolls are best served freshly cooked as they tend to lose their crispness over time.
Serve as a midday snack or party appetizer with spicy vinegar or agre dulce (sweet and sour sauce) for dipping.
How to store
To make ahead, prepare the vegetable filling, drain well, and refrigerate. Wrap when ready to fry.
You can also assemble the spring rolls beforehand. Place in an airtight container and refrigerate for up to 3 days.
To freeze, arrange uncooked spring rolls in a single layer with some space in between on a baking sheet. Wrap tightly with cling wrap and freeze until firm. Transfer in a resealable bag or airtight container and keep in the freezer for up 2 months
Lumpiang Gulay are tasty snack or appetizer the whole family will love. Filled with tofu and vegetables, these crispy spring rolls are nutritious as they are delicious!
12 Servings
Ingredients
¼ cup canola oil
1 package (12 ounes) firm tofu
1 onion, peeled and chopped
2 cloves garlic, peeled and minced
1 large Japanese yam (camote), peeled and cut into 1-inch lengths matchsticks
½ cup water
2 large carrots, peeled and cut into 1-inch lengths matchsticks
½ head cabbage, shredded
4 cups bean sprouts togi
12 spring roll wrappers
salt and pepper to taste
Instructions
Drain tofu from packing liquid. Pat dry with paper towels to absorb moisture. Cut into ½- inch cubes.

In a wide skillet over medium heat, heat about 2 tablespoons of oil until very hot. Add tofu and cook until crisp and lightly browned. Remove from pan and drain on paper towels. Keep warm.

Remove excess from pan except for about 1 tablespoon. Add onions and garlic and cook until softeend.

Remove vegetable mixture from heat and on a strainer, drain well of liquid.

Add camote and water. Cook until camote is tender and most of liquid is absorbed. Add

Add carrots and cook for about 1 minute or until half-done.

Add cabbage and tofu. Cook for about 1 to 2 minutes.

Add bean sprouts and stir-fry briefly for about 30 seconds. Season with salt and pepper to taste. Cook until vegetables are tender yet crisp.

Separate wrappers into individual sheets. On a flat working surface, lay wrapper like a diamond.

Spoon about 2 tablespoons of vegetable mixture in the middle of the wrapper.

Fold the bottom corner over the filling and then fold in sides. Starting at the bottom, roll up the wrapper to form a tight log around the filling. Repeat with the remaining mixture.

In a skillet over medium heat, heat about 1 inch deep of oil. Add spring rolls seam side down and fry, turning once or twice, for about 2 to 3 minutes on each side or until golden brown.

Remove from pan and drain on a wire rack set over a baking sheet. Serve immediately.
"This website provides approximate nutrition information for convenience and as a courtesy only. Nutrition data is gathered primarily from the USDA Food Composition Database, whenever available, or otherwise other online calculators."