Thank God for holiday Mondays, I was able to check off a few things from my long to-do list today. First, I finally set up my blog broadcast and deactivated Feedburner. Starting now, subscribers will be receiving updates formatted in a simple e-newsletter via Aweber.
I apologize if you were inundated with emails from "Lalaine Manalo" this afternoon. I am not exactly tech-savvy and was lost for a good while trying to figure out how things worked with my new marketing service. I might have pressed a few buttons here and there that resulted to numerous emails going out to your inbox at the same time. I know receiving countless messages from someone you don't know can be downright irritating and I hate that I intruded into your privacy. I did get a few spam complaints and a few of you even went as far as unsubscribing. Sigh.
For those of you who remained subscribed, please expect email notifications from "Kawaling Pinoy" 3 to 5 times a week. I really appreciate your patience as I find ways to better connect with you.
The second thing I was able to accomplish today was making my very own homemade longganisa. Not the skinless variety, the REAL kind. Complete with casing, ya 'all. Woot hoot! Filipino-style sausages had been in my bucket list (yes, I have simple dreams) for so long that when I saw hog casings in a Mexican supermarket, I was beyond ecstatic. One afternoon of mixing, stuffing and knotting and I now have a good supply of sweet longganisa for longsilog breakfasts to come. Yay!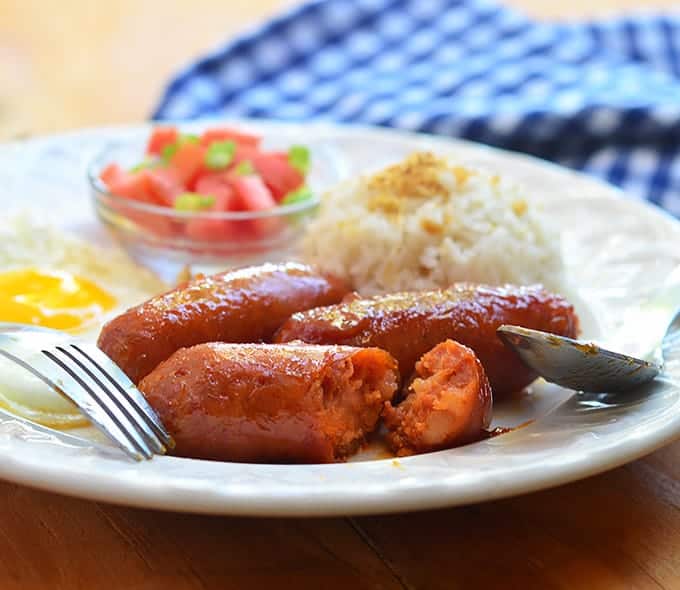 Dozens
Ingredients
2 tablespoons soy sauce
2 tablespoons vinegar
2 tablespoons anisado wine
1/2 cup brown sugar
1 tablespoon salt
2 pounds coarsely ground pork
1 pound pork fat diced
1 head garlic peeled and minced
2 teaspoons ground black pepper
2 teaspoons paprika
hog casings about 12 to 15 feet
1 cup water
2 tablespoons oil
Instructions
In a bowl, combine soy sauce, vinegar, anisado wine, sugar and salt. Stir until sugar and salt are dissolved. In a large bowl, combine ground pork, pork fat, garlic, pepper and paprika. Add liquid mixture and mix gently until combined. Refrigerate for about 2 hours to allow flavors to meld and to firm up meat mixture.

In a bowl, soak casings in warm water for about 30 minutes. Drain well. In the sink, run warm water through casings. Check for spots with leaks and cut these sections.

On one end of the casing, insert the nozzle of a funnel. Scoop pork mixture into funnel and gently pack into casings, leaving about 5-inches on both ends. Do not overstuff casings. Tie off one end into a double knot. Alternatively, you can tie with fine kitchen twine.

To make individual sausages links, pinch sausage at intervals of about 4 inches. Gently twist the sausage link at this "pinched" point in one complete rotation. Repeat this process all the way down the coil but alternating the direction of twisting (towards you and away from you) from one link to the next. Tie off the other end into a double knot or with kitchen twine. Place in a ziplock bag and refrigerate overnight.

When ready to cook, cut sausage into individual links.

With a knife, prick each sausage once or twice. In a pan over medium heat, combine links and water. Bring to boil. Lower heat, cover and continue to cook until meat is cooked through and liquid is almost absorbed. Add oil and continue to cook, stirring regularly, until sausages are caramelized. Remove from pan and serve hot.
"This website provides approximate nutrition information for convenience and as a courtesy only. Nutrition data is gathered primarily from the USDA Food Composition Database, whenever available, or otherwise other online calculators."