Filipino-style spaghetti is an interesting take on the Italian bolognese. Made with banana catsup and hot dogs, it's not your ordinary pasta dish! It's meaty, perfectly sweet and savory, and cheesy for the ultimate midday snack or main dish.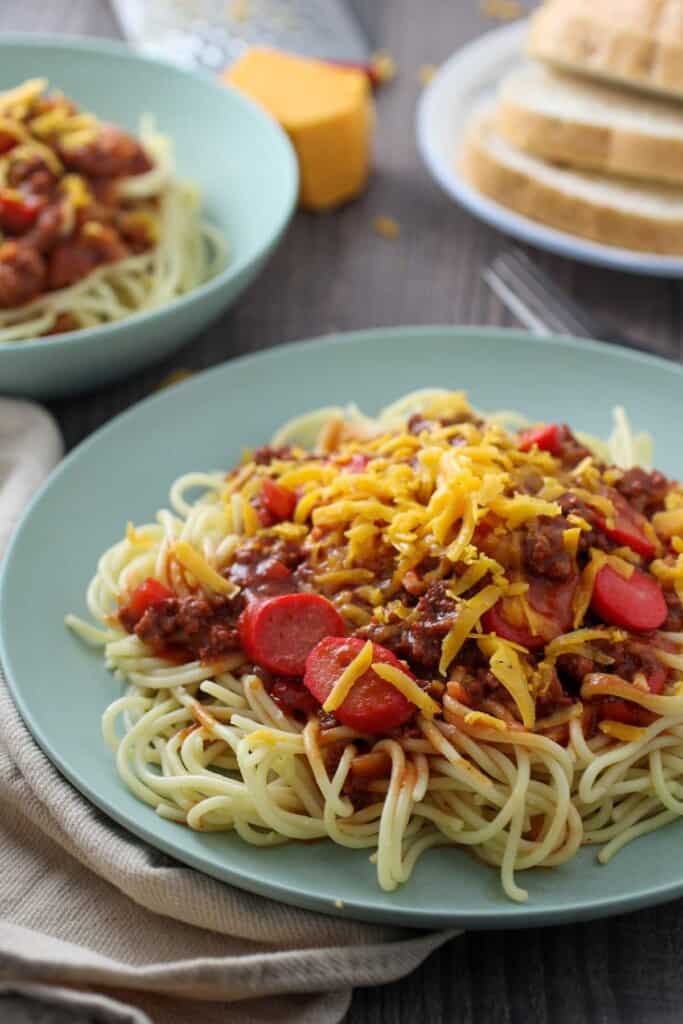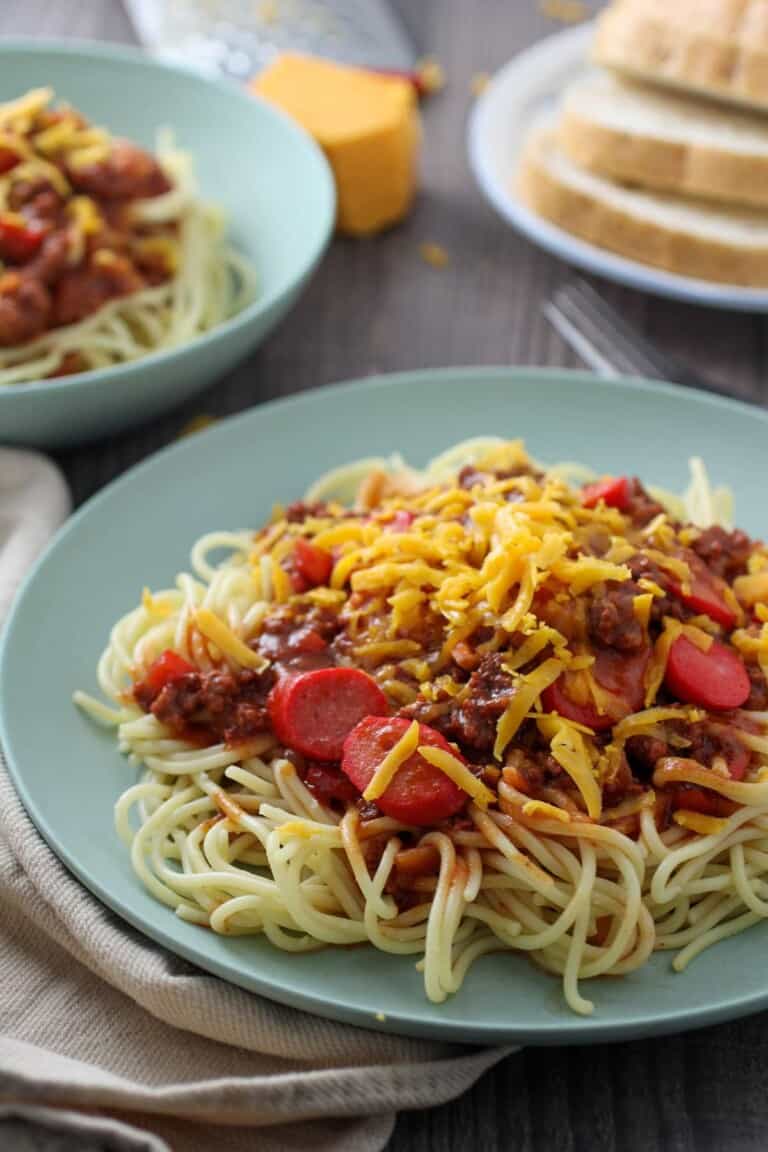 I had so many fond memories of Filipino-style spaghetti growing up. It probably didn't do my waist service, but I was seriously obsessed with this pasta dish.
Would you believe I ate the stuff five days a week for four years? Seriously. My high school cafeteria sold spaghetti to students and every day the packed lunch my mother made with tender loving care went untouched because I would instead spend my meager allowance on a plateful of the beet-red noodles.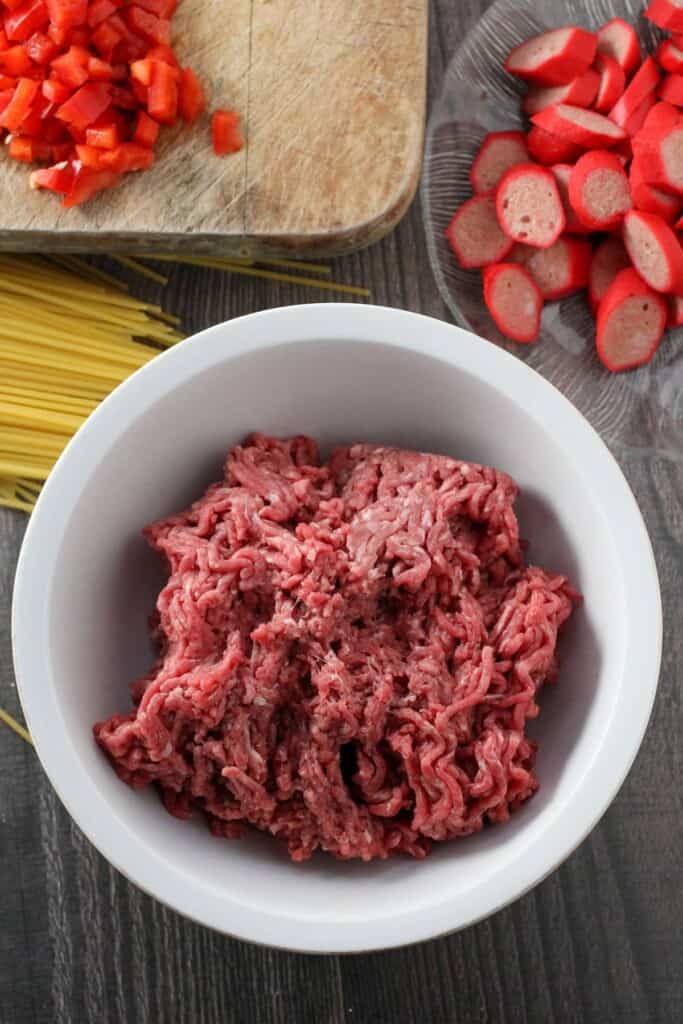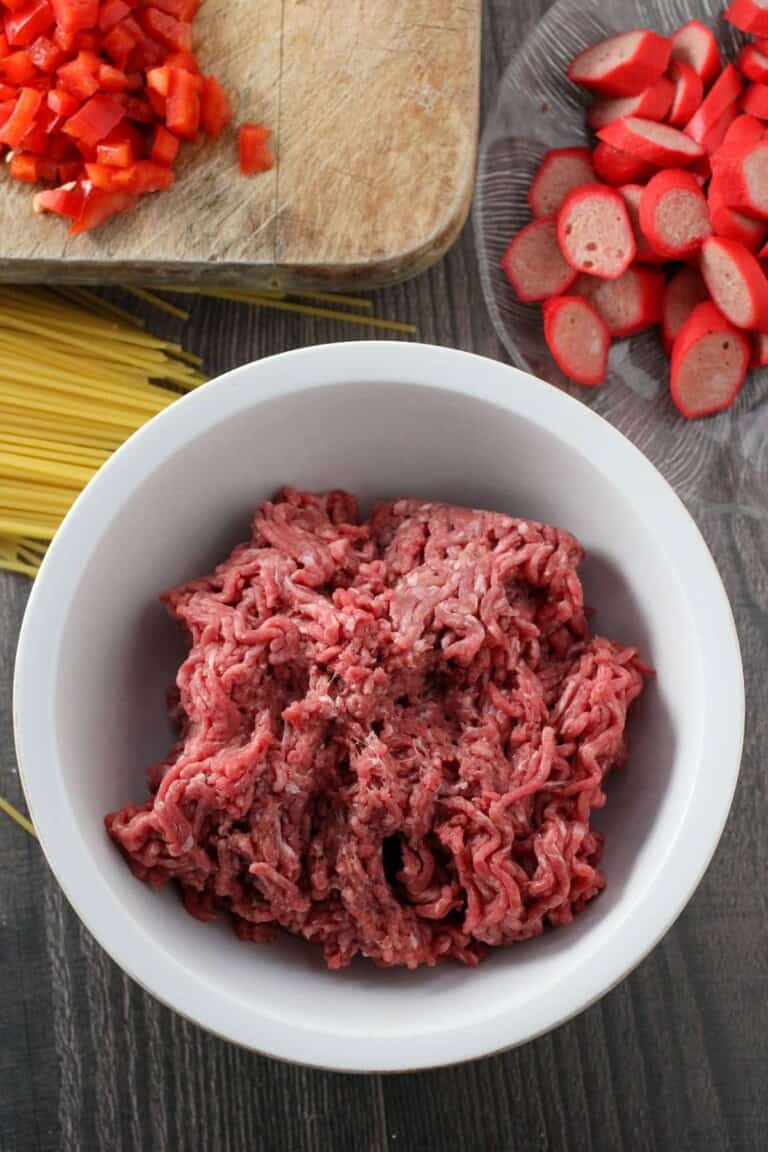 I don't know what it is but there is just something so awful yet addictive about red hot dogs in banana catsup sauce.
To this day, Filipino spaghetti remains my favorite comfort food. I no longer eat it five days a week, of course, but I make it often enough at home that G  has grown to love it just as much. If you find him hovering over me while I cook you can bet it's Pinoy spaghetti. 🙂
How to make Filipino spaghetti
The steps to Filipino Spaghetti are similar to making regular spaghetti bolognese. The ground beef is first browned with aromatics and then simmered in tomato sauce and choice of herbs until thick and hearty.
What sets our local version apart is the addition of sweet banana catsup and Filipino-style hotdogs to the meat sauce plus the grated cheese topping when the pasta is served.
Cooking tips
If you don't have access to banana catsup, use tomato ketchup in equal amounts and add a teaspoon or so of sugar to achieve the sweet and savory characteristics of Filipino spaghetti.
You can substitute ham, Spam, bacon, or Vienna sausages for Filipino hot dogs to add a smoky flavor.
Boost texture and nutrition by adding veggies such as mushrooms.
Serving suggestions
Sweet-style spaghetti makes a hearty and tasty midday snack or a main dish for lunch or dinner. Top it with shredded quick melt cheese and enjoy with garlic bread and green salad.
It also makes a great addition to any party or special gathering menu. A guaranteed crowd-pleaser!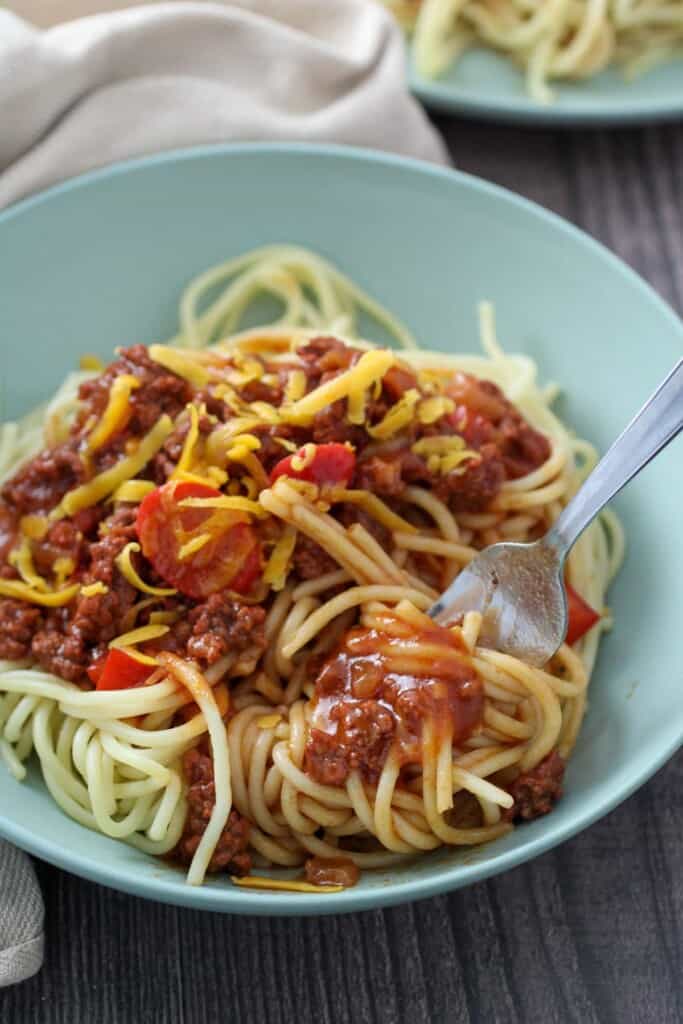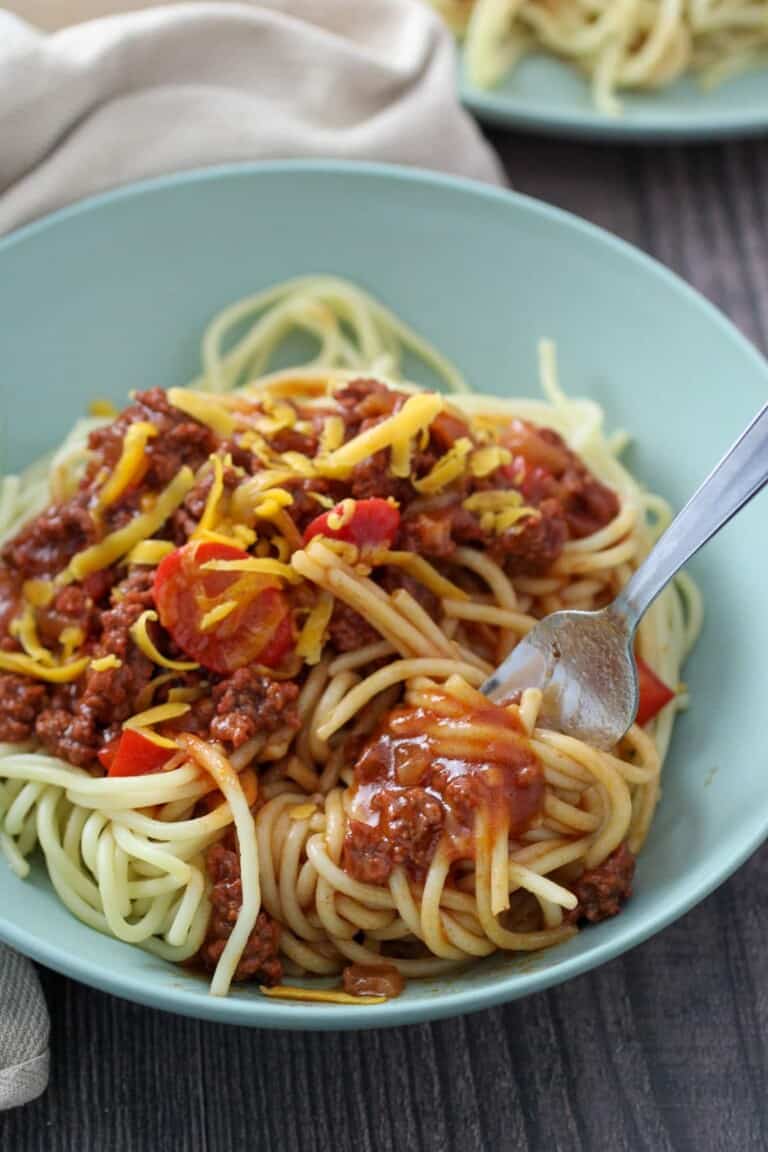 How to store leftovers
For best results, store the meat sauce and noodles in separate containers as the pasta tends to absorb a lot of the sauce and gets mushy.
Transfer to airtight containers and refrigerate for up to 3 days or freeze for up 2 months.
To reheat, submerge the frozen spaghetti in boiling water for 1 to 2 minutes and heat the sauce in a saucepan over medium heat until internal temperature reads 165 F. Alternatively, drop the noodles directly into the simmering sauce and cook until the desired temperature is reached.
More Pasta Recipes
Filipino Spaghetti is the ultimate comfort food. Made of ground beef, hot dogs, sweet-style sauce, and banana catsup, this pasta dish is a guaranteed party hit!
8 Servings
Ingredients
1 pound uncooked spaghetti
1 tablespoon oil
4 Filipino-style hotdogs, sliced diagonally
1 onion, peeled and chopped
3 cloves garlic, peeled and minced
1 bell pepper, seeded, cored and chopped
1 pound ground beef
2 cups tomato sauce
½ cup tomato paste
1 cup banana ketchup, preferably sweet and spicy
1 cup beef broth
1 teaspoon sugar
salt and pepper to taste
½ cup quick-melt cheese, shredded
Instructions
In a pot over medium heat, cook spaghetti in salted boiling water according to package's direction for about 7 to 9 minutes or until firm to bite. Drain well.

In a large saucepan, heat oil. Add sliced hot dogs and cook, stirring occasionally, for about 1 to 2 minutes or until lightly browned. Remove from pan and set aside.

Add onions, garlic, and bell peppers to pan. Cook until softened.

Add ground beef and cook, stirring occasionally and breaking into small pieces until lightly browned. Drain any excess fat.

Add tomato sauce, tomato paste, ketchup, and beef broth. Stir in sugar.

Bring to a boil and then lower heat to simmer, covered, for about one hour or until meat is fully cooked and sauce is thickened. If the sauce is getting too thick, add water in ½ cup increments as needed.

During the last 10 minutes of cooking, add browned hot dogs. Season with salt and pepper to taste.

To serve, spoon spaghetti sauce over noodles and top with shredded cheese.
Notes
If you don't have access to banana catsup, use tomato ketchup in equal amounts and add a teaspoon or so of sugar to achieve the sweet and savory characteristics of Filipino spaghetti.
Video
"This website provides approximate nutrition information for convenience and as a courtesy only. Nutrition data is gathered primarily from the USDA Food Composition Database, whenever available, or otherwise other online calculators."