When making chicken mami, I like to keep things simple and prefer the very basic of trimmings~just fresh egg noodles, flavorful broth, fried garlic bits and chopped green onions. No vegetables and no boiled eggs even. What I splurge my time and effort on is the broth because, as we all know, any great soup starts with a rich and sturdy stock. For my noodle dishes, I always make my own homemade stock from scrap bones and never from the shortcut chicken bases (Knorr comes to mind) which, I have to admit, I use often enough in my cooking. I buy hefty amounts of chicken neck, wing and back bones from the market, saute them in aromatics and simmer them for hours for a chicken stock that's deep and robust. A good stock do take a few good hours to make but it can be prepared few days prior and kept frozen in plastic containers until you are ready to go. With that out of the way, this chicken mami takes less than 15 minutes from stove to dinner table. Enjoy!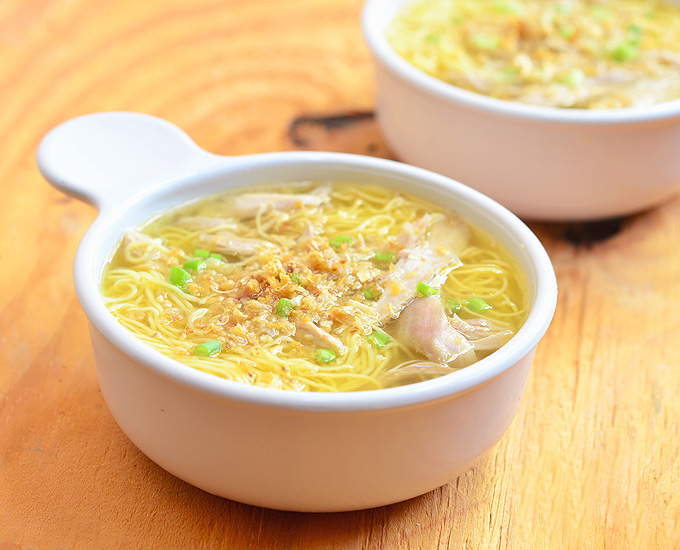 servings
Ingredients
1 package (16 ounces) fresh egg noodles/mami
8 cups homemade broth
2 cups cooked chicken meat, shredded
Toppings
1/2 napa cabbage, shredded
1 large carrot, peeled and julienned
4 hard-boiled eggs, peeled and halved
fried garlic bits
1/2 cup green onions, ends trimmed and chopped
For the Homemade Broth
1 tablespoon canola oil
1 large onion, peeled and chopped
3 cloves garlic, peeled and minced
3 pounds bone-in chicken thigh meat
2 quarts boiling water
2 medium carrots, cut into chunks
2 celery stalks, cut into chunks
2 bay leaves
1 teaspoon peppercorns
1 tablespoon salt
fish sauce to taste
For the Fried Garlic Bits
1 head garlic, peeled and minced
1/2 cup oil
boneless, skinless chicken breast
Instructions
In a pot over medium heat, bring about 4 quarts of water to a boil. Add egg noodles and cook for about 10 to 15 seconds. Remove from water and drain well.

Divide noodles equally into bowls. Add chicken meat, julienned carrots, shredded napa cabbage, and hard-boiled egg.

Pour hot broth. Garnish with fried garlic bits and chopped onions. Serve hot.
For the Homemade Broth
In a deep pot over medium heat, heat oil. Add onions and garlic and cook until limp and aromatic.

Add chicken and cook, stirring occasionally, until it loses its pink. Lower heat, cover, and cook for about 8 to 10 minutes or until chicken releases its juices.

Raise heat to high and add boiling water. Add carrots, celery, bay leaves, and peppercorns. Season with salt. Skim scum that accumulates on top.

Lower heat again and simmer for another 10 to 15 minutes or until chicken is cooked through.

With a slotted spoon, remove chicken pieces from broth. Allow to cool to touch. Remove meat from bones and shred. Set aside chicken meat and keep warm.

Return the bones to the pot and continue to cook at barely a simmer, uncovered, for about 30 to 40 minutes is slightly reduced and flavor is concentrated.

Using a cheesecloth, strain liquid and discard bones and aromatics. Return the broth to the pot and bring to a boil. Season with fish sauce to taste.
For the Fried Garlic Bits
In a small pan over low heat, heat oil. Add garlic and cook until golden and crisp. With a slotted spoon, remove toasted garlic and drain on paper towels.
"This website provides approximate nutrition information for convenience and as a courtesy only. Nutrition data is gathered primarily from the USDA Food Composition Database, whenever available, or otherwise other online calculators."