Bibingkang Malagkit made of glutinous rice, coconut milk, and brown sugar is perfectly sweet, creamy, and chewy. Topped with sweetened coconut spread, this Filipino rice cake is a delicious treat you'll love as a snack or dessert.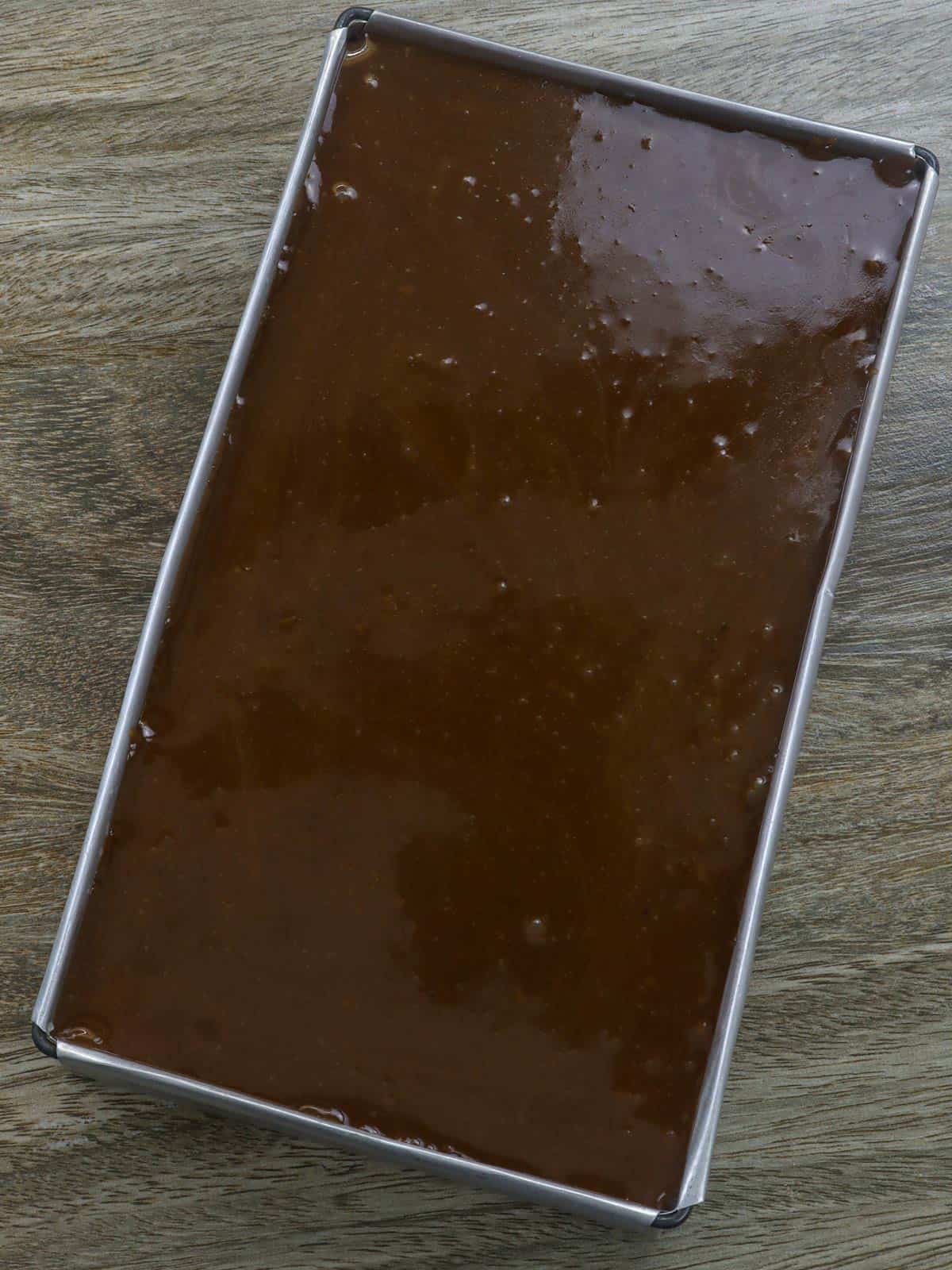 Have you tried my biko recipe yet? I hope you check it out because today's bibingkang malagkit belongs to the same family of kakanin.
This native delicacy is also referred to as biko or sinukmani in other regions of the country. They share the same ingredients, but while the other is topped with latik, this version is topped with coconut caramel topping and finished off in the oven to brown.
Either way, these sticky rice cakes are soft, chewy, and bursting with coconut flavor. They're delicious as a midday snack or after-meal dessert and guaranteed to be crowd favorites!
Ingredient notes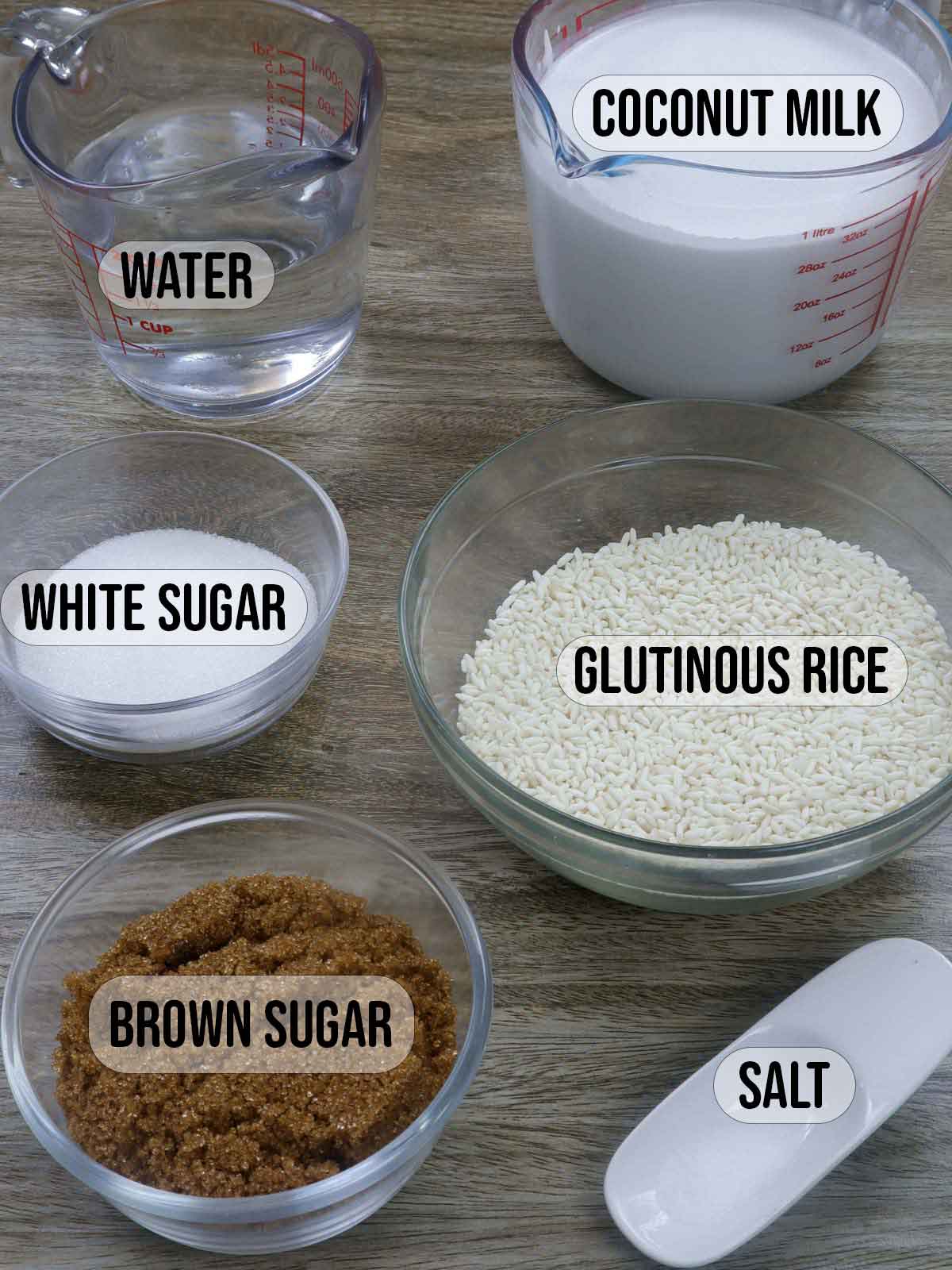 Glutinous rice or malagkit- you'll find this cultivar labeled sticky rice or sweet rice in the stores.
Water- for cooking the rice
Sugar- we use white sugar for the sticky rice base and dark brown sugar for the top coconut layer for contrast in color.
Salt- balances the sweetness
Coconut milk- I used coconut milk for the sweetened topping for fewer ingredients, but feel free to swap coconut cream (kakang gata or first extraction) if you have it on hand. This will speed up the process as it's more concentrated and has less water content to reduce.
Cooking the sticky rice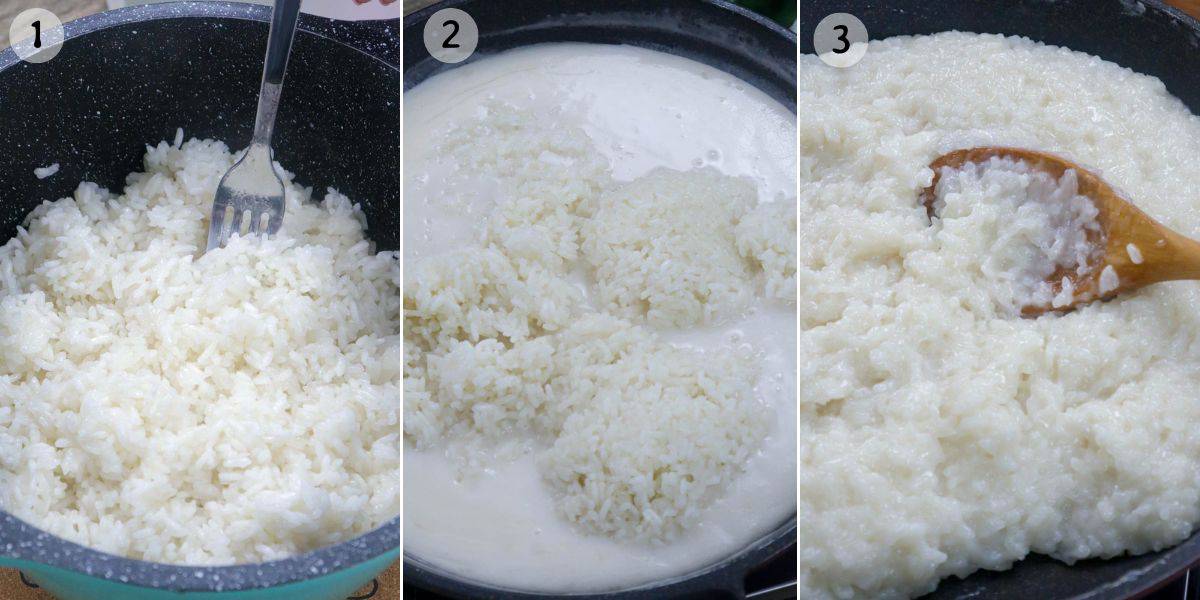 Steam the glutinous rice until it is partially cooked, as it will finish in the sweetened cream mixture.
Add a knotted strip of pandan leaves when cooking the rice to boost aroma and flavor.
Do not skip the salt, as it helps balance the sweetness and richness of the rice cake.
Use a wide non-stick pan to make stirring easier. Please do not leave the rice mixture unattended for long periods as it can burn in the bottom quickly.
The sweet rice mixture is ready when it begins to pull away from the sides of the pan.
Making the coconut topping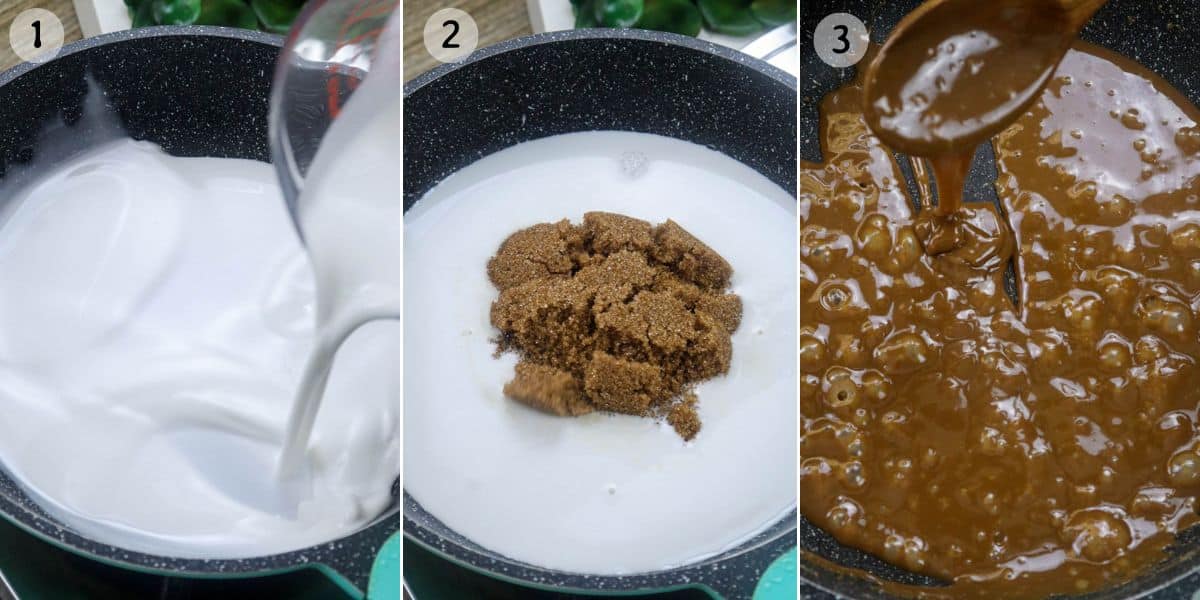 The caramel sauce is pretty easy to make but does take time to thicken. Make it in another pan simultaneously with the rice mixture so they'll finish congruently. Or you can prepare it a day before and store it in the refrigerator in a covered container.
Use a wide shallow pan instead of a deep saucepot for the excess liquid to evaporate more quickly. Choose a non-stick material to make stirring easier.
The coconut caramel is ready when it's thick enough to coat the back of the spoon.
Assembly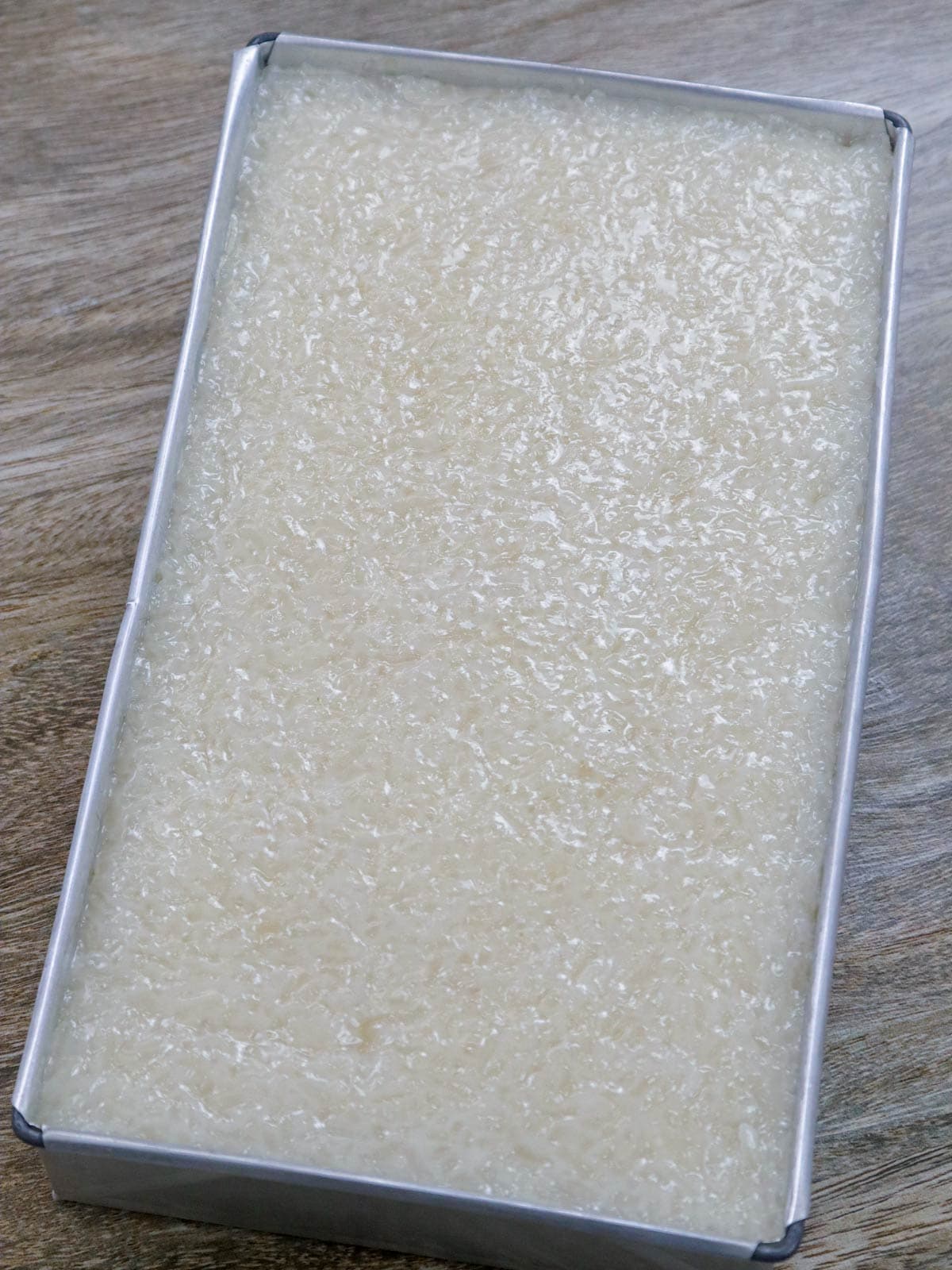 Since we are not making latik here, use melted butter to grease the baking pan. If you have coconut oil on hand, so much the better! You can also line the baking dish with wilted banana leaves for added aroma.
Spoon the caramel topping on the rice cake and spread it evenly to cover the cake completely.
Tap the baking pan on the kitchen counter a few times to smooth out the thick sauce and remove any bubbles.
Quick tip
The pan I use is 5 x 8-inch in size; if using a wider pan or you prefer a thicker caramel, you might need to double the amount of topping.
Frequently Asked Questions
What is the difference between bibingkang malagkit and biko?

Both these Filipino kakanin are made with glutinous rice cooked in coconut milk and sugar. However, bibingkang malagkit is traditionally topped and baked with a sweetened coconut caramel while biko is garnished with latik or golden coconut curds.
Is malagkit rice same as glutinous rice?

Yes. Malagkit is the Filipino term for glutinous rice. It's also called sticky or sweet rice.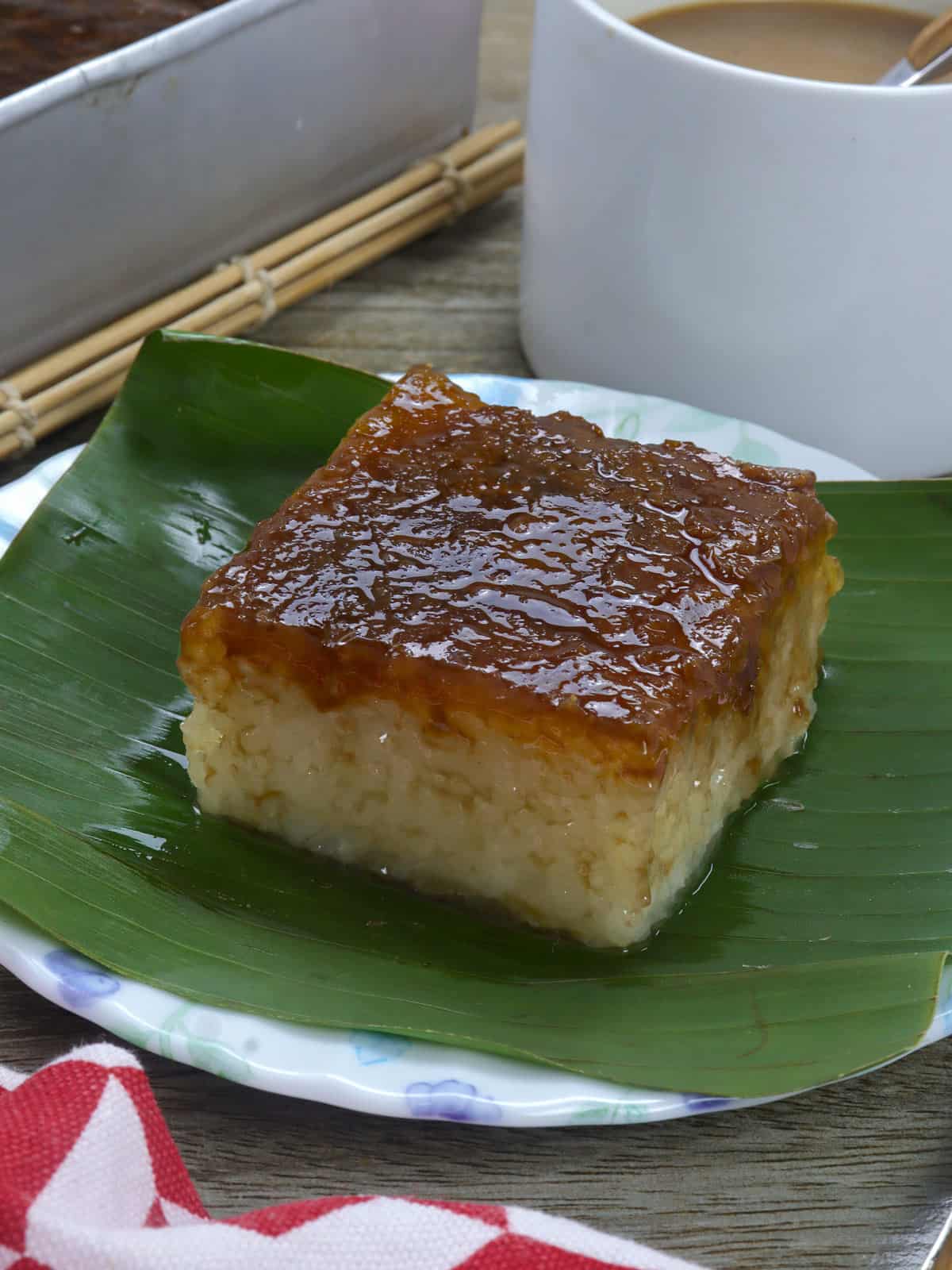 How to serve and store
Serve as a midday snack or dessert. It can be enjoyed warm, at room temperature, or chilled.
Wrap the baking pan tightly with plastic film and refrigerate for up to 3 days. Note that the rice tends to harden when refrigerated.
Reheat in the microwave for a few seconds until warmed through.
Give this bibingkang malagkit a try, and let me know what you think. I'll return in a few days with my almost-famous cassava cake updated with new photos. Enjoy!
Bibingkang Malagkit is the ultimate sweet treat! Soft, chewy, and topped with sweetened coconut spread, it's sure to be a crowd-pleaser. And it's gluten-free, too!
8 Servings
Ingredients
1 tablespoon coconut oil or melted butter
2 cups glutinous rice, washed and drained well
1 ½ cups water
1 pandan leaf, optional
5 cups coconut milk
¾ cup white sugar
¼ teaspoon salt
1 cup brown sugar
Instructions
Brush bottom and sides of a 5 x 8 baking dish with coconut oil or melted butter. Set aside.

Rinse glutinous rice a few times or until water runs almost clear. Drain well.

In a deep, thick-bottomed pot or rice cooker, combine rice and water. Tie a pandan leaf into a knot and add it to the rice.

Over medium heat, bring to a boil. Lower heat, cover, and cook until liquid is absorbed.

Allow to cool to touch and fluff with a fork to separate grains. Discard pandan leaf.

Add rice, gently stirring to distribute evenly. Cook, stirring occasionally, for about 50 to 60 minutes or until the mixture is very thick and sticky, and pulls away from the sides of the pan. 

Meanwhile, In a non-stick pan over medium heat, combine the remaining 2 cups coconut milk and brown sugar. Cook, stirring occasionally, until very thick yet spreadable.

Transfer the sticky rice into the prepared baking dish and pat down with a lightly greased spatula to even out.

Spoon coconut caramel topping over rice and spread across the surface to completely cover.

Bake in a 350 F oven for about 20 to 30 minutes or until topping is caramelized and bubbly.

Remove from oven and allow to cool completely before slicing.
Notes
You can add a knot of pandan leaves when cooking the rice for aroma and flavor.
To speed up making the sweetened coconut topping, swap the coconut milk with coconut cream if you have it on hand. This first extraction, or kakang gata is more concentrated and has less water content to reduce. 
Brush the inner bottom and sides of the baking pan with melted butter to keep the rice from sticking. You can also use coconut oil or line the pan with wilted banana leaves.
The pan I use is 5 x 8-inch in size; if using a wider pan or you prefer a thicker caramel, you might need to double the amount of topping.
"This website provides approximate nutrition information for convenience and as a courtesy only. Nutrition data is gathered primarily from the USDA Food Composition Database, whenever available, or otherwise other online calculators."