Waknatoy is Marikina's take on the classic Filipino menudo. This pork and sweet pickles stew is easy to make and can be doubled for a crowd or make-ahead meals. It's hearty, tasty, and perfect for family dinners or special occasions!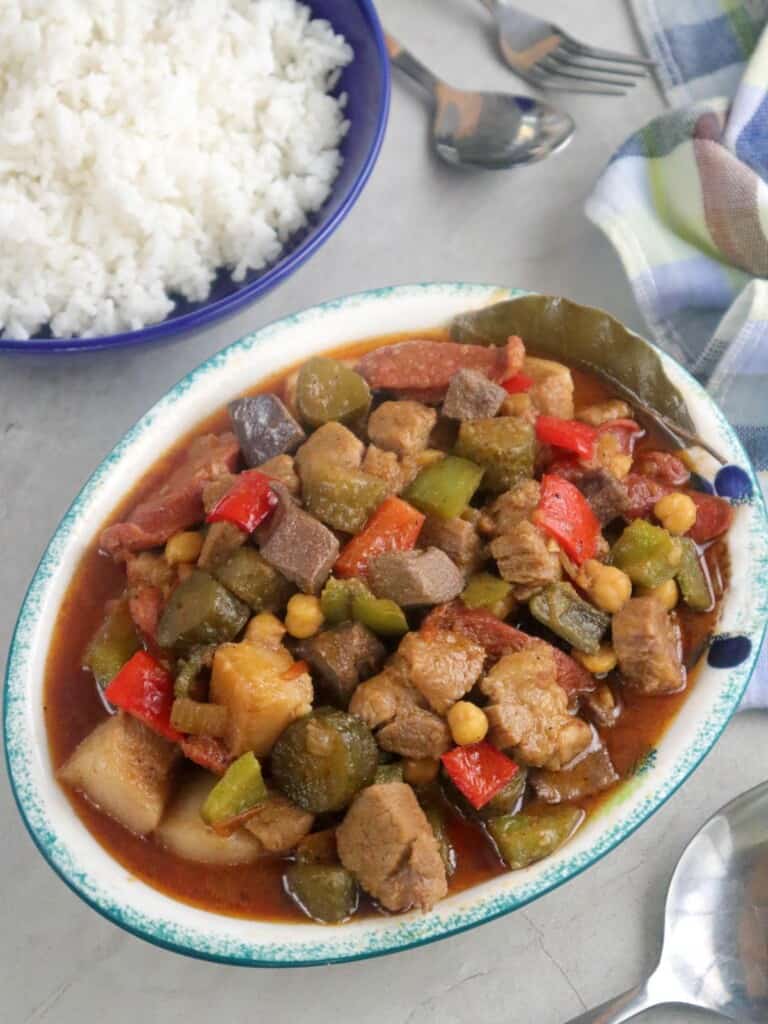 Waknatoy or also called Marikina Menudo is a Filipino pork stew with sweet pickles. As the name suggests, it originated from Marikina and is pretty similar to the classic Filipino menudo but with pickles and sans potatoes and carrots.
The story has it, this pork stew was very popular in Marikina in the old days and was on the menu of almost all the restaurants and roadside eateries in the area. Chinese merchants, who frequented these said diners soon got tired of being served the same dish and would refuse it, "Ito na naman? Wag na to!" (Not this again!). Since most of the Chinese patrons were not fluent in Filipino, they pronounced "wag na ito" as "wak na toy." So hence, the Marikeños named the pork stew dish "Waknatoy."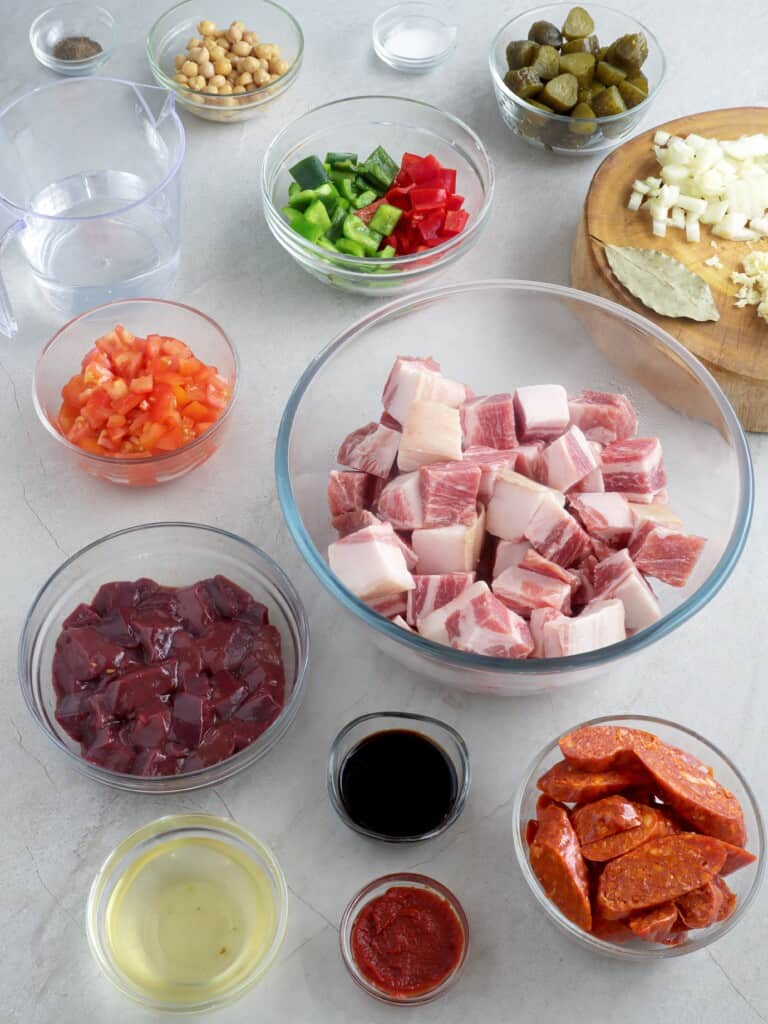 Ingredient notes
Pork– the recipe uses pork shoulder or kasim. You can also use pork tenderloin if you prefer for a leaner option or belly for a fatter cut.
Pickle juice– used to marinate the pork; adds tangy flavor and helps tenderize. You can swap with calamansi or lemon juice
Tomato Paste– enriches the flavor and thickens the sauce. If you're out of tomato paste, substitute 3 tablespoons of tomato sauce.
Chorizo– for a smoky layer of flavor. You can also use hot dogs or Vienna sausages.
Roma Tomatoes– use ripe ones for sweeter and juicier sauce.
Sweet Gherkin Pickles– this is what differentiates it from Filipino menudo. It lends a sweet-tangy flavor to the dish.
Vegetables– bell peppers and garbanzos add color, flavor, and texture
Liver– you can use pork or beef liver for this recipe.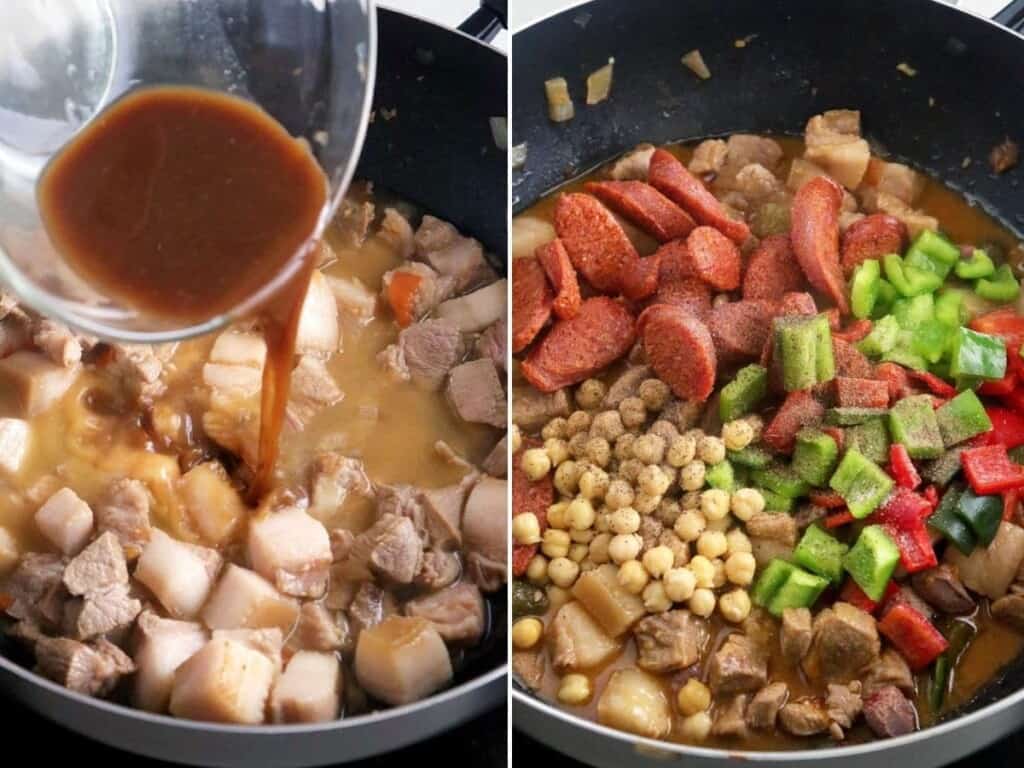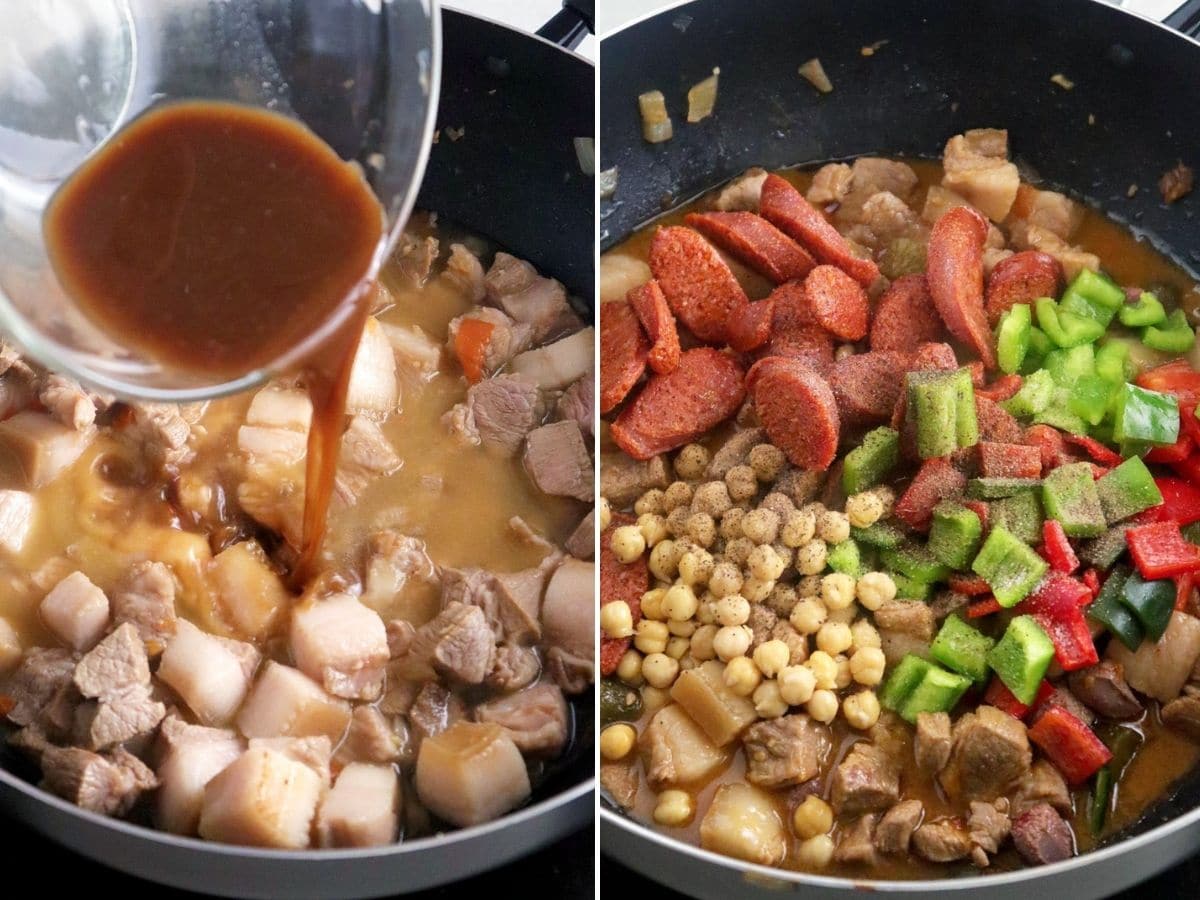 Traditional Waknatoy does not have potatoes and carrots, but you can add them as a good way to extend servings. Cut in uniform size to ensure even cooking.
Do not overcook the liver as it will turn tough and hard to chew. Add during the last 5 to 7 minutes of cook time. Please note that the liver helps thicken the sauce and if omitting, you might want to reduce the sauce longer to thicken.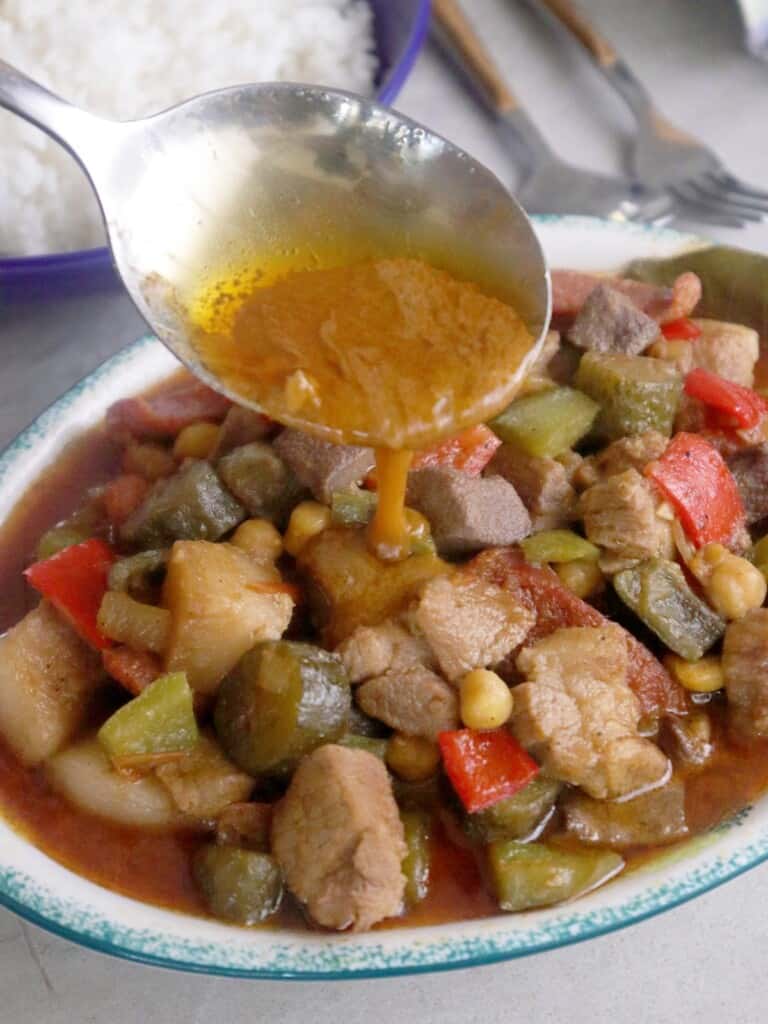 Serving suggestions
Waknatoy is prefect for everyday family dinners as well as holidays, fiestas, or special occasions. It's a delicious medley of sweet and savory flavors that's sure to be a hit with the crowd!
Enjoy with steamed rice as a main dish or use as a sandwich filling for a midday snack.
Making ahead
Marikina menudo is a great make-ahead dish, and the recipe can be doubled or tripled to store for future meals. It keeps well for days and actually tastes better when reheated as the flavors meld and develop fully.
Allow leftovers to cool completely and transfer them to an airtight container. Keep in the refrigerator for up to 3 days or in the freezer for up to 2 months.
To reheat, place in a saucepan and warm over low heat to an internal temperature of 165 F or microwave at 2 to 3-minute intervals until heated through.
Waknatoy is Marikina's version of menudo, but with added pickles for a delicious medley of sweet and savory. This pork stew is hearty, tasty, and perfect for everyday meals or special occasions.
servings
Ingredients
2 pounds pork shoulder, cut into 1-inch cubes
1/4 cup pickle juice
2 tablespoons soy sauce
1 tablespoon canola oil
2 pieces Chorizo de bilbao
1 onion, peeled and chopped
3 cloves garlic, peeled and minced
4 Roma tomatoes, chopped
1 cup water
1 tablespoon tomato paste
6 pieces sweet Gherkin pickles, cut into 1/inch thickness
1 bay leaf
1/2 pound pork liver
1 medium red bell pepper, seeded, cored, and cut into cubes
1 medium green bell pepper, seeded, cored, and cut into cubes
1/2 cup garbanzo beans, drained
salt and pepper to taste
Instructions
In a bowl, add pork shoulder, pickle juice, and soy sauce and stir to coat meat. Cover with plastic film. Marinate in the refrigerator for about 30 minutes.

Drain pork well using a colander, reserving the marinade. In a wide pan over medium heat, add oil. Add chorizo de bilbao. Cook until lightly browned. Remove from pan and set aside.

In the same pan, add onion, garlic, and marinated pork. Cook until lightly browned, stirring occasionally.

Add tomatoes and cook, mash with the back of the spoon, until softened and release juice.

Add water, reserved marinade, tomato paste, sweet gherkin pickles, and bay leaf. Stir until distributed and bring to a boil.

Lower heat, cover, and simmer for about 20 to 30 minutes or until pork is tender.

Add pork liver. Let stand for about 20-30 seconds before stirring.

Add browned chorizo, bell peppers, and garbanzos. Stir well to combine.

Add salt and pepper to taste. Stir well.

Cover and cook for another 6 to 10 minutes or until sauce is thickened. Serve hot.
Video
Nutrition Information
Calories: 386kcal, Carbohydrates: 16g, Protein: 43g, Fat: 16g, Saturated Fat: 4g, Polyunsaturated Fat: 3g, Monounsaturated Fat: 7g, Trans Fat: 1g, Cholesterol: 264mg, Sodium: 991mg, Potassium: 1028mg, Fiber: 4g, Sugar: 6g, Vitamin A: 13922IU, Vitamin C: 90mg, Calcium: 60mg, Iron: 16mg
"This website provides approximate nutrition information for convenience and as a courtesy only. Nutrition data is gathered primarily from the USDA Food Composition Database, whenever available, or otherwise other online calculators."