Suam na Mais is a Filipino soup with fresh corn kernels, shrimp, and spinach. It's creamy, nutritious, and delicious as a main or a side dish.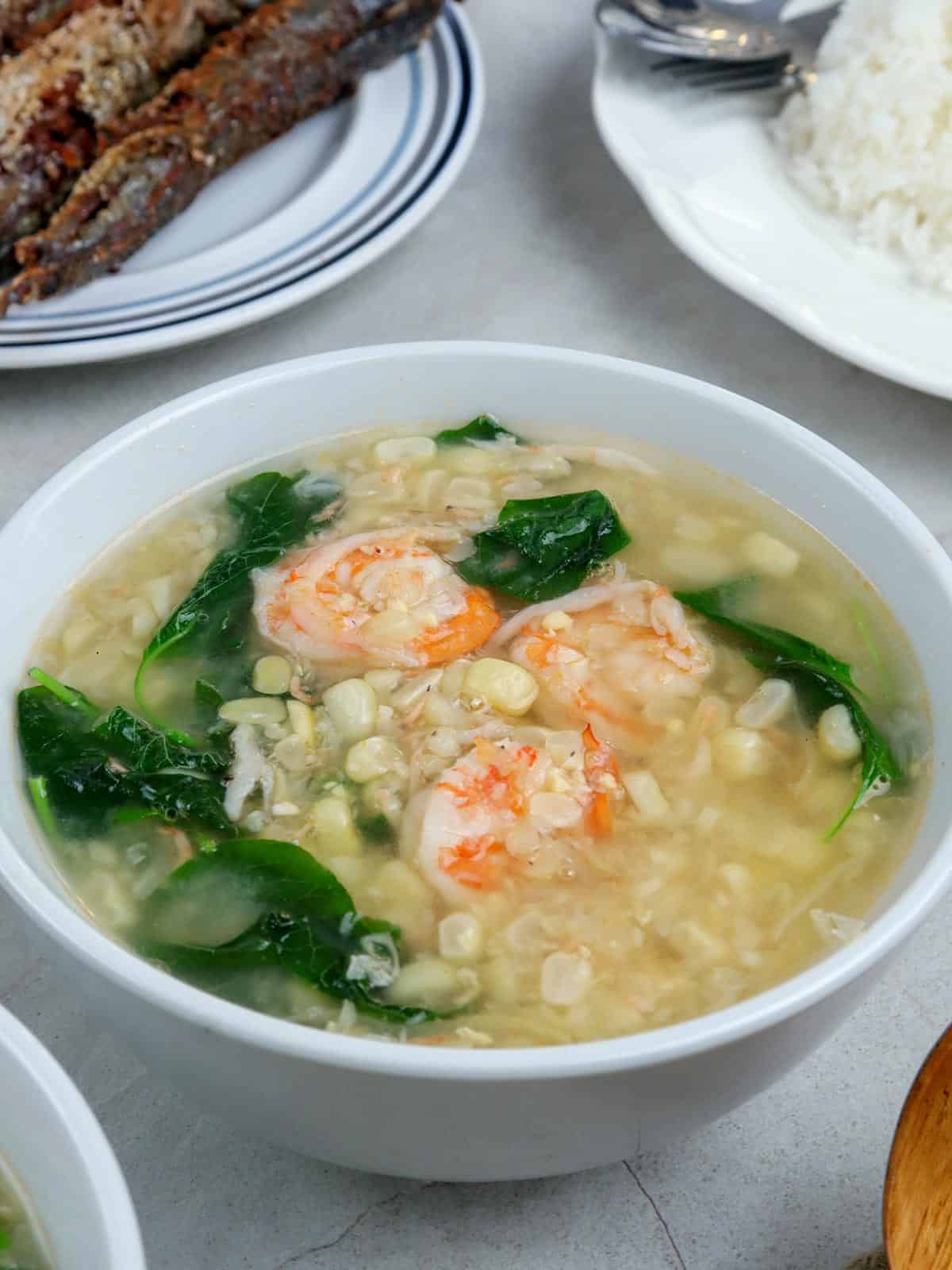 Suam na Mais was one of the first recipes I posted on the blog in 2013. I am updating it today because a) the old photo was ugly and needed a makeover, b) The old version of the recipe uses yellow corn, as I couldn't find native white corn. Although the soup was delicious in its own right, it lacked the thick and creamy consistency of a good suam na mais, and c) I recently learned the traditional seasoning is shrimp paste and not fish sauce.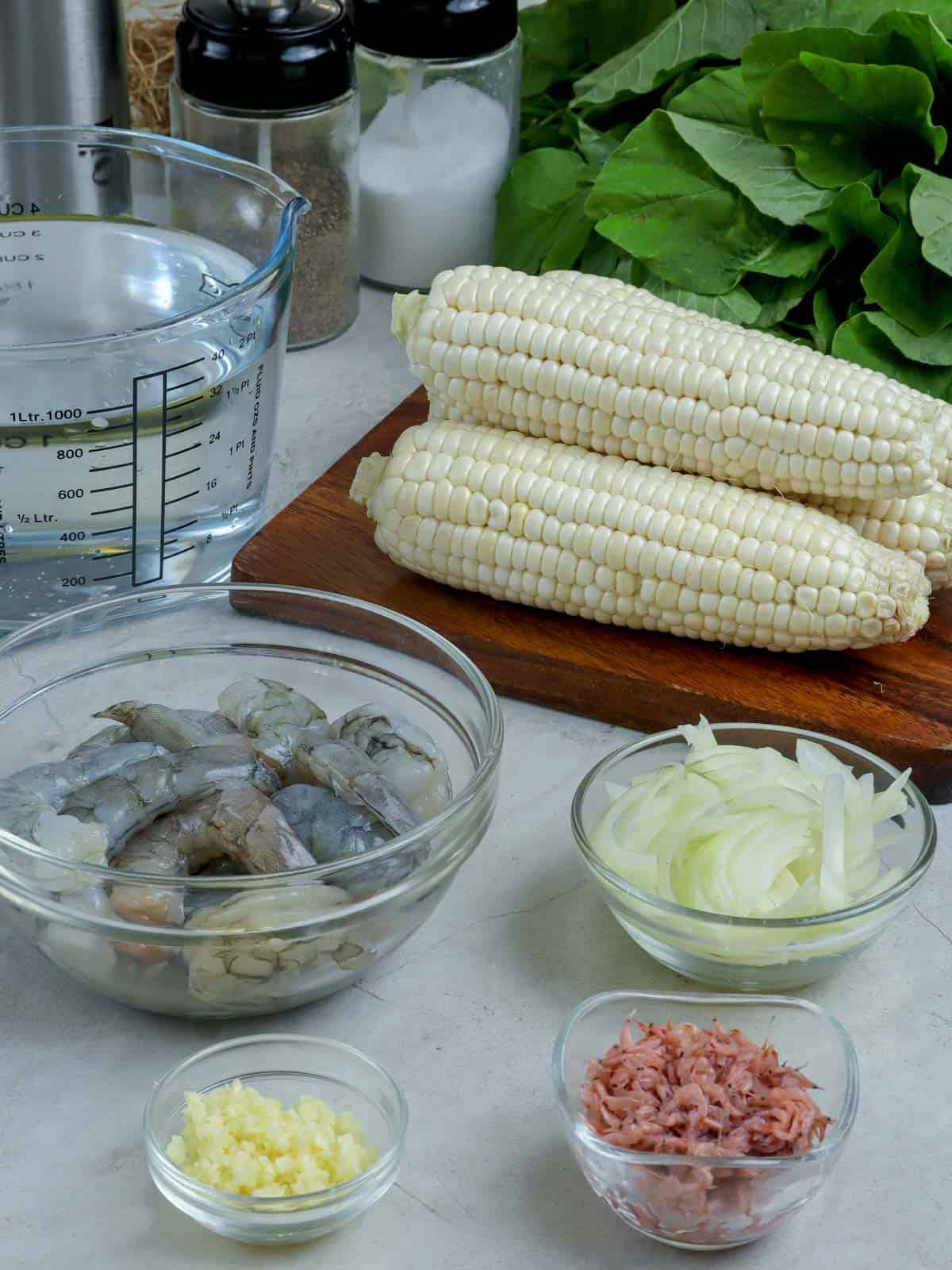 What is suam
Suma na mais is a Kapampangan soup made of fresh native white corn, shrimp, chicken, pork, and leafy vegetables. It's also known as ginisang mais or sinabawang mais in other regions of the country.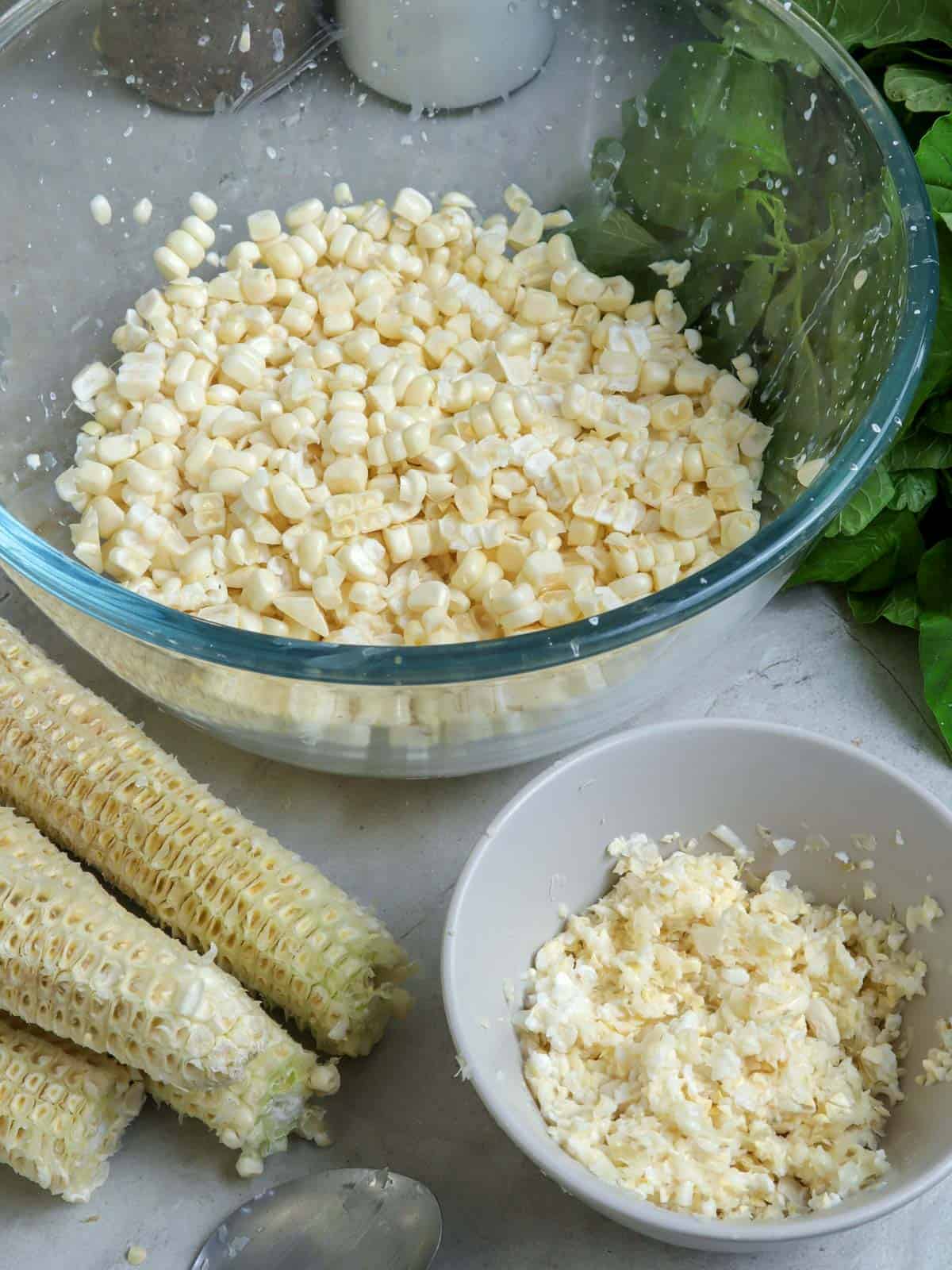 What you'll need
Corn- While yellow corn has a tasty flavor, it doesn't have the viscosity of the white variety, which helps thicken the broth naturally. If you live in the U.S., look for glutinous corn cobs in the freezer section of most Asian supermarkets. If you are in the Philippines, look for mais lagkitan in the wet markets.
Shrimp- you can also use diced pork or chicken.
Raw shrimp paste- I used fish sauce in my old recipe, but I recently learned from my aunt that the traditional flavoring for this Kapampangan soup is bagok (shrimp paste).
Water- for extra depth of flavor, you can use rice washing, chicken or shrimp broth.
Leafy vegetables- fresh spinach, chili, ampalaya, or malunggay (moringa) leaves.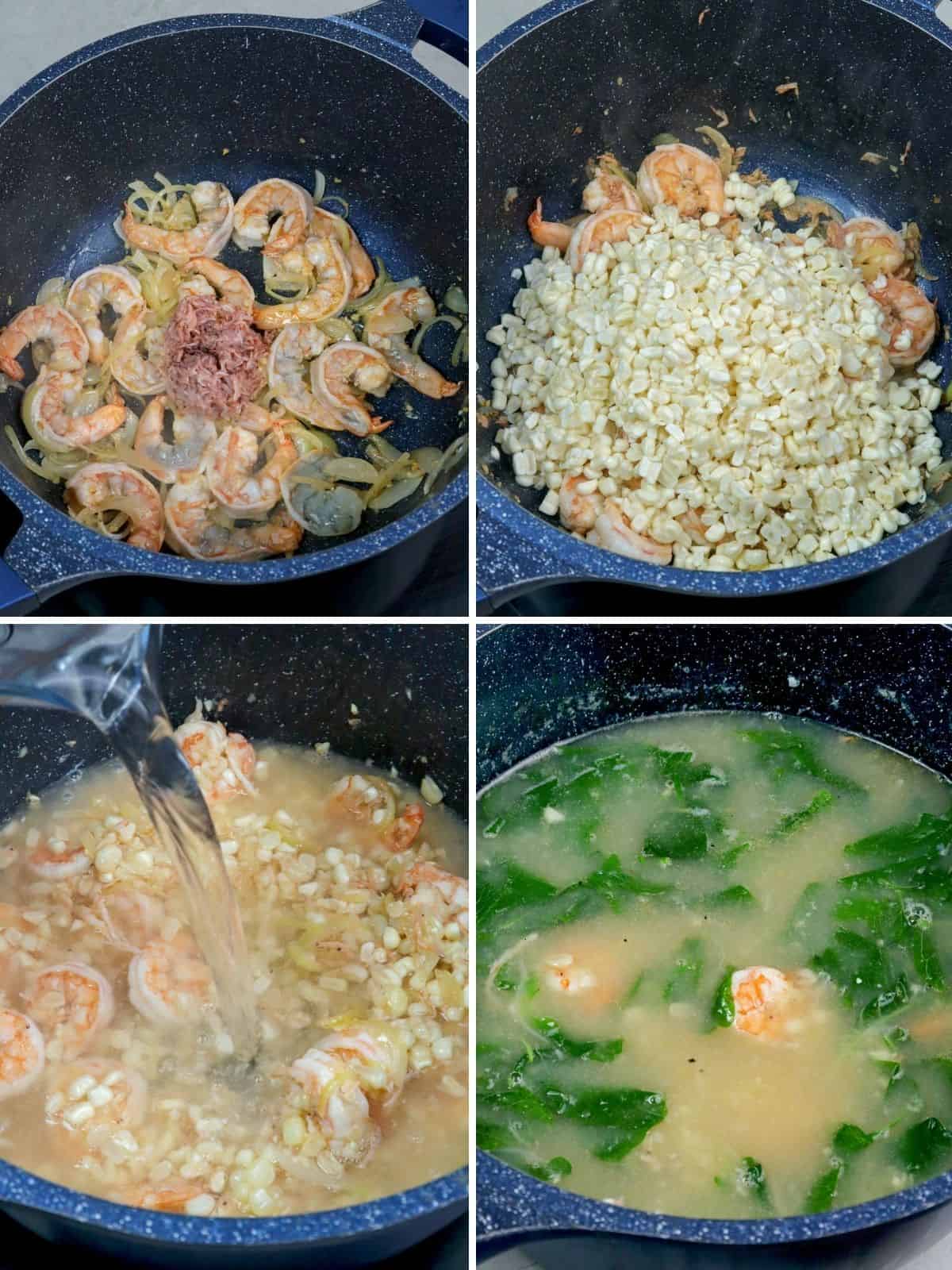 How to thicken the broth
Use native white corn called lagkitan. After shaving off the kernels, scrape the pulp and add to the soup to naturally thicken the broth.
If using another type of corn, you can thicken the soup with a cornstarch slurry. Combine 1 tablespoon cornstarch and ¼ cup water until smooth and whisk in the broth until thickened.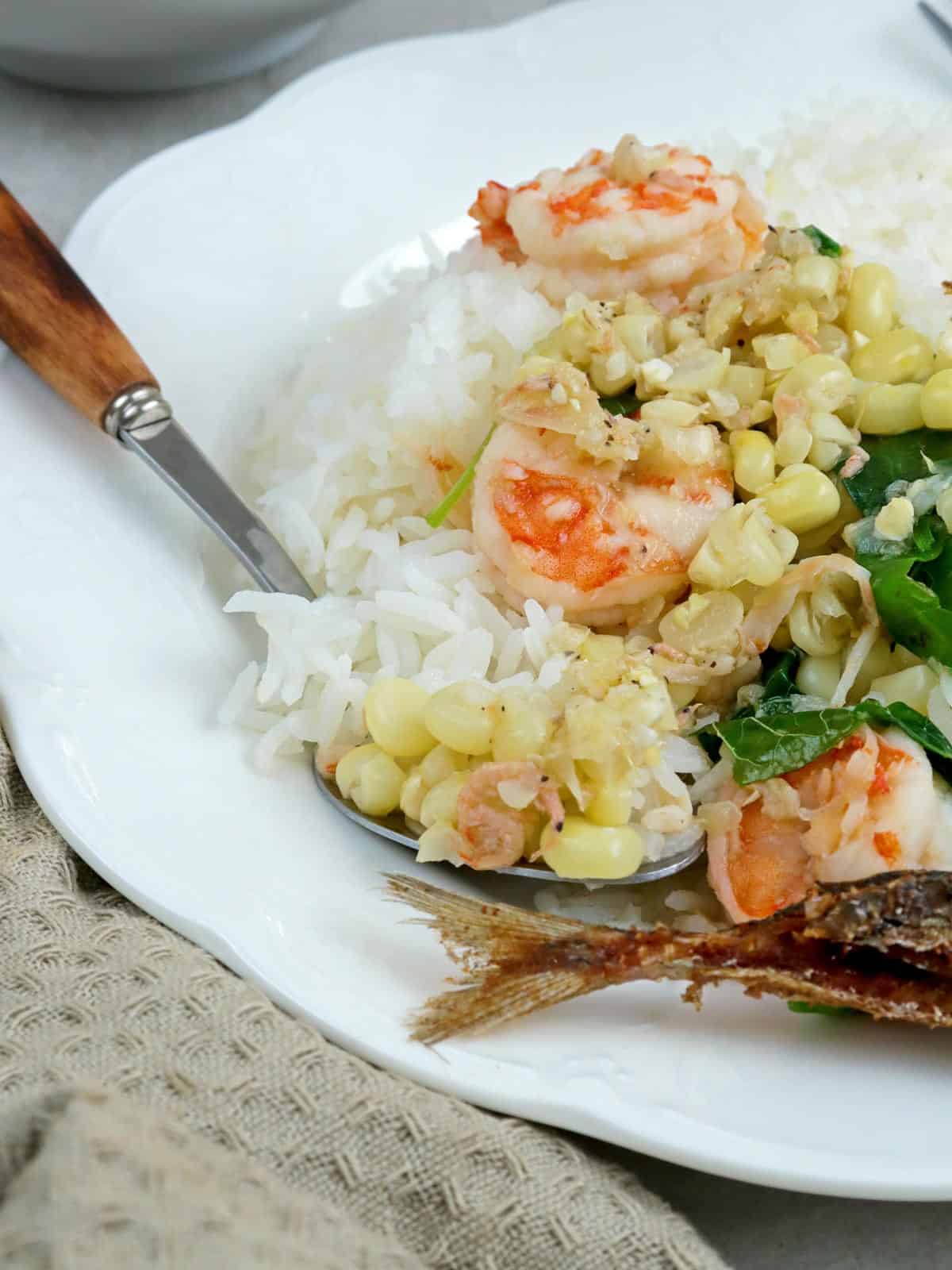 How to serve and store
This creamy corn and vegetable soup is delicious and filling on its own or as a main dish with steamed rice and your favorite fried fish or grilled meat.
Store leftovers in airtight containers and refrigerate for up to 3 days.
Reheat in a saucepan until thoroughly heated through. Add water or broth to loosen consistency and adjust seasonings with salt and pepper as needed.
Filipino-style Corn Soup made with fresh white corn kernels, shrimp, and spinach leaves. This suam na mais is creamy, flavorful and nutritious!
Course:
Main Entree, Soup
Servings
Ingredients
4 native white corn (glutinous)
1 tablespoon canola oil
1 small onion, peeled and sliced thinly
2 cloves garlic, peeled and minced
½ pound small shrimp, peeled and deveined
1 tablespoon shrimp paste
6 cups water
salt and pepper to taste
1 bunch spinach, stems trimmed
Instructions
Shuck the corn cobs by removing the husks and silks. Using a sharp knife, cut the stem ends.

In a large bowl, stand an ear of corn up and using a small knife, thinly cut the kernels off from top to bottom. Rotate the corn when done with each section to get to the next.

In a small bowl, scrape the sides of the cobs using a spoon to extract the remaining pulp and milky juice.

In a pot over medium heat, heat oil. Add onions and garlic and cook until softened.

Add shrimp and cook, stirring occasionally, just until color changes.

Add shrimp paste and continue to cook for about 1 to 2 minutes or until lightly browned.

Add the cut corn and cook, stirring occasionally, for about 2 to 3 minutes or until corn turns translucent.

Add water and bring to a boil, skimming scum that floats on top.

Lower heat, cover, and simmer for about 7 to 10 minutes or until kernels are tender.

Add scraped corn pulp and juice and stir to distribute. Continue to simmer for about 3 to 5 minutes until soup thickens.

Season with salt and pepper to taste.

Add spinach, pushing down the leaves into the broth. Turn off heat, cover, and allow the residual heat to cook the spinach just until wilted. Serve hot.
Notes
For a creamy texture, use glutinous white corn or lagkitan. If unavailable, thicken the broth with a cornstarch slurry (dissolve 1 tablespoon cornstarch in ¼ cup water)
Video
Nutrition Information
Calories: 210kcal, Carbohydrates: 23g, Protein: 20g, Fat: 6g, Saturated Fat: 1g, Cholesterol: 186mg, Sodium: 673mg, Potassium: 803mg, Fiber: 4g, Sugar: 7g, Vitamin A: 8139IU, Vitamin C: 35mg, Calcium: 202mg, Iron: 4mg
"This website provides approximate nutrition information for convenience and as a courtesy only. Nutrition data is gathered primarily from the USDA Food Composition Database, whenever available, or otherwise other online calculators."