Pork Hamonado with pork belly braised in pineapple juice and soy sauce for the ultimate pork dish. Melt-in-your-mouth tender with a sweet and savory sauce, it's pure heaven on steamed rice!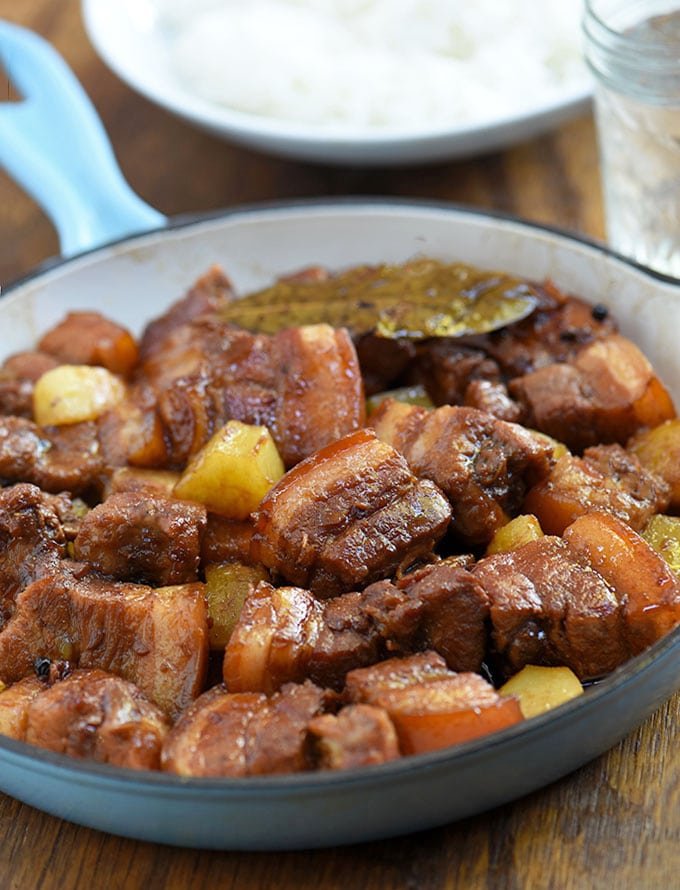 I cooked so many pork dishes these past weeks for our holiday series that I was literally knee deep in all kinds of pig parts for days! My kitchen was quite a sight with a pig head roasting in the oven, pork ears and snout charring beautifully on an indoor grill, and pork belly simmering on the stove top.
Although I enjoyed these dishes immensely, with an extra 5 pounds of weight to prove it, I have to say this pork hamonado was the clear winner of the lot. The combination of melt-in-your-mouth tender pork and a sweet and savory sauce over piping-hot steamed rice was just pure heaven; I ate way more than I should.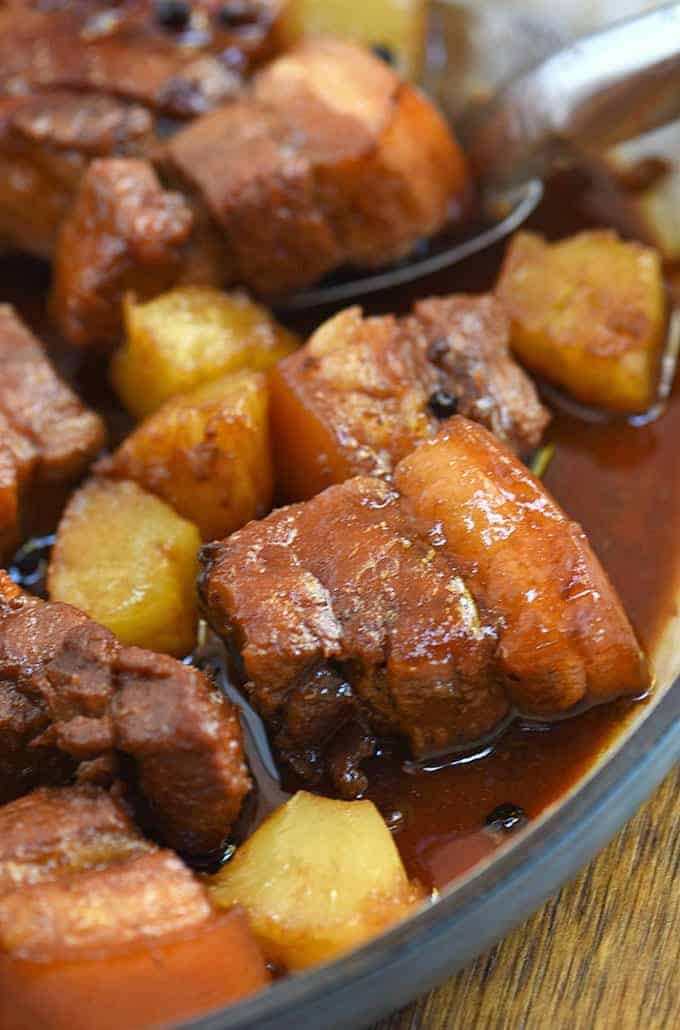 What are the Ingredients of Hamonado
You can use basically any cut of pork in hamonado, but for a richer flavor and velvety soft texture, I suggest parts with a thick cap of skin and fat such as hocks, belly or shoulder.
The pork is braised in a mixture of pineapple juice and soy sauce along with aromatics, garlic, onion, peppercorns, and bay leaves. When the meat is tender, brown sugar is stirred in to add a touch of sweetness and pineapple chunks are added to round off the dish.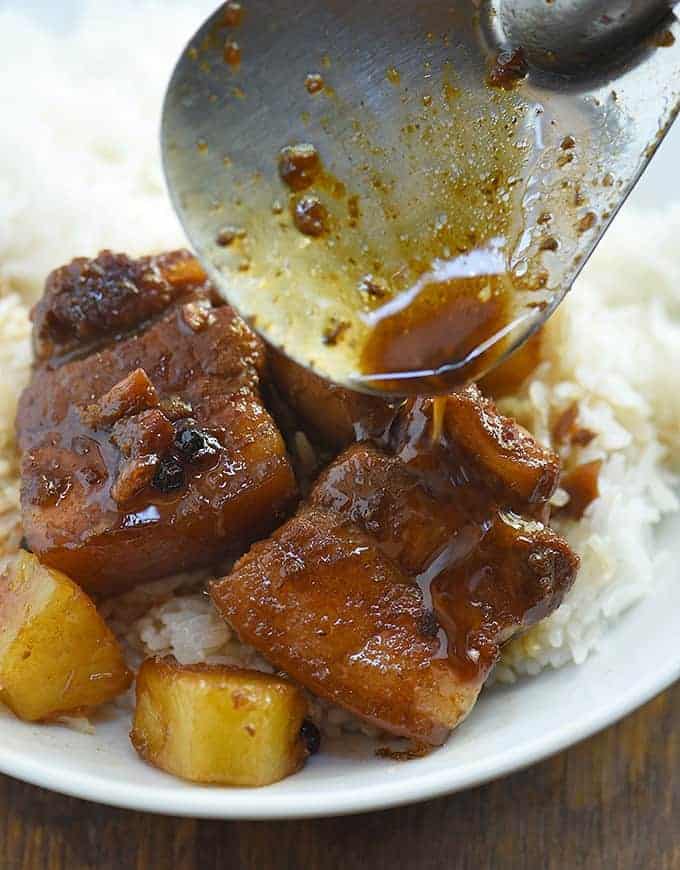 Tips on How to Make Simple Pork Hamonado
Make sure to brown the pork. It may entail extra work but I promise it's worth the effort. Searing over high heat caramelizes the surface of the meat. which enriches the dish with more complex flavors.
Don't rush! Cooking low and slow allows the fat to melt and the tough, connective tissues to soften to melt-in-your-mouth tenderness.
Choose the right pineapple chunks. The liquid in the can is what you'll use to braise the meat so make sure the pineapples are packed in juice and not heavy syrup which is usually lacking in the sour notes that will help balance the salty soy sauce.
I like to add about 1/4 cup of apple cider vinegar to boost the tanginess of the pineapple juice. Once added in, allow it to boil uncovered and without stirring to mellow out the acid taste.
Use brown sugar and not white. It has a slightly less concentrated sweetness and contains molasses which enhance the rich flavor of the hamonado sauce.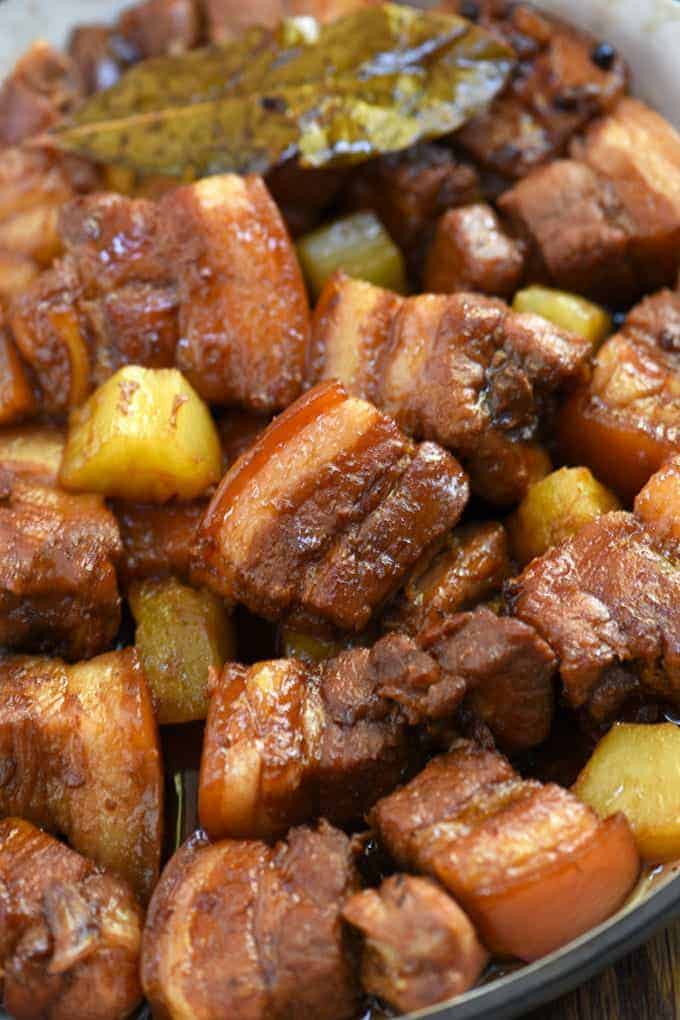 Love the taste of pineapples in savory dishes? I have more recipes for you to try!
Meat Dishes with PIneapple
As our recipe series comes to a close, I want to thank you for making Kawaling Pinoy your hub for everything delicious this holiday season.  I wish you the merriest Christmas and the happiest New Year.  May your home be filled with joy and love.
Print Recipe
Pork Hamonado
Pork Hamonado with pork belly braised in pineapple juice and soy sauce for the ultimate pork dish. Melt-in-your-mouth tender with a sweet and savory sauce, it's pure heaven on steamed rice!
Ingredients
2

tablespoons

canola oil

2

pounds

pork belly (boneless or bone-in), cut into 2-inch cubes

1

onion, peeled and chopped

4

cloves

garlic, peeled and minced

1

cup

pineapple juice (reserved from can of pineapples)

1/4

cup

apple cider vinegar

1/2

cup

soy sauce

1

cup

water

1

teaspoon

peppercorns

2

bay leaves

2

tablespoons

brown sugar

salt and pepper to taste

1

cup

pineapple chunks
Instructions
In a wide, heavy-bottomed pan over medium-high heat, heat oil until very hot but not smoking.

Add pork belly in a single layer and cook for about 2 to 3 minutes or until lightly browned. Turn and cook for another 1 to 2 minutes or until all sides are lightly browned. Do NOT overcrowd the pan, cook in batches as needed.

Remove meat from the pan and drain on paper towels. Keep warm.

In the pan, add onions and garlic and cook, stirring regularly, until softened.

Add pork back to the pan and cook for about 1 minute, stirring to combine.

Add pineapple juice and vinegar. Bring to a boil, uncovered and without stirring, for about 4 to 5 minutes.

Add soy sauce and water. Stir to distribute and bring to a boil, skimming scum that floats on top.

Lower heat, cover, and simmer for about 50 to 60 minutes or until very tender and liquid is reduced.

Add brown sugar and stir to combine. Season with salt and pepper to taste. Continue to simmer until sauce is thickened.

Add pineapple chunks and cook for about 1 to 2 minutes or until heated through. Serve hot.
Nutrition
Calories:
1414
kcal
|
Carbohydrates:
41
g
|
Protein:
25
g
|
Fat:
127
g
|
Saturated Fat:
44
g
|
Cholesterol:
163
mg
|
Sodium:
1702
mg
|
Potassium:
810
mg
|
Fiber:
2
g
|
Sugar:
33
g
|
Vitamin A:
1.9
%
|
Vitamin C:
27.7
%
|
Calcium:
6.9
%
|
Iron:
14.8
%