As we were raised by our mother and her side of the family who are Kapampangans, my brothers and I grew up more familiar with dishes such as bagis, kilayin, sisig and tocino. When we immigrated to the U.S. as young adults in the early 1990's and lived with our father's side who are Ilocanos, we were duly introduced to their provincial style of cooking. Dinengdeng, which we never tried until then, was a dinner staple in my father's household and quickly became my favorite.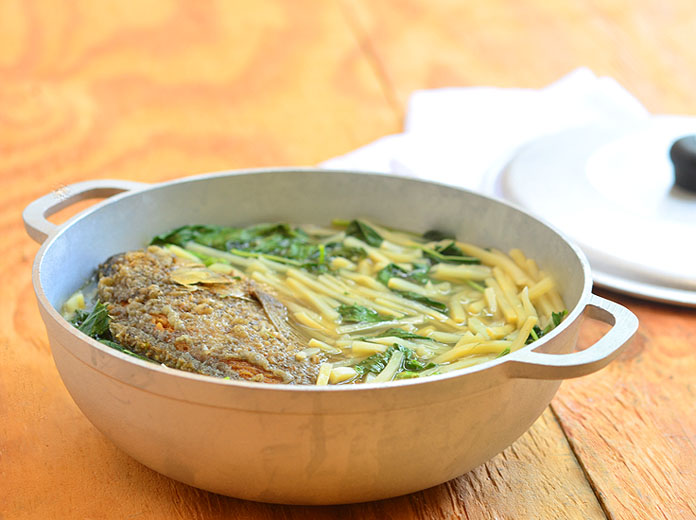 Also referred to as abraw or inabraw, dinendeng is a regional dish which involves the simple process of boiling vegetables in a broth seasoned with fermented fish sauce. Grilled or fried fish is also added at end of cooking to heighten flavors. There really is no straight rule of what vegetables to include as home cooks usually use whatever fresh produce are abundant in the area. After trying varied vegetables from ampalaya, kamote tops, alugbate, lima beans, eggplant to squash flowers in abraw, I remain partial to a basic combination of bamboo shoots, jute leaves and fried tilapia in mine. Give this dinengdeng na saluyot at labong tonight and enjoy a meal that's both healthy and delicious.
Servings
Ingredients
1/2 cup oil
1 tilapia cleaned and gutted
water
2 cups labong julienned
1 small onion peeled and quartered
1/2 cup bagoong fermented fish sauce
1 bunch saluyot leaves separated from stems (about 4 cups leaves)
salt and pepper to taste
Instructions
In a pan over medium heat, heat oil. Add tilapia and fry, turning once or twice, until golden and cooked through. Remove from pan and drain on paper towels.

In a pot over medium heat, add about 4 cups and bring to a boil. Add labong and cook for about 7 to 10 minutes or until tender. Drain labong and discard liquid.

In another pot over medium heat, combine 5 cups of water and onion. Bring to a boil.

In a bowl, combine bagoong with 1/2 cup of the boiling water. In a fine mesh strainer, strain bagoong to extract juice and discard small fish particles from the bagoong. Add the bagoong sauce into the pot. Lower heat to simmer.

Add the labong and continue to cook for about 3 to 5 minutes. Add fried fish and cook for another 3 to 5 minutes to slightly soften. Add saluyot leaves and continue to cook for about 2 to 4 minutes or until just wilted. Season with pepper to taste.
"This website provides approximate nutrition information for convenience and as a courtesy only. Nutrition data is gathered primarily from the USDA Food Composition Database, whenever available, or otherwise other online calculators."