Level up your binagoongan with crispy pork and toppings of steamed eggplant, mangoes, tomatoes, and green onions. This Crispy Pork Binagoongan is a delicious medley of fresh and savory flavors you'll love with steamed rice!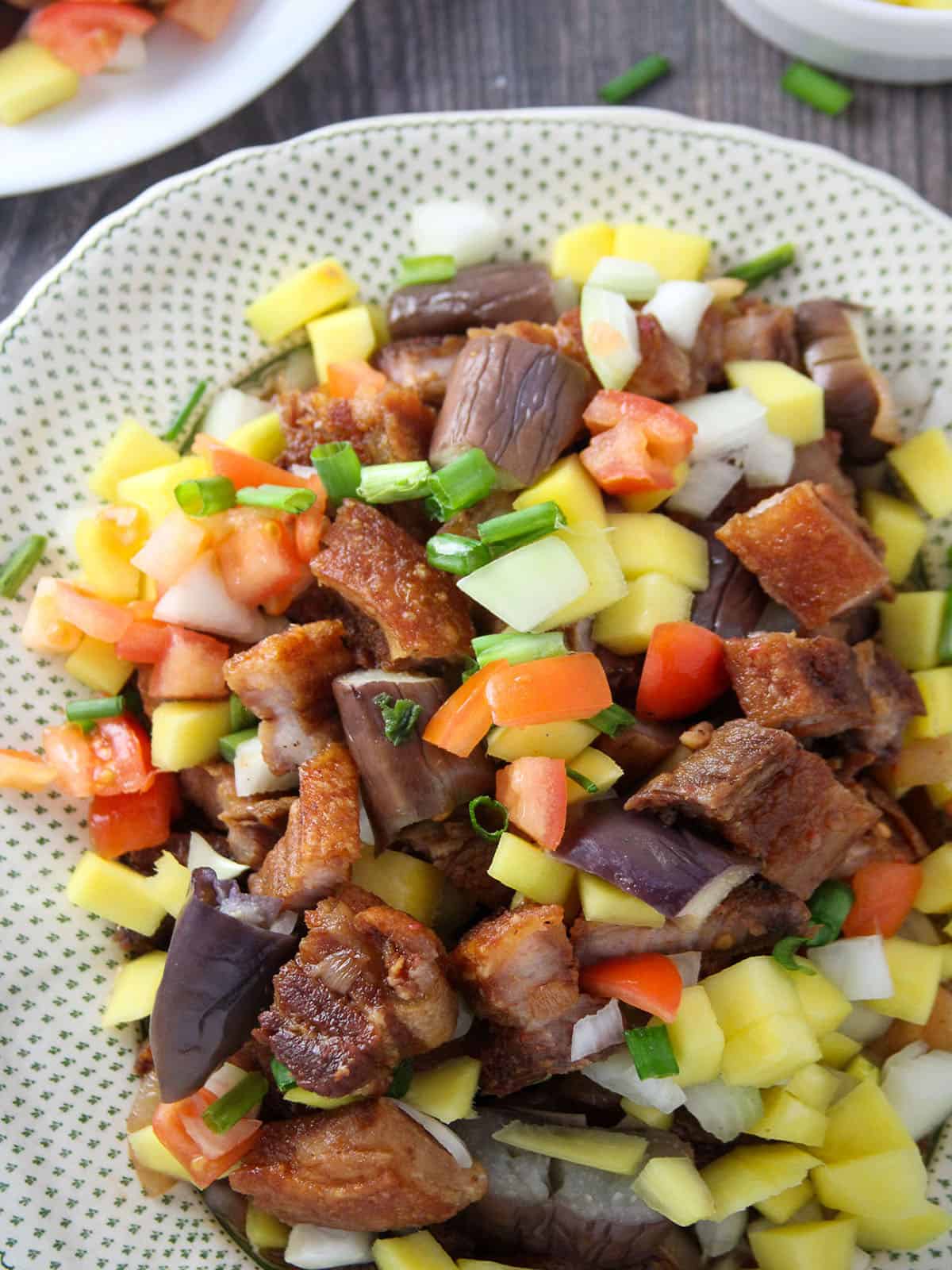 I was first introduced to this Crispy Pork Binagoongan when I did a promotional campaign for Goldilocks Bakeshop a few years ago. It was one of their menu offerings I got to try for the first time and have craved regularly since.
I can't get enough of the dish and had to recreate it at home! With crisp pork tossed in a pungent bagoong sauce and then topped with steamed eggplants, sweet mangoes, juicy tomatoes, and chopped onions, it's a fantastic take on our classic pork binagoongan.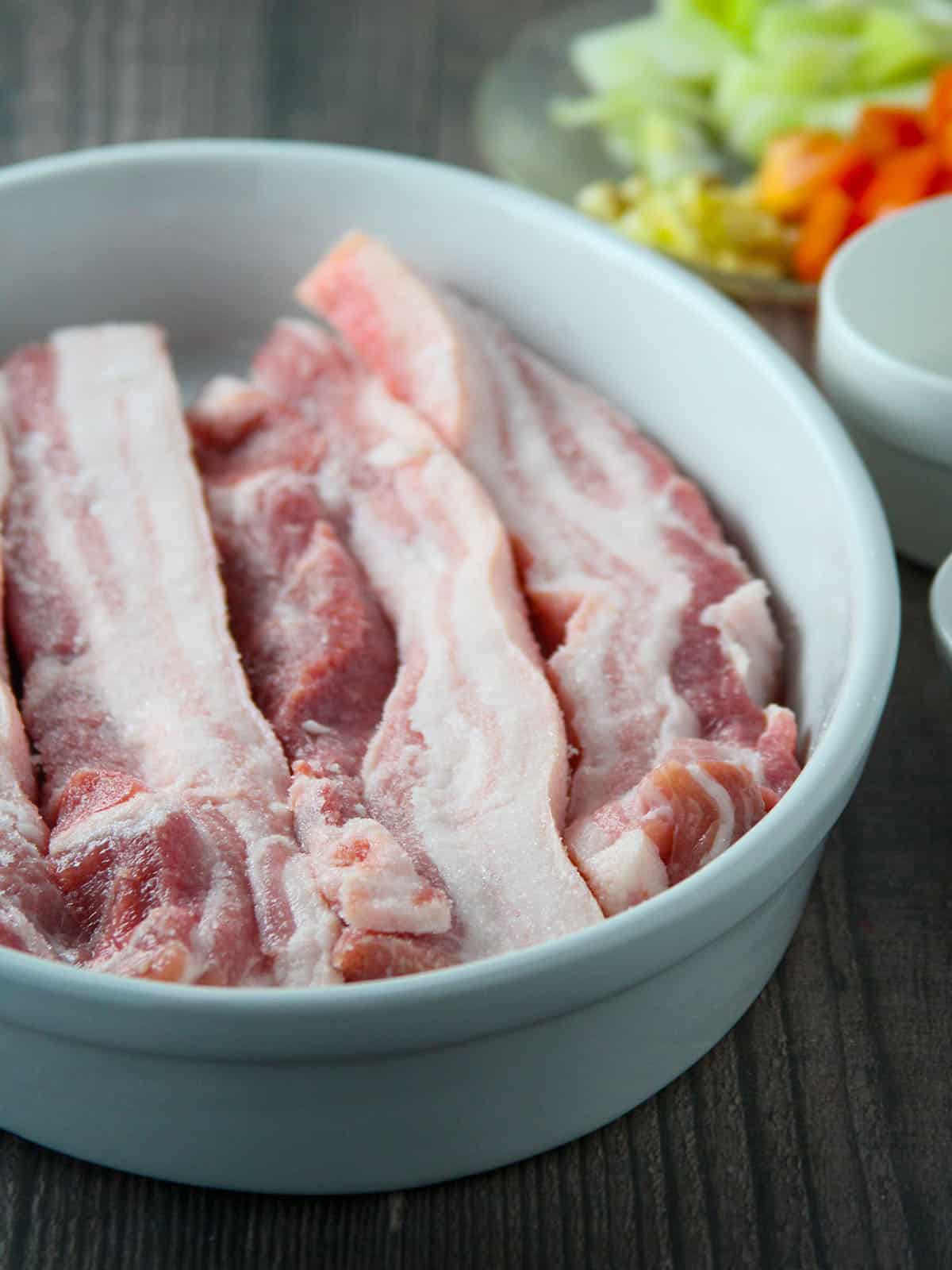 Pork cut
The best cut for this recipe is center-cut boneless pork belly or liempo, which has a good fat-to-meat ratio.
Have lechon kawali on hand? They're perfect for this recipe!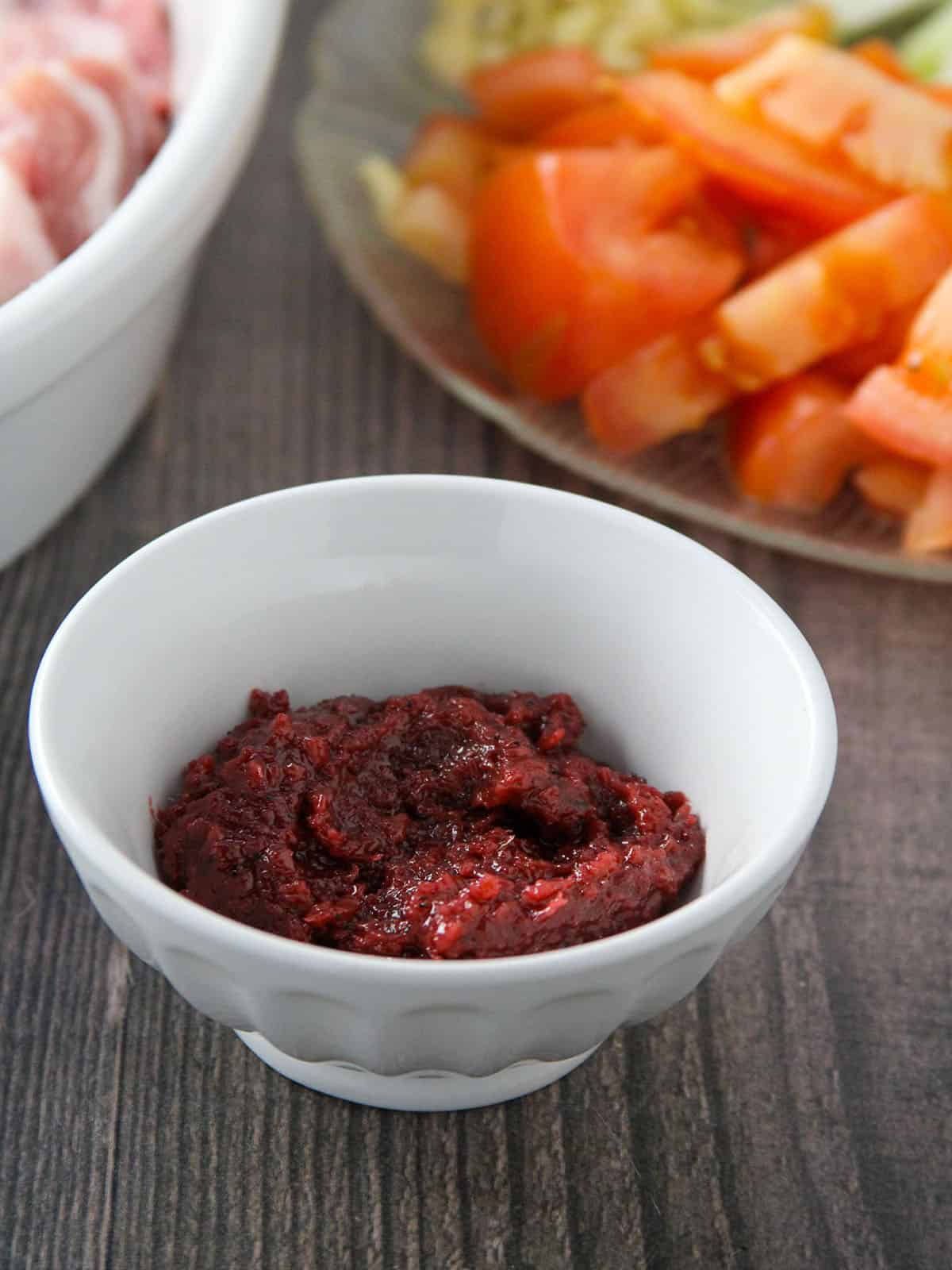 Shrimp paste
The recipe uses uncooked shrimp paste. Feel free to use ginisang bagoong to speed up the process, but omit the sugar as the sauteed variety is usually already sweetened.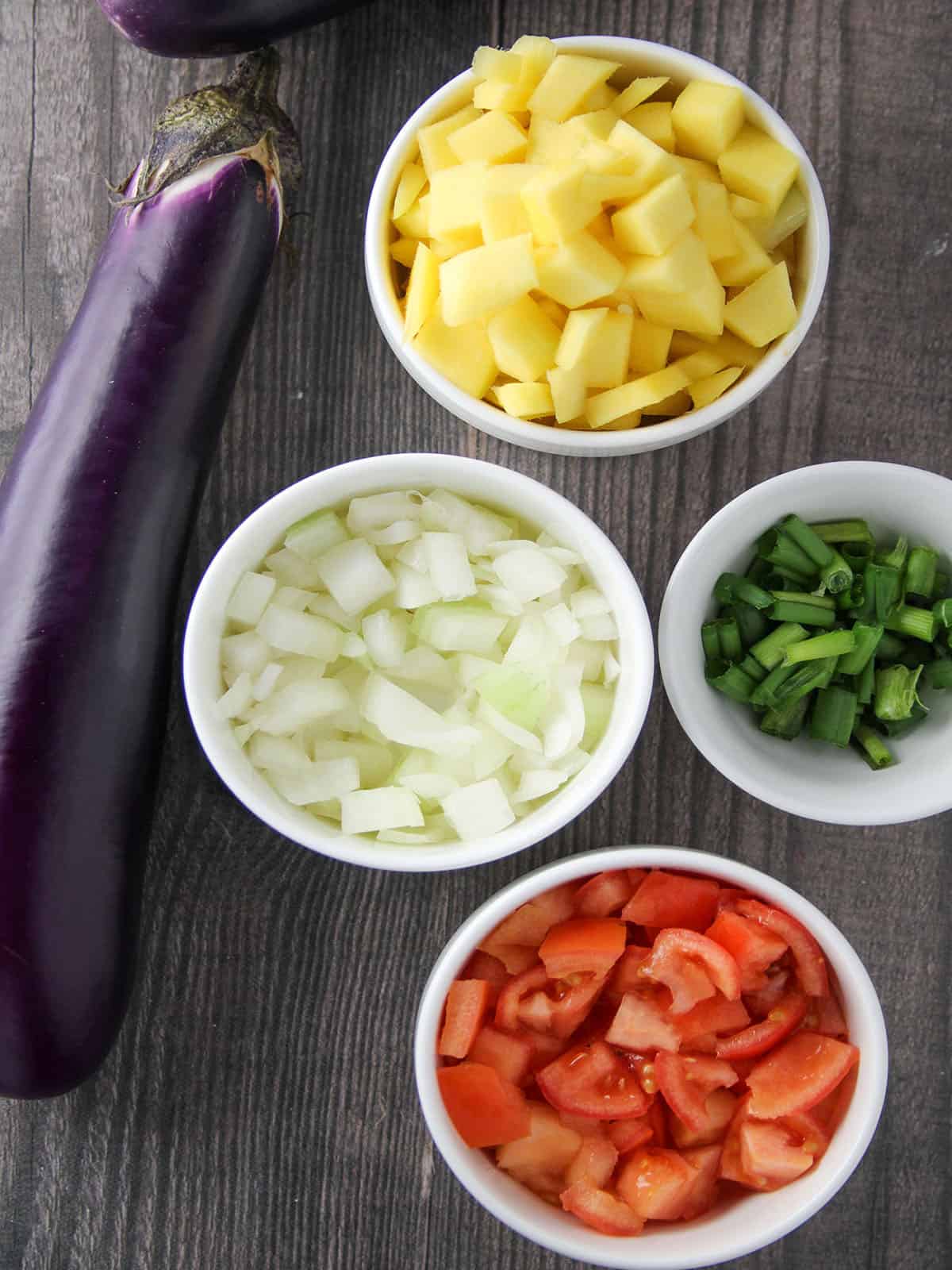 Topping choices
Mangoes- for best results, choose ones that are adequately ripe and yellow but firm.
Tomatoes- plum, cherry, or grape tomatoes are good options
Eggplant- you can also include other vegetables such as ampalaya and okra
Onions- mix of chopped white onions and scallions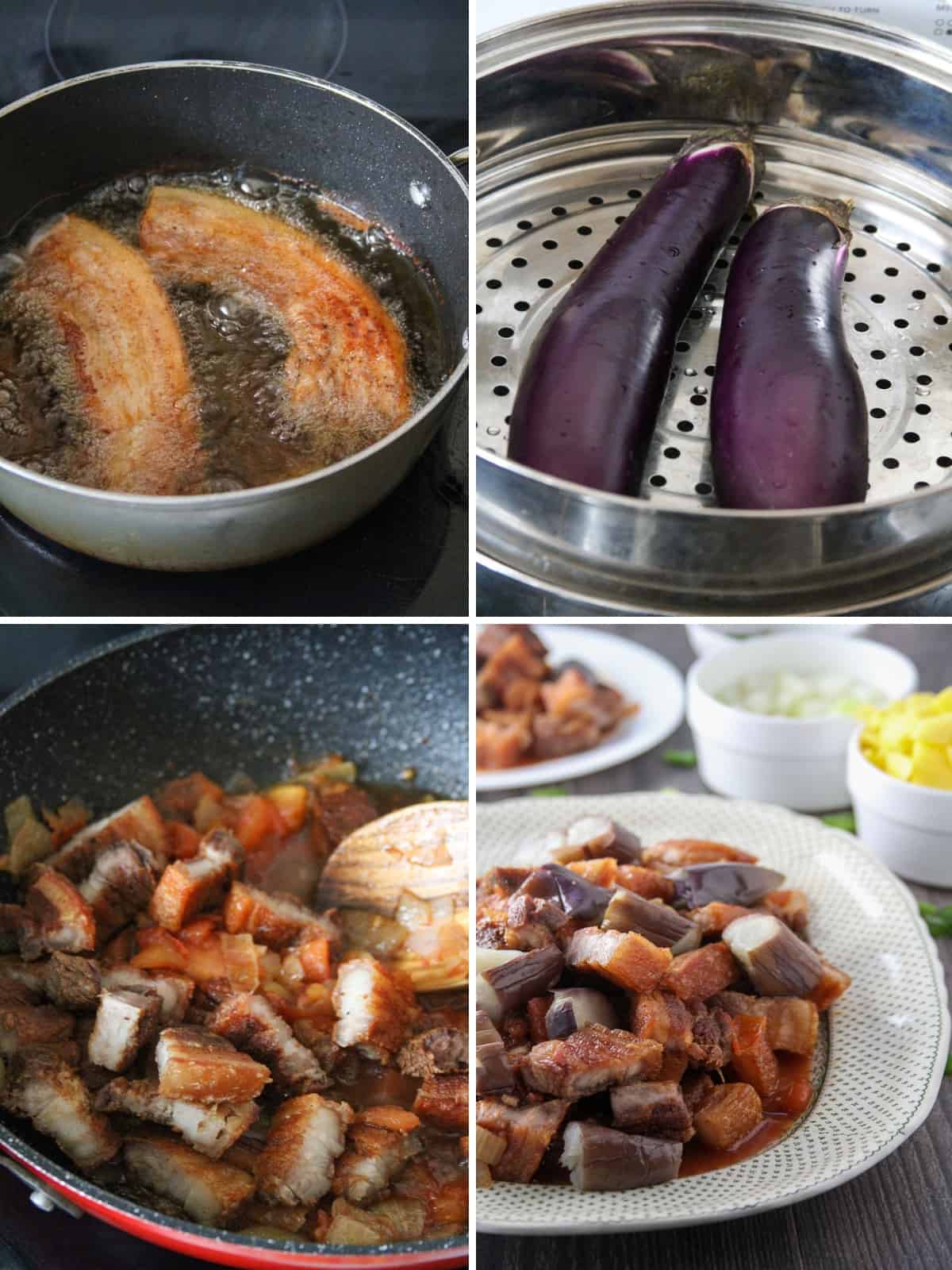 Cooking tips
For crispy skin, cool the pork completely and allow to air dry in the refrigerator overnight before deep-frying. Season with salt to infuse flavor and draw out excess moisture.
I like to steam the eggplants, but you can pan-fry or grill for a smoky flavor. Peel the charred skin if grilling.
To maintain texture, toss the fried pork in the bagoong sauce just until lightly coated.
Use a wide platter to showcase the dish and arrange the toppings on top or serve on the side in individual bowls.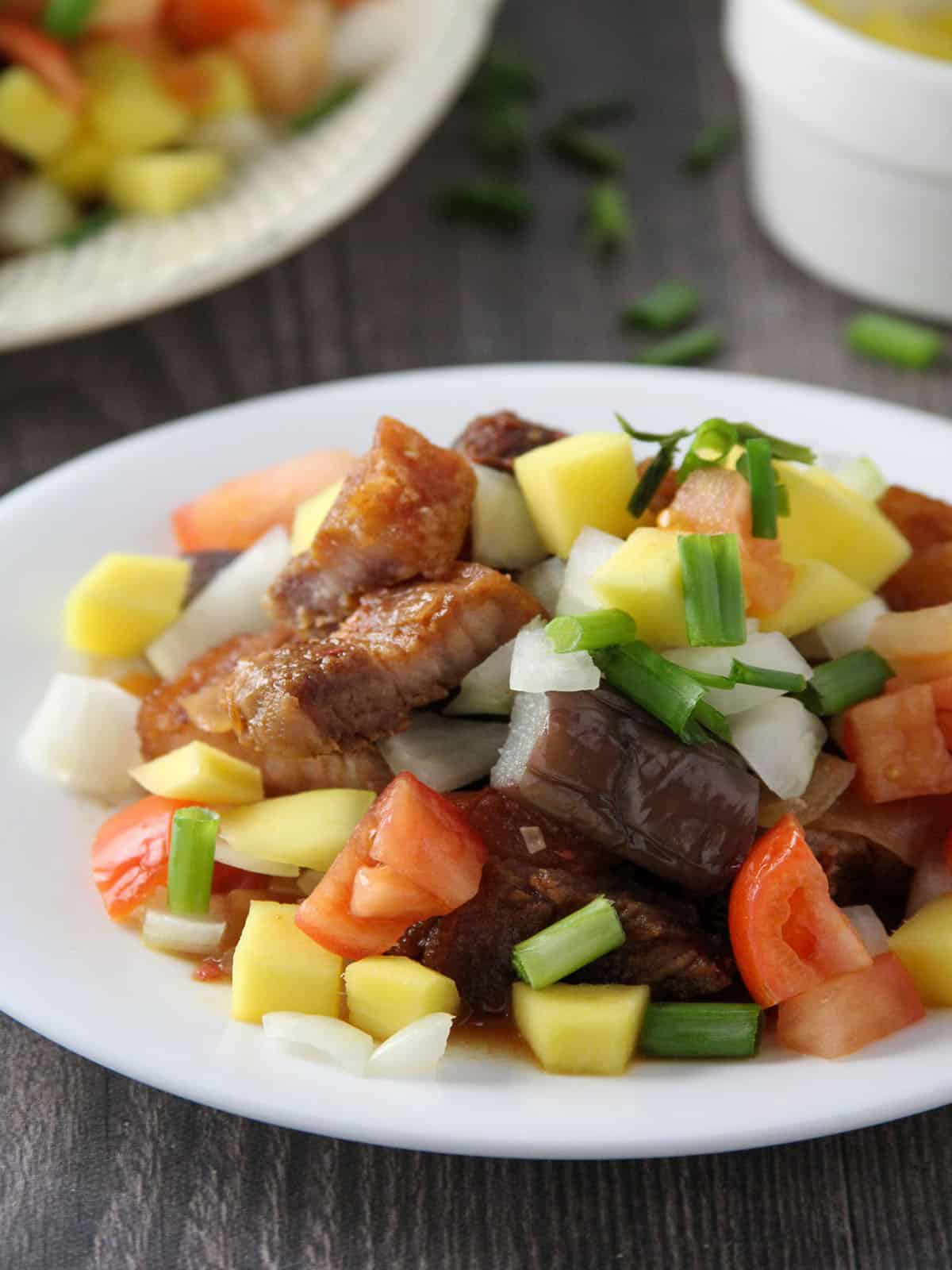 Serving and storage suggestions
Serve crispy pork binagoongan as the main dish for lunch or dinner with steamed rice. It's also a delicious addition to any party menu!
Unlike the classic binagoongan baboy, which tastes better the longer it sits, this crispy version is best enjoyed freshly cooked as the pork loses its crunch over time.
I suggest tossing the pork in the bagoong mixture just before serving, so it does not soak up too much of the sauce and get too soggy.
The fruit and vegetable toppings can be prep ahead of time and refrigerated. Store in individual containers to maintain freshness.
More recipes with bagoong
Crispy Pork Binagoongan is a tasty take on our classic binagoongan na baboy. With crunchy pork tossed in pungent bagoong sauce and topped with steamed eggplants, sweet mangoes, juicy tomatoes, and chopped onions, it's like a party in your mouth!
8 Servings
Ingredients
For the Binagoongan
2 pounds pork belly
salt to taste
water
canola oil
1 onion, peeled and chopped
2 cloves garlic, peeled and minced
2 tomatoes, chopped
¼ cup shrimp paste
2 teaspoons sugar
2 tablespoons vinegar
For the Toppings
2 eggplant
1 large mango, ripe and yellow but firm
2 tomatoes, seeded and diced
1 small onion, peeled and diced
1 tablespoon green onions, chopped
Instructions
In a deep pot, place pork belly, enough water to cover, and salt and pepper to taste. Bring to boil, skimming scum that floats on top.

Lower heat, cover, and cook for about 40 to 50 minutes or until tender but not falling apart.

Drain pork well and reserve ½ cup of broth.

Place pork on a wire rack over a baking sheet. Refrigerate, uncovered, for at least 4 hours or overnight until completely cold.

In a wide, deep pan, heat about 2 inches deep of oil. Carefully add cooled pork in a single layer. Cook until golden and crispy, turning on sides as needed.

Remove the pork from the pan and drain on a wire rack. Cut into small pieces.

In another pan, heat 1 tablespoon of oil. Add the chopped onions and garlic and cook until softened.

Add tomatoes and cook, mashing with the back of the spoon, until softened and release juice.

Add shrimp paste and sugar. Cook, stirring regularly, for about 1 to 2 minutes or until the color darkens.

Add vinegar and bring to a boil, uncovered and without stirring, for about 1 to 2 minutes.

Add the reserved pork broth and bring to a boil. Lower heat and continue to cook for about 3 to 5 minutes or until slightly thickened. Season with salt and pepper as needed.

Add fried pork and lightly toss until just coated with sauce.

While the binagoongan is cooking, steam eggplants. Discard stems and cut into cubes.

Arrange pork binagoongan on a serving platter. Top with steamed eggplant, diced mango, diced tomatoes, diced onions, and green onions. Serve immediately.
"This website provides approximate nutrition information for convenience and as a courtesy only. Nutrition data is gathered primarily from the USDA Food Composition Database, whenever available, or otherwise other online calculators."