Chicken Adobo with Tamarind is a unique twist on our classic adobo. Braised in soy sauce, tamarind, and aromatics, it's a hearty and delicious dish perfect with steamed rice.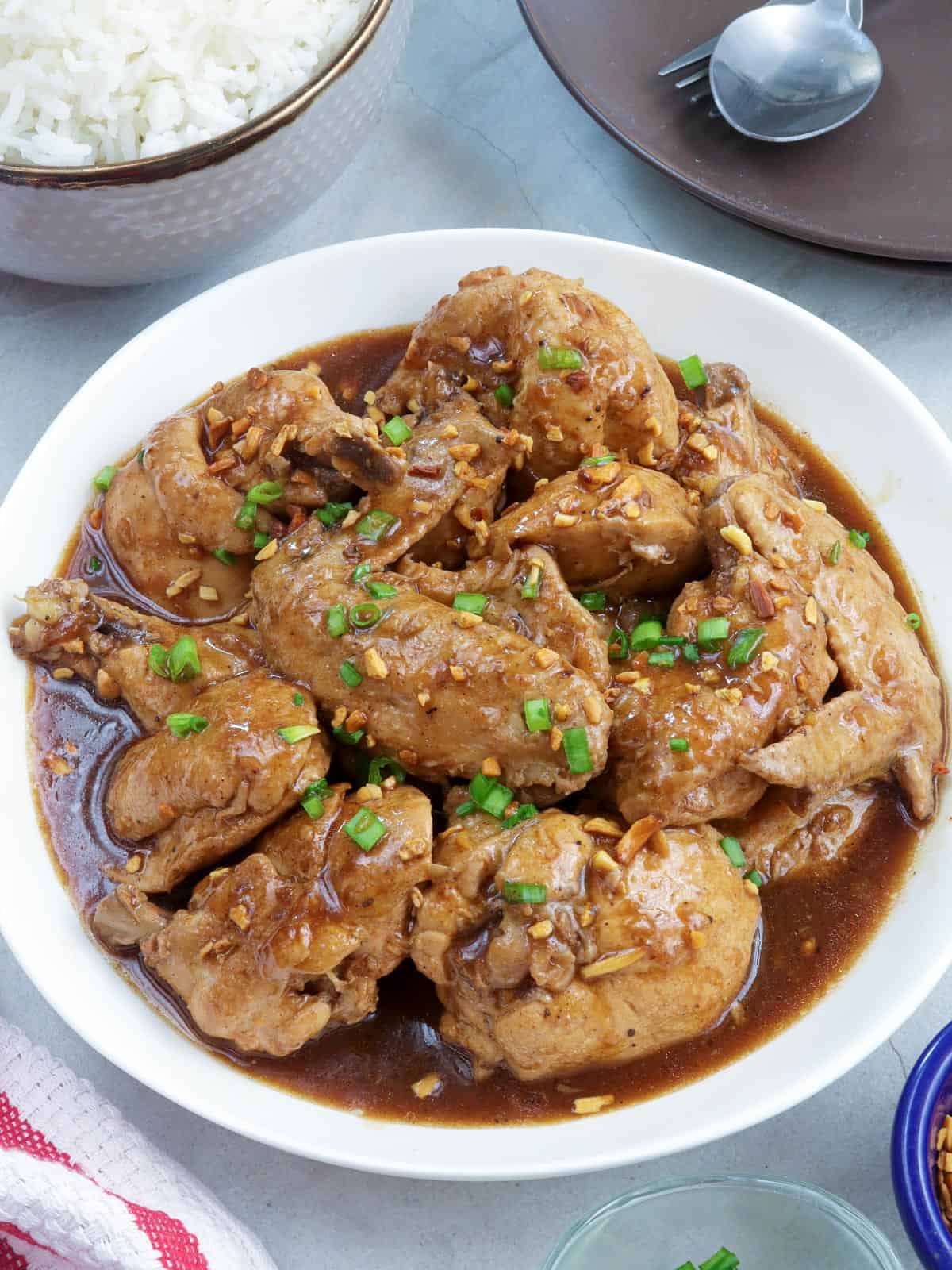 One great thing I love about food blogging is discovering and trying new dishes. I grew up with the conventional adobo braised in soy sauce, vinegar, and garlic, but ever since I started this blog, I've also learned to make different versions, from adobong dilaw, adobong pula, to adobong puti.
Who knew there were so many fantastic ways to enjoy this classic Filipino stew?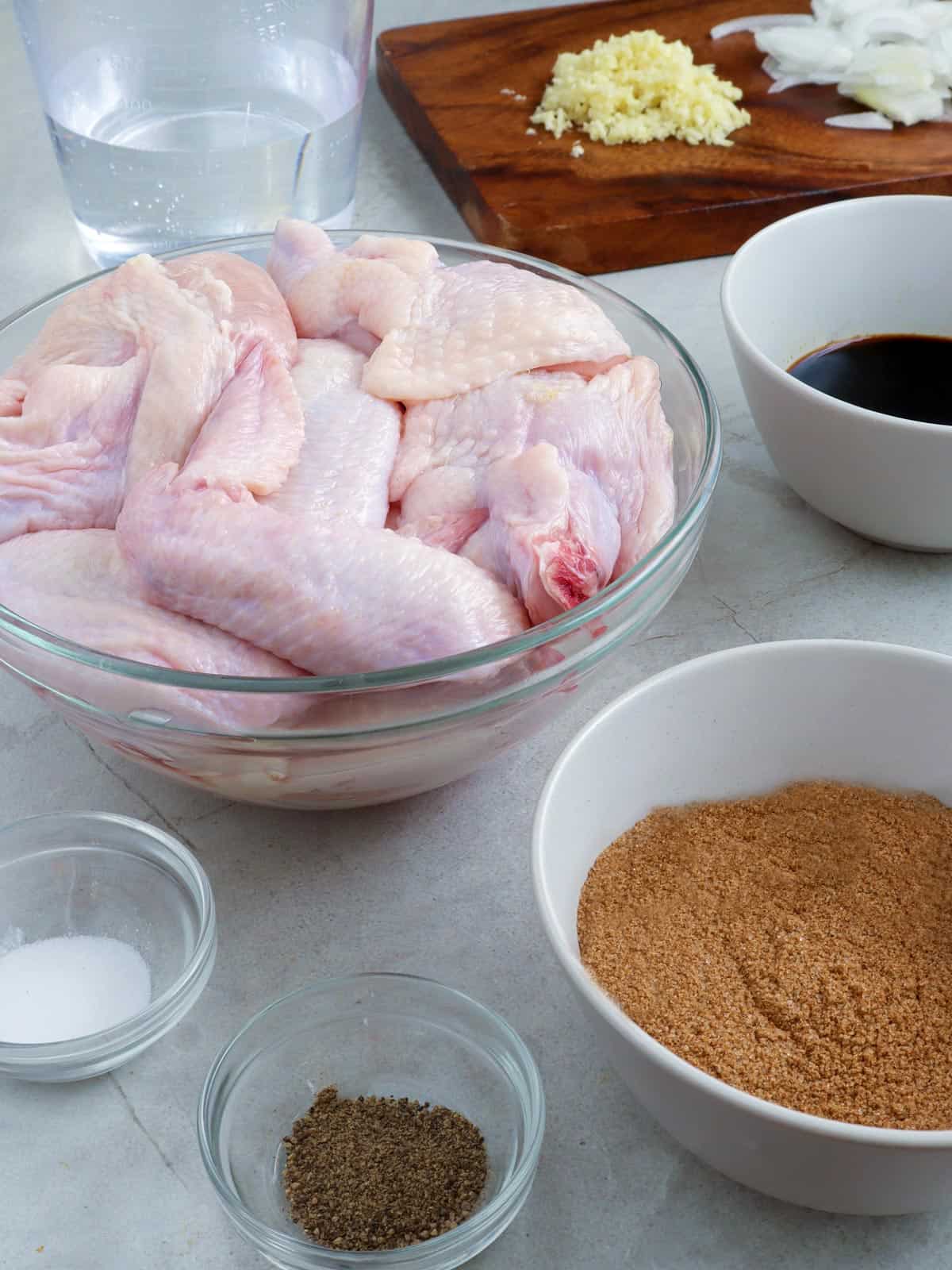 And then I came across this adobong manok sa sampalok in one of the cookbooks I bought in the Philippines, and I was like, Must.Try.This.
Guys, it didn't disappoint. The unique twist of replacing vinegar with tamarind as the souring agent provided a refreshing change of flavor that really takes the everyday adobo into one of the best you'll ever try!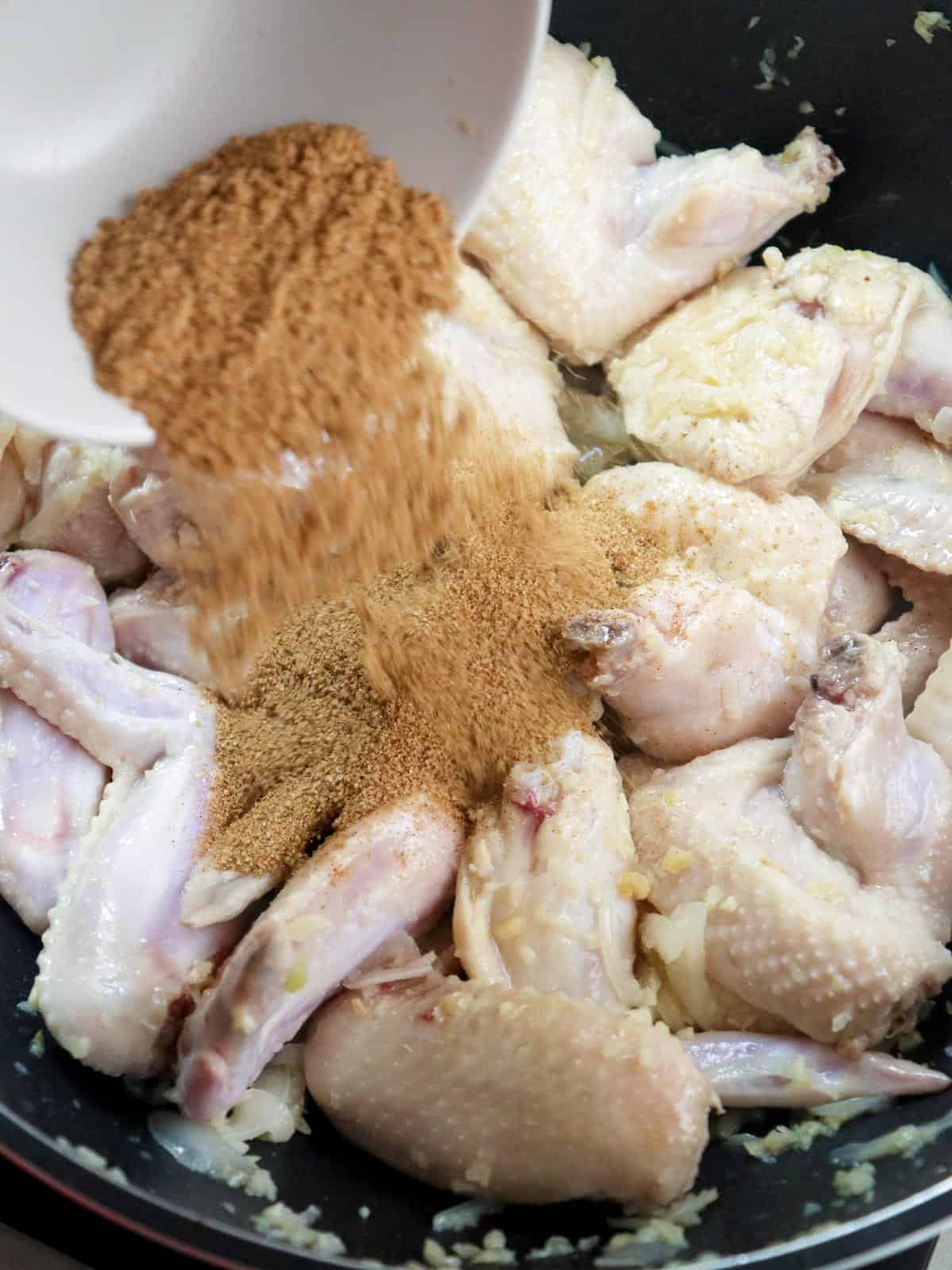 I used tamarind powder to make the dish, as finding fresh green tamarind fruit here in my neck of the woods is like finding gold. If you have access to fresh fruit, follow the easy steps below.
How to extract tamarind pulp
In a saucepan over medium heat, combine one cup of water and about 8 to 10 tamarind pods. Simmer until softened, and the skins begin to burst.
Repeatedly press with a large spoon to extract the pulp and drain using a fine-mesh sieve. Discard seeds and skins.
Use the tamarind pulp in the recipe in place of the tamarind powder and one cup of water.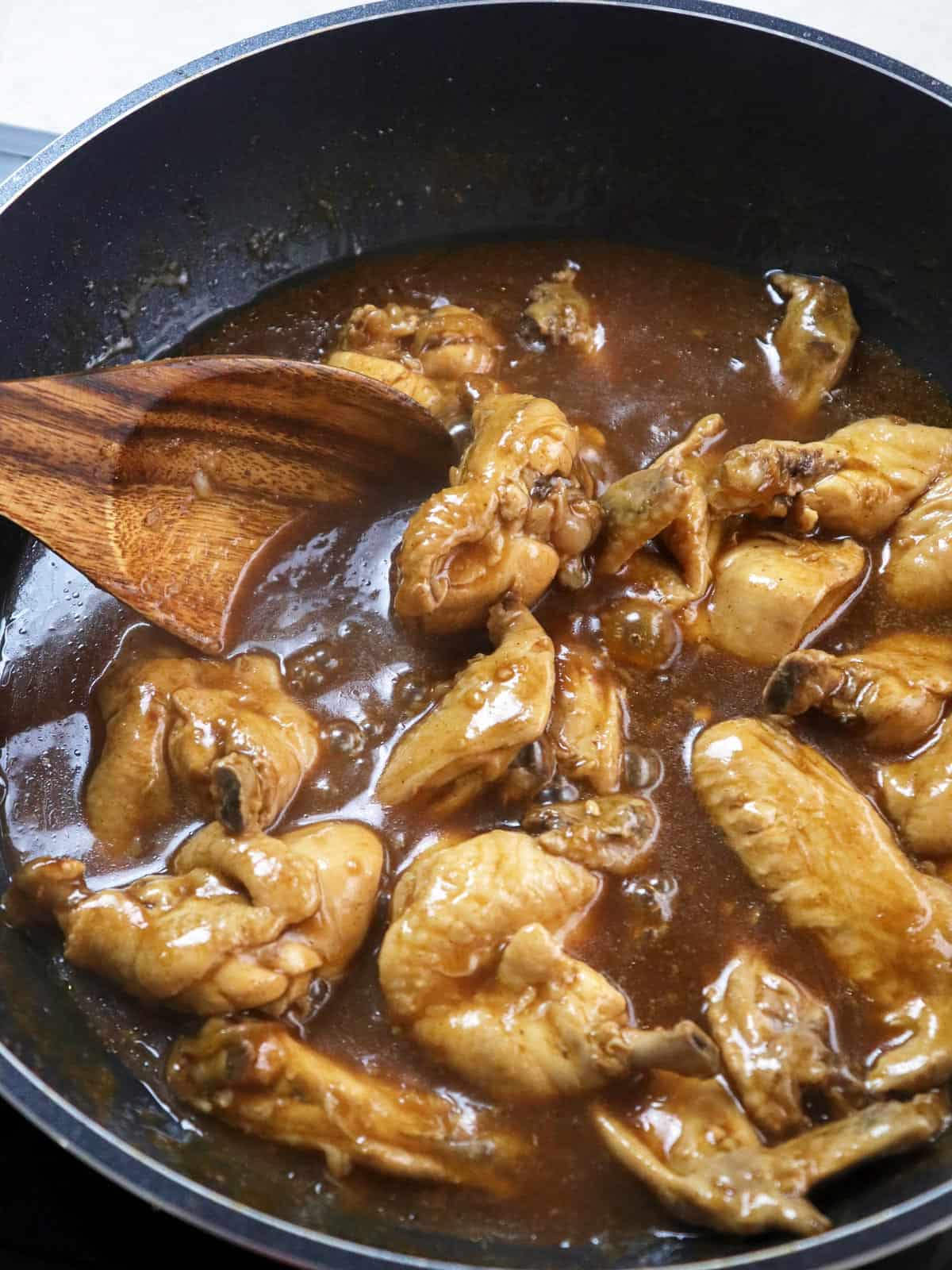 Cooking tips
I used wings in the recipe but any bone-in chicken parts would do. Cut into uniform size to ensure even cooking.
Use 1 cup of extracted tamarind pulp in place of the powder, if the fresh fruit is available.
Garnish the dish with chopped green onions and toasted garlic for color and extra texture.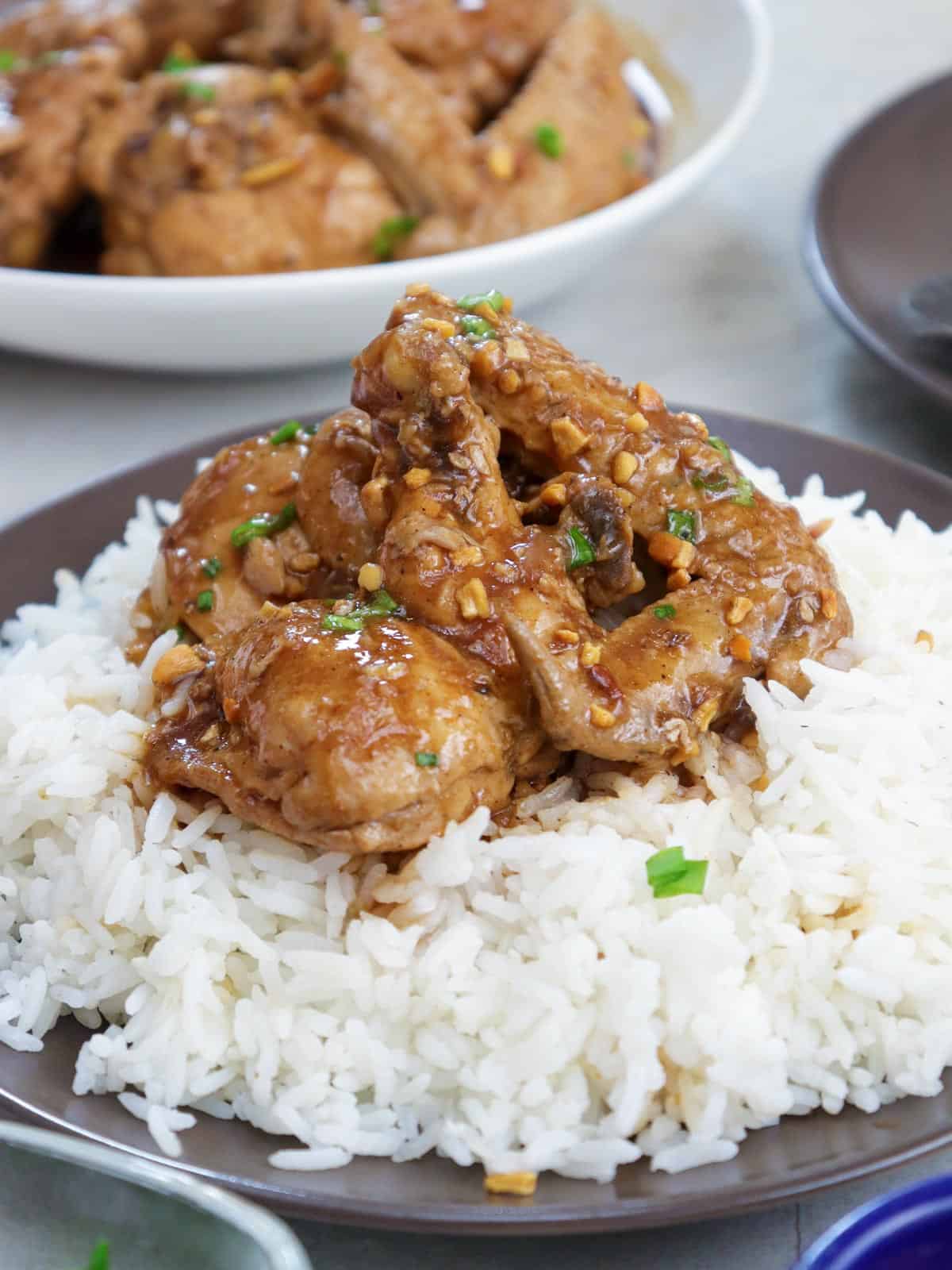 How to serve and store
This adobong manok with sampalok is delicious as a main dish for lunch or dinner with a side of steamed rice. I like to enjoy the dish with pickled fruits and veggies such as atchara or burong mangga as condiments on the side to cut through the richness.
Adobo is a great make-ahead meal as it freezes and reheats well. To store leftovers, allow to cool completely and transfer to a container with a tight-fitting lid. Refrigerate for up to 3 days or freeze for up to 2 months.
To reheat, place in a wide pan and heat, stirring regularly, to an internal temperature of 165 F.
Looking for more ways to enjoy adobong manok? Try it with fish sauce, liver spread, or potatoes!
Tamarind Chicken Adobo is a refreshing twist on our classic Filipino stew. Braised in tamarind powder, soy sauce, and aromatics, it's a hearty and flavorful dish that's fantastic with steamed rice.
4 Servings
Ingredients
1 tablespoon canola oil
1 onion, peeled and sliced thinly
5 cloves garlic, peeled and minced
3 pounds chicken wings, cut into cut into drummettes and wingettes
1 packet (1.4 ounces) tamarind powder
1 cup water
¼ cup soy sauce
salt and pepper to taste
Instructions
In a wide skillet over medium heat, heat oil. Add onions and garlic and cook until softened.

Add chicken and cook, stirring occasionally, until lightly browned and juices run clear.

Add tamarind powder and stir until chicken wings are fully coated.

Add water and soy sauce. Bring to a boil.

Lower heat, cover, and continue to cook until chicken is tender and sauce is reduced. 

Season with salt and pepper to taste.

Transfer to a serving platter and garnish with chopped green onions and toasted garlic if desired. Serve hot.
"This website provides approximate nutrition information for convenience and as a courtesy only. Nutrition data is gathered primarily from the USDA Food Composition Database, whenever available, or otherwise other online calculators."