Level up your favorite Chinese sticky rice cake into fancy peanut tikoy rolls! Perfectly sweet and chewy with a creamy ube halaya filling and crunchy peanut coating, these mochi-like treats are delicious as a dessert or midday snack.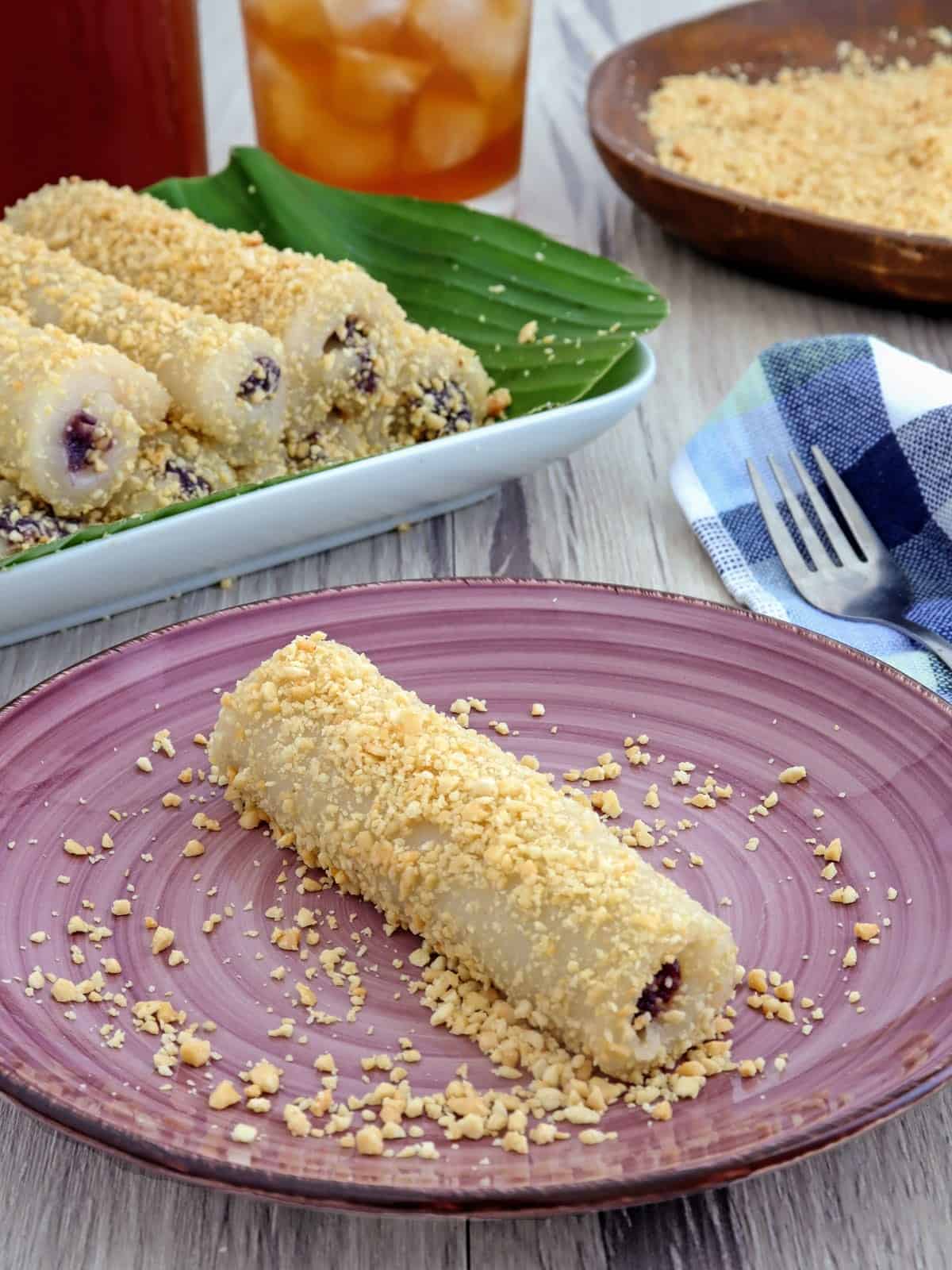 We haven't had any brand new recipes on the blog for a while, as I've been mostly updating old content these past months. So I'm excited to kick off the second half of May with a fresh sweet treat. Peanut tikoy rolls!
What are they exactly? Read on for a quick rundown.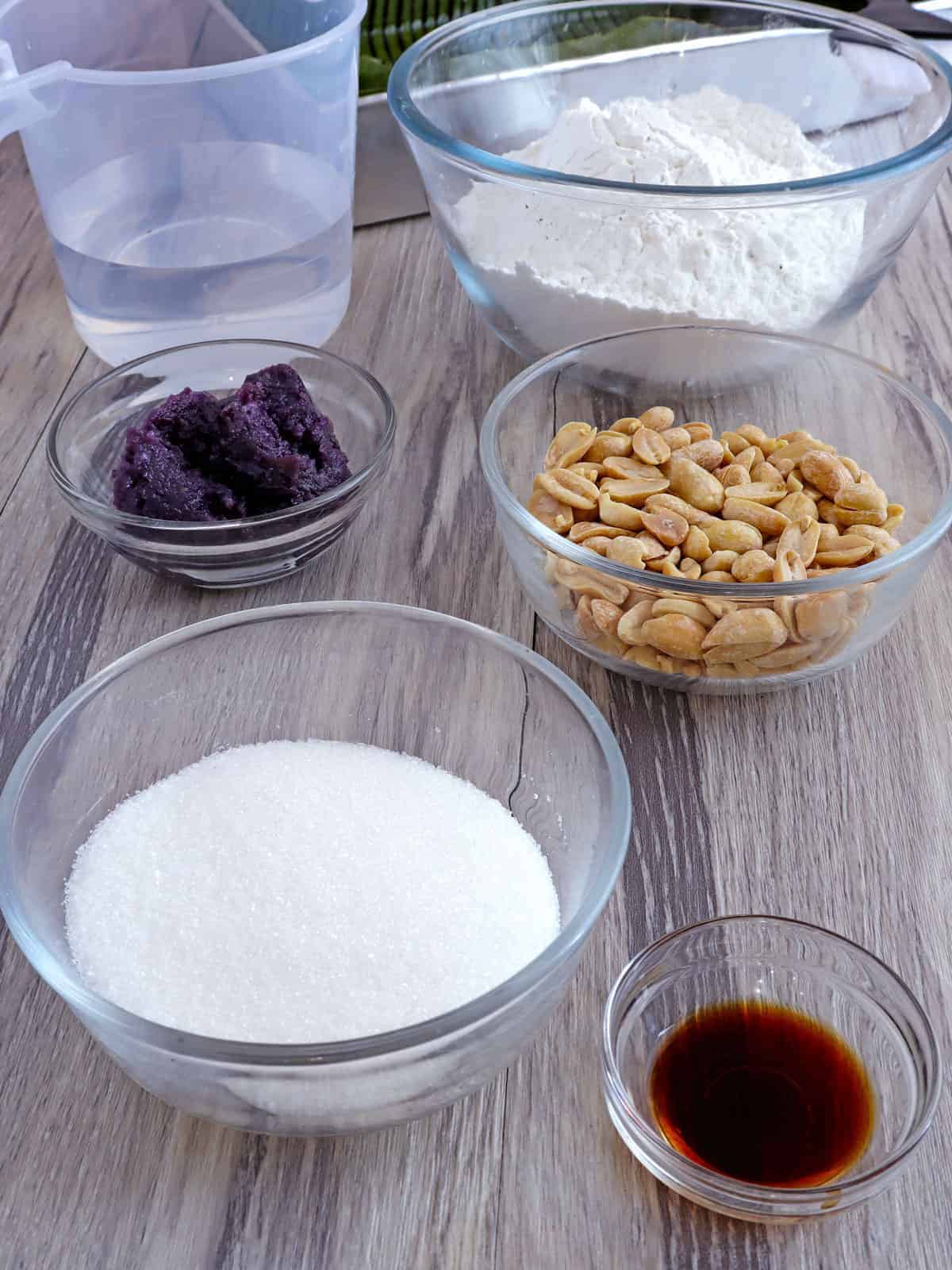 What are tikoy rolls
Tikoy is a type of Chinese delicacy made from glutinous rice flour. Also called nian gao or year cake, it's traditionally eaten during the Chinese New Year for good luck and prosperity.
Tikoy Rolls, on the other hand, are a leveled-up version wherein the sticky rice cake is rolled around a choice of fillings and coated in ground peanuts. They were made popular in the Philippines by Chinese bakeries like Eng Bee Tin and are sold in a variety of local flavors such as pandan and purple yam.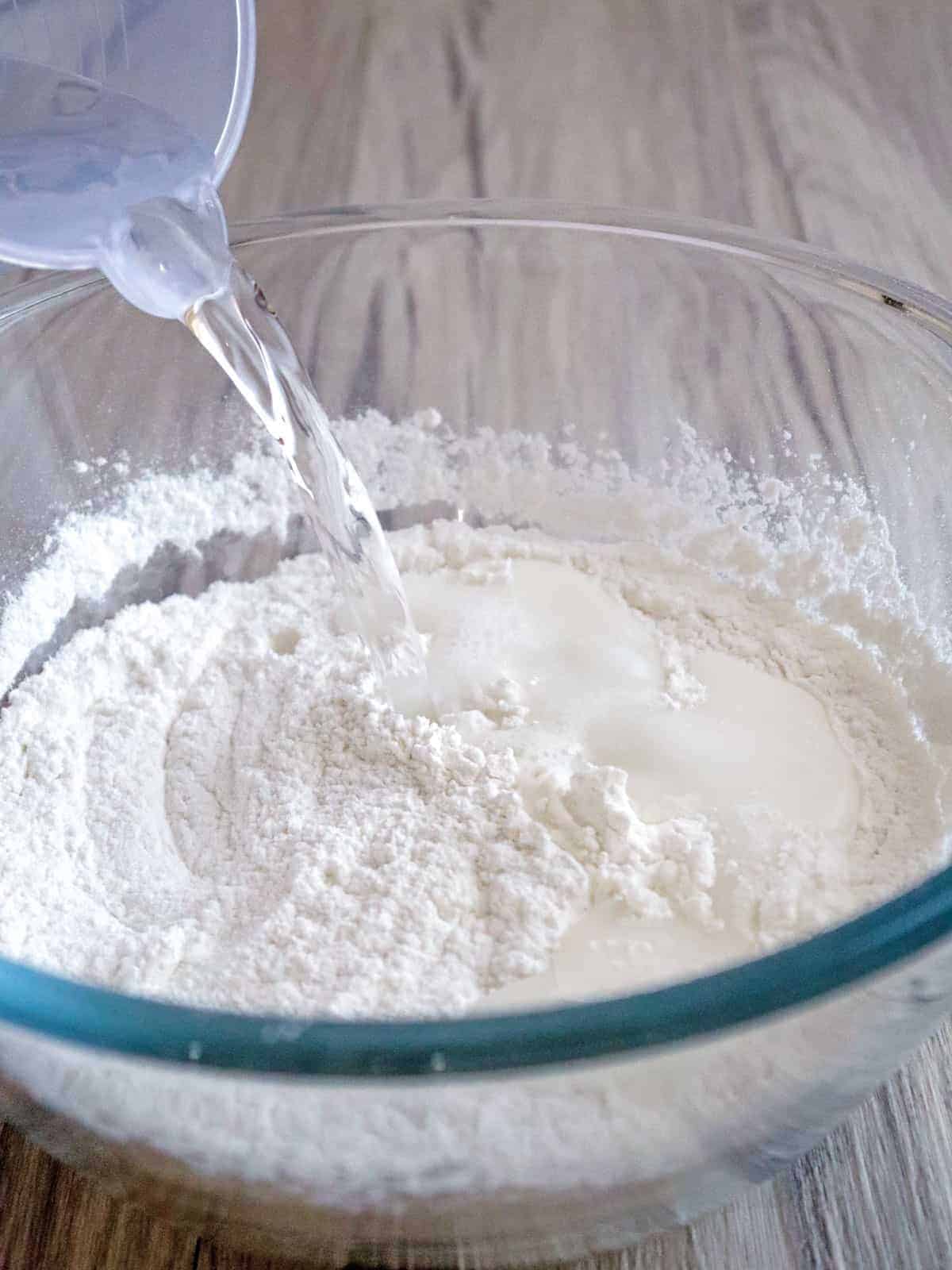 Sticky rice cake ingredients
The sticky rice cake is very easy to make with four simple ingredients and in under 30 minutes!
Glutinous rice flour- this variety of rice flour gives the cake its characteristic chewiness. A nifty trick of telling it apart from its regular rice flour counterpart is to check the lettering color on the package. Green lettering = G for Glutinous rice flour; Red lettering = R for regular rice flour
Water- I find the ratio of 2 cups flour to 1 cup water a good starting point; feel free to adjust accordingly. If the dough feels too sticky, add more flour or if too dry, add more water.
Sugar- you can sweeten the dough with brown sugar if you want a bit of color and a hint of molasses flavor
Vanilla extract- enhances flavor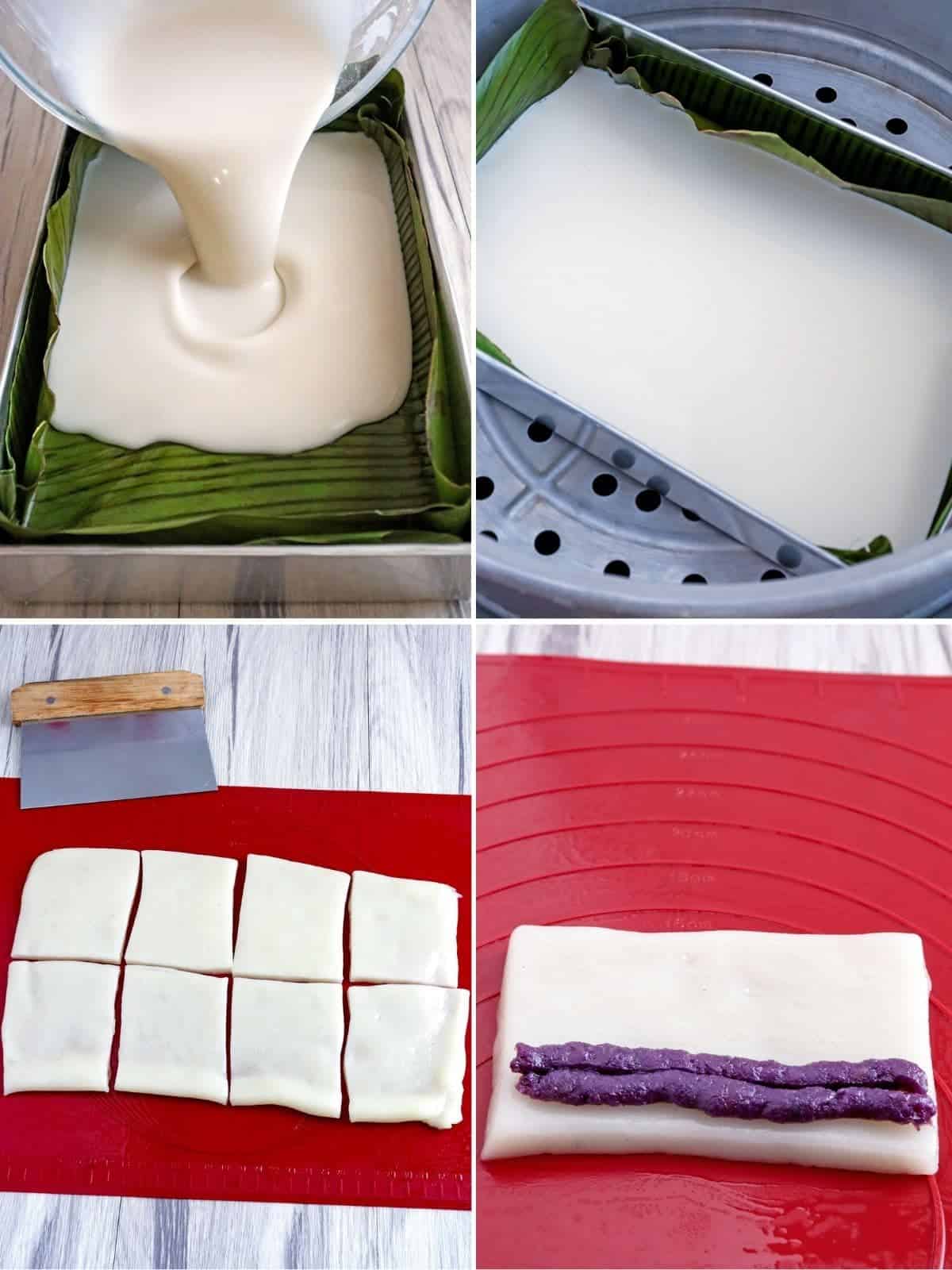 Cooking tips
Toast the peanuts in a dry skillet to bring out more flavor. Use unsalted variety for best results.
For ease of prep, ground the peanuts using a food processor or a blender. Alternatively, you can put the peanuts in a resealable bag and use a rolling pin to crush them.
To easily remove the cake after steaming, make sure to generously brush the bottom and sides of the pan with oil. You can also line it with banana leaves for added aroma.
Cover the steamer lid with a kitchen towel or cotton cloth to avoid water drips on the rice cake.
Steam the tikoy in a wide pan to make it as thin as possible. Slightly flatten the sticky rice cake while it's still warm and more malleable as it will be harder to roll once cooled.
To keep the tikoy from sticking, grease the working surface as well as the knife or cutter.
Use a piping bag to easily pipe the filling or a spatula to spread the filling on the tikoy slices.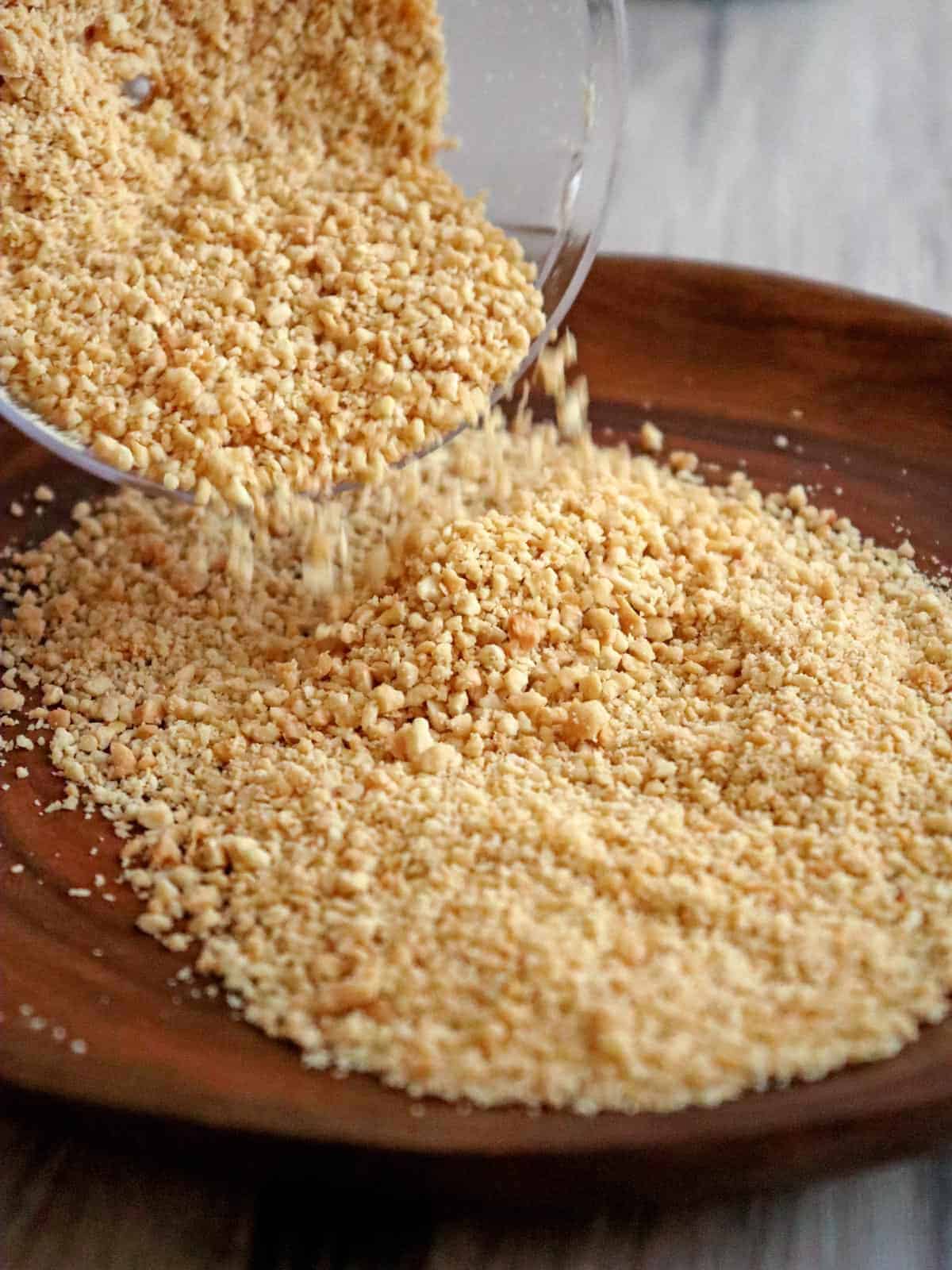 How to check for doneness
Insert a toothpick in the center of the steamed cake. If it comes out clean, the tikoy is ready.
Tikoy roll varieties
These ube tikoy rolls are filled with purple yam jam and then rolled in ground peanuts. They're soft, chewy, and with a delicious ube flavor that pairs well with the nutty coating.
You can transform this tikoy roll recipe into many yummy varieties. You can add a few drops of flavor extracts such as pandan, langka, or ube to the dough for a quick change of flavor and color.
You can also use different fillings like yema, dulce de leche, peanut butter, Nutella chocolate, lotus seed paste, red bean paste, and coatings such as sesame seeds, crushed cashews, and toasted rice flour.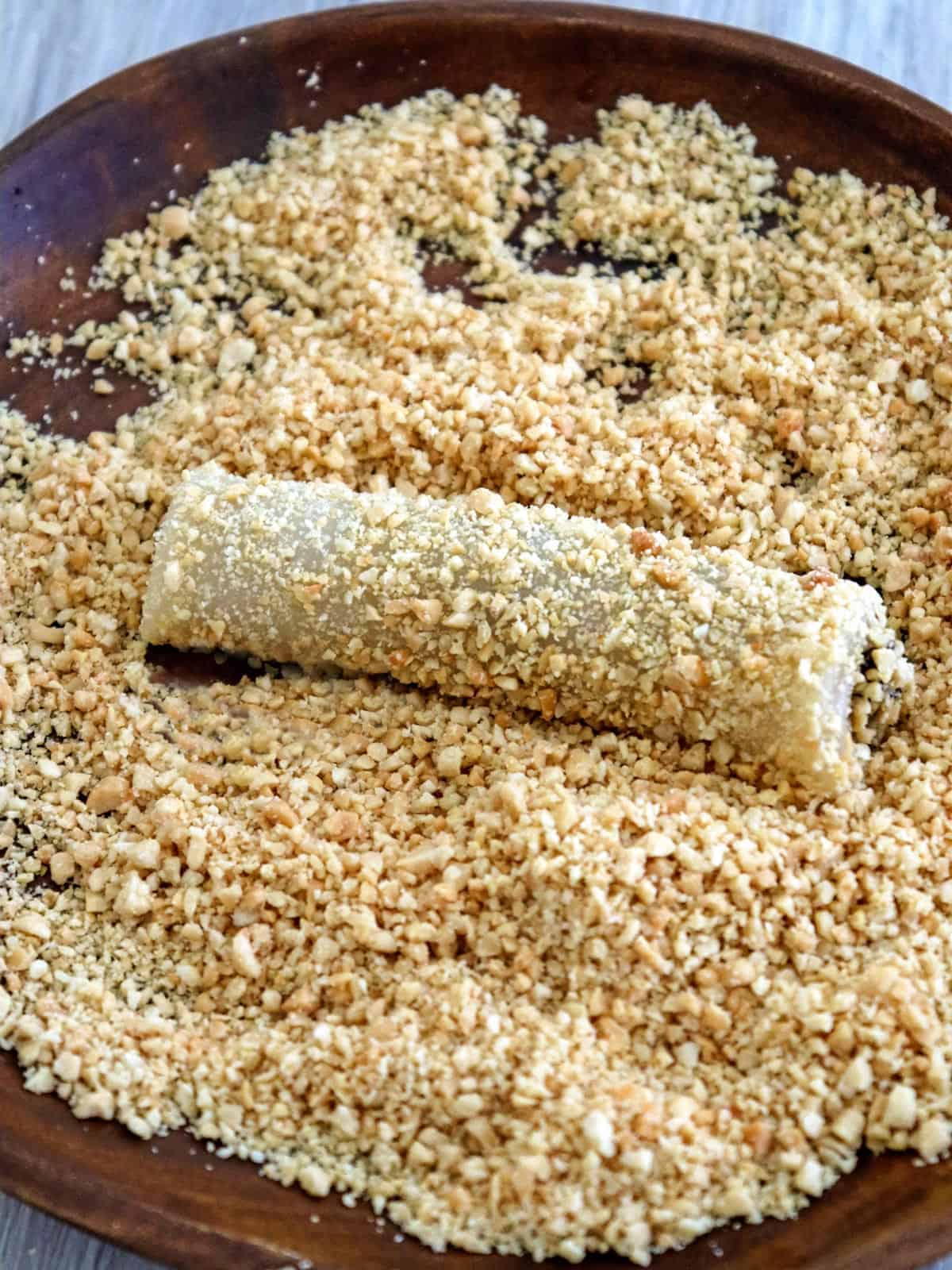 Serving suggestions
Enjoy these sticky rice rolls as a tasty and filling midday snack or after-meal dessert. Pair with tea, coffee, or your favorite cold drinks!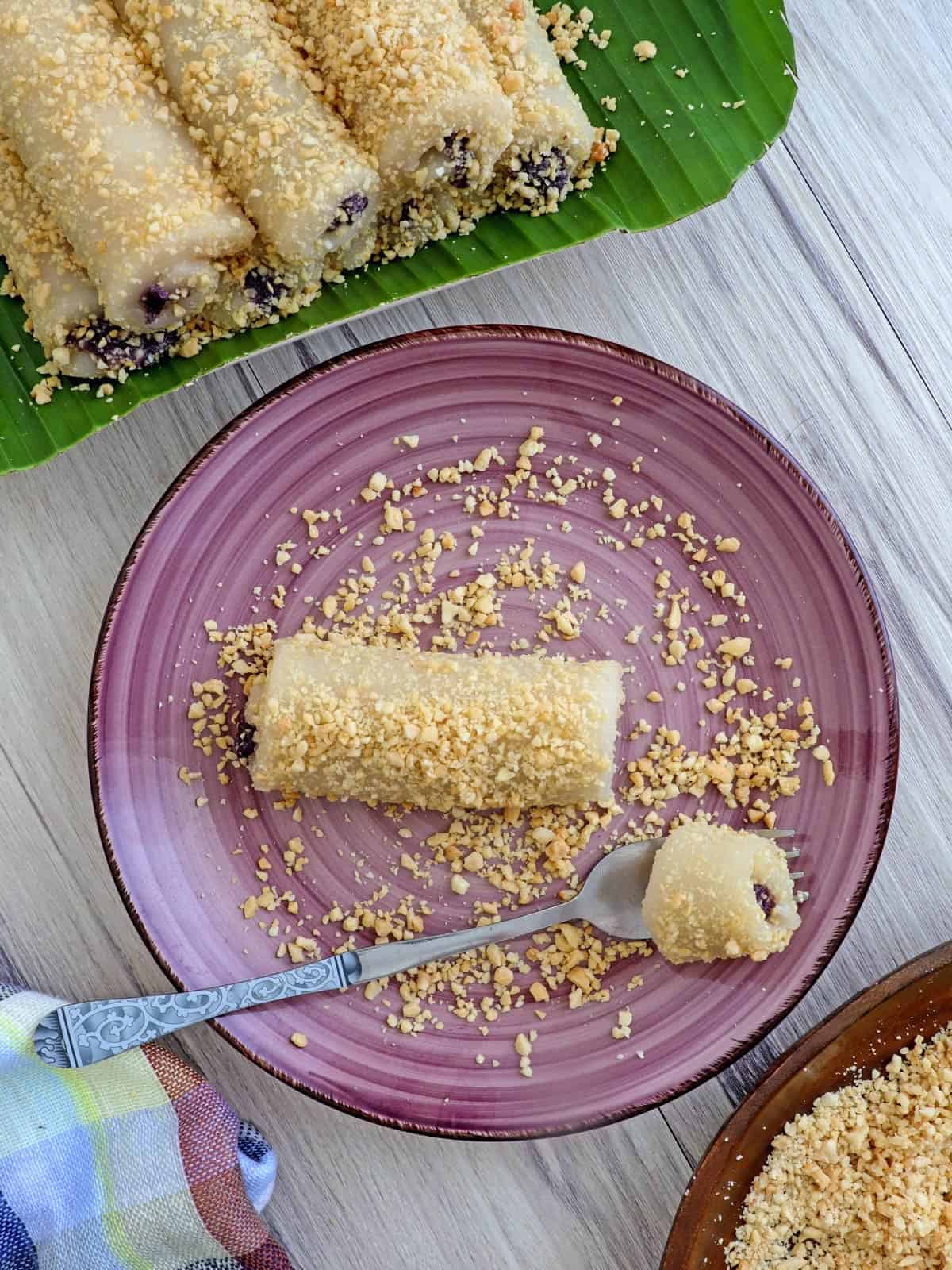 How to store
As the peanuts tend to lose their crunch over time, I suggest storing the rolls without the coating. When ready to serve and roll in the peanuts, bring them to room temperature.
Wrap the tikoy tightly with plastic film and transfer it to a resealable bag or airtight container. Refrigerate for up to one week or freeze for up to 3 months.
Try this delicios version of Nian Gao! Ube Tikoy Roll is soft, chewy, and bursting with purple yam and nutty peanut flavors the whole family will love.
8 servings
Ingredients
1 cup roasted peanuts
2 cups glutinous rice flour
½ cup sugar
1 cup warm water
1 teaspoon vanilla extract
¼ cup ube halaya
Instructions
In a food processor or blender, process the peanuts until finely crushed.

Generously brush the bottom and sides of a 9 x 13 baking pan with oil. Line with banana leaves and brush the leaves with oil. Set aside.

In a bowl, combine glutinous rice flour and sugar.

Add water and stir into a smooth batter.

Add vanila extract and stir to distribute.

Transfer to the prepare pan, topping on the counter to remove any bubbles.

Prepare the steamer by filling with water and bring to a boil. Place the pan in the steamer and cover the steamer lid with a kitchen towel.

Steam the cake for about 20 to 30 minutes or until a toothpick inserted in the center comes out clean.

Remove from steamer and allow to slightly cool. Lightly grease working surface with oil and transfer the tikoy on the surface.

With an oiled spatula, slightly flatten tikoy while still warm.

With a lightly-greased knife or dough cutter, cut tikoy into 8 even rectangles.

Put the ube halaya in a piping bag and pipe a line or 2 along the edge of tikoy, lengthwise.

Roll the tikoy into a tight log, enclosing the filling. Dredge in crushed peanuts to fully coat.

Repeat with the remaining steamed rice cake. Serve.
Notes
Roast the peanuts in a dry skillet to bring out more flavor. Use unsalted variety for best results.
For ease of prep, ground the peanuts using a food processor or a blender. Alternatively, you can put the peanuts in a resealable bag and use a rolling pin to crush them.
To easily remove the cake after steaming, make sure to generously brush the bottom and sides of the pan with oil. You can also line it with banana leaves for added aroma.
Cover the steamer lid with a kitchen towel or cotton cloth to avoid water drips on the rice cake.
Steam the tikoy in a wide pan to make it as thin as possible. Slightly flatten the sticky rice cake while it's still warm and more malleable as it will be harder to roll once cooled.
To keep the tikoy from sticking, grease the working surface as well as the knife or cutter.
Use a piping bag to easily pipe the filling or a spatula to spread the filling on the tikoy slices
Video
"This website provides approximate nutrition information for convenience and as a courtesy only. Nutrition data is gathered primarily from the USDA Food Composition Database, whenever available, or otherwise other online calculators."