Craving big, spicy flavors? This Mexican Pork Adobo is prepared with zesty spices and slow-cooked until fork-tender. It's a hearty, boldly-flavored stew that will rock your tastebuds!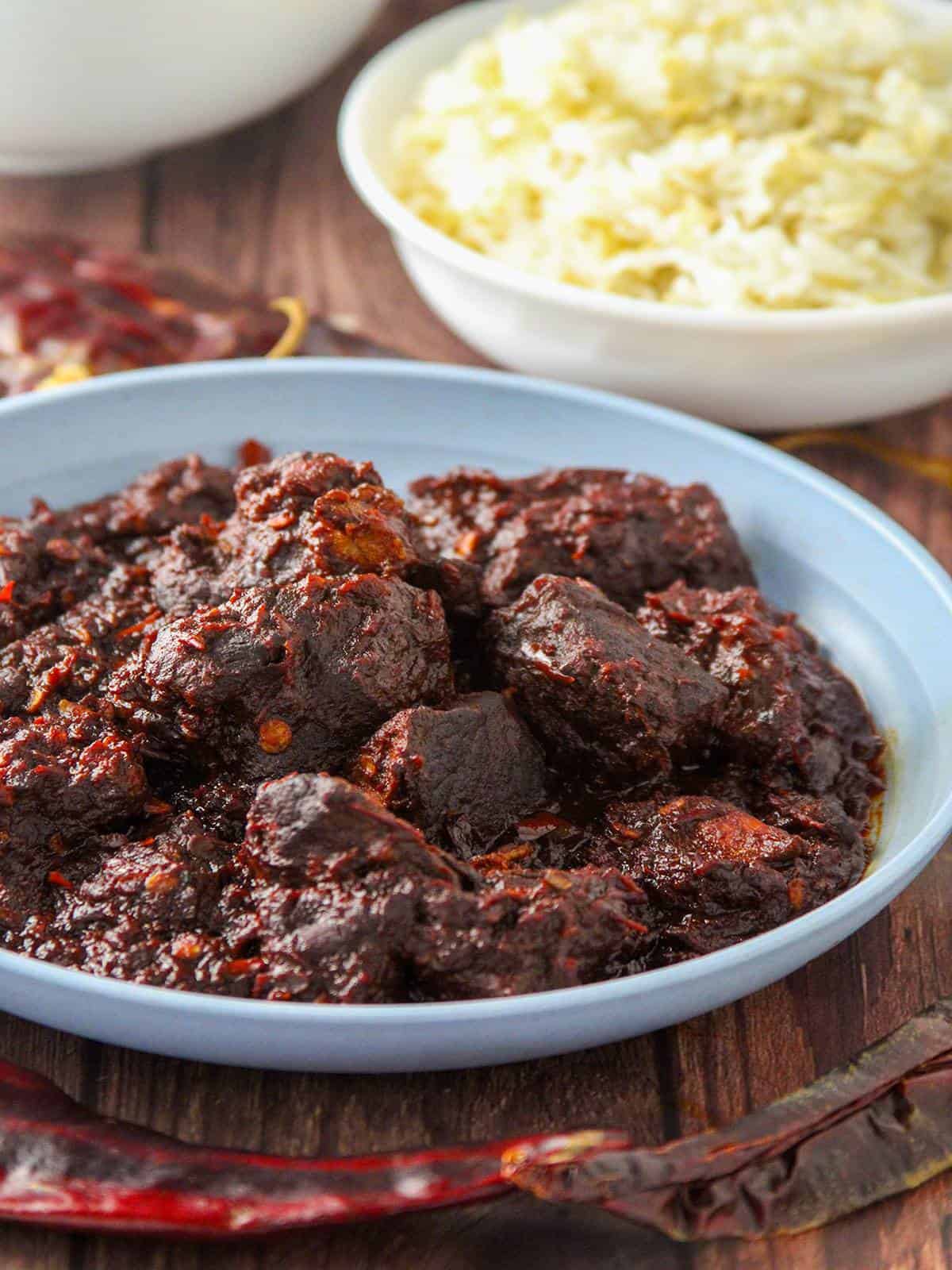 Here's an interesting tidbit if you're wondering what a Mexican dish is doing in a Filipino recipe blog.
Mexico and the Philippines share a common history dating back centuries from when Spain colonized them. The Philippines was governed as part of the Mexico-based Viceroyalty of New Spain for almost three hundred years.
Manila became the western hub of the trans-pacific trade. Much of the then Philippine economy depended on the Manila Acapulco galleons, which brought back to our shores from their voyages not only products and goods but also customs and traditions.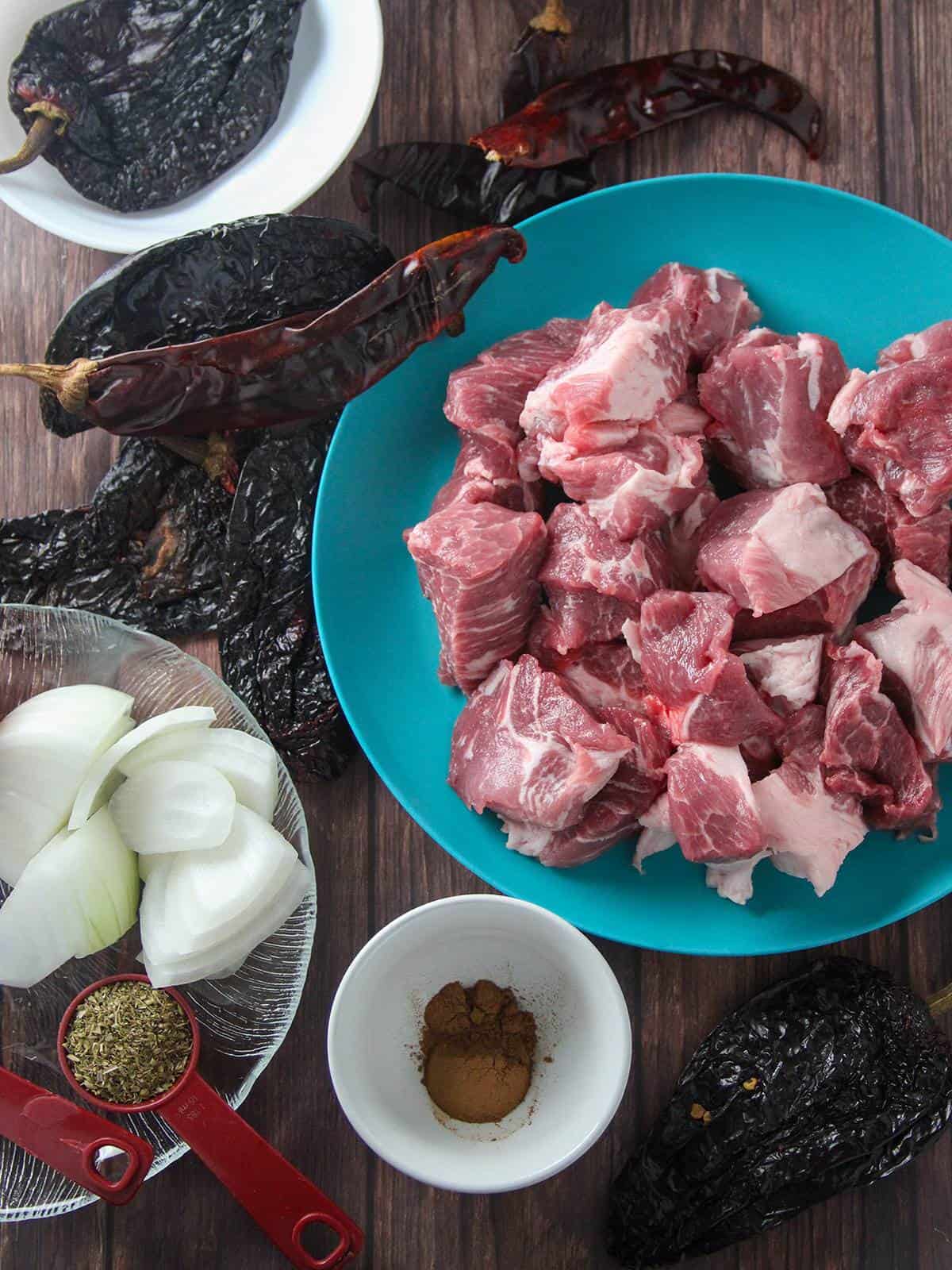 Tamales, cocido, and arroz con pollo are just a few of the culinary influences of this Northern American country. And, of course, there's even Mexican pork adobo!
Mexican adobo vs Filipino adobo
The term adobo is a derivative of the Spanish adobar, which means to marinate.
While our local adobo is stewed in vinegar, soy sauce, and garlic, the Mexican version uses a thick concoction made with pureed dried chili peppers, tomatoes, and other spices. This Mexican-style pork adobo is cooked low and slow in the bright-red sauce for a hearty, spicy dish that's anything but short on flavor.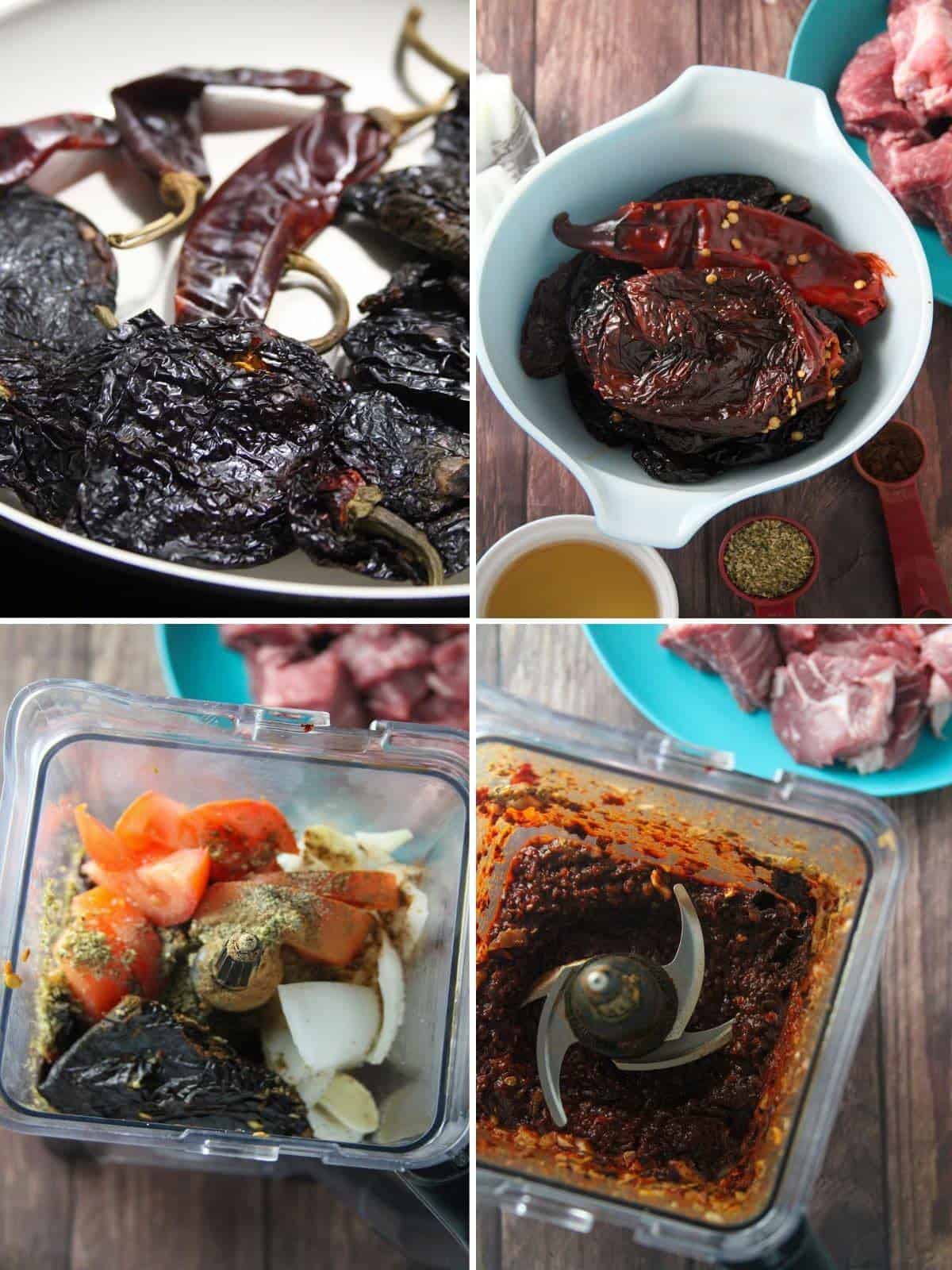 Mexican adobo seasoning powder or sauce is available at most major grocery stores. They're convenient to use, but nothing beats the flavor of homemade, in my opinion. You can prepare the marinade in less than an hour or even double the recipe and freeze half when craving this flavor-packed dish.
The Mexican dried chili peppers used in the sauce might not be available in the Philippines. You can substitute them with ½ cup of chili powder.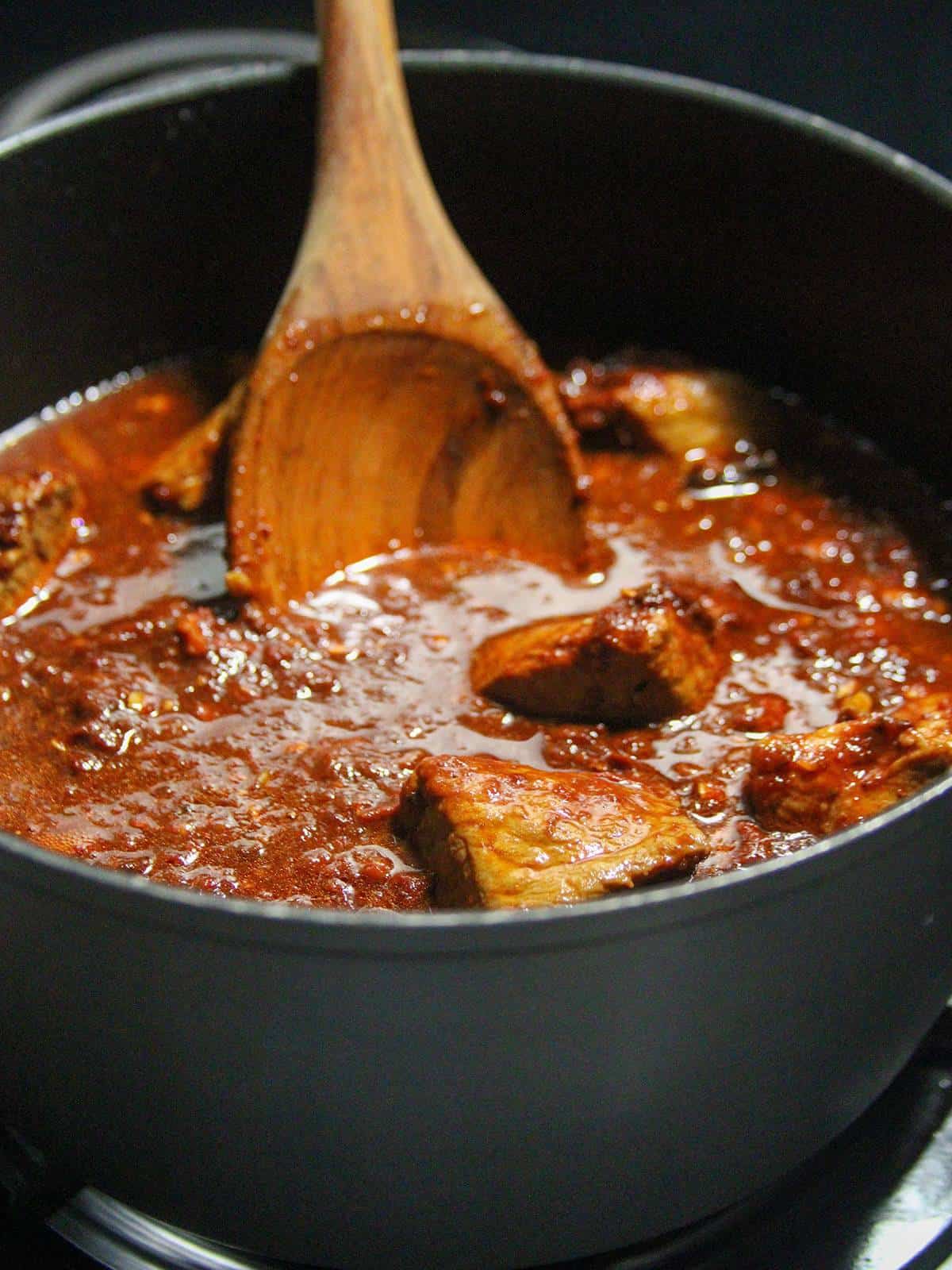 Cooking tips
The recipe calls for pork shoulder, but pork belly or spare ribs (costillas) are also good options. Cut the meat in uniform size to ensure even cooking.
Although you can simply soften the dried chili peppers in hot water, do not skipping roasting them in the pan to add more flavor.
Add more water in ½ cup increments if the sauce is drying out before the meat is fully cooked and tender.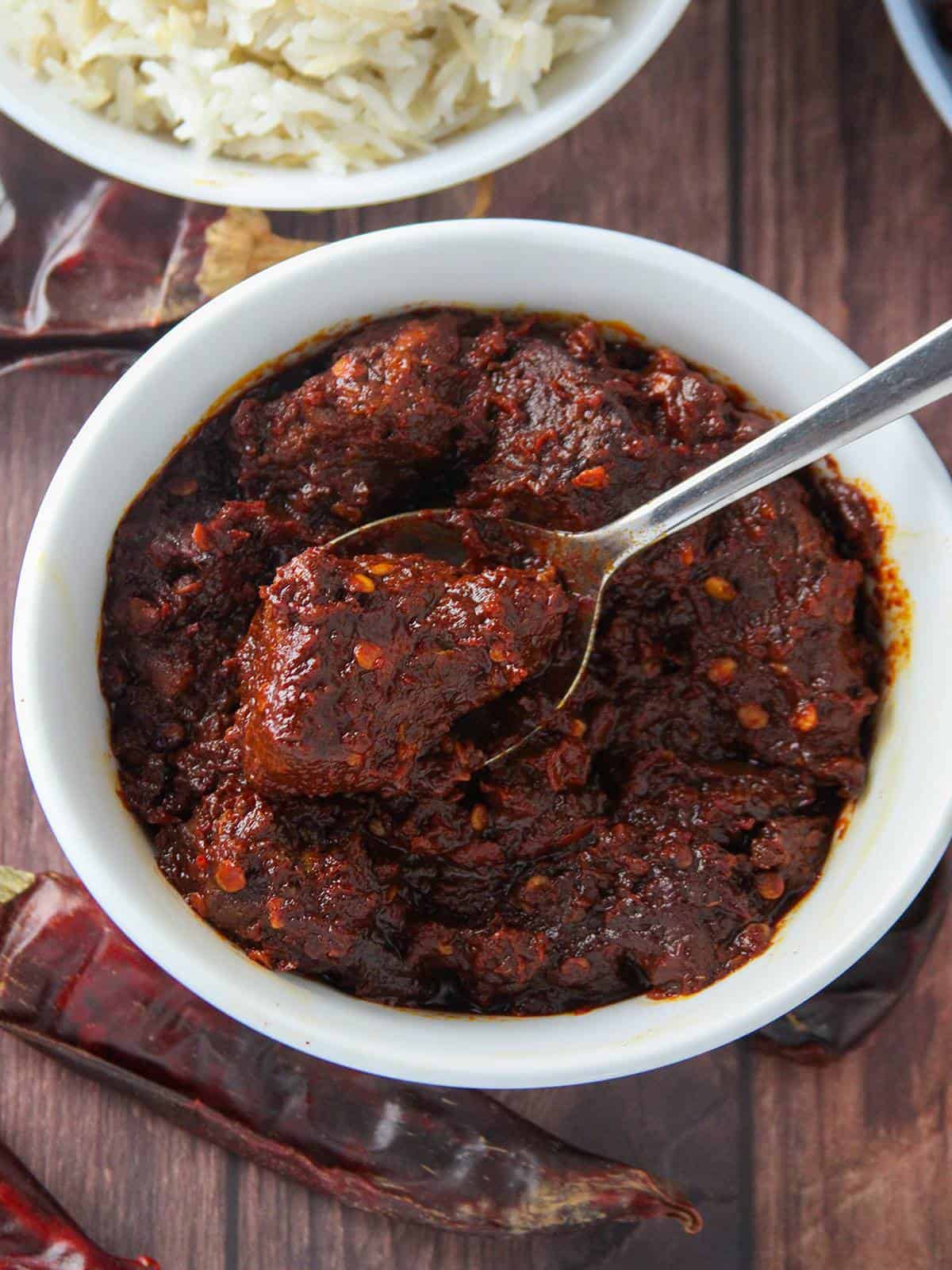 Serving suggestions
Pork Adobada makes a delicious main dish for lunch or dinner. Serve with Spanish rice, beans, and warm corn tortillas for a comforting Mexican-inspired meal.
The meat can also use as a filling for tacos or burritos. Just coarsely chop or shred and load up on flour or corn tortillas with other fixings such as guacamole, sliced radish, salsa, sour cream, and grated cheese.
Mexican Pork Adobo is a hearty stew made with pork cubes simmered low and slow in adobo sauce. If you want a meal that's spicy and full on flavor, this one's for you!
6 people
Ingredients
12 dried ancho chiles
3 dried guajillo chiles
2 Roma tomatoes, chopped
1 small onion, peeled and quartered
4 cloves of garlic, peeled
¼ cup cider vinegar
1 tablespoons dried oregano
1 teaspoon cinnamon
¼ teaspoon ground cloves
1 tablespoon canola oil
2 pounds pork shoulder, cut into 2-inch cubes
1 ½ cups water
salt and pepper to taste
Instructions
In a skillet over medium heat, add chiles and roast, turning as needed, for about 20 to 30 seconds or until lightly browned.

Remove from pan and place in a bowl with enough hot water to cover. Soak for about 15 to 20 minute or until softened. Remove and discard stems.

In a blender, combine stemmed chiles, tomato, onion, garlic, vinegar, oregano, cinnamon, cloves, brown sugar, and salt and pepper to taste. Process until smooth and the consistency of a thick paste. Set aside.

In a thick-bottomed pot over medium heat, heat oil. Add pork and cook, turning as needed, until lightly browned. Remove and discard any excess oil from pan.

Add chili paste and stir together to fully coat the meat.

Add water and bring to a boil, skimming any scum that may float on top.

Lower heat, cover, and cook for about 1 ½ to 2 hours or until meat is fork-tender.

Season with salt to taste. Serve hot.
Notes
Add more water in ½ cup increments if the sauce is drying out before the meat is fully cooked and tender.
"This website provides approximate nutrition information for convenience and as a courtesy only. Nutrition data is gathered primarily from the USDA Food Composition Database, whenever available, or otherwise other online calculators."