On my recent trip to the Philippines last May, I made it a must to visit the street food district in my hometown. I spent a good part of one afternoon wandering from vendor to vendor, gorging on adidas (chicken feet),  isaw  (chicken intestines), one day old (battered duck eggs), fish ball and of course, kwek kwek (battered quail eggs). Sure, considerable number of products indigenous to the Philippines are now available to us Filipinos here in California but there are still quite a few "ethnic" food that we can't readily access. It has been years since my last bite of BBQ chicken asses! So today, I tried to recreate the gustatory memories of that May afternoon and attempted to make battered quail eggs at home. Yes, they were delicious~golden and crisp~but may I tell you a secret? I enjoyed more the kwek-kwek I had on that street. Not that they tasted better or were done better as my version had the extra boost from the addition of garlic powder and chicken base flavoring. I think it was just the whole street experience that made the kwek kwek more delightful.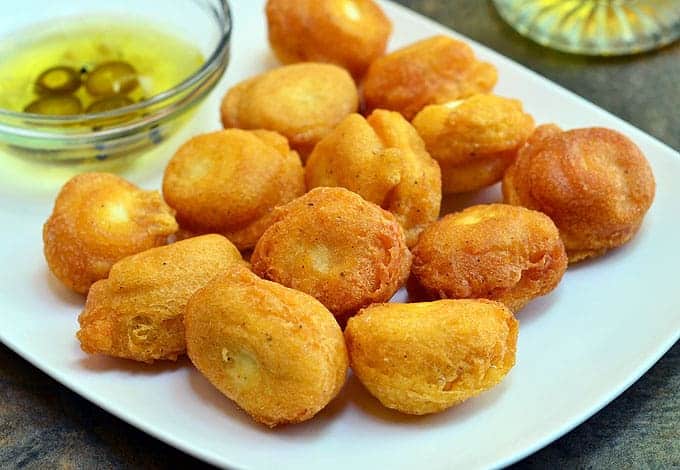 Kwek-kwek
Ingredients
24 pieces quail eggs
1 teaspoon annnato powder (more if darker color is desired)
½ cup water
1-1/4 cup flour
½ teaspoon baking powder
1 teaspoon chicken base powder
¼ teaspoon garlic powder
2 eggs
salt and pepper to taste
vegetable oil
For the Sauce
¼ cup vinegar
¼ cup ketchup
4 tablespoon brown sugar
2 teaspoon soy sauce
Instructions
In a pot, place quail eggs and enough water to cover. Bring the water just to a boil, reduce heat and simmer eggs for about 2 to 3 minutes. With a slotted spoon, remove eggs and place in bowl of ice water to cool. To peel, roll a wet egg on the counter to crack shell and peel from the rounded end first. Rinse under running water to remove any bits of shell left. Drain well and set aside.
In a small bowl, dilute annatto powder with the water. In a large bowl, whisk together 1 cup of the flour, baking powder, chicken base and garlic powder. Add annatto-colored water and beaten eggs. Season with salt and pepper to taste. Whisk until well-blended and smooth.
In a shallow dish, lightly dredge boiled eggs in the remaining ¼ cup flour. Dip in batter to completely coat. Repeat with remaining eggs.
In a pan, heat about 1-inch of oil and deep-fry battered eggs for about 3 to 5 minutes or until golden brown and crisp, turning on sides if necessary. Remove from pan and drain on paper towels. Serve hot with dipping sauce.
For the Dipping Sauce
In a sauce pan, combine vinegar, ketchup, brown sugar and soy sauce. Bring to a simmer, stirring occasionally, and cook for about 3 to 5 minutes or until sugar is dissolved.