Beat the heat with this refreshing Filipino-style shaved ice! Ginumis with coconut cream, sweet syrup, sago't gulaman, and toasted pinipig is a delicious way to cool off on hot Summer days.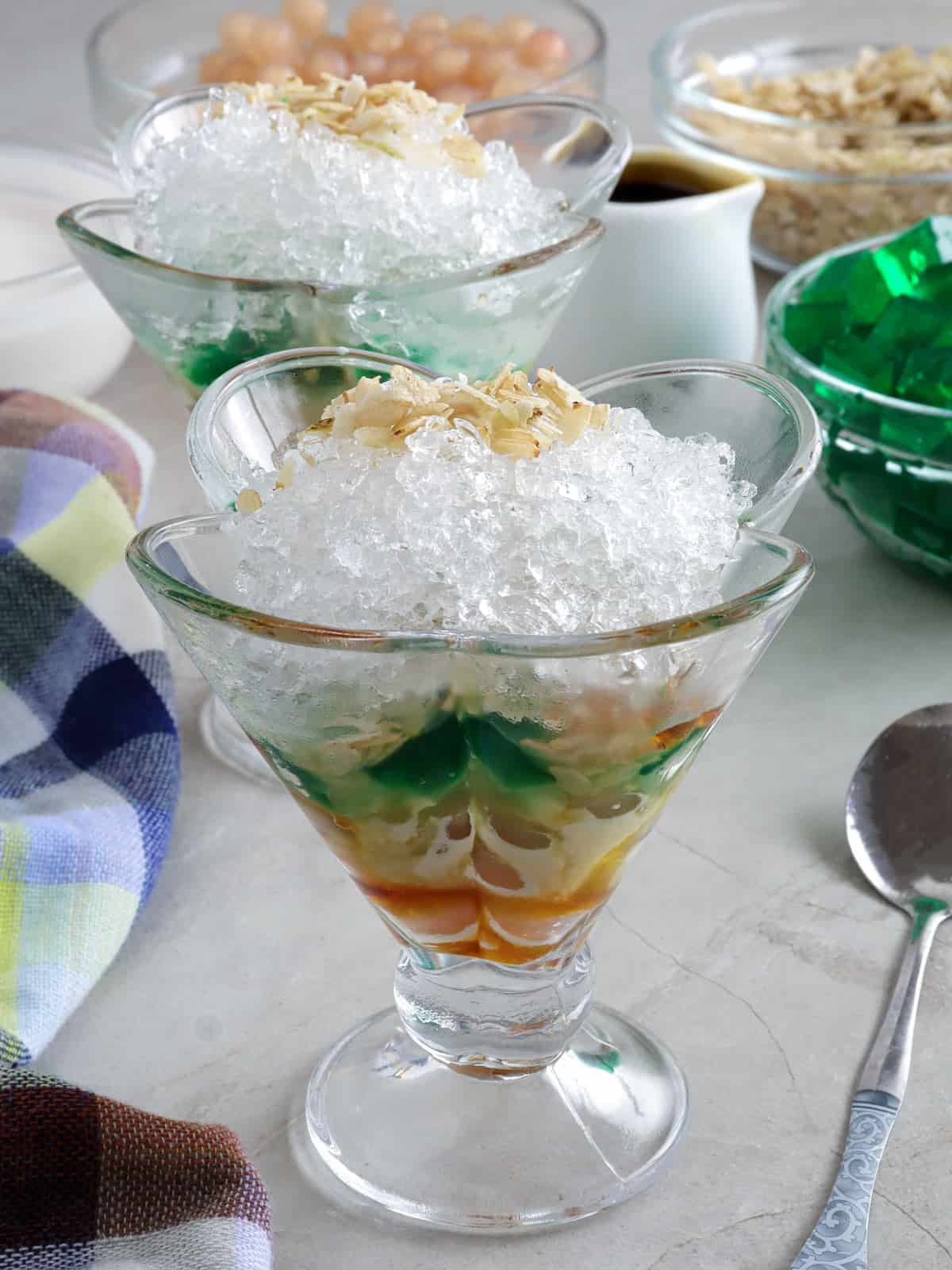 This tasty summer treat is simple to make yet so refreshing and delicious! The combination of coconut cream and panutsa syrup gives it a sweet and creamy taste, while the sago, gulaman, and pinipig add delicious textures. You'd definitely want this for your next afternoon merienda!
Ginumis vs. Halo-halo
Ginumis is a traditional Filipino cold dessert similar to halo-halo. But while both use shaved ice, they have differences that make each uniquely delicious.
Halo-halo includes various sweetened fruits and root crop preserves, while ginumis is a simpler version made with gulaman, sago, and pinipig.
Coconut cream and panutsa syrup add richness and sweetness to the former, while the latter uses evaporated milk and sugar.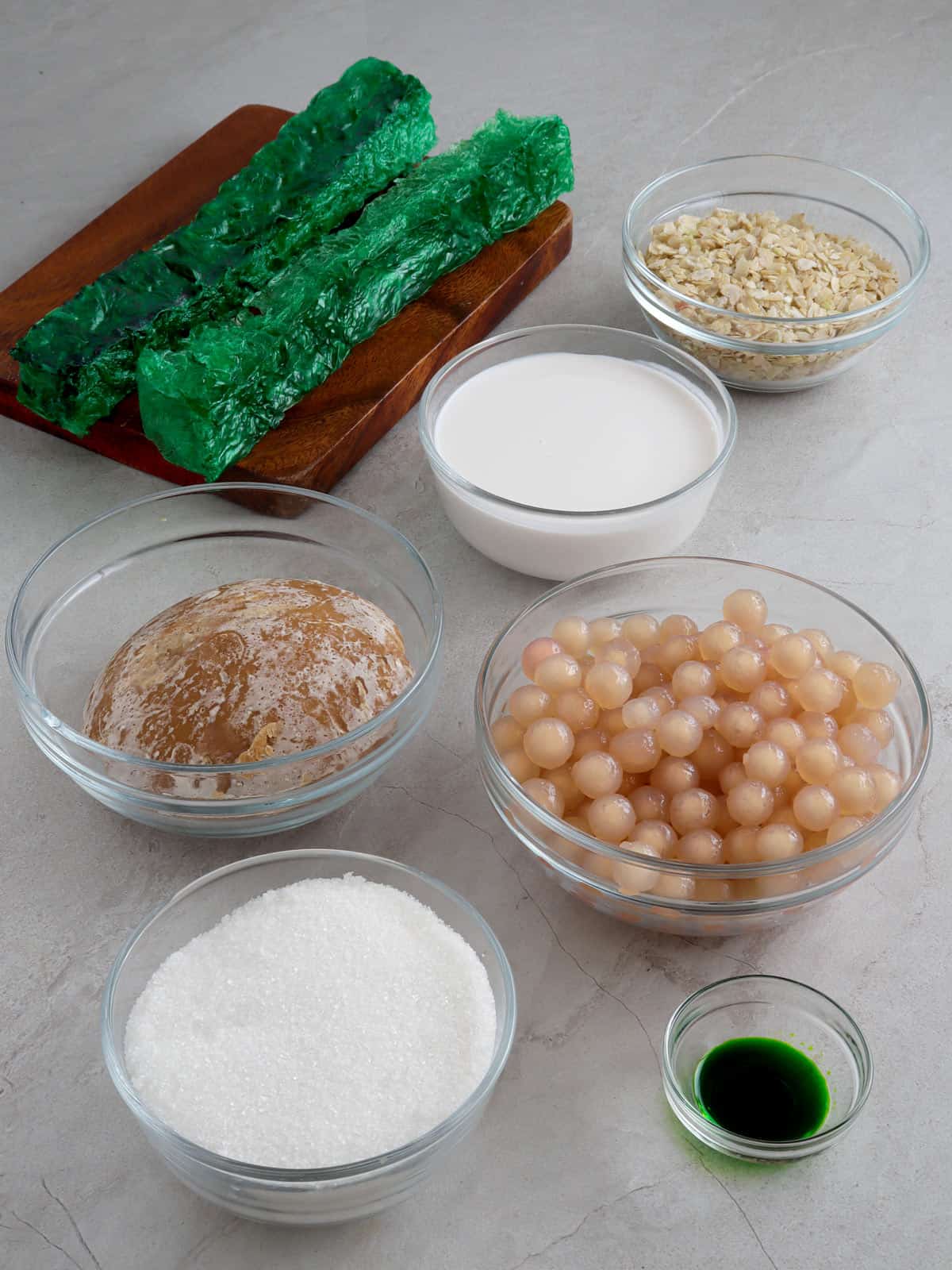 Ingredients
Shaved or crushed ice
Sago- an edible starch made from the pith of palm trees. You can use bottled sago or cook the sago pearls yourself.
Toasted Pinipig- pounded and flattened immature glutinous rice grains. Adds a mild nutty flavor and a crunchy texture to the dessert,
Gulaman– made with agar-agar bars and added pandan extract for color and tropical flavor. You can use gulaman powder as a substitute; just follow the package directions.
Panutsa - or panocha, is hardened cane sugar usually sold in round chunks. If not available, use brown sugar.
Coconut cream – locally known as kakang gata or the first extraction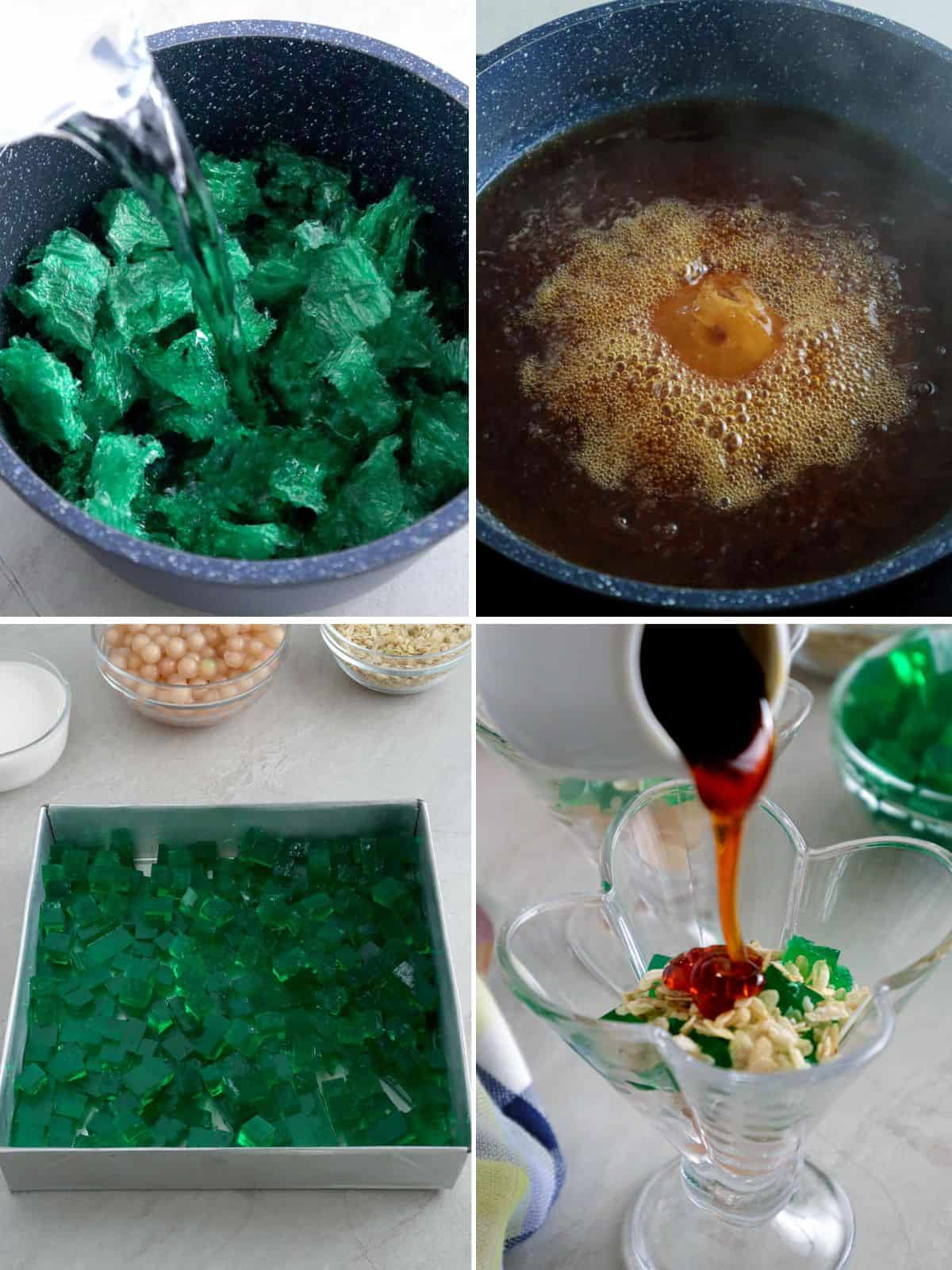 Quick tips
If you don't have an ice shaver on hand, you can also use a food processor or blender. Place the ice cubes in the processor and process until finely crushed.
Another method which involves a bit more elbow grease is placing the ice cubes in a resealable bag and pounding with the back of a knife until finely crushed.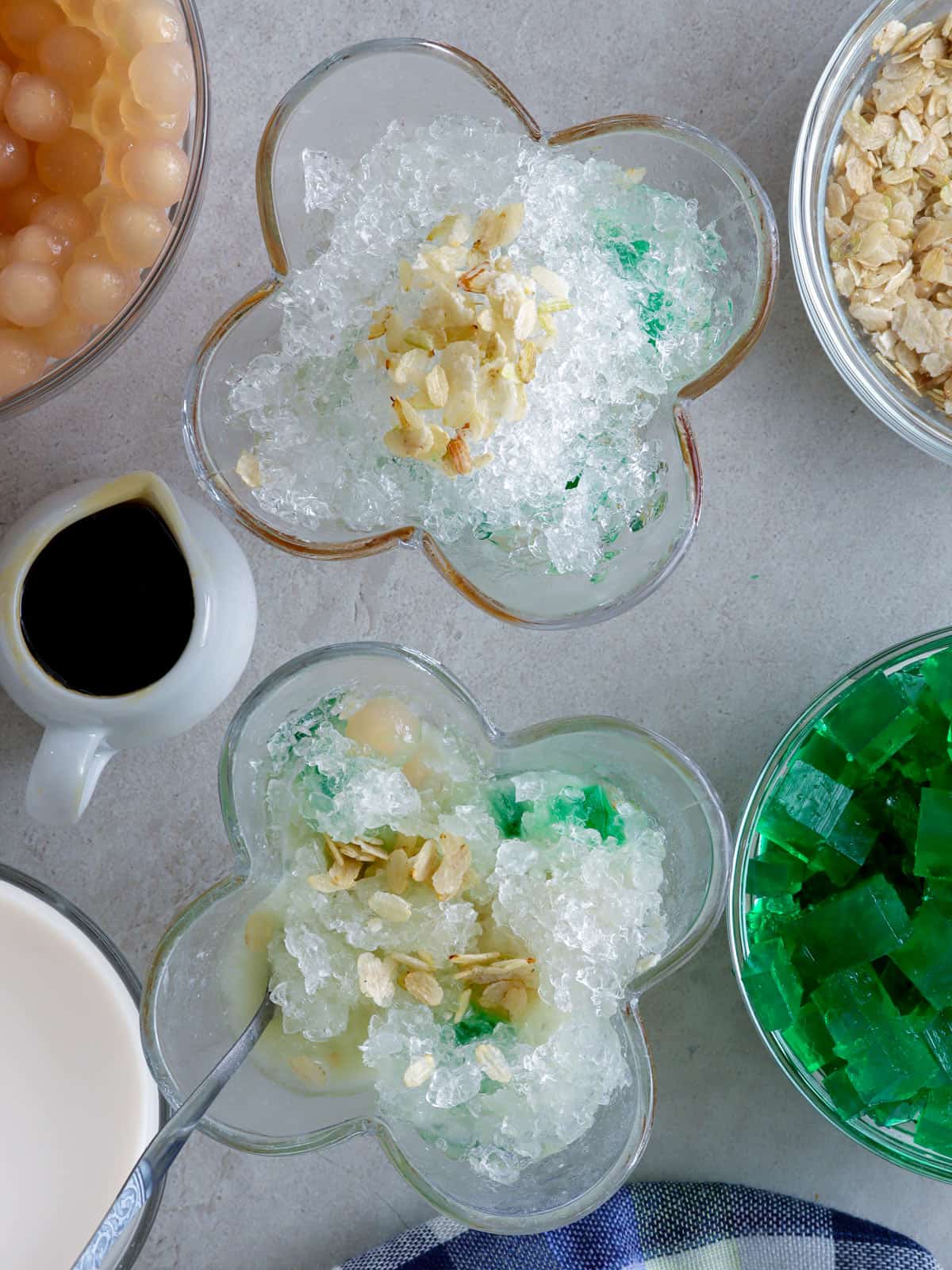 To assemble
In a glass, layer sago, gulaman, and pinipig according to your preference.
Drizzle with panocha syrup and coconut cream.
Pack the glass with shaved ice.
Top the ice with additional pinipig, if desired.
You can add slices of ripe mangoes, langka, or coconut strips for a sweet tropical twist.
How to store
Since ginumis is a cold dessert with ice, it is best enjoyed freshly made. If you want to prepare this dessert ahead, store the fixings in separate air-tight containers and refrigerate. Assemble when ready to serve.
Ginumis is a shaved ice dessert with gulaman, sago, pinipig, sugar syrup, and coconut cream. Add fresh fruit for a sweet twist, and enjoy this summer treat!
6 servings
Ingredients
1 ½ cups sago, cooked cooked
1 cup pinipig, toasted
gulaman
panutsa syrup
1 cup coconut cream
crushed ice
For the Gulaman
2 bars (.70 ounce) agar-agar
3 cups water
1 cup sugar
2 drops pandan extract
For the Panutsa syrup
1 piece (about 8 ounces) panutsa
1 cup water
Instructions
In glasses, place sago, gulaman and pinipig.

Add panocha syrup and coconut cream.

Top with crushed ice. Garnish with additional pinipig, if desired.
For the Gulaman
In a pot, soak agar agar in water for about 30 to 40 minutes. Bring to a boil over medium heat and cook, stirring regularly, until agar agar melts.

Add sugar and stir to dissolve. Continue to cook for about 10 to 15 minutes or until agar agar is completely melted.

Add pandan extract and stir to combine.

Remove from heat. Pour into a flat dish and allow to cool until agar-agar is set and hardened.

Cut into ½-inch cubes.
For the Panutsa Syrup
In a saucepan, combine panutsa and water and cook, stirring occasionally, until completely dissolved.

In a fine mesh sieve, strain syrup to rid of any impurities.

Return back in the saucepan and continue to cook until slightly thickened..
Notes
If you don't have an ice shaver on hand, you can also use a food processor or blender. Place the ice cubes in the processor and process until finely crushed.
Video
"This website provides approximate nutrition information for convenience and as a courtesy only. Nutrition data is gathered primarily from the USDA Food Composition Database, whenever available, or otherwise other online calculators."