Dinuguan, also known as chocolate meat, is a savory dish made with diced pork, pork blood, and spices. This classic Filipino pork stew is hearty, boldly flavored, and delicious as a main meal with steamed rice or a midday snack with puto.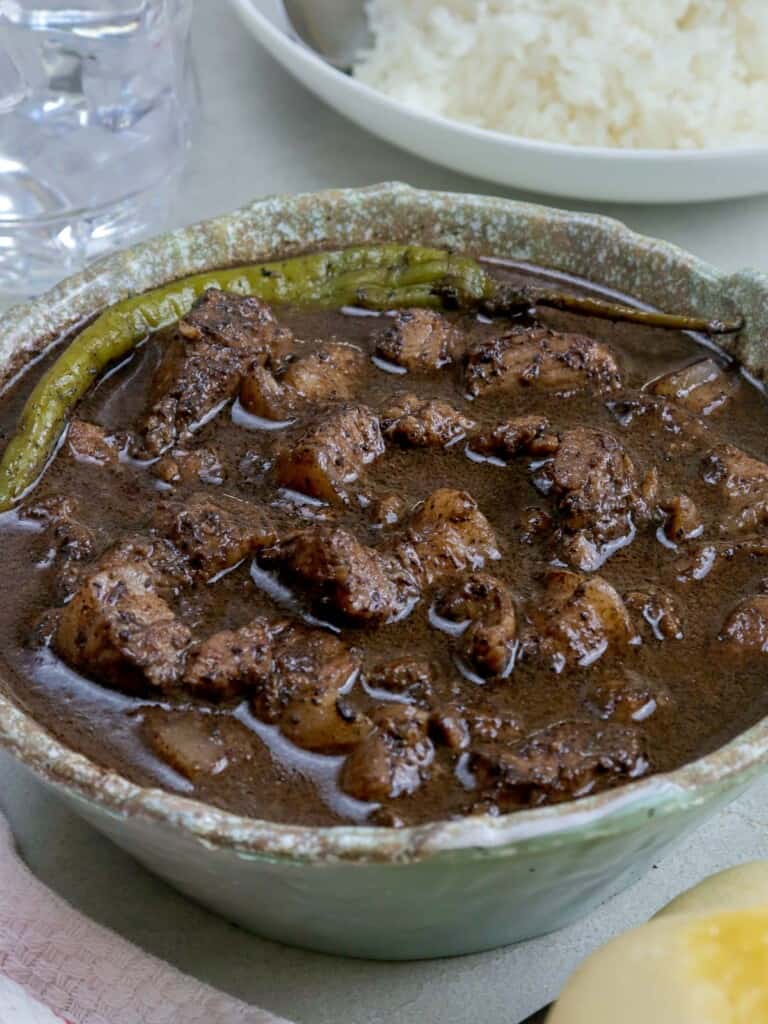 I usually make my dinuguan with pork and offal cuts, but since I piqued G's curiosity enough to give the dish a try, I used only pork belly in this recipe to pare down the fear factor.
He already has to wrestle with the idea of eating pork blood, and to add bits and pieces of ears and intestines into the mix might be too much for the poor guy to handle in one sitting.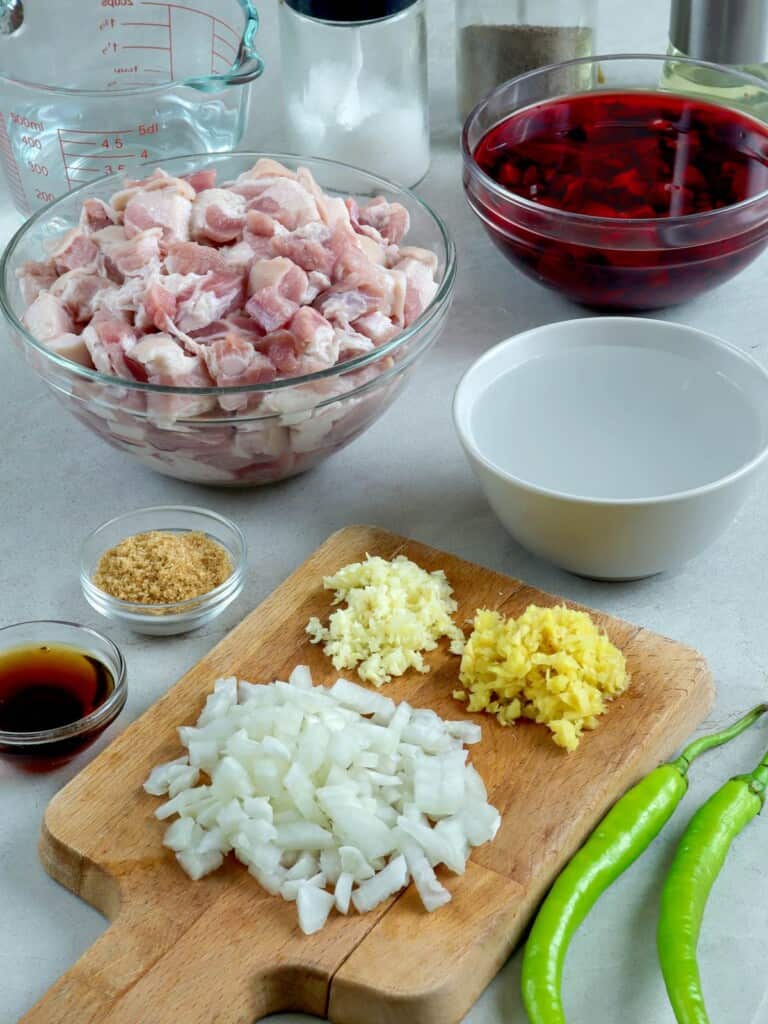 What is Dinuguan
Dinuguan , which comes from the root word dugo (meaning "blood"), is a savory Filipino stew made of bite-sized pork cooked in pig's blood, vinegar, and spices,, including garlic, onions, and chili peppers.
Along with choice pork cuts, it also traditionally includes a variety of offal such as ears, intestines, heart, lungs, and kidneys. While pork is the most popular, other versions also use chicken or beef.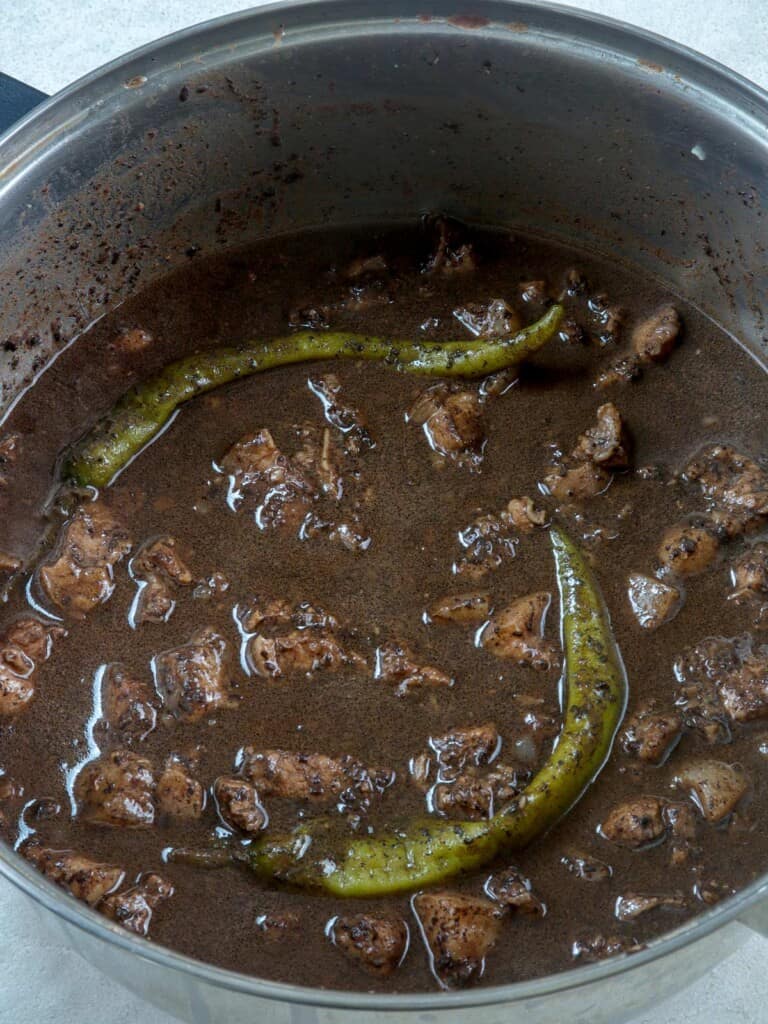 Fondly referred to as "chocolate meat", the pork blood stew is also called tid tad in Kapampangan region, sinugaok in Batangas, dinardaraan in the Ilocos area, dugo dugo in Cebuano, and tinumis in Bulacan and Nueva Ecija provinces.
It's commonly served as a main meal with steamed rice or as a midday snack with a side of puto rice cakes to dip and soak up the delicious gravy.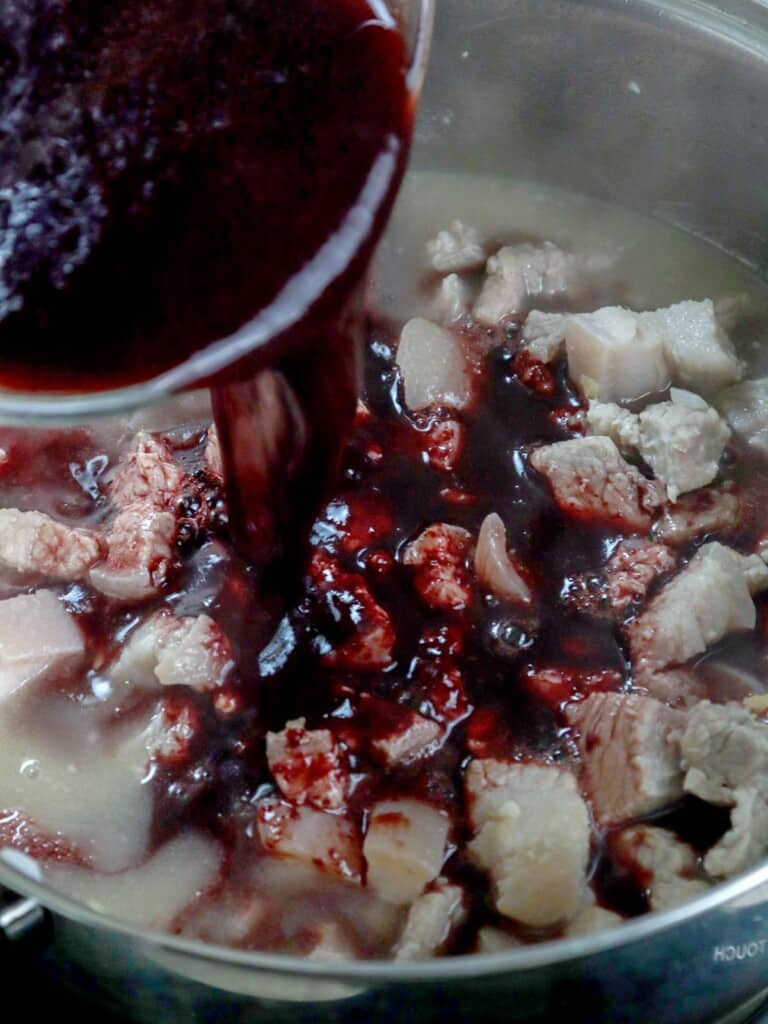 Cooking tips
I use vinegar in this recipe,  but some versions use tamarind, kamias, or tomato sauce. Regardless of what you choose, these acids serve the same purpose. Along with adding the necessary touch of sourness to the dish, they also keep the blood from curdling.
Stir about one or two tablespoons of the vinegar in the pork's blood before adding to the stew to ensure a smooth, deep brown sauce.
Allow the vinegar to boil uncovered and without stirring for a few minutes to cook off the strong acid taste.
No need to thicken the gravy! The protein albumin in the blood coagulates with heat application and will act as a natural thickener.
The brown sugar added during the last few minutes of cooking might seem out of place in this rich, savory dish but helps balance the flavors.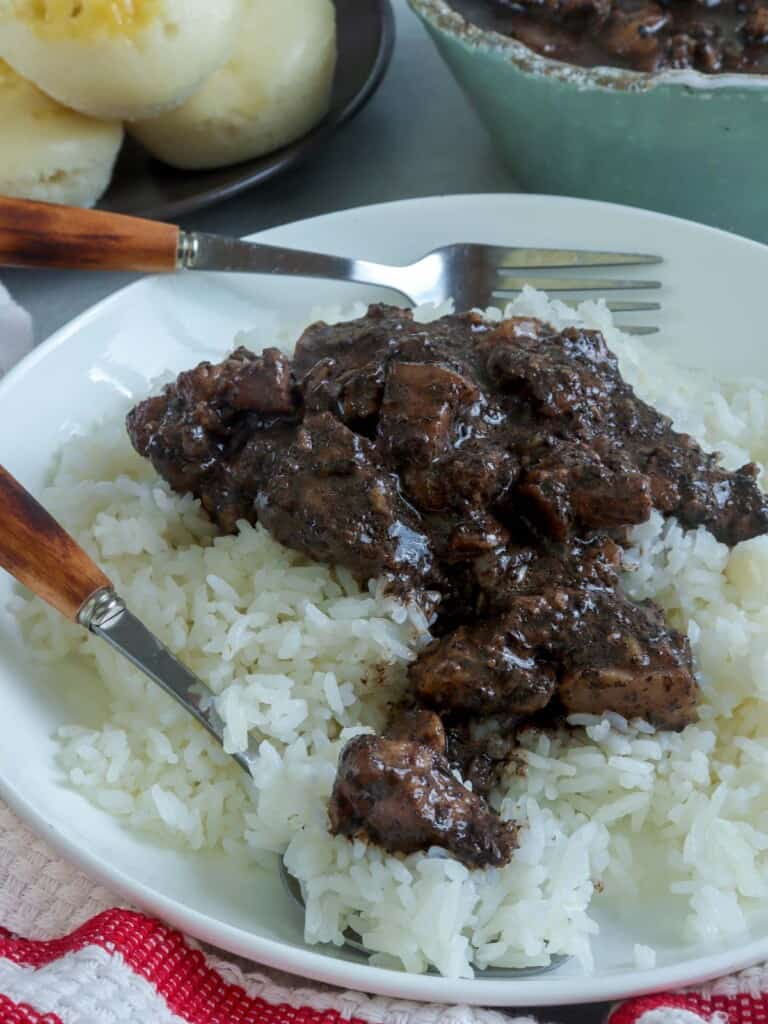 Storing leftovers
Allow leftovers to cool and transfer to an airtight container. Refrigerate for up to 3 days or freeze for up to 2 months.
Reheat in a saucepan over medium-low heat or in the microwave at 2 to 3-minute intervals to an internal temperature of 165 F.
Enjoyed this recipe? Try Batchoy Tagalog made of coagulated blood, miswa noodles, and chili leaves. So hearty and delicious!
Pork Dinuguan is a classic Filipino stew made of diced pork, pork blood, and spices. Also known as chocolate meat, it's hearty, boldly-flavored, and delicious as a main meal or midday snack.
Servings
Ingredients
10 ounces pork blood
1 cup vinegar
1 tablespoon canola oil
1 onion, peeled and chopped
4 cloves garlic, peeled and minced
1 thumb-size ginger (about 1 tablespoon), peeled and minced
2 pounds pork belly, cut into 1/2-inch strips
1 tablespoon fish sauce
1 cup water
1 tablespoon brown sugar
2 finger chilies (siling haba)
salt and pepper to taste
Instructions
In a bowl, combine pig's blood and about 2 tablespoons of the vinegar. Stir well.

In a pot over medium heat, heat oil. Add onions, garlic, and ginger and cook until softened.

Add pork and cook, stirring occasionally, until lightly browned.

Add fish sauce and cook for about 1 to 2 minutes.

Add vinegar and bring to a boil. Cook, uncovered and without stirring, for about 3 to 5 minutes or until slightly reduced.

Add water and bring to a boil. Lower heat, cover, and continue to cook for about 15 to 20 minutes or until meat is tender.

Add pork blood, stirring to disperse and prevent lumps.

Add brown sugar and stir to dissolve.

Add chili peppers.

Continue to simmer for about 10 minutes or until sauce is thickened.

Season with salt and pepper to taste. Serve hot with rice or puto.
Nutrition Information
Calories: 857kcal, Carbohydrates: 5g, Protein: 18g, Fat: 83g, Saturated Fat: 30g, Cholesterol: 161mg, Sodium: 302mg, Potassium: 382mg, Fiber: 1g, Sugar: 3g, Vitamin A: 3209IU, Vitamin C: 3mg, Calcium: 18mg, Iron: 2mg
"This website provides approximate nutrition information for convenience and as a courtesy only. Nutrition data is gathered primarily from the USDA Food Composition Database, whenever available, or otherwise other online calculators."