Coffee Jelly with coffee-flavored gelatin generously drizzled with sweetened cream for a simple yet impressive dessert everyone is sure to love! It's a fun and delicious way to get your caffeine fix!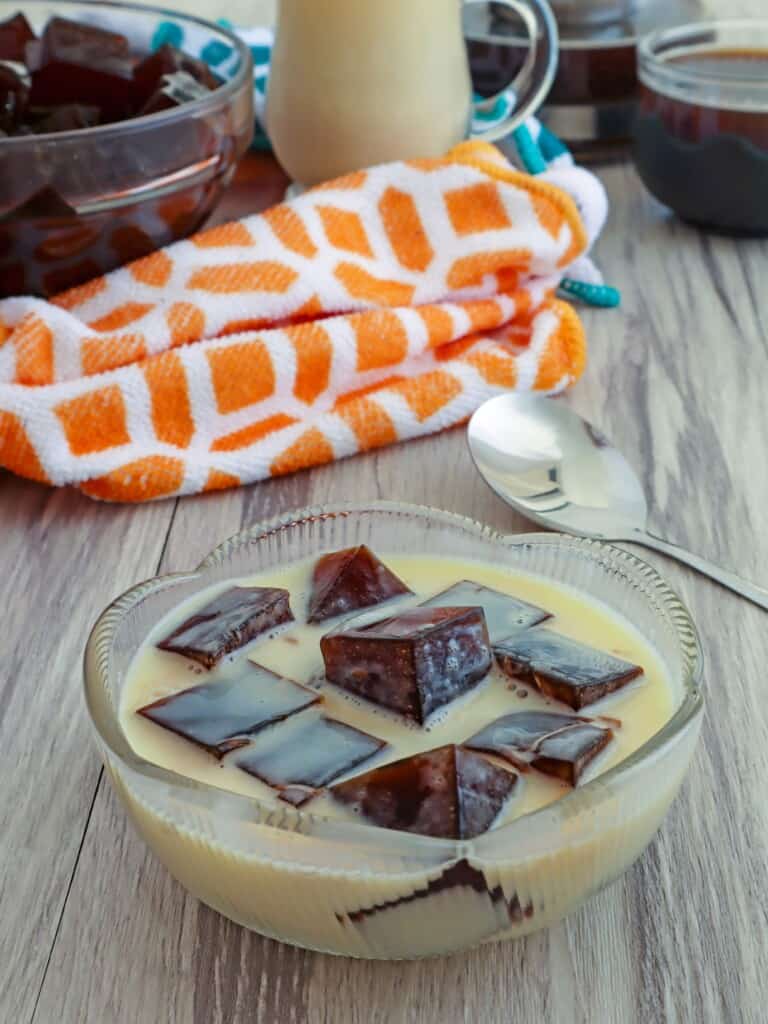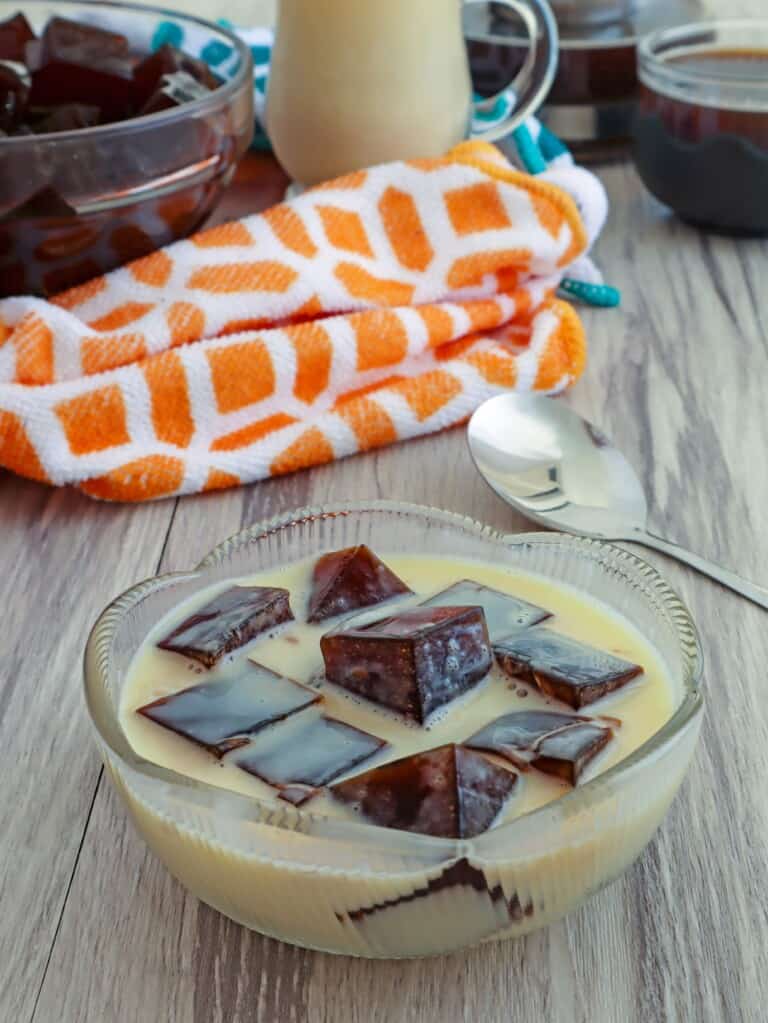 I am not really into drinking coffee like G, who has to have at least 2 to 3 cups black in the morning to start his day right, but I love this liquid gold's aroma and taste in both sweet and savory dishes. In fact, I have a long list of coffee-flavored favorites I make often.
If you're in the mood for an intense caffeine fix, check out my espresso royale icebox cake, coffee ribs, no-churn coffee brickle ice cream, and espresso toffee cookies recipes on my Onion Rings and Things blog and make sure to hop back here for the ultimate coffee indulgence, coffee jelly.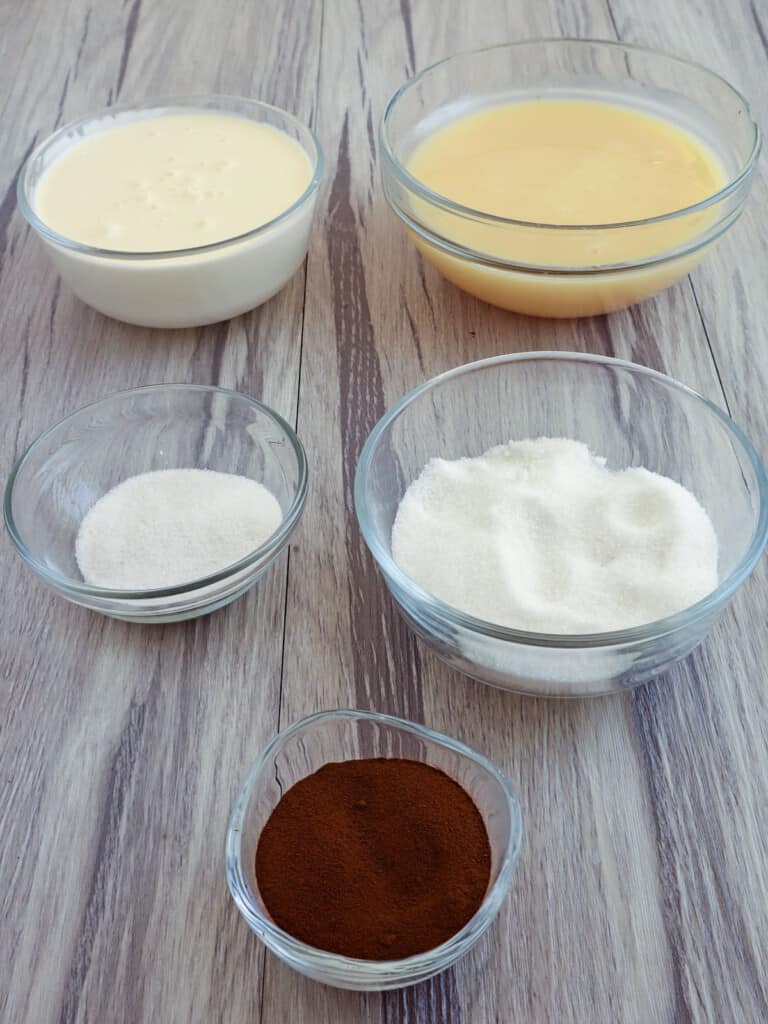 The first time I tried coffee jelly was during a trip to Japan many years ago, and it took but one bite of the melt-in-your-mouth gelatin drenched in sweet cream for me to be completely hooked. It was all the craze back then; every bakeshop, restaurant, or convenience store in the country sold one version or another of this dessert.
If you've been to Japan, you know everything there is outrageously expensive and prized to the roof. I clearly remember sitting in a quaint Tokyo coffee shop, relishing my very first taste of coffee jelly and almost choking on the last spoonful when I got the bill. $5 for a tiny cup, and that was in 1997!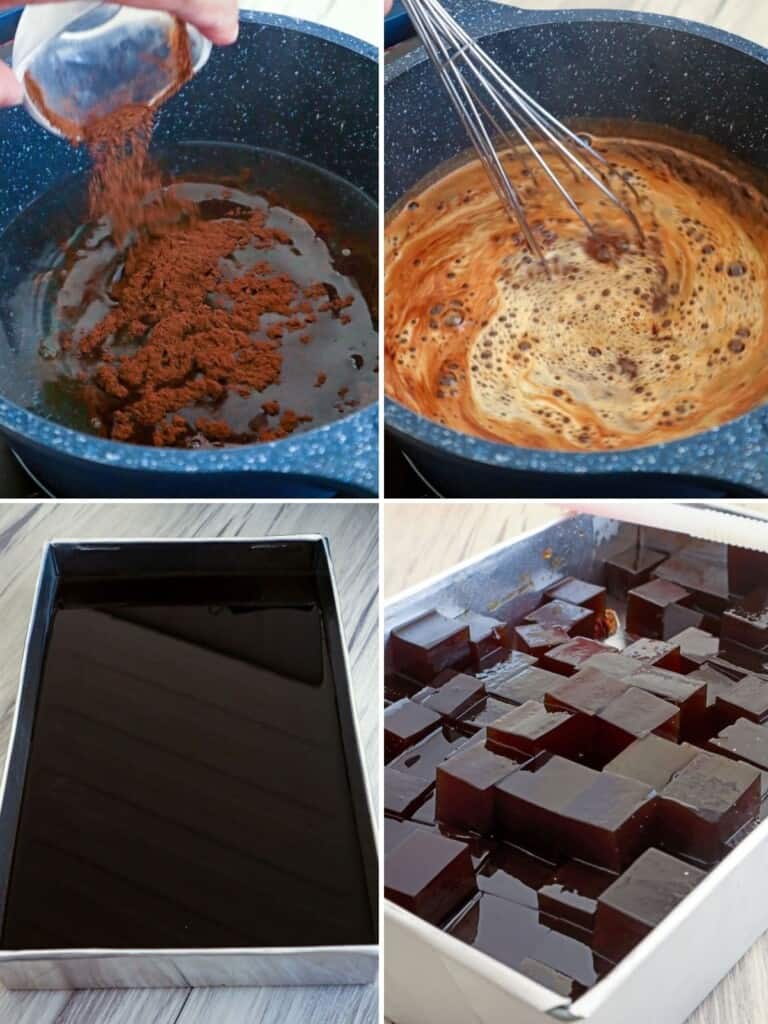 As much as I loved the jiggly concoction and wanted more than a teeny weeny container, my cheap butt couldn't stand the thought of coughing up another $5 for a gelatin dessert I could just as easily and cheaply make at home.
Coffee jelly is such a quick and easy treat to make; it's all a matter of dissolving the gelatin in hot strong coffee, allowing it to cool and firm up, and drizzling the set gelatin with sweetened cream. Seriously, the hardest part of this recipe is the wait!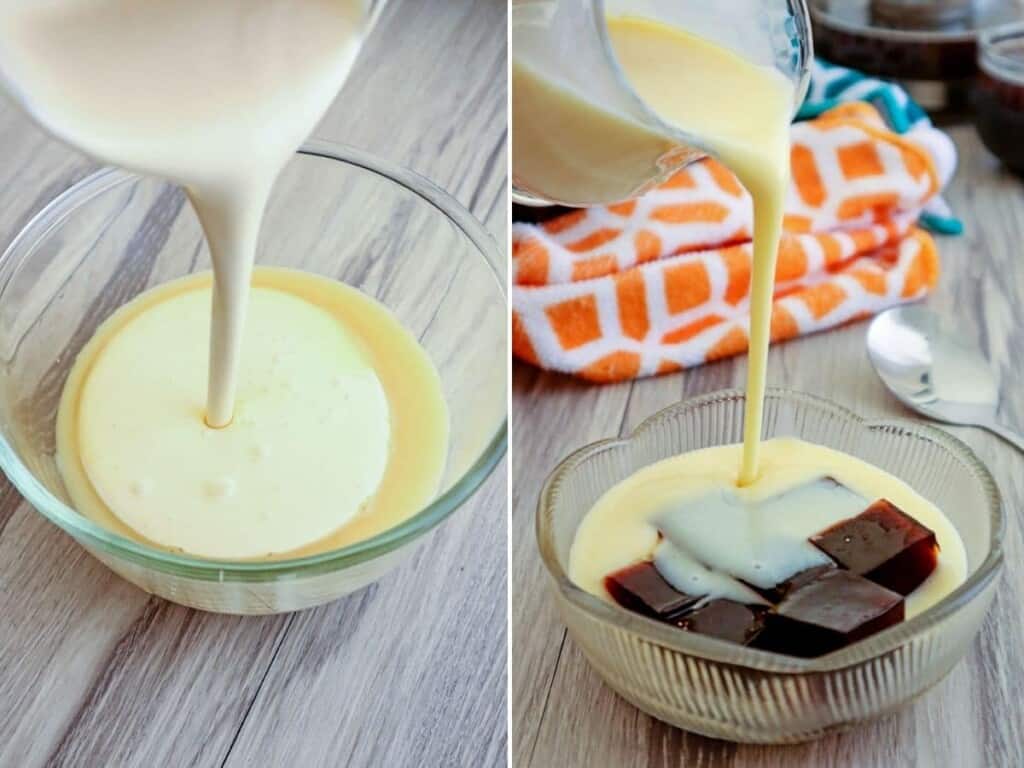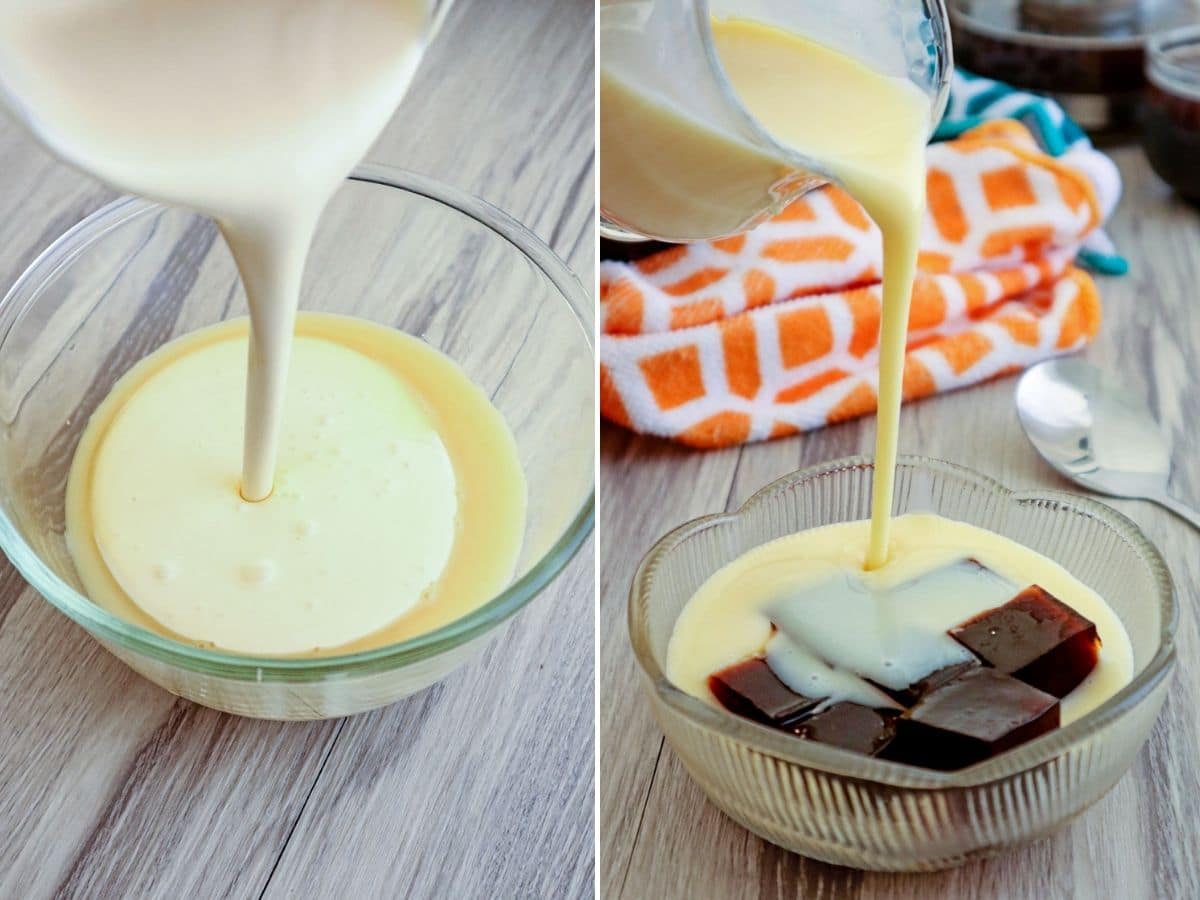 Helpful tips
I like Knox brand for my coffee jelly and use about 4 cups of strong coffee to achieve the texture I like. Check your package instructions on how much liquid is recommended for that particular brand.
I add about 1/2 cup of sugar to the gelatin but feel free to decrease or omit altogether if you want to cut down on the sweetness and want more coffee taste
If you don't want to use condensed milk, swap with whole milk and sweeten the cream mixture with sugar to taste.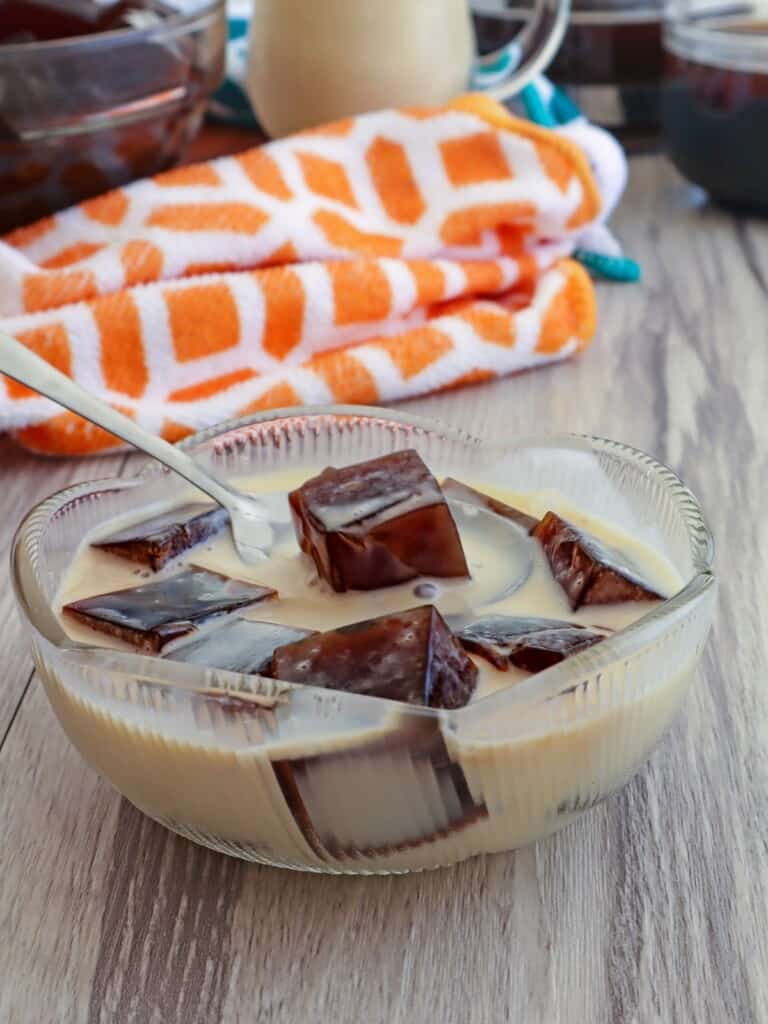 Serving suggestions
Pour the gelatin mixture into a baking dish to harden and then cut into cubes. Divide the cubes into serving bowls or cups and drizzle with the sweetened cream.
Or pour the gelatin mixture into individual clear glass cups and top with the cream when gelatin is set to achieve a "cup of coffee" effect.
Coffee Jelly is as fun to eat as it is tasty! The combination of coffee-flavored jelly cubes and sweetened cream is a creamy and delicious dessert that's sure to be a crowd-pleaser.
Servings
Ingredients
1 box (1 ounce) unflavored gelatin (I used Knox)
4 cups water
2 tablespoons instant coffee
1/2 cup sugar
1 can (14 ounces) condensed milk
1 can (12.8 ounces) table cream
Instructions
In a large bowl, sprinkle the gelatin on the remaining 1 cup of cold water. Let stand for about 1 minute or until gelatin powder begins to bloom.

In a sauce pot, bring 3 cups of the water to a boil. Add instant coffee and sugar. Stir until dissolved.

Gradually add the 3 cups of boiling coffee to the bloomed gelatin and stir constantly for about 2 to 3 minutes or until gelatin is completely dissolved and no granules are visible.

Transfer mixture into a baking dish and allow to completely cool. Refrigerate for about 2 to 3 hours or until completely set.

In a bowl, combine condensed milk and table cream. Stir until blended.

Cut set gelatin into 1-inch cubes and divide into serving cups. Top with sweetened cream. Garnish with whipped cream, if desired. Serve cold.
Video
Nutrition Information
Calories: 366kcal, Carbohydrates: 40g, Protein: 7g, Fat: 20g, Saturated Fat: 12g, Cholesterol: 75mg, Sodium: 92mg, Potassium: 215mg, Sugar: 39g, Vitamin A: 750IU, Vitamin C: 1.7mg, Calcium: 170mg, Iron: 0.2mg
"This website provides approximate nutrition information for convenience and as a courtesy only. Nutrition data is gathered primarily from the USDA Food Composition Database, whenever available, or otherwise other online calculators."