Lumpiang Sariwa is made with vegetable filling, from-scratch crepe wrappers, and a sweet and savory sauce. These Filipino fresh spring rolls are a nutritious and tasty snack, side dish, or meal-in-itself.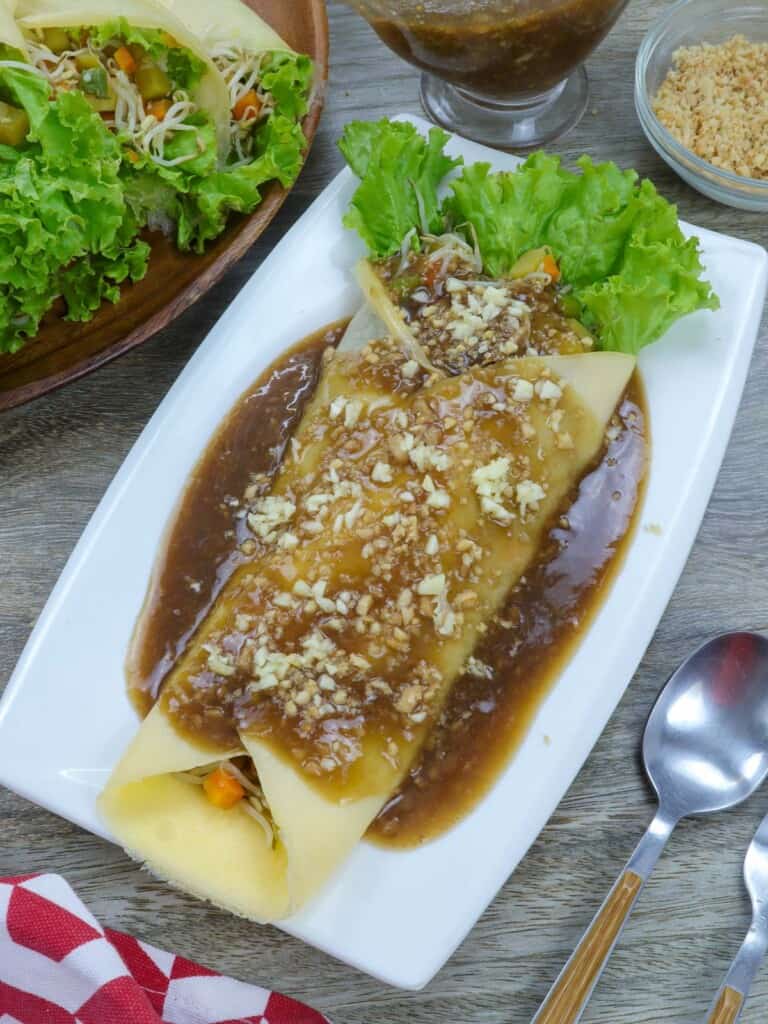 A trip to the Philippines is not only an opportunity to spend time with family and friends, but it's also a chance for me to enjoy the food I missed from living abroad. Every time I went home for a vacation, I had a long list of favorites my mom had ready and waiting for me as soon as I arrived from the airport.
One of the things I always requested is my aunt's fresh lumpia. If I may say so, I do make a pretty mean lumpia myself, but there's just something about her version that easily trumps mine.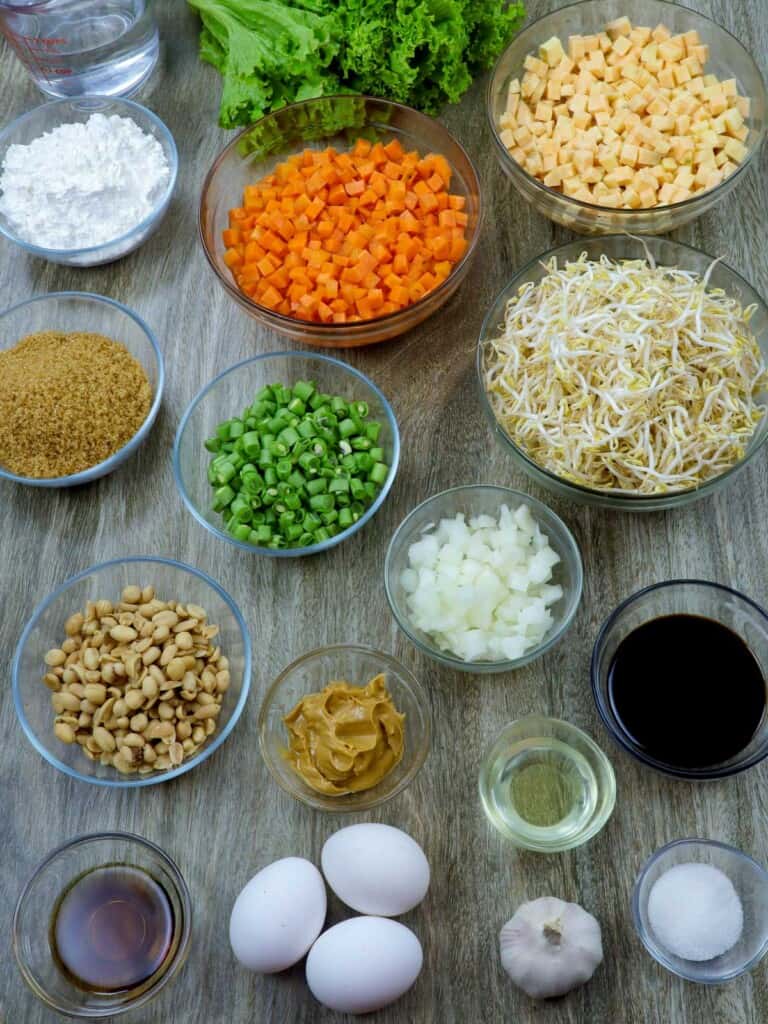 Why you'll love this recipe
It's a simple mix of vegetables sans meat, yet so tasty and flavorful. Her secret? Fish sauce AND sugar. She claims this combo is an excellent way to boost flavor without using MSG and works in other dishes, too.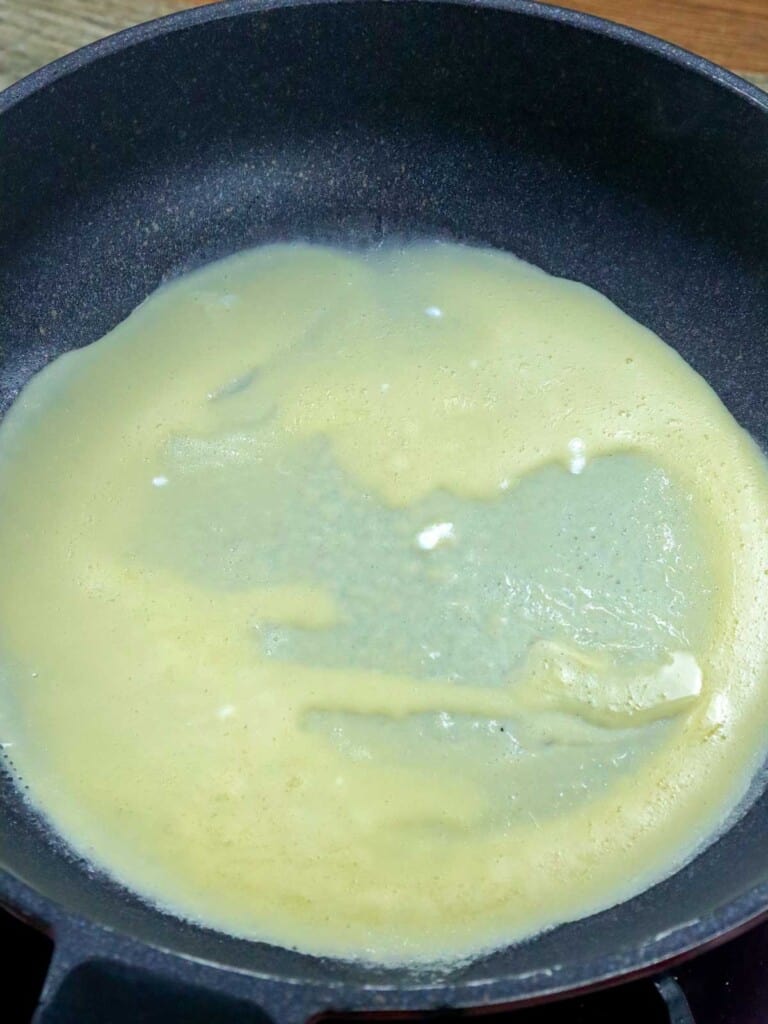 What is Lumpia Sariwa
As its name suggests, lumpiang sariwa is a type of Filipino spring roll eaten fresh or unfried as a midday snack or light meal.
It's made of stir-fried vegetables wrapped in a crepe wrapper or thin pastry skin and smothered in a sweet and savory peanut sauce, with additional garnishings of ground peanuts and minced garlic.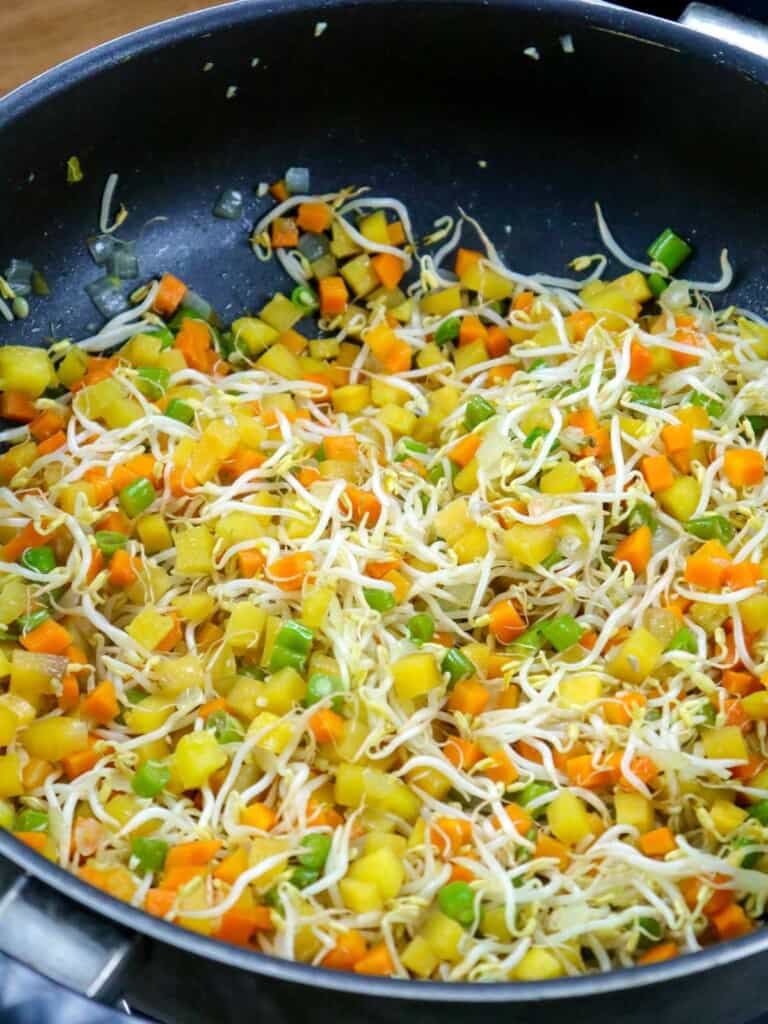 Filling ingredients
This fresh lumpia recipe is a delicious mix of togue, carrots, kamote, and Baguio beans. Choose your favorite combination from the suggested list below to switch things up.
Green beans (Baguio beans)
Carrots
Mung bean sprouts (toque)
Sweet potato (kamote)
Singkamas
Cabbage
Garbanzo beans
Ubod
Firm tofu
Shrimp
Ground or diced pork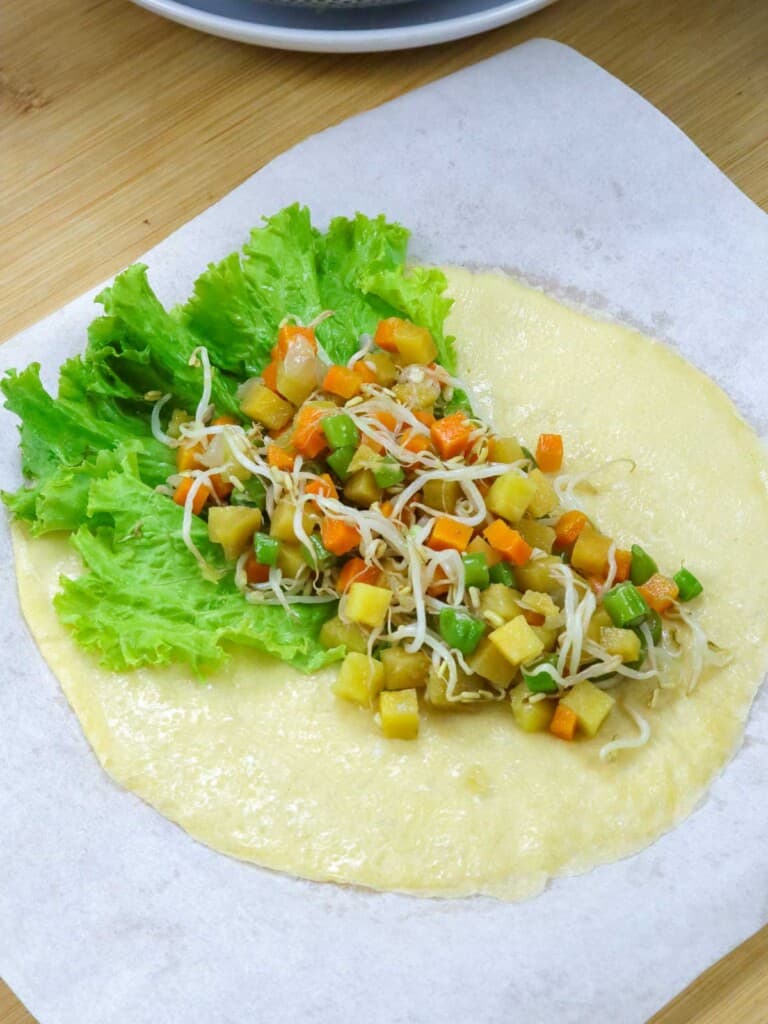 Cooking tips
For quick and even cooking, cut the ingredients into small and even sizes.
Do not overcook the vegetables! They're best enjoyed when vibrant in color and tender-crisp.
Use a non-stick skillet to make the crepe wrappers. Separate them with wax or parchment paper to prevent them from sticking together.
Drain the filling mixture well after cooking, as the excess moisture might tear the crepes. Do not overfill the wrappers to keep them from bursting.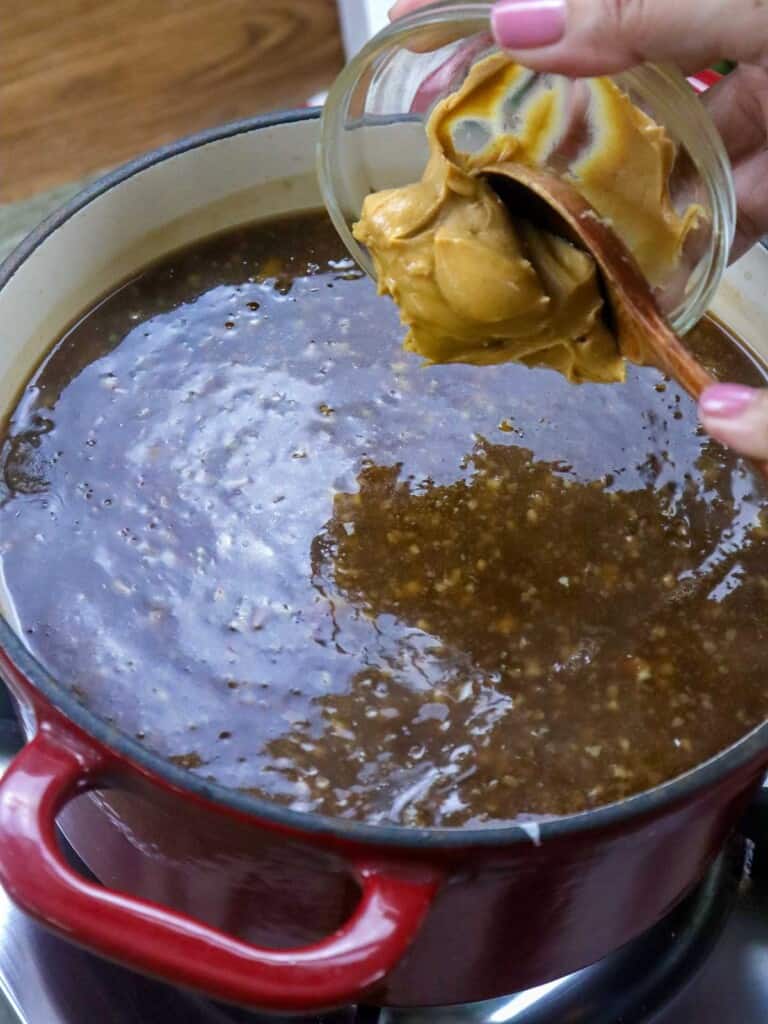 How to make the best peanut sauce
Reserve the liquid from the filling mixture and use in making the sauce for added depth of flavor.
Make the sauce a little thinner than you prefer the final consistency to be, as it will thicken as it cools.
The recipe below uses unsalted peanuts; adjust seasonings if using salted variety.
Stir one to two tablespoons of peanut butter in the sauce to boost the peanut taste.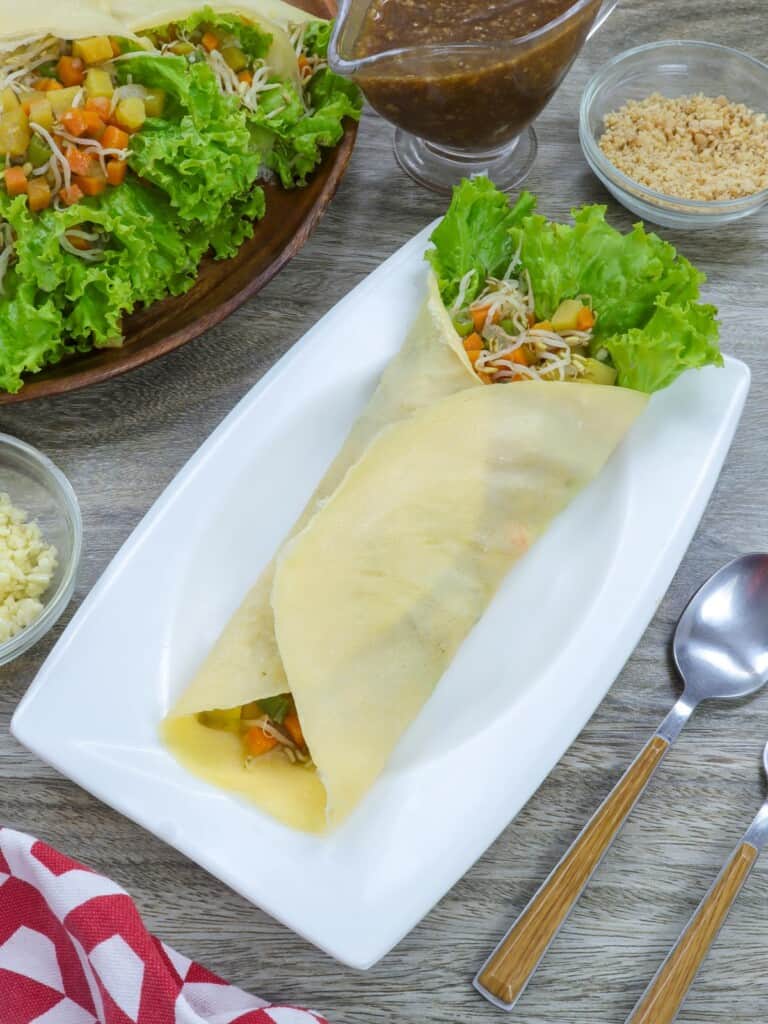 How to serve and store
Serve as a filling midday snack or light meal with a generous douse of sweet and savory sauce, ground peanuts, and minced garlic.
It's a great make-ahead dish and can be prepped in advance. Assemble the lumpia and wrap them individually in wax paper or plastic film to keep freshness.
Store the sauce in a container with a tight-fitting lid. To reheat, place in a saucepan and cook, adding more liquid as needed to loosen the consistency.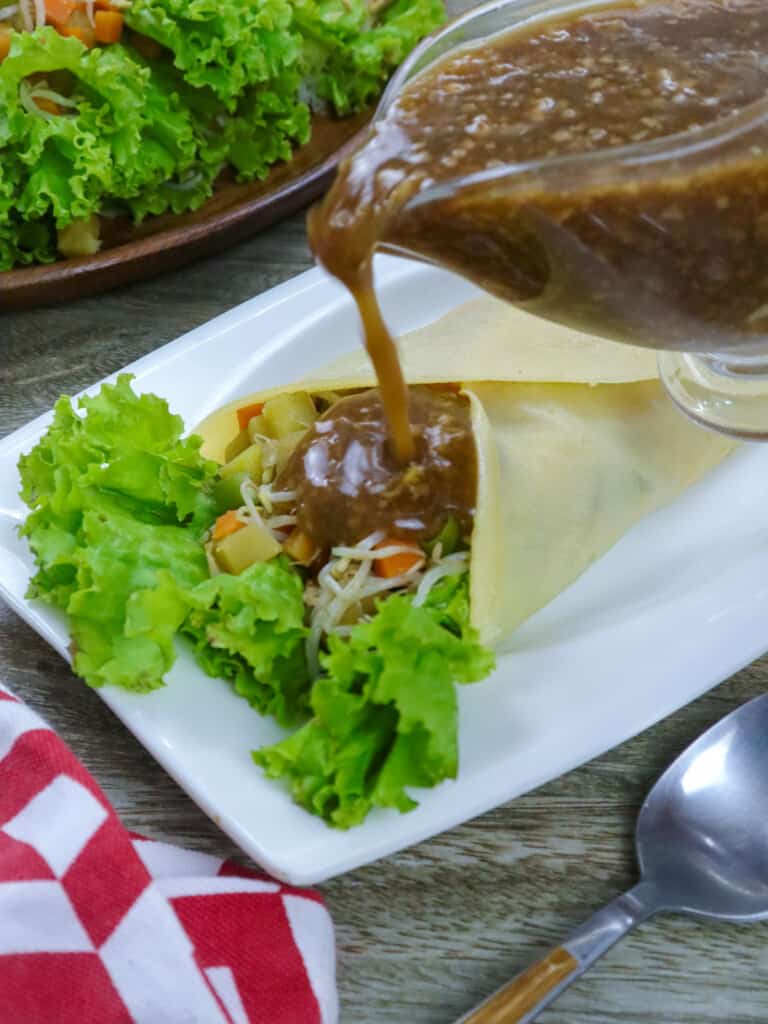 Quick tip
If you want to use the filling prito-style, swap the fresh crepe with a commercial spring roll wrapper, assemble the lumpia, and fry in hot oil until golden and crisp.
Filipino fresh spring rolls with crepe wrapper vegetable filling, and a savory peanut sauce are a tasty and filling snack or light meal. The're nutritious as they're delicious!
Course:
Main Entree, Side Dish, Snack
Servings
Ingredients
1 tablespoon canola oil
1 onion, peeled and chopped
2 cloves garlic, peeled and minced
2 tablespoons fish sauce
1 pound carrots, peeled and diced
1 pound sweet potatoes (kamote), peeled and diced
1/4 pound green beans, ends trimmed and cut into 1/4 inch thick
1/2 pound bean sprouts
1 tablespoon sugar
Wrapper
1 cup corn starch
1 1/2 cups water
3 eggs, beaten
2 teaspoons canola oil
1 teaspoon salt
1 teaspoon sugar
non-stick cooking spray or oil
Peanut Sauce
5 1/2 cups water
1/2 cup soy sauce
1 1/2 cups brown sugar
1 teaspoon salt
6 tablespoons corn starch
1 cup unsalted peanuts, ground
1 head garlic, peeled and minced
2 tablespoons peanut butter
Assembly
2 heads green leaf lettuce
Instructions
In a wide pan over medium heat, heat oil. Add onions and garlic and cook until softened.

Add fish sauce and cook for another 1 to 2 minutes.

Add carrots, sweet potatoes, and green beans. Stir to combine.

Lower heat, cover and cook for about 7 to 10 minutes or until tender.

Add mung beans and continue to cook until tender-crisp.

Add sugar and stir to distribute.

Remove from pan and drain well in a colander.
Wrapper
In a bowl, combine cornstarch and water. Whisk together until smooth.

Add eggs, oil, salt, and sugar. Stir to combine into a thin, runny batter.

Set a 9-inch nonstick pan over low heat. Lightly spray surface of pan with nonstick cooking spray or lightly brush with oil.

Add 1/4 cup batter and gently swirl to cover the bottom of the pan.

Cook for about 30 to 40 seconds. When edges begin to pull from sides and small bubbles begin to form in the middle of crepe, gently flip to other side using a spatula.

Cook for another 10 seconds or until the top is firm and dry.

Remove the crepe wrapper from the pan by gently sliding onto a plate. Repeat with remaining batter, spraying the pan with nonstick cooking spray in between cooking.

Place a sheet of wax paper between the crepes to keep from sticking together.
Lumpia Sauce
In a saucepot over medium heat, combine 5 cups of the water, soy sauce, brown sugar, and salt. Bring to a boil, stirring regularly, until sugar is dissolved.

Add garlic and peanuts. Continue to cook for about 2 to 3 minutes.

In a bowl, combine corn starch and the remaining 1/2 cup water. Stir until corn starch is dissolved and mixture is smooth.

Whisking vigorously, slowly add corn starch slurry into the soy sauce mixture. Continue to cook, whisking regularly, until thickened.

Add peanut butter and stir until dissolved and well combined.
Assembly
Separate the lettuce leaves and rinse well under cold, running water. Drain well.

Lay a wrapper on a flat surface and place a lettuce leaf on top.

Spoon about 1/2 cup filling across the middle of wrapper and fold sides to cover the filling.

To serve, pour sauce over the prepared lumpia and garnish with additional minced garlic and ground peanuts, if desired.
Notes
If using togue bought from wet markets, blanch first in boiling water for about 1 to 2 minutes to rid of the bitter taste.
Video
Nutrition Information
Calories: 272kcal, Carbohydrates: 59g, Protein: 5g, Fat: 3g, Saturated Fat: 1g, Cholesterol: 41mg, Sodium: 1261mg, Potassium: 516mg, Fiber: 4g, Sugar: 34g, Vitamin A: 16245IU, Vitamin C: 14mg, Calcium: 95mg, Iron: 2mg
"This website provides approximate nutrition information for convenience and as a courtesy only. Nutrition data is gathered primarily from the USDA Food Composition Database, whenever available, or otherwise other online calculators."