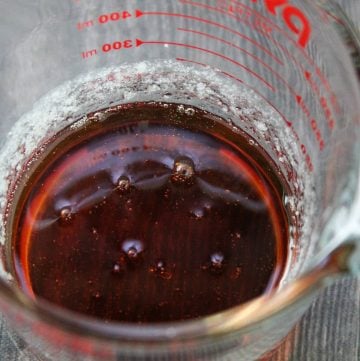 Print Recipe
How to Caramelize Sugar in the Microwave
Turning sugar into golden caramel can't any easier than doing it in the microwave! In minutes you'll have this liquid gold to use in your favorite recipes
In a clear, microwave-safe bowl, combine water and sugar. Stir well under sugar is completely dissolved.

Microwave on high for about 6 to 7 minutes or until color changes to honey-gold. Use immediately.
Use a clear or light-colored microwave-safe bowl to gauge the change in color accurately.
Since the caramel continues to cook and darken in the residual heat, remove from the heat source at a shade lighter than the desired color. Aim for a honey-gold tone as the caramel bitters as the color deepens.
As microwaves vary in wattages, you may need to watch the caramel and adjust the cooking time accordingly.
Use the caramel in your recipes immediately as it thickens and hardens as it cools.
Calories:
65
kcal
|
Carbohydrates:
17
g
|
Sodium:
1
mg
|
Sugar:
17
g