Hello, my peeps! I am back with another of our monthly giveaways and income reports. Can you believe it? I've been doing these monthly giveaways since July 2013 and the income reports since October 2015! Time sure flies when we're having fun.
What's new at Kawaling Pinoy? Well, for one thing, these monthly reports are getting a makeover with the coolest graphs ever! The winner of our giveaway two months ago was Mahru, a long time reader of KP and a financial analyst from the Philippines. We exchanged a few emails regarding the delivery of her giveaway prize and in one of those exchanges, she graciously offered to make graphs for my monthly income reports. She said, as a reader, it's kind of difficult to understand the reports unless there's a point of comparison. To which I totally agree! So, starting with the May reports, she will be preparing the graphs for me every month. How cool is that?
THE TRAFFIC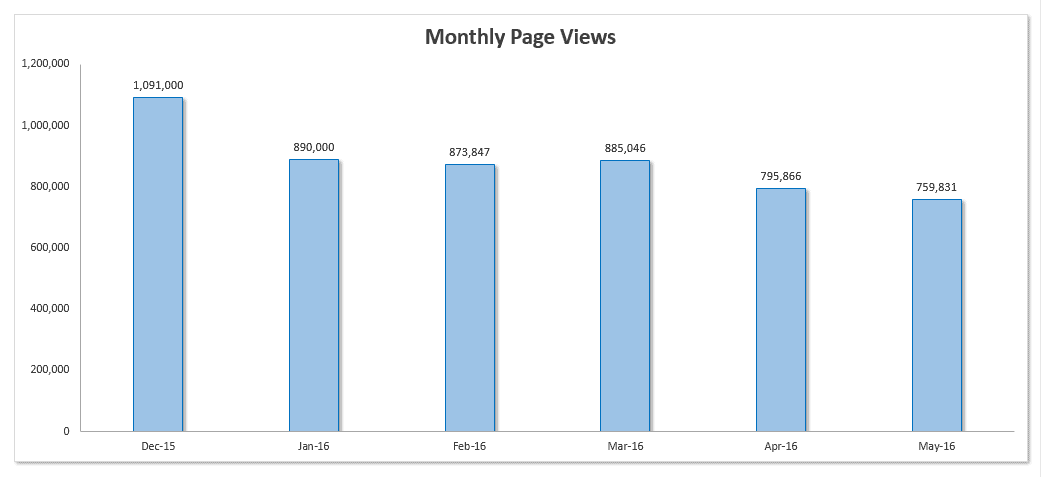 As you can see from the six-month look back above, there has been  a downward trend in traffic/pageviews. But like Mahru said, historical data is an important tool when conducting predictive analyses and in forecasting future performance of a company or business. I would have been in a tizzy fit if not for Kawaling Pinoy's historical data showing that April, May, and June are, historically, poor traffic months due to the summer season. As you can see from the graph below, traffic dips during these warmer months and begins to pick up around the third quarter of the year.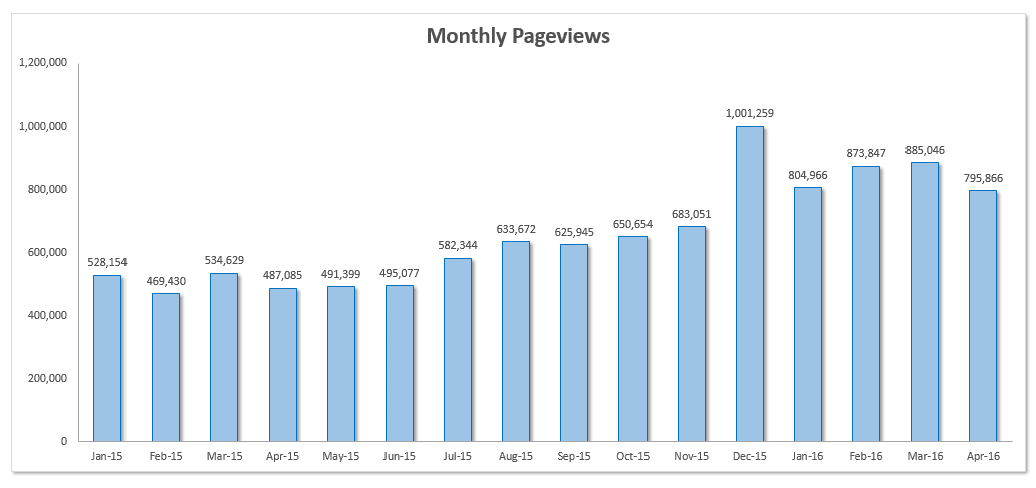 And as the graph also shows, I have so much to be thankful for! Kawaling Pinoy saw a 54% increase in pageviews compared to May last year and that, my friends, I owe to you. Thank you for your likes, comments, feedback and support of Kawaling Pinoy. I am grateful beyond words.
Historical data is not only useful in calming my nerves down. Armed with past trends, I can tailor my editorial calendar and growth plans more effectively. December the busiest? Then post more recipes!
THE MONEY MATTERS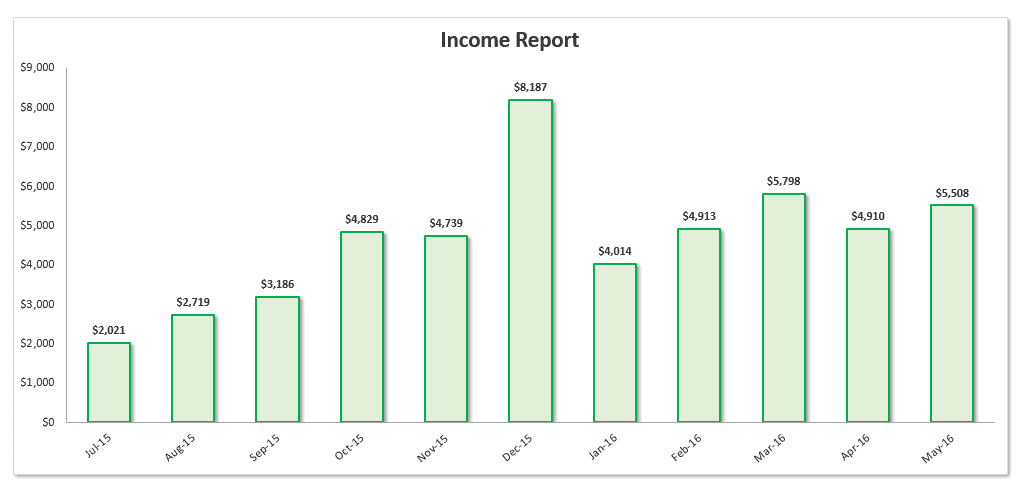 If you noticed, income for May was higher than the previous month despite the lower traffic. The main reason for the boost is a sponsored post I did , which accounted for about 10% of my total May income.
As you all know, the bulk of Kawaling Pinoy's earnings is from banner ads. I like the set-and-forget convenience of this type of monetization but I have to admit, ads can negatively impact reader experience. I received a quite a few emails from readers on how the number of ads on Kawaling Pinoy disrupts the use of the site. Of course, the more ads I have, the more money I make. But when I start to hear concerns from you, I need to take heed.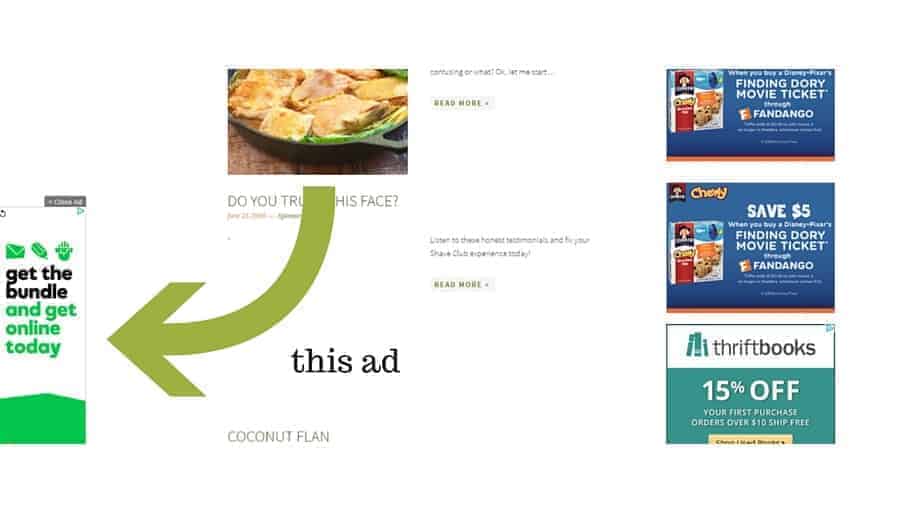 That left-hand banner that popped up every time you loaded a page on the desktop? GONE! After a few readers emailed me with their "too many ads on Kawaling Pinoy and it's a pain on the butt to read" sentiments, I made a financially painful decision to remove these invasive ads. These high-impact banners command high CPM's (cost per impressions) and I definitely saw a significant decrease in revenue. Although this could mean the  difference of a car payment each month, I have to put user-YOU-experience first. It's too early to say  and I am not completely sure it's even related but after I opted out from this type of ad, my daily pageviews jumped from the low 20, 000's to an average of 28, 000 to 32, 000! #allfingersandtoescrossed we can keep these numbers up. 🙂
While banner ads are basically hands-off, sponsored posts require a bit more work. I need to apply for the campaign, get approved, and develop content in line with the brand's mission and my readers. I have to admit, it's tempting to grab as many of these opportunities as possible but, once again, I want to make sure I work only with products I can recommend in good conscience. If you're a blogger and want to pursue this income stream, here's a comprehensive guide from Food Bloggers Central.
THE EXPENSES
Cost of maintaining Kawaling Pinoy stays pretty much the same every month at about $800 to $1000. One thing, though, that bumped up my expenses last month was my availing of a VA service to manage my Facebook fan pages. As much as I needed the hourly updates of my pages taken off my plate, the VA company's rate was a bit more than I can comfortably afford. Instead of continuing with the VA support, I decided to give my niece, Chei, who's been helping me for the past two years, a pay increase and management of all my social media promotions. I might not tell her enough or often but her help is invaluable in my growing Kawaling Pinoy as a thriving business. If you're a blogger and need assistance with your social shares, you can contact her at jeilaine_0917@yahoo.com.
WHY DO I SHARE THESE REPORTS?
Discipline and organization have never been strong suits of mine. I am hoping my posting these reports monthly will give me some sort of accountability and a concrete picture of what I want to accomplish. I am also hoping the little things I am learning will be of good use to my fellow bloggers and serve as inspiration to our kababayans who are thinking of starting their own blogs but are hesitant about making the jump. It's time to live your passion, to do something you're pumped up about and enjoy. Instead of just earning a living doing something you tolerate, harness your passion and do something great.
Our Last Month's $100 Visa Gift Card Giveaway Winner is:
#10 Meilly Joy B. Tumampil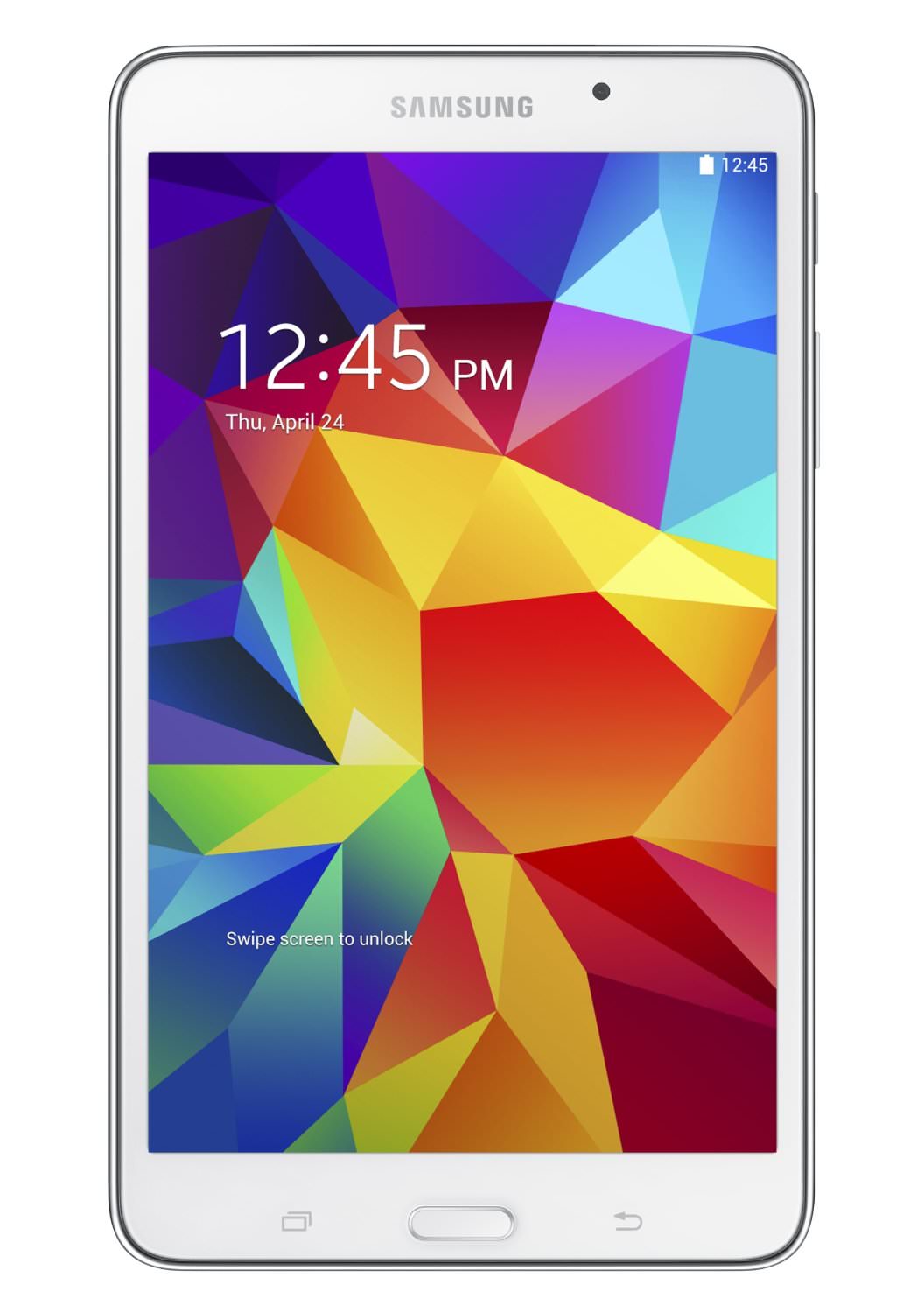 Android 4.4 Kit Kat OS, 1.2 GHz quad-core processor

8 GB Flash Memory, 1.5 GB RAM Memory

WXGA Display (1280×800 Resolution)

32GB of memory available through a microSD slot and 50GB of free Dropbox storage

Comes with over $300 of free content and services

Wi-Fi Tablet, Android 4.4 Kit Kat OS, 1.2 GHz quad-core processor

8 GB Internal Memory, 1.5 GB RAM Memory

Available in White or Black

Camera resolution (Front): 1.3MP; Camera resolution (Rear): 3.0MP; WXGA TFT Display (1280×800 Resolution)

External Memory Card Capacity: microSD (Up to 32GB)

Battery Type: 3.8 Volt, Lithium Ion, 4000 mAh
Giveaway Rules:
We are drawing

one (1) winner

and for the giveaway prize, the winner will receive a Samsung Galaxy Tab 4 7-Inch 8GB. If the winner is outside of the U.S., the cash value of the prize ($140) will be sent via Paypal. Please note that Kawaling Pinoy giveaways are wholly supported by me and I do not receive any compensation for the products I present as prizes.
To enter, leave a comment below: I am getting ready for the holiday season as early as now. "What recipes do you want to see on Kawaling Pinoy for your Christmas and New Year celebrations?"
Giveaway ends

11 PM Pacific Time on Wednesday, July 27, 2016.

The winner will be selected via Random.org. The winner will be notified via email and will be announced here on or after Friday, July 29, 2016. The winner must respond within 48 hours or an alternate winner will be selected. No purchase necessary to enter or win.
Giveaway is open to residents of all countries and who are 18 years of age or over at the time of entry. Kawaling Pinoy assumes no responsibility for late or misdirected entries due to SPAM, technological, or e-mail filtering issues.