I know, I know. I am late again. I am sorry, this giveaway post took longer to put together than I anticipated. I had everything I wanted to write swimming in my head for weeks but I was going back and forth whether I should. If you remember back in the beginning of the year, I shared with you the growth trend and financial back end of Kawaling Pinoy. I also asked if you guys will be interested to read Kawaling Pinoy's monthly traffic and income reports. I didn't really get a definitive answer then as the responses were kind of divided between Nay, I am only here for the recipes and Yay, I'd love to know how much food blogging makes. I decided not to proceed with the monthly reports as I didn't think such information would benefit KP's readers. Kawaling Pinoy, afterall, is a cooking blog. What I didn't take to account, though, is that some of my blogging friends do drop by here occasionally (Hi, you!) and the little things I am learning in my blogging journey might prove useful. I've also received a few emails from readers who want to start their own blogs and are looking for a bit of guidance. Besides, it's no secret that I hope to one day blog full time and I thought you might want to join me in this exciting adventure. 🙂
THE TRAFFIC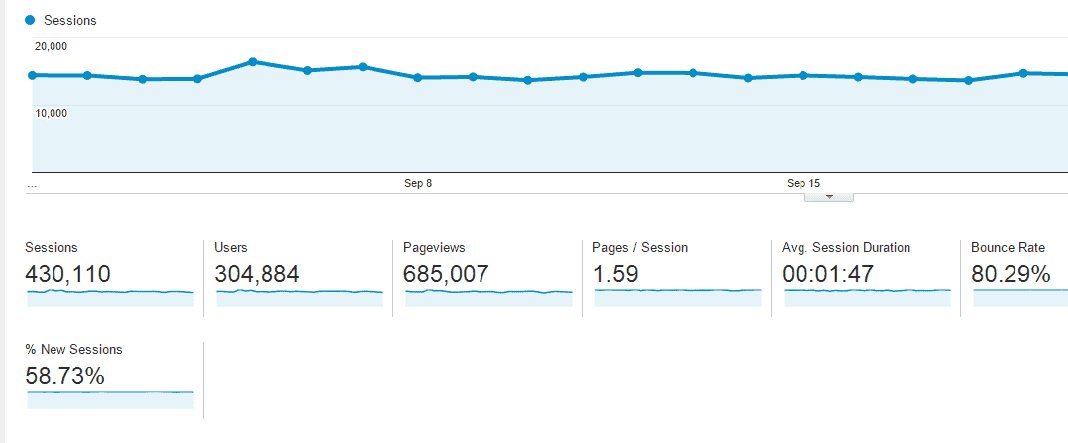 As you can see from Kawaling Pinoy's traffic graph for the last 30 days, I am still aways from my magic number which is one million pageviews a month. I am hoping the coming holidays when everyone is looking for special recipes and festive dishes will help push Kawaling Pinoy pass the one million mark by the end of the year. #allfingersandtoescrossed.
Almost 80% of Kawaling Pinoy traffic is from search. Considering I know crap about SEO and stuff, I've been very fortunate to rank on the first page of Google for certain recipes.
I focused on building my Facebook presence from the onset but unfortunately, I've pushed other social media networks such as Pinterest, Twitter or Google + by the wayside. Pinterest is a major driver of traffic for a lot of websites I know and it was not wise of me to have ignored its huge possibilities. I have now taken notice and have been more active on the network, pinning my content on a consistent schedule as well as participating in pinning groups to improve my Pinterest reach. You can follow my boards, if you like, and see the stuff I am curating.
I am very poor at connecting and developing relationships with other bloggers. I visit and read a handful of blogs on a daily basis but never really comment or interact. Believe it or not, I am a very shy person and meeting people kinda scares me.
THE MONEY MATTERS
July 2015 Income
Blogher Network-$1248.66
The Blogger Network-$758.25
Swoop Publishing-$14.10
Amazon-$2.28
Total: $2023.29
August 2015 Income
Blogher Network-$1564.01
The Blogger Network-$994.11
Swoop Publishing-$157.84
Amazon-$2.56
Total: $2718.52
September 2015 Income
Blogher Network-$1894.07
The Blogger Network-$1181.09
Swoop Publishing-$110.81
Total: $3185.97
I've been blessed in so many ways. I was tallying how much Kawaling Pinoy made the past quarter and I felt this lump jump to my throat, from happiness, from gratitude. God has been good. I've always dreamed of being able to earn a living food blogging but never really believed it to be possible. Or at least, never really believed it could happen to me. It's always amazing to see hard work bear fruit.
Thank you, thank you for making this possible. Thank you for visiting, for commenting, for liking, for sharing, for supporting Kawaling Pinoy. I am grateful.
LAST MONTH'S GIVEAWAY WINNERS
#10 JP
#70 Brenna
Congratulations to our Fire HD 6 Tablet giveaway winners and thanks, everyone for joining. I am glad you guys like the new Kawaling Pinoy logo as I love, love, love it!
THIS MONTH'S GIVEAWAY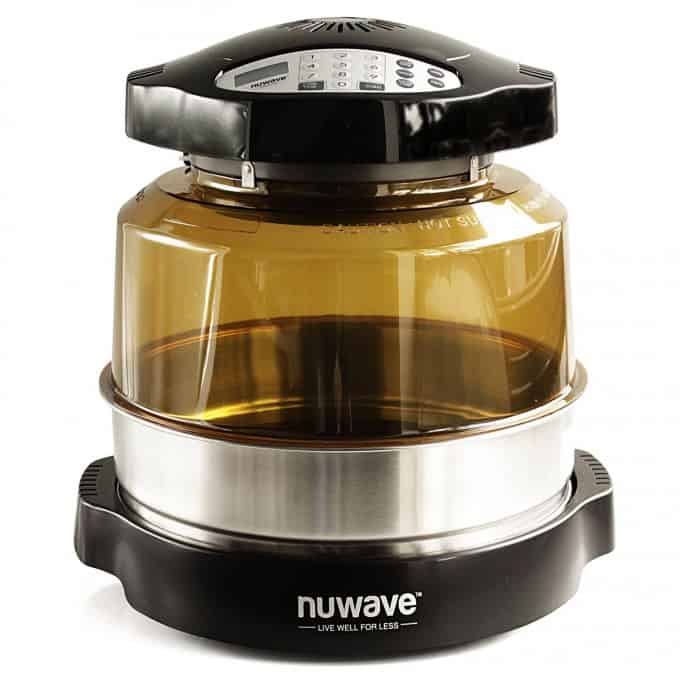 Includes upgraded amber PEI dome, black base and digital panel, 2 cooking racks, porcelain enamel liner pan, and stainless steel extender ring
Uses conduction, convection, and infrared cooking technology
Settings for warm, reheat, delay and up to 10 hours of cooking time
Digital temperature control from 100 to 350 degrees F in 1 degree increments
75% less energy & 70% faster cooking
Giveaway Rules:
We are drawing

one (1) winner

and for the giveaway prize,  the winner will receive a

NuWave Oven Pro Plus

. If winner is from the Philippines or other countries other than U.S., the winner will receive a comparable product. Please note that Kawaling Pinoy giveaways are wholly supported by me and I do not receive any compensation for the products I present as prizes.
To enter, leave a comment below: What do you think about these monthly income reports?
Giveaway ends 11 PM Pacific Time on Wednesday, November 18, 2015. The winner will be selected via Random.org. The winner will be notified via email and will be announced here by Friday, November 20, 2015. The winner must respond within 48 hours or an alternate winner will be selected. No purchase necessary to enter or win.
Giveaway is open to residents of all countries and who are 18 years of age or over at time of entry. Kawaling Pinoy assumes no responsibility for late or misdirected entries due to SPAM, technological, or e-mail filtering issues.
Goodluck everyone!