Guys! I am super, super excited! There's a lot going on at Kawaling Pinoy's headquarters and I can't wait to tell you about it. But before I get to some of the yummy details, please allow me to announce our Polaroid Cube Mini Action Camera giveaway:
#32 NIKKI
If you've been here before, you probably noticed that our little ol' blog underwent a major overhaul. And who did the customization? ME! Yes, me! I am so proud of myself, I think I sprained my arms patting myself on the back. Ha! Truth be told, the Foodie PRO theme I am using now was so intelligently designed (or coded, I suppose), a techie-dummy like me can set it up successfully.  Of course, I watched/read plenty of tutorials along the way and my good friend, Edwin, took a good amount of the work by making the new banner logo.  There are a still a few minor things I want tweaked but overall, I am very happy about the whole new look. What do you think?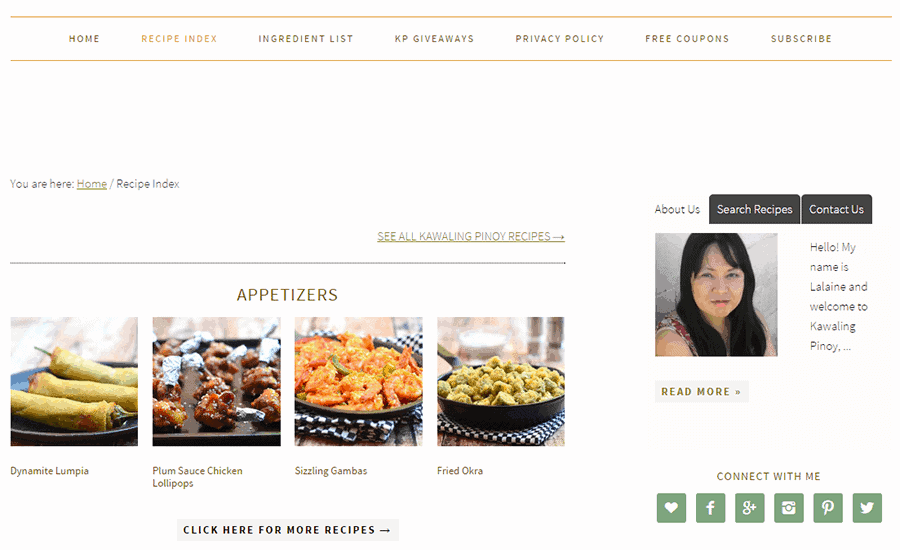 If you remember last month, I mentioned that I wasn't happy with how my recipe index was all skewed. Fixing it was actually the reason I decided on changing the whole design altogether. User experience is important to me and I want you to easily find what you are looking for. I am super glad that with this new theme, we have now a clean and organized recipe index. As you can see from the photo above, all recipes are now neatly sectioned in categories. You can also click the SEE ALL KAWALING PINOY RECIPES on the very top of the page to browse through all the delicious things here at Kawaling Pinoy. If you are looking for something specific, the SEARCH RECIPES tab right over my photo is a quick and handy tool to find recipes and meal ideas.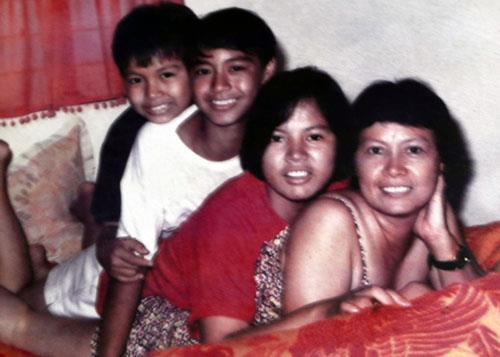 I am going for a vacation in June. TO THE PHILIPPINES! Yes, yes, YES!  June 26 is my mother's 65th birthday and we-my daughter, my brother and his family, and G (#hoping)-are all going home to suprise her. To say I am excited is definitely an understatement. Woohoo! I can't wait to give the best woman in the world a hug! I ♥ her to pieces.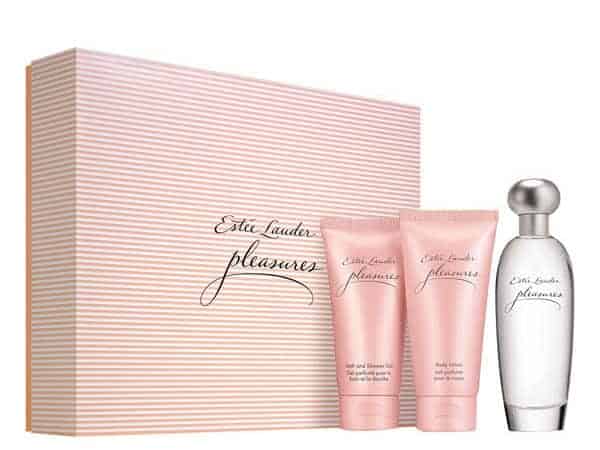 Estee Lauder PLEASURES SIMPLE MOMENTS 3 Item Gift Set:
Eau De Parfum Spray 3.4 fl. oz. / 100 ml

Body Lotion 2.5 fl.oz. / 75 ml

Bath and Shower Gel 2.5 fl.oz. / 75 ml

Brand New In A Gift Box. Limited Edition
My mother's favorite perfume is Estee Lauder Pleasures. In fact, it is the only perfume she wears. She has worn it daily for many years, it has become her signature scent. To celebrate her and all the mamas out there, we will be giving away for Mother's Day one Estee Lauder Pleasures perfume gift set. For a man's work is from sun to sun but a mother's work is never done.
Giveaway Rules:
We are drawing one (1) winner and for the giveaway prize, the winner will receive an Estee Lauder Pleasures Perfume Gift Set. If winner is from the Philippines, a comparable product will be sent. Please note that Kawaling Pinoy giveaways are wholly supported by me and I do not receive any compensation for the products I present as prizes.
To enter, please leave a comment below: "What makes your Mama the best?"
Giveaway ends 11 PM Pacific Time on Friday, May 15, 2015. The winner will be selected via Random.org. The winner will be notified via email and will be announced here by Sunday, May 17, 2015. The winner needs to respond within 48 hours or an alternate winner will be selected. No purchase necessary to enter or win.
Giveaway is open to residents of the U.S., Canada and the Philippines and who are 18 years of age or over at time of entry. Kawaling Pinoy assumes no responsibility for late or misdirected entries due to SPAM, technological, or e-mail filtering issues.