You're probably wondering why I am posting about Meow Mix® on Kawaling Pinoy. What is cat food doing on a recipe blog, you might ask? Over the past three years, I've talked to you about my childhood, my dreams and aspirations, my past heartbreak now long forgotten and forgiven, my pride and joy, and my new lease on love and happiness. I've introduced you to the important people in my life, my daughter, my mother, my brother, his wife and children, and, of course, G and his family. In the process of sharing my favorite recipes, I have inevitably welcomed you into my home. But, my friends, you haven't met my whole family until you've met Benny. ⬇️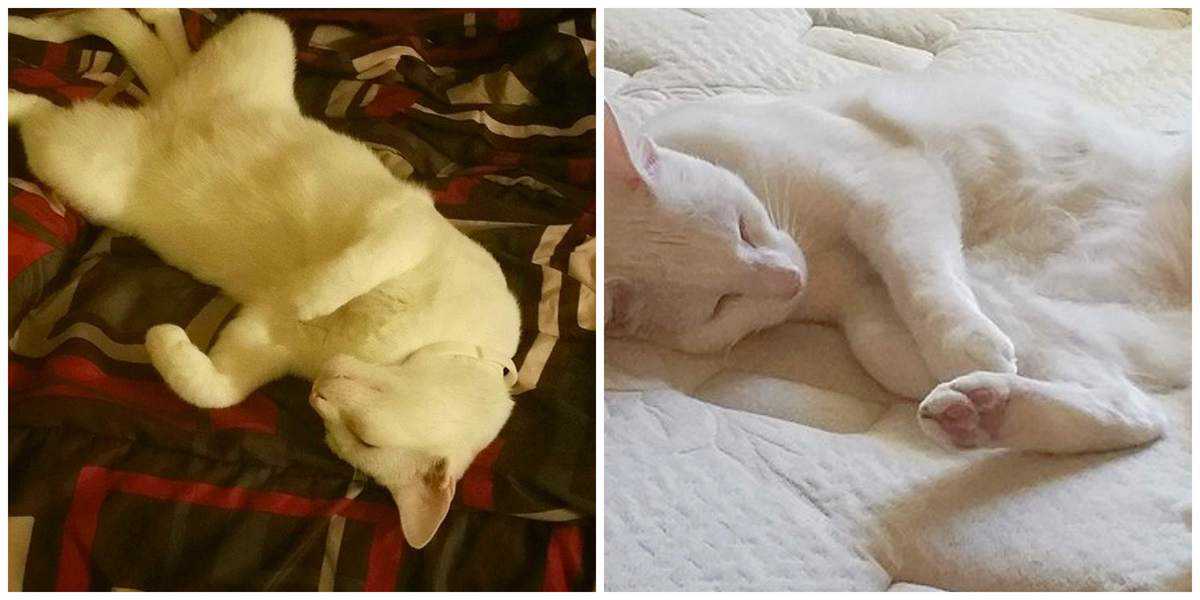 Yes, Benny is our cat boss around here. He is the littlest member of our family but he sure does rule the roost. 🙂
G and I never planned to have a cat. We used to both work long hours and we didn't think we'd have the time or the commitment to take care of a pet. We also live in a two-story condo and don't really have enough space in the house for an animal to roam freely. But I guess fate has a way of intervening and deciding things for us.
In November 2014, we were driving home from a friend's house when we had a flat tire. G slowly maneuvered the car into the parking lot of a shopping center so we could call Triple A without blocking street traffic. While waiting for the service person to arrive, we went inside Petco to pass the time and I headed to their adoption area to look at the dogs and puppies. Yes, I thought I was a dog person.
Anyway, I was looking at the adorable animals with no intent to adopt when one cat as white as snow caught my attention. He was relentlessly banging his cage and just meowing and making a ruckus while all the cats in the cage where quietly napping at their corners! He'd stand at the cage and stick his paws out between the small gaps of the metal enclosure trying to reach me. I'd stick my fingers into the cage as well and he'd playfully nibble them!
We did this playful interchange for a good few minutes and by the time Triple A came, I was already bent on adopting this cat. G tried to dissuade me but I was too in love to change my mind. We contacted the adoption center right there and then, went through the paperwork, and in a week's time, our Benny was home where he belonged.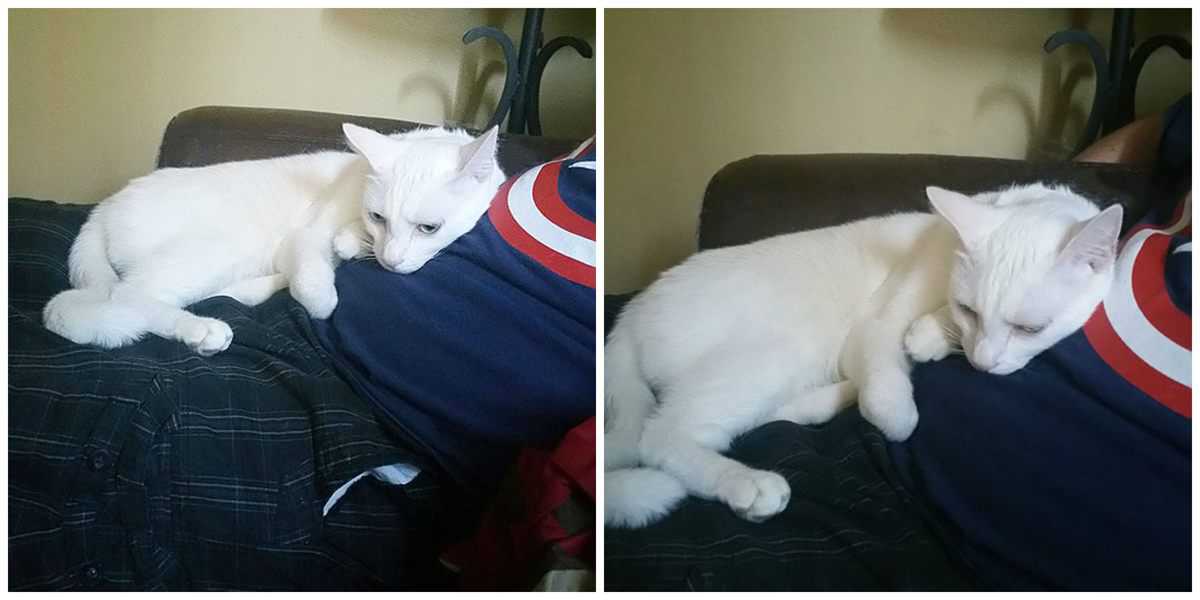 The person who assisted us with the adoption said that we don't choose a cat, they choose us. And I couldn't agree more! I really think Benny chose me in the store. He probably thought, "here's a good sucker, let me meow myself straight to her heart." The funny part is, we thought at first that I will be Benny's favorite person since I was the one he connected with at PETCO.  As it turned out, G is HIS human! He'll jump on his lap, rub his face on his, and peacefully sleep on him for hours! He'd do the same thing to me, too, but only when G is not around. What cracks us up is that if G and I are both sitting on the sofa, Benny will walk over me to get to him! I guess it's because G is the one who cleans his litter box and fills up his food bowl. Benny sure knows which side of his bread is buttered. 🙂
This might sound cliché but I never thought until we had Benny that we are capable of loving an animal this much. He's our baby and it's really amazing how he actually sounds like one when he purrs and chirps and meows to get his way. We love him and he knows it! You should see how he'd look at me straight in the eye just before he stretches his legs and digs in his claws into our brand new sofa. He knows he can shred it into pieces and he'll be forgiven.
When we adopted Benny, we thought we will be giving him a better life by giving him a home. What we didn't realize, it was going to be the other way around! He has definitely made our house a happier one. We can't imagine coming home without him greeting us at the door, plopped belly side up and wriggling on the floor. Seriously, every time I watch him rub his head on G's face or how he would follow me around the house, I would think to myself, you never know how it is to be truly loved until a cat loves you.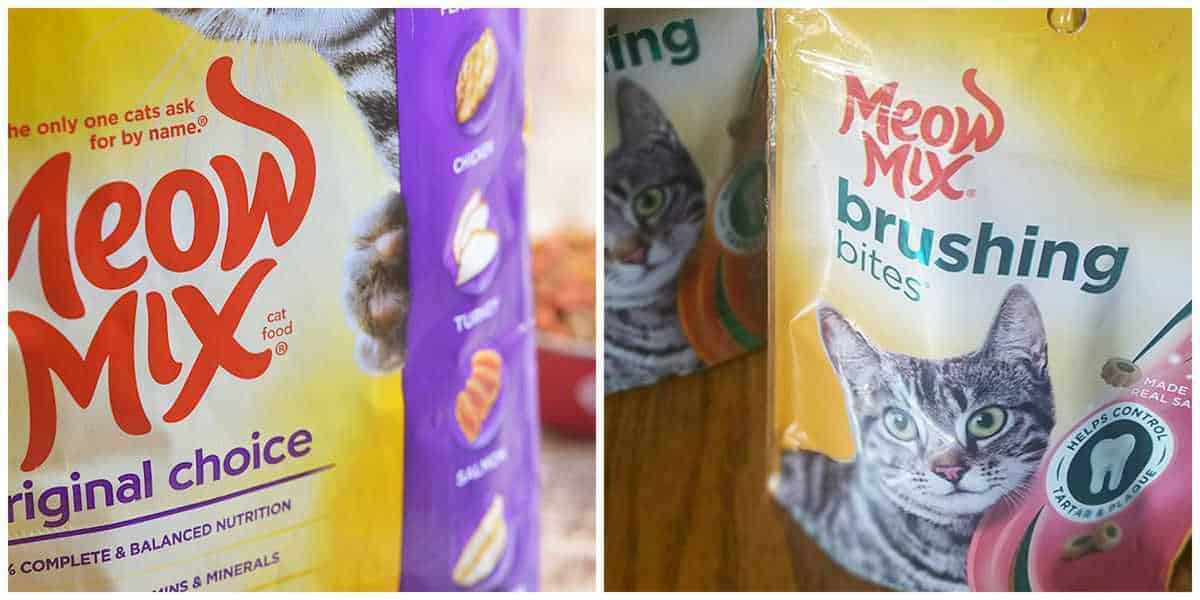 As an important member of our family, Benny deserves the very best in cat nutrition. Not only does Meow Mix® provides delicious varieties made with meat, seafood, and poultry for his discerning palate, their flavorful mixes are also fortified with essential nutrients for optimum health. But while he looks forward to the tasty crunch of dry Meow Mix for mealtime, Meow Mix® Brushing Bites are his favorite treat throughout the day! And momma here is just happy to oblige!
Meow Mix® Brushing Bites® Dental Treats are made with real salmon for a delicious taste Benny can't get enough of and they also help keep his feline teeth clean, healthy and strong by controlling plaque and tartar. Win, win for my beloved furball!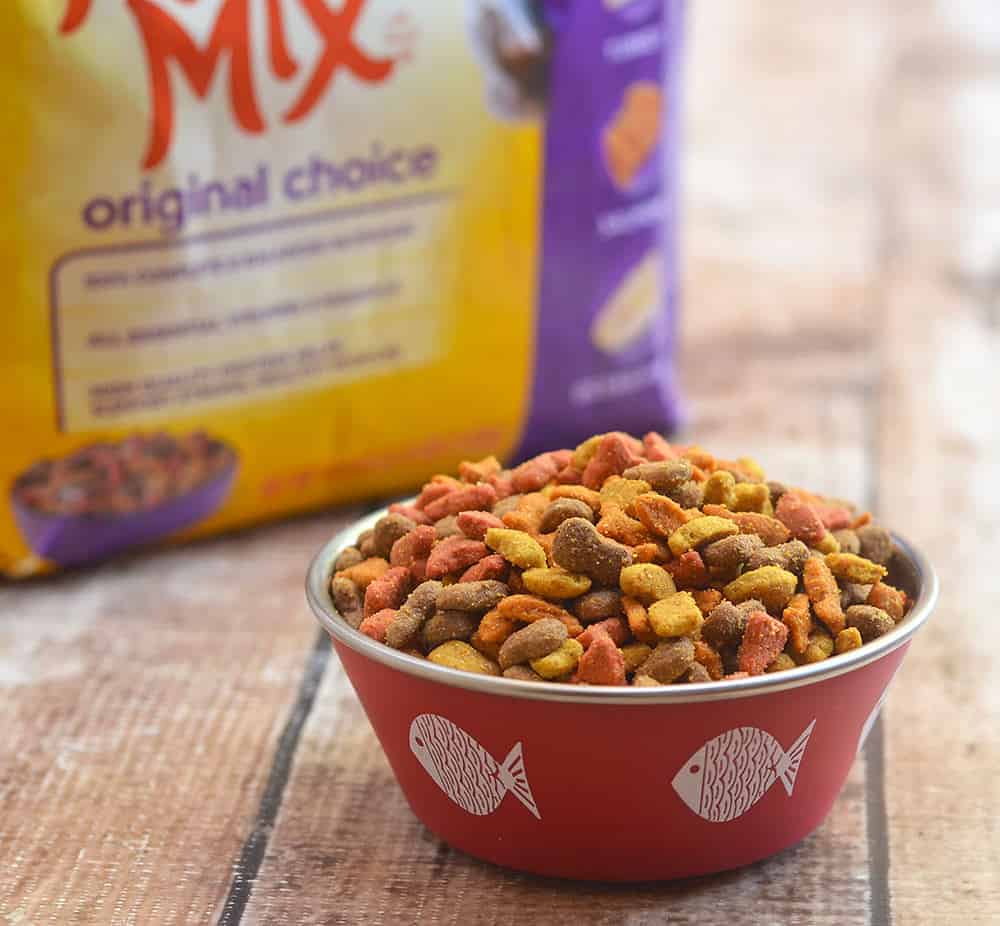 Want the best for your purrfect friend as well? Discover the complete and balanced nutrition of Meow Mix. Connect with Meow Mix® on Facebook, YouTube, and Instagram.
Do you have an animal love in your life? Tell me about them in the comments for a chance to win a $100 Visa gift card!
Entry Instructions:
No duplicate comments.
You may receive (2) total entries by selecting from the following entry methods:
1. Leave a comment in response to the sweepstakes prompt on this post
2. Tweet (public message) about this promotion; including exactly the following unique term in your tweet message: "#SweepstakesEntry"; and leave the URL to that tweet in a comment on this post
3. Blog about this promotion, including a disclosure that you are receiving a sweepstakes entry in exchange for writing the blog post, and leave the URL to that post in a comment on this post
4. For those with no Twitter or blog, read the official rules to learn about an alternate form of entry.
This giveaway is open to US Residents age 18 or older (or nineteen (19) years of age or older in Alabama and Nebraska). Winners will be selected via random draw, and will be notified by e-mail. The notification email will come directly from BlogHer via the [email protected] email address. You will have 2 business days to respond; otherwise a new winner will be selected.
The Official Rules are available here.
This sweepstakes runs from 11/10/16– 12/31/16
Be sure to visit the Meow Mix Brand Page on BlogHer.com where you can read other bloggers' posts!