I am sorry. I know this giveaway is way, way overdue, like 2 months behind.  It's just I had so much fun on my month and a half vacation in the Philippines, it felt like I was still on vacation when I got back to the U.S. But I am here now, ready to announce our brand new giveaway! Better late than never, right?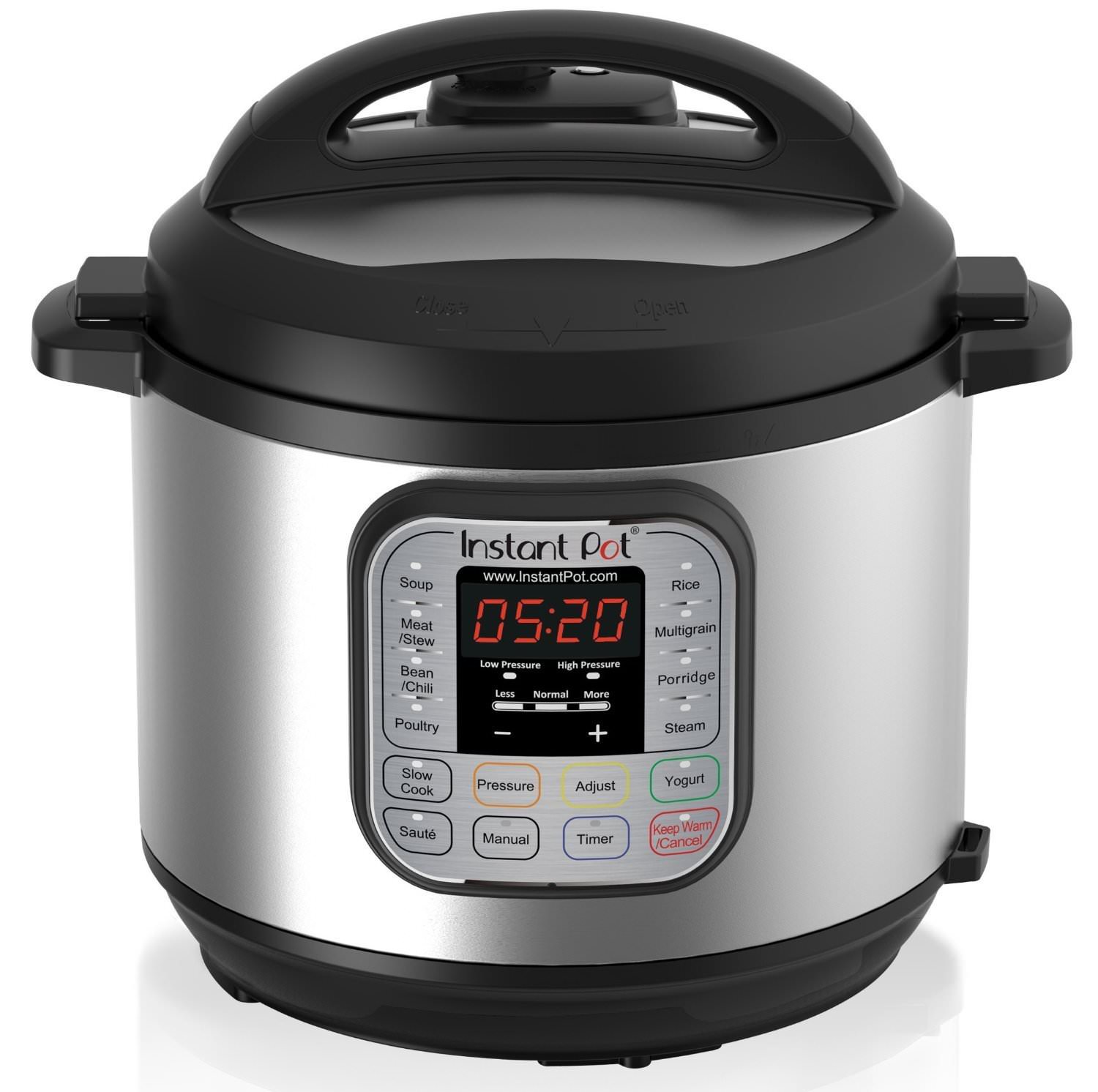 I am super excited about this Instant Pot, you guys! I received one for Christmas and I am in love!
Our kitchen doesn't really have a lot of working space so I store in the cabinets whatever mini appliances I don't use often. My Instant Pot, however, hasn't left my kitchen counter since I got it. With its many functions, I am sure you'd have as much fun with it as I do.
But before we get into the mechanics of the giveaway, let's take a look at 2016 4th Quarter income and traffic numbers, shall we?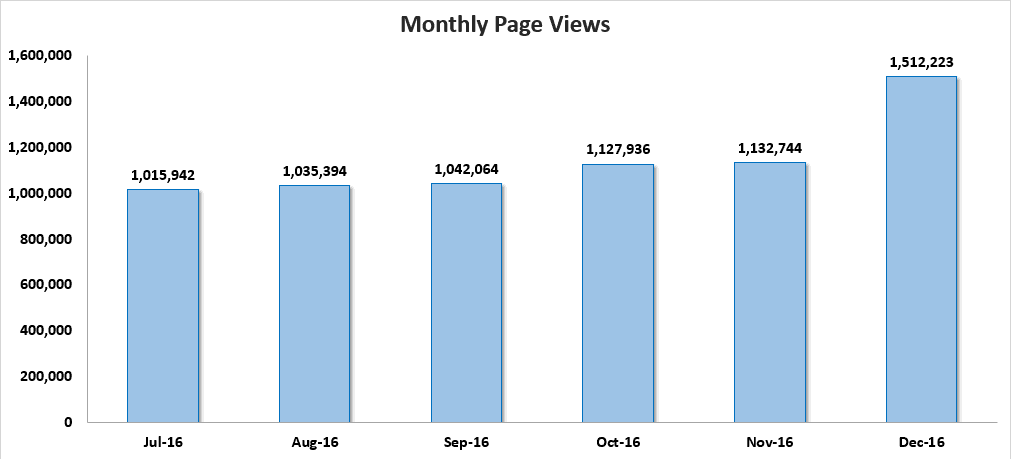 I usually do these income/traffic reports every month but I want to wrap up 2016 so I am bundling the whole 4th quarter together in one very long report.
October and November numbers are pretty much the same from previous months so I will delve more into December which was, in one word, AMAZING! And I owe it all to you.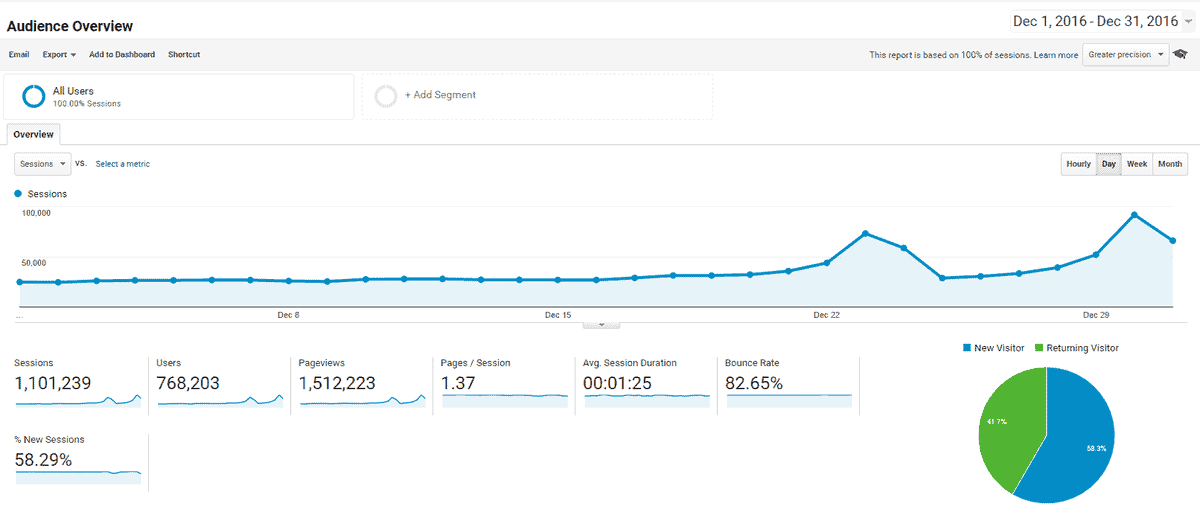 Kawaling Pinoy saw a spectacular traffic jump of about 33% from the previous month and reached a significant milestone of 1,500,000 pageviews in one month! This was, of course, due to the two major holidays (Christmas and New Year's Eve) of the year falling on the same month.
Considering I only posted 5 recipes and spent half of December enjoying myself silly in the Philippines, I am so grateful you all came in droves and made Kawaling Pinoy a part of your holiday celebrations. Thank you.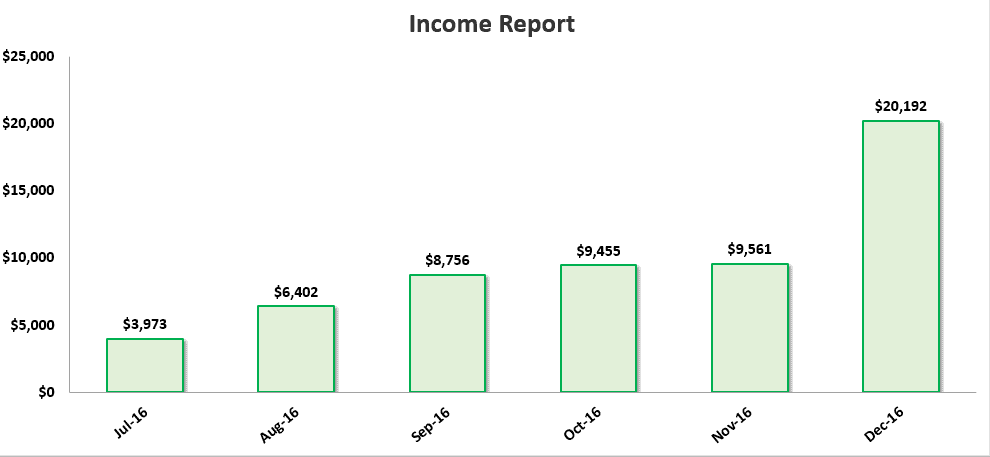 As you can see, Kawaling Pinoy's revenue in December more than doubled from the previous months and pleasantly surprised me beyond my wildest expectations. I could hardly believe it!
I mean, I know the potential of blogging, I've seen these kind of income numbers on other bloggers' revenue reports, I've hoped and prayed and crossed my fingers and toes that maybe one day it would happen for me…but to actually experience it was nothing short of mind-blowing! Happy doesn't even begin to describe the feeling.
I think I cried a little when I was tallying the numbers. Ok, a lot. Thank you, thank you for making Kawaling Pinoy a part of your everyday celebrations. I am grateful.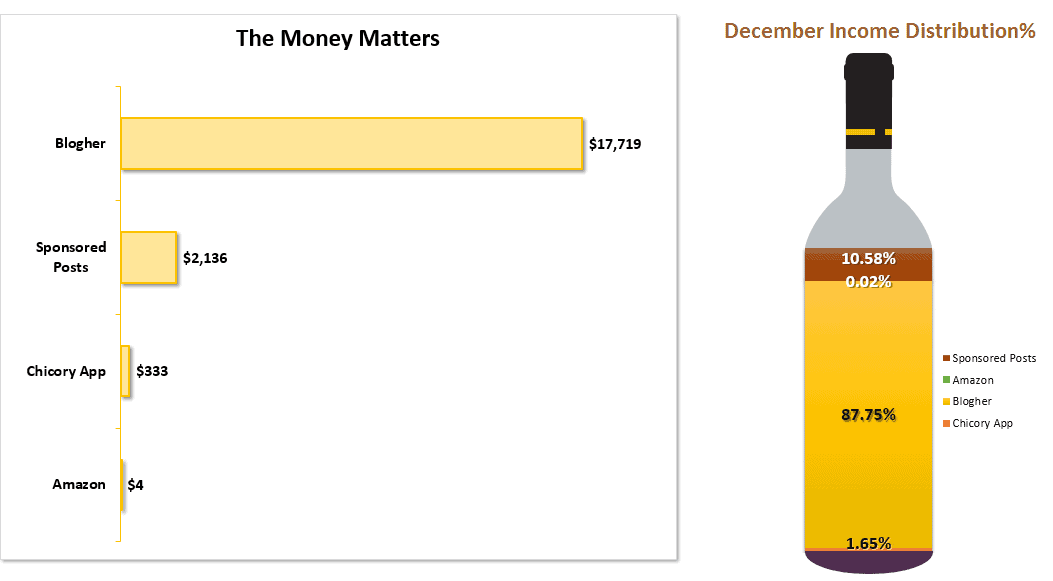 Why the increase in income? Firstly, the holidays brought a significant boost in traffic and in tandem with the increase in traffic, the 4th quarter of the year when everyone is out to spend is historically the best time in advertising.
Secondly, I left my other network, Monumetric, and went into an exclusive contract with Blogher. By handing over to them complete ad management of Kawaling Pinoy, I was to able to benefit from their premium, high paying ads and enjoy an astounding revenue for the month.
WHY DO I SHARE THESE MONTHLY INCOME REPORTS?
Every month, I share with you these reports because I am hoping the little things I am learning along the way will be of good use to my fellow bloggers and will serve as an inspiration to those who are thinking of starting their own blogs but are hesitant about making the jump.
Every so often, I receive emails from readers asking how I make money food blogging. The answer is simple, really. START ONE.
I am not going to mislead you with the notion that blogging is a quick payday. Far from it. Growing a blog into a viable business takes a lot of time, a lot of work, and a lot of prayers (others say luck but I insist on prayer). But before you can actually grow a blog, you need to first START A BLOG.
HOW TO START A BLOG Please note that by no means am I claiming to be an expert here, just sharing what I've learned through my personal blogging journey.
I. Define your Niche
There are hundreds of thousands of blogs out there covering various niches, from recipes, finance, beauty, and lifestyle to home improvement, DIY/crafts, and blogging itself. What do you want to write about? What would set you apart from the hundreds of thousands of blogs abound? What is your experience or expertise? What are you passionate about?
The niche that first came to my mind when I was planning to start a blog in 2012 was DIY home projects and crafts. My idea was, I was going to scour flea markets and thrift shops for beaten down chairs, dressers, tables, etc. and refurbish them into something shabby chic for the home. I was going to breathe new life to well-worn sweater or jeans and recycle them into cutesy cool accessories and crafts. But then I realized, I can't sew or craft for shit. I can't even assemble the snap-on type office desk we bought from Ikea!
Food, on the other hand, is my lifeblood. I've worked in the food industry since God knows when. I've managed commercial kitchens for more years than I care to count. Food is a topic I am familiar with. It's a topic I am passionate about, a topic I won't tire writing or talking about. Or thinking about for that matter.
The reality is, it might take months or even years before you see a red cent for your blogging efforts. Choose a niche you're pumped up about, something you truly enjoy. Before your blog starts making money, working on something you're passionate about will be your only reward.
I feel truly blessed that I am able to wake up in the morning and do what I love to do for a living but the truth is, I loved and enjoyed the whole process of food blogging as much then when I made .20 cents a month as I love and enjoy it now that I make a livable income off it.
II. Pick your Domain Name
The domain name will be an important element of your website and one you should give a bit of thought. Is the domain name short and simple? Is it pronounceable? Is it easy to spell or remember? Is it brandable?
The domain name I first considered for this blog was LALAINE'S TIDBITS and thank the sweet heavens I decided against it the last minute. I mean, seriously, Lalaine's tidbits?
Kawaling Pinoy, on the other, clearly reflects what the blog is all about. I think even without visiting the site, my target audience will correctly surmise Kawaling Pinoy is about Filipino food.
You can do q quick search Instant Domain Search to check if the domain you want is available or use a domain generator tool such as Lean Domain Search to get a few ideas.
III. Choose your Hosting
If you want to primarily blog for fun, there are a lot of free blogging services available such as WordPress.com, Wix, Tumblr, or Blogger that will have your blog up and running in no time. These free platforms are a good way to get your feet wet.
If you want, however, to eventually blog for profit you might want to seriously consider self-hosting. Some, if not most, of these free hosting services do not allow you to run ads or add e-commerce/shopping cart functionality. Also, free hosting restricts your ability to customize or even grow your site as you have limited access to helpful tools such as plugins and themes.
Bluehost Please note that this is an affiliate link which means I will make a commission, with no extra cost to you, if you sign up for this hosting service using the link.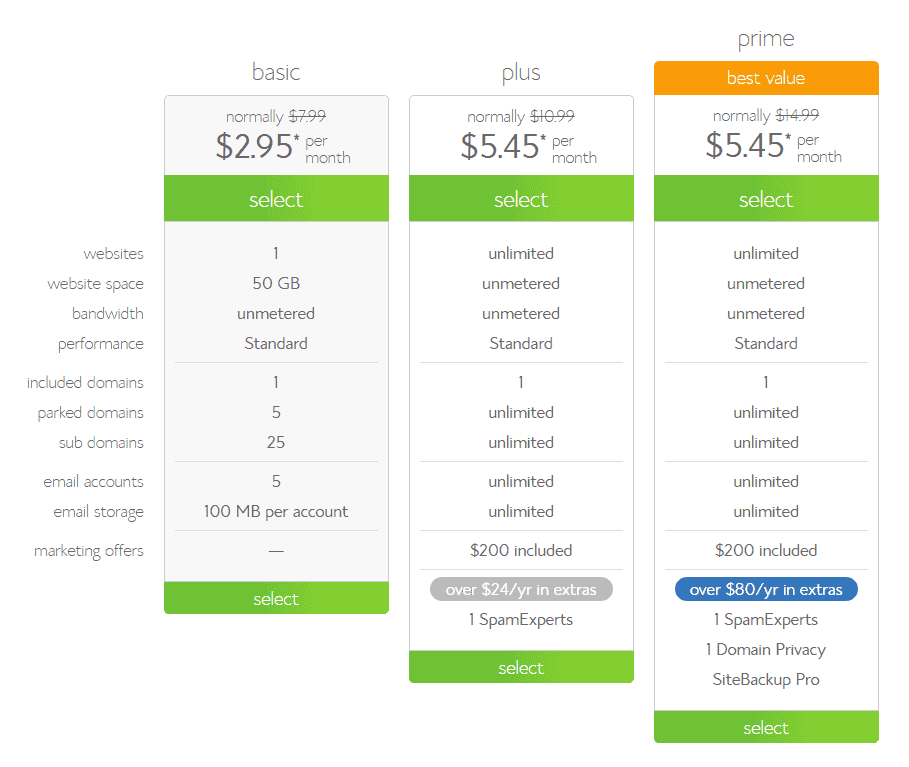 With plans starting at less than $3 a month and including one free domain registration, Bluehost is, indeed, one of the easiest and cheapest solutions to start a blog.
I signed up for their PLUS tier (you can get their PRIME tier for the same price!) and launched Onion Rings and Things as a primary domain in October of 2012. A few weeks later, I decided to launch a second site, Kawaling Pinoy. As the PLUS tier includes unlimited sub domains, I only had to pay an additional $10 for Kawaling's Pinoy domain registration and I was able to have two blogs under one hosting plan. Two blogs which are now my main source of livelihood for under $100 is, I think you would agree, unbeatable value.
WPOPT this is NOT an affiliate link. I just love WPOPT so much!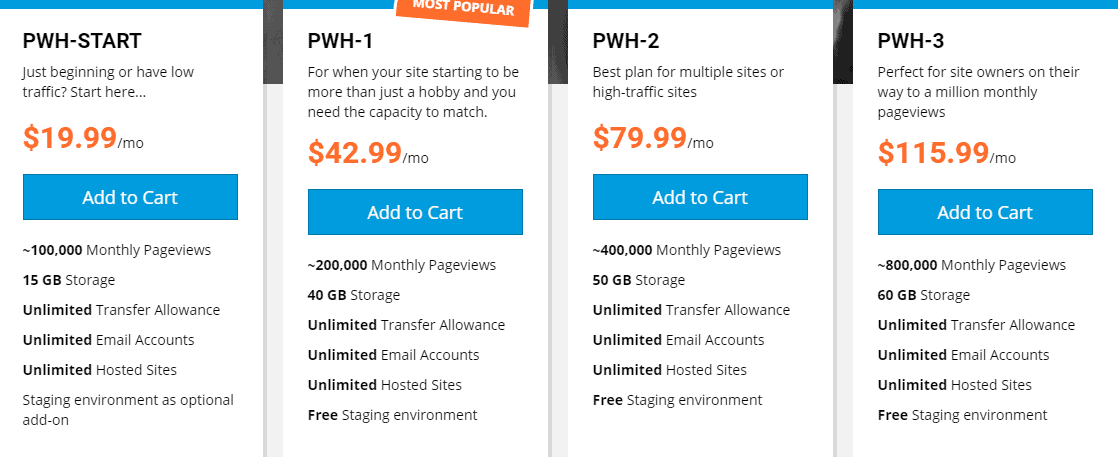 As my content and traffic grew, I needed a hosting platform that will meet my growing needs. I had to move to a bigger "house"! When Kawaling Pinoy began to consistently average around 300, 000 monthly, I transferred to WPOPT and it has been one of the best decisions I've made for my business.
Not only do I get a super reliable, high-performance hosting, the support is amazing! Charles, the man behind the company, is so helpful and knowledgeable, I have peace of mind knowing my blogs are in good hands. WPOT offers fast, secure and scalable hosting packages you can grow with. If you're switching from another hosting, they'll even handle site migration for FREE so you can sit back and relax.
Inspired by these reports and would like to start your own blog? Do you currently have a blog on free platforms such as Blogspot or WordPress and would like to self-host? Join my "start a blog" giveaway by emailing me at lymanalo@kawalingpinoy.com or through this contact form. Tell me what you what you plan to blog about and I will choose one from the entries to win: One year of free web hosting and one year of free domain registration. Please note that this giveaway prize is not transferable and the winner cannot opt for the cash value.
Hi Lalaine,
I am an avid reader of your blog and I got inspired to start my own food
blog – https://reimskitchen.wordpress.com/. I really love to cook and since
I am a home-based mom, I would like to give blogging a try. I didn't know
where to start so I just posted some articles first. I also read that I
won't be able to earn on my blog if it is not self-host.
So, hopefully, I win. It would be a dream come true.
Thanks for sharing your blessings! God bless.
Regards,
Mary Ann
I am super excited to be working with December's hosting giveaway winner, Mary Ann, and I am hoping to see her new, self-hosted blog up and ready in the next couple of weeks!
Oh, wow. You're still here. Thank you. Don't worry, we're almost done 🙂
Congratulations to our Gourmia 9-in-1 Airfryer Giveaway winner:
#130 Carrie G.
If blogging is not your thing, don't fret! Kawaling Pinoy is also giving away one Instant Pot 7-in-1 Multi-Functional Pressure Cooker.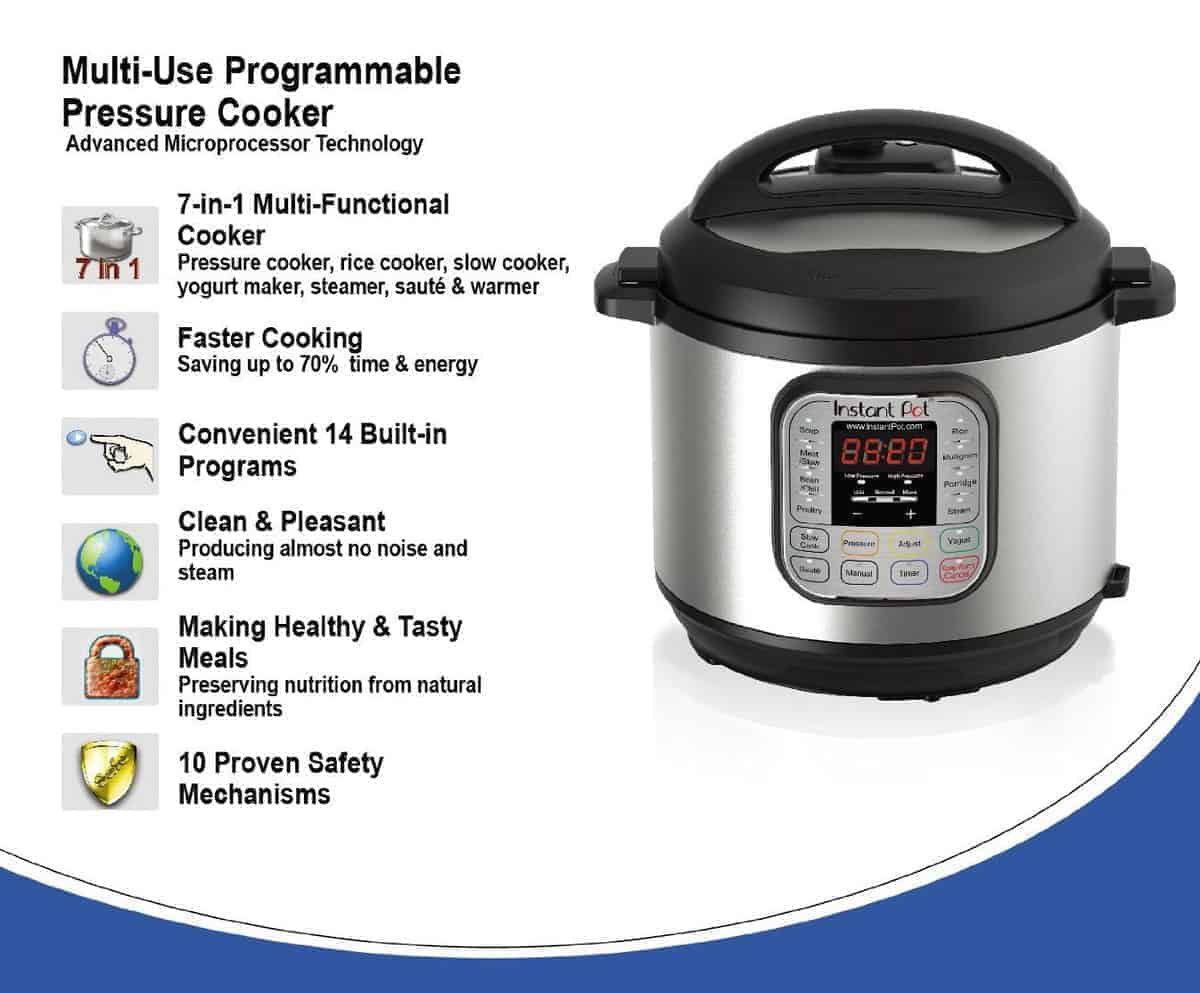 Giveaway Rules:
We are drawing one (1) winner and for the giveaway prize, the winner will receive an Instant Pot IP-DUO60 7-in-1 Multi-Functional Pressure Cooker. If the winner is outside of the U.S., cash value of $100 will be sent via Paypal. Please note that Kawaling Pinoy giveaways are wholly supported by me and I do not receive any compensation for the products I present as prizes.
To enter, please leave a comment below: "Do you find these monthly income reports interesting or helpful?"
Giveaway ends 11 PM Pacific Time on Wednesday, March 29, 2017. The winner will be selected via Random.org. The winner will be notified via email and will be announced here on or after Friday, March 31, 2017. The winner must respond within 48 hours or an alternate winner will be selected. No purchase necessary to enter or win.
Giveaway is open to residents of all countries and who are 18 years of age or over at the time of entry. Kawaling Pinoy assumes no responsibility for late or misdirected entries due to SPAM, technological, or e-mail filtering issues.