Sinampalukang Manok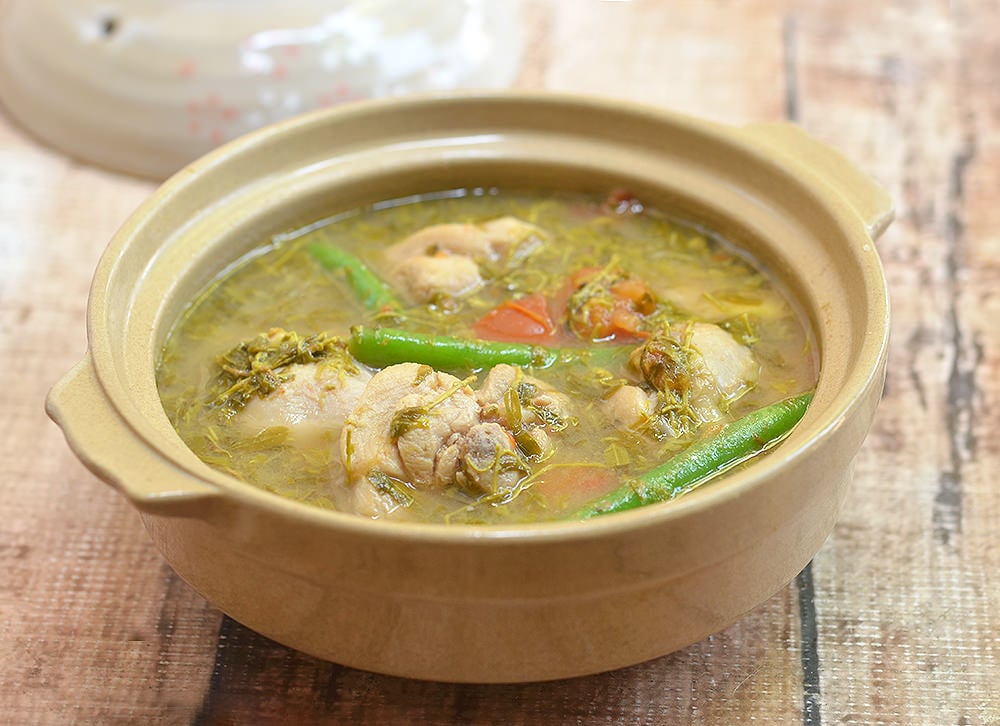 1 tablespoon oil
1 small onion, peeled and sliced
2 cloves garlic, peeled and minced
1 thumb-size ginger, peeled and julienned
3 pounds whole chicken, cut into serving parts
2 tomatoes, quartered
1 tablespoon fish sauce
4 cups water
8 to 10 pieces fresh tamarind or 2 tablespoons tamarind base powder
1 cup long beans (sitaw), ends trimmed and cut into 3-inch lengths
1 cup pickled young tamarind leaves or 2 cups fresh young tamarind leaves
In a pot over medium heat, heat oil. Add onions, garlic, and ginger. Cook, stirring regularly, until aromatic. Add chicken and cook, turning occasionally, until juices run clear. Add tomatoes and cook, mashing with until softened.
Add fish sauce and continue to cook, stirring occasionally, for about 2 to 3 minutes. Add water. Lower heat, cover, and simmer until chicken is cooked through.
Add long beans and pickled tamarind leaves, and continue to cook until long beans are tender yet crisp. Add tamarind base powder, stirring to dissolve. Season with salt to taste. Serve hot.
Wash tamarind and place in a pot with enough water to cover. Bring to a boil and cook until soft and outer skins begin to burst.
With a fork, mash tamarinds. In a fine mesh strainer set over a bowl, pour tamarind and liquid. Continue to mash with a fork, returning some of the liquid into the strainer once or twice, to fully extract juice. Discard seeds and skins. Add tamarind juice in place of tamarind base powder.
Strip tamarind leaves from stems and discard stems. Using a mortar and pestle, pound the leaves to release some of its juices. Add to pot in place of pickled young tamarind leaves.