With Christmas just a week away, there's been a steady influx of family and friends dropping by at the house to personally wish G and I the happiest of holidays. Between these random visits and the special gatherings I will be hosting at home, I am in great need of fun yet easy to make appetizers!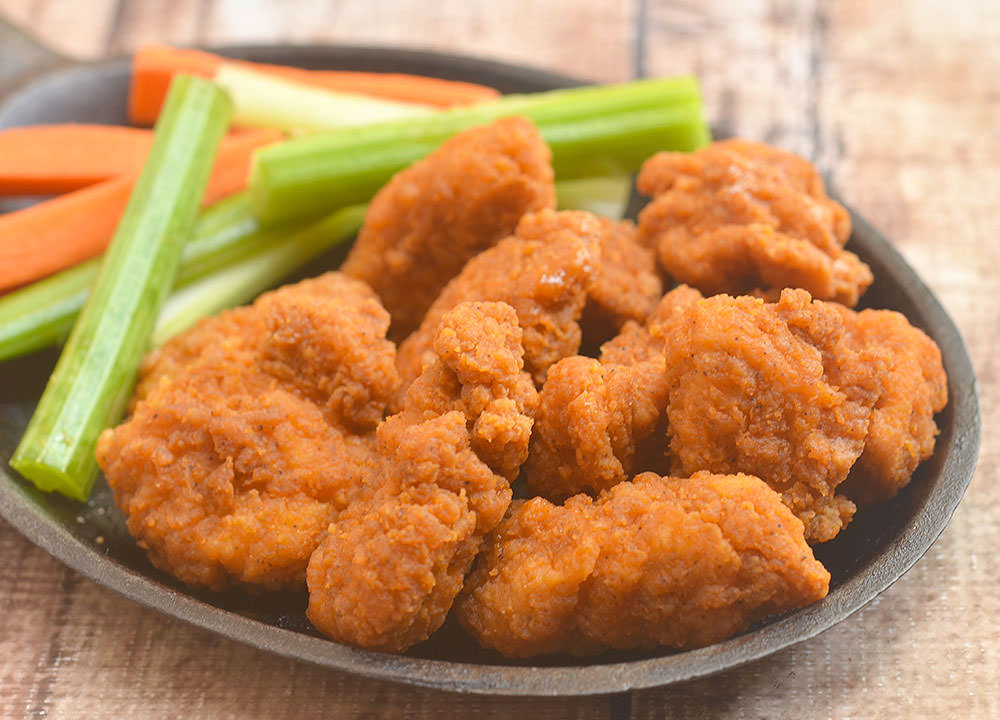 Although I love entertaining and throwing together a fun event, I like to keep things pretty simple. The less work the party involves, the more time I can enjoy the company of my guests. That's why GoodFoods products are a must when I am cooking for a crowd. They're convenient to use, always fresh and never heated, and 100% natural. You'll feel good knowing the GoodFoods product you serve your guests is made without any artificial ingredients or preservatives.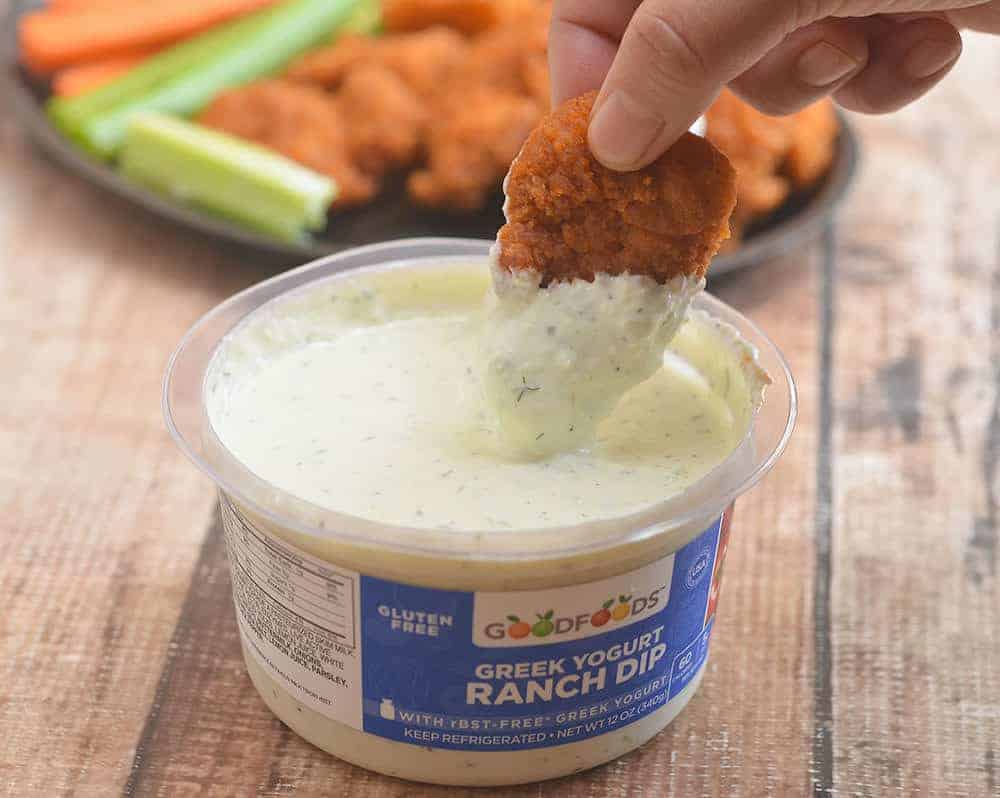 GoodFoods has so many delicious varieties of guacamole and dip flavors, there's something for everyone! These buffalo boneless wings are amazing on their own but bathe in GoodFoods greek yogurt ranch dip, they're absolutely addicting! The cool, creamy flavor of the dip lends a delicious contrast to the fiery heat of the chicken bites for an amazing combination guests can't get enough of.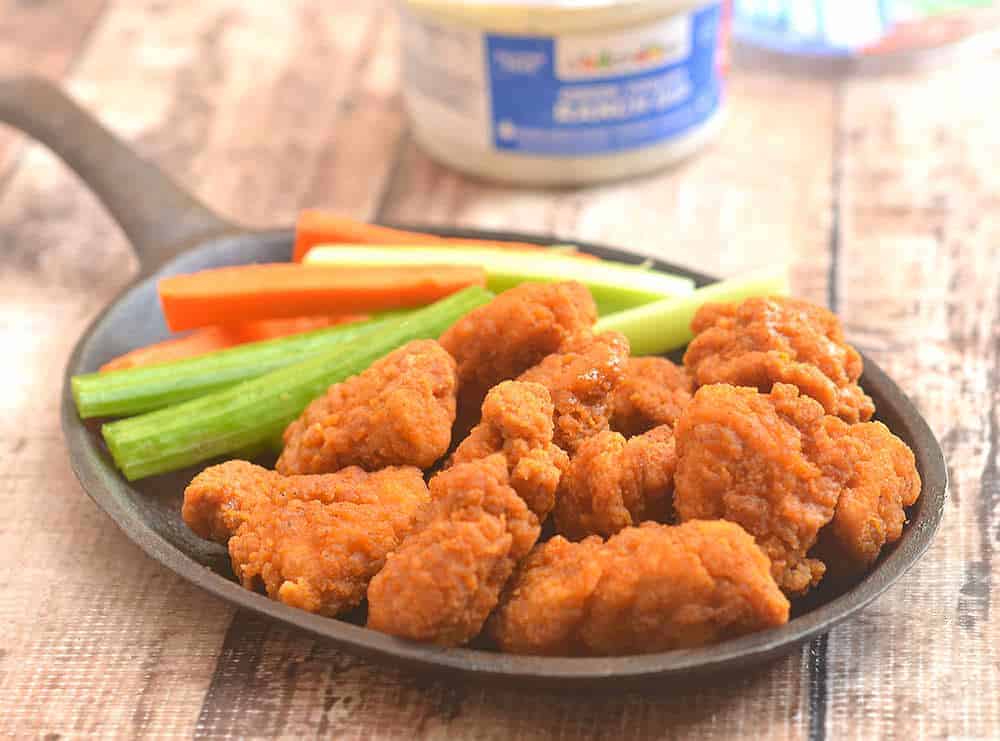 Along with amazing dips, GoodFoods carry a wide array of guacamole flavors such as Pineapple Poblano Guacamole, Southwest Guacamole, and Spicy Tomatillo Guacamole. With so many to choose from, it's so easy to put the fiesta in the party! I've tried and enjoyed the many delectable guacamole varieties but I have to say, GoodFoods Tableside ® Chunky Guacamole is my hands down favorite! Gluten free and 100% natural from Hass avocados, tomatoes, garlic, onions, and fresh lime juice, it's a healthy, delicious treat everyone will love!
For festive appetizers this holiday season, make sure to stock up on GoodFoods delicious guacamole and dips. They're available at Sprouts, Walmart, Target, and Costco, or you can check out the GoodFoods website to find a store near you.
Buffalo Boneless Wings
These boneless buffalo wings are zesty appetizers for any occasion!
Ingredients
1

cup

flour

2

tsp

salt

1/4

tsp

pepper

1

egg

1/4

cup

milk

1

lb

chicken breast

boneless and skinless, cut into chunks

oil

1/4

cup

hot sauce

2

tbsp

butter
Instructions
In a bowl, combine flour, salt, and pepper.

In another bowl, combine egg and milk and whisk until blended.

Dip chicken into the egg mixture and then dredge in flour mixture. Dip again in egg mixture and dredge again in flour mixture to double-coat. Arrange in a single layer on a baking then and refrigerate for about 15 to 20 minutes to chill.

In a deep pot, heat about 3-inches deep of oil to 375 F. Add chicken in batches and fry for about 5 to 6 minutes or until chicken is cooked through and breading is crisp and golden. Remove from heat and drain on paper towels.

In a saucepan over low heat, combine hot sauce and butter. Cook for about 1 to 2 minutes or until butter is melted. Add chicken and gently toss until fully coated. Serve immediately.
Nutrition
Calories:
321
kcal
|
Carbohydrates:
25
g
|
Protein:
29
g
|
Fat:
11
g
|
Saturated Fat:
5
g
|
Cholesterol:
130
mg
|
Sodium:
1764
mg
|
Potassium:
510
mg
|
Fiber:
1
g
|
Sugar:
1
g
|
Vitamin A:
320
IU
|
Vitamin C:
13
mg
|
Calcium:
34
mg
|
Iron:
2
mg